In the months leading up to the 2020 NFL draft, former Ohio State defensive tackle Robert Landers has joined us here at Eleven Warriors to document his quest to become a professional football player.
Now, Landers is just days away from realizing his NFL dream and finding out what team he will be playing for, as the draft is set to begin on Thursday (8 p.m., ESPN/NFL Network/ABC) and will continue through Saturday afternoon. Regardless of whether he is among the draft's 255 picks or signed as an undrafted free agent, Landers should know which NFL team he will be starting his career with by Saturday night.
"It's very exciting," Landers told Eleven Warriors. "I'm at the point right now where dreams that I've had since I was a kid, it's reality. It's right there in front of me. So it's very exciting, and I'm trying to enjoy the ride the best that I can. Especially with everything going on. So I've been just trying to see the blessing in all this. I'm enjoying it, it's very exciting and I'm ready to see who I'll be playing for and get started."
For the final pre-draft installment of Robert Landers' Journey to the NFL, he tells us what the last few weeks leading up to the draft have been like – as he, and every other draft prospect, have had to continue to deal with the unusual restrictions in place due to the coronavirus pandemic – and what his plans for watching the draft are. Then, Landers answers a multitude of questions submitted by Eleven Warriors readers about his memories from his Ohio State career, his plans for after his playing career are over, and more.
---
Since the stay-at-home order has been in place in Ohio, Landers has been in Springfield, living with his mother and daughter. He hasn't been able to visit NFL teams or work out to the extent he normally would, but he's doing what he can to stay in shape and to keep his mind relaxed as he waits for his chance to play at the next level.
Robert Landers' Journey to the NFL
"It's been hectic, but at the same time it's been kind of slow. What you're allowed to do is very limited, so my way of training's been a little bit more complex, and I kind of had to try to get it in the best way that I can with the little bit of resources that I have. But at the same time, it's exciting just because the countdown, it's started, and it's one of those things where it's just like you're prepping for the next stage. And it's kind of unknown what it's going to be. I kind of feel like I'm a high school senior all over again, getting ready to go to Ohio State. It's one of those things where you don't really know what to expect until you get to wherever you're going and until the process starts up. So it's just me just trying to take it day by day, do what I can and keep grinding the best way that I can but at the same time, enjoy time with family and being able to sort of keep everybody's spirits up.
"I try to do a lot of things in the house. Do little stuff like say I'm the kitchen and I'm washing dishes, and I typically will play music, so each time it's a new song that plays, I'll drop down and do like 30 push-ups, 50 sit-ups. So I'm trying to do little things like that. I try to get out in the front yard and I have a couple cones and a couple hurdles, so I try to get some stuff in to try to stay on top of my craft the best way that I can. And then here in Springfield, it's an area over by Wittenberg University, they have like this huge hill. So I try to get up and run that at least twice a day if I can. At times, I catch myself using my daughter and I put her in her car seat, you can do curls, little stuff like that. So any way I can get it in, I've been trying to do so."
Landers said he has sent a video to NFL teams of him working out around his house "to show I'm still agile, still able to move and I'm still in pretty good shape." He hasn't had any formal video interviews with NFL teams, as some other draft prospects have, but he has had phone calls with several teams to check in on him and get updates on his training.
His call from an NFL team to draft him or sign him probably won't come until Saturday, as he isn't expected to be an early-round draft pick, but he's planning to watch all three days of the draft anyway, as he's looking forward to seeing where the other Buckeyes in the draft end up, as well. He was already planning to keep his draft celebration low-key rather than a big draft party, so COVID-19 hasn't changed his plans there.
"I'll definitely have some family at my house. That was my plan in the first place. Me at the house. I'll probably be sitting around the house in a pair of shorts, no socks and no T-shirt and flip-flops while I'm waiting to hear my name called. That was my initial plan anyway to moreso be around family and my home environment where I'm comfortable, so that will probably still be the same ordeal to be around my mom, my brothers, my kids, stuff like that. So it'll be fun.
"I'll probably watch it all, just because I still got boys, some of my boys going through the process as well. So I want to hear them get their names called as well."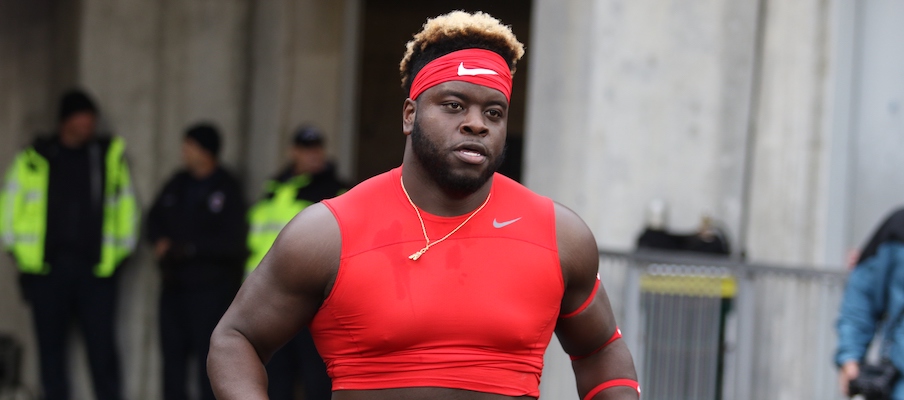 Ohio State wasn't able to hold a pro day and Landers hasn't been able to go to a gym since those were shut down due to COVID-19, so he hasn't been able to show how much he can bench press and raise money for mental health awareness in the process, as he had planned to do with "BB's Big Lift." Once it is safe for him to do so, though, Landers is still planning to do the bench press for charity, even though he'll no longer be doing so to try to improve his chances of being drafted.
"I'll probably be doing it here back home in Dayton at a training facility called Enhance U. It's ran by a guy by the name of Tramain Hall. Tramain used to be a strength and conditioning coach back when I was in high school, and we've always had a very good relationship and I've kind of watched his career blossom and him doing his own personal training and having a couple different facilities in the city. So my plan is to do it at one of his facilities.
"I still want to do it because like I've been saying, I'm passionate about the topic when it comes to mental health, and I've been amazed to see how many people have supported me with this and pledge money. So I still want to do that not only for myself but for the people who bought in and who are supporting me with this topic, and moreso for the cause itself."
---
Now, we turn the conversation over to Eleven Warriors readers. Each of the questions below were submitted by 11W forum posters, though some of them were edited slightly to allow for more complete answers from Landers, whose answers follow each question.
Who was the best defensive lineman you played with at Ohio State? – 703Buckeye
I can't pick out one specific, but I'll give you my top three who have definitely in some simple form made an impact on either the way that I play or have played and my development. 
So I would say of course, the Bosa brothers. Joey being one of the top just because me coming in at a young age and just watching the way that he worked, the way that he came to work every single day and the amount of extra work that he put in and just his performance on the field, it speaks for itself. So it would be him and then of course Nick. He also goes down as one of the greats in my book, as well. Being able to watch him develop, coming in right after me and being around his brothers and seeing how his game elevated and seeing all of his success.
And then of course, the next one's gotta be Chase. That's my boy, and being able to watch him develop and then having a hand in his development and me and him building a relationship and me seeing mentally, physically, emotionally how he grew, and the success that he had and the way that he approached and played the game.
Who was the best offensive lineman you played (or practiced) against at Ohio State? – 703Buckeye
That's easy: Billy Price and Pat Elflein. Those two were my biggest headache during my first couple years of college. But at the same time, they helped my game develop so much. Just them teaching the game from the offensive lineman's perspective, to be able to then get it and transition it to the D-line's perspective. So me asking them, 'OK, why do you do this? Why do you set like this? What are the different calls that you guys make? Why do you make them?' And then them breaking it down to me, but at the same time too having to get a double-team block from the two of them, is very detrimental to whatever confidence that you could have. That is the worst experience you will go through. But I was always that guy that was, I would say too prideful, to where I would get the double-team and then fought crazy to the both of them. And then get another double-team. And then get another double-team. So they definitely helped me develop my game. Those two guys, hands down, were the best two offensive linemen I've ever faced.
What was your favorite game during your years playing for Ohio State? – Sonof'47alum
I would probably say the team up north game at the Shoe when we went to (double) overtime (in 2016). That was probably hands down the craziest game that I've played in my career.
I remember Michael Hill ended up getting a concussion in like the fourth quarter. And as an Ohio kid and as a Buckeye through and through, the team up north game is the game that you dream to play in, and the simple fact of I was playing in it, and then it got to the point where Mike Hill – we did a big brother system, he was one of my big brothers at the time – he's hurt, he has a concussion so now it's like, I gotta play the rest of the fourth quarter and overtime. And when you're young, your mind kind of goes to 'Don't mess up, because if I mess up I can ruin this whole game.' And it was just one of those games, I will never forget it. The atmosphere was crazy, the fans were nuts. You couldn't even hear yourself talking to a teammate or a coach that was essentially not even two feet in front of you. And then of course we came out with a win, so that's always the best feeling when you're playing the team up north. 
So I would say that game might be the most memorable for me, but I have a long list of my favorite games.
What's the single play you made that you remember most fondly at OSU? – Byaaaahhh
I don't have a favorite one, but one that jumps out is I would say when we played Penn State (in 2017). And it was late in the fourth and Coach had called a play and we ran a stunt up front, and I came through and I ended up getting a tackle for loss like two or three yards in the backfield which put them in bad field position.
I remember on the sideline before the series started, I went up to (defensive line coach Larry Johnson) and I told him, 'Hey Coach J, put me in. I have to go in.' And he trusted me enough at the time, especially when I was still kind of young and my game still had a lot of developing to do, but I was playing a lot of ball at the time, and he trusted me enough to put me in the game. And sure enough, I made a big play, might have been like second or third down, and it led to the very next series, us coming out and scoring a touchdown to win the game.
Do you have a favorite "non-football" moment while at OSU? – RedBeard
I've had so many memories at Ohio State, just because you come across so many different groups of guys, different personalities, come from different backgrounds, that it's hard for me to pinpoint one. You can ask any college player, the best way to get through some of the hard times, especially dealing with (director of sports performance Mickey Marotti) and those workouts – sorry, Coach Mick, I'm gonna put you on blast right now, those workouts suck – but the best way to kind of get through those is with your boys. And it's one of those things where I knew every day, no matter if I had a bad day or a rough day or if I was tired, once I hit the locker room, somebody's gonna make you laugh, somebody's gonna pick your spirits up. They'll probably be in there dancing, cracking jokes, playing this stupid slap boxing game. And over the years, I've come across so many guys and so many different personalities and characteristics, I've developed so many memories with each one of them, so I can't really pinpoint one.
"He made trash talking during the game an art. And he taught it to me."
What is the funniest thing you've heard someone say during a game? – Va_buck
That might not be appropriate for an article. It typically is me. Let's say, one of the best trash talkers during a game that I've ever come across is Jalyn Holmes, by far. Hands down. He made trash talking during the game an art. And he taught it to me.
So if we asked other people about you, they'd tell us you're a trash talker?
Oh, for sure. I talk about them, I talk about myself. Especially if I'm tired, I'm the type of person that we'll be in the middle of the field, I'll tell them, 'I'm tired as hell. I need a breather. Just relax for a second.' I'll do little stuff like that. But I would probably say yes, anybody who played against me, they'd probably say I was funny.
How many different cowboy hats do you have, and will you be wearing one during the draft? – Iowabuckeyes/BurningRiverBuckeye
I actually gave away a couple, sold a couple – I would say at one point I had about 15. And yes. Right now, I'm trying to find one to match the cheetah shorts that I got. Of course, I have to do something extravagant, so I got these shorts that I found on Amazon, and I gotta try to find a hat to match it.
What are your career plans after football? – Iowabuckeyes
When I have to hang up my cleats, one thing that I'm passionate about is I definitely want to go into coaching. My degree I got in law, it was in law enforcement and criminology, but my degree is my plan C. Coaching is a big passion for me, especially being around Coach Johnson and just knowing the impact that he made on me, not only from the football standpoint of things but just from the development aspect of becoming a young man. I'm very passionate about the game, and the amount of knowledge that I've absorbed from Coach J, and I know he'll always be there if I have questions, and just the impact that he's made on me through the game, it kind of pushed my passion even deeper into the game. 
And I feel like at times too, especially me coming from the background that I come from, I will be able to relate to a lot of players that will be going into college. Even on the high school level. So I feel like coaching is my passion, and I'm a big people person, so I would love to develop a kid's game from the football perspective, for them to be able to fulfill their sports dreams, but at the same time too, kind of be that male guidance as well for them to help develop them into the young men that they might want themselves to be, their parents want them to be. 
So I think coaching will be my path for post-football, and if that doesn't work out, my backup to my backup is going into law enforcement. I've made quite a few connections while I was at Ohio State, and I feel like I networked very well to set myself up to be able to pursue whichever path that I choose to pursue after my career.
Describe Urban Meyer's and Ryan Day's personalities: How are they similar? How are they different? – Iowabuckeyes
They both carry very high expectations of everybody: Coaches, players, training staff. The expectations and the pedestal that they put everybody on, they expect you to reach and exceed those expectations. They expect nothing else but greatness. And they will do all that they can to help you achieve greatness. They both care very much not only about their staff but their players. As long as you're taking care of your business and you represent not only the name on the back of your jersey but the logo on the front of your jersey like you're supposed to, they will go through the hellfires with you. So they're both very passionate about their staffs, their players and they expect nothing but greatness.
Coach Meyer is a very intense guy 24/7. With him, everything is 4th-and-1. That's an attribute of him that made us as players strive to be great. Because even when you're walking through the hallway, it's 4th-and-1. When you touch the field, it's 4th-and-1. You tie your shoes, it's 4th-and-1. Just who he is and how intense he is, he really is able to push guys to strive for greatness 24/7. It's one of those things where it's not a choice. You did not have a choice but to be great. He wants to see you perform and reach your fullest potential whether you're playing or you're on scout team. And that's just what it is.
"His mentality is it's 4th-and-1 when you step between the lines. When you step between the lines, it's 4th-and-1, everything's a competition, it's kill or be killed."
Coach Day, he's a lot more laid-back. If he has to rip you, he will, but he prefers not to. His thing is, as players, especially with the old guys, you know the expectations, you know what it's supposed to look like. And he puts the older guys on a higher pedestal because they are the biggest driving force of the team. You are only as good as your leaders. And he lives by that. His mentality is it's 4th-and-1 when you step between the lines. When you step between the lines, it's 4th-and-1, everything's a competition, it's kill or be killed. 
Both of them and their coaching styles contributed a lot to our success, because especially with my class, we had the pleasure of being coached by them both, and we took the great attributes and characteristics from both coaches, and I feel like that is one of the reasons why our team was able to have as much success as we did. And I'm interested to see how much they all develop as it turns even more into the Coach Day era.
Who's a returning player or players on the defensive line that people should be watching for to break out this year? – TURD_BUCKET
Tommy Togiai, Tyreke Smith, Jonathon Cooper. Coop will be a big one because he is the only old, old head in the room now. And Haskell Garrett. Those are guys that you got to see glimpses of them and you got to see their game and just how well they developed and how well they played the game, but I feel like going into this next season, all of those guys are going to blossom. 
Another young guy to look out for is Zach Harrison. He is always eager to learn more, he works hard and he runs like a gazelle. It's ridiculous. I've never seen a kid of his lanky stature be able to cover one end of the field to the other and pass up LBs and DBs. The kid's speed is ridiculous. His motor, I've never seen nothing like it. 
So I would say off the top of my head, those are a group of guys that I feel like you need to look out for next season. I can't really speak on too many other guys, because I haven't really seen the young guys and haven't really seen them play at this college level. I've seen a couple of them like Darrion (Henry-Young) when they were in high school, but playing high school ball and playing Ohio State ball, it's a whole different ballgame.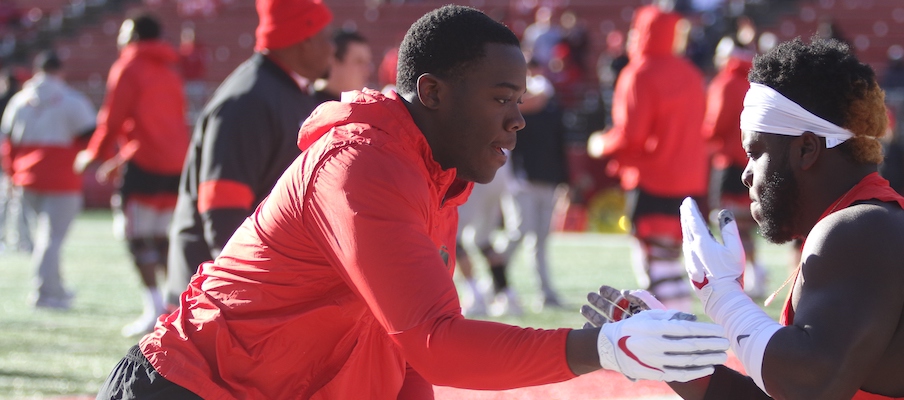 Do you talk with your cousin C.J. Hicks (2022 recruit who recently received an offer from Ohio State) about football often? – Stxbuck
I try to talk to C.J. as often as I can, especially now that I'm back home. I'm eager to see how he does when he gets there. The kid, he's a freak athlete, a phenomenal player. He is a great student when it comes to the game. He's always been eager to soak up as much information as he can and learn as much as he can about the game. And what I've always known of him, he does a very good job of taking the classroom to the field. So I'm extremely proud of all of the offers that he got. My personal opinion is he needs to just go ahead and join the family, but I'm not going to push that too much just yet.
How did you get the nickname "BB"? – Weave77
I've had it all my life. I'm named after my father, and a lot of his family and friends called him Bobby or Bo. And since I'm a Jr., and everybody says I'm a spitting image of him, they used to call me Baby Bo or Baby Bobby or BB. So I've kind of always had it.
---
While our readers had no shortage of great questions for Landers (some of which we unfortunately didn't have time to get to), several readers instead simply asked us to tell him they love him and appreciated how they handled himself on and off the field during his Ohio State career. So to wrap up our pre-draft edition of Robert Landers' Journey to the NFL, I asked Landers if he wanted to share a message back to Buckeye Nation, and he did.
"I love y'all even more. Y'all are the reason why I enjoy doing what I do. They are the reason why I love playing this game and why I do wacky stuff like wear a cowboy hat. So I appreciate any and everybody's support, and if anybody is in support of me, they know for me, it's always love. So I appreciate anybody who's ever been in my corner or that's supported me, and the love, it's equal. Probably even more. I have a lot of love to give."