In the months leading up to the 2020 NFL draft, former Ohio State defensive tackle Robert Landers is joining us here at Eleven Warriors to document his quest to become a professional football player.
Originally, the plan for this week was to document Landers' experience at Ohio State's pro day, which was scheduled to take place on Wednesday. Due to the coronavirus outbreak, however, Ohio State's pro day was postponed indefinitely. Assuming the NFL draft takes place as scheduled on April 23-25, there likely won't be time for pro day to be rescheduled.
That's a significant setback for Landers, who wasn't invited to the NFL Scouting Combine and was banking on pro day as his opportunity to go through a full pre-draft workout and showcase his skills to scouts from all 32 NFL teams. To begin this installment of Robert Landers' Journey to the NFL, he discusses his emotions when he found out pro day would not happen and how he has moved forward – even though the stay-at-home order in Ohio has forced him to creative ways to work out on his own – while continuing to prepare for the possibility of playing at the next level.
"There were a lot of different emotions. I'd say the biggest one was just disappointment. But it's one of the things I said to my brother, any time you have a loss or you lose a game or whatever it is, you got 24 hours to be pissed off, and then, at that point in time, it's right back to work.
"So I gave myself 24 hours to be upset and be disappointed just because any kid growing up playing football has dreams and aspirations to play in the NFL. My first dream and aspiration was to play for Ohio State, so that's a blessing within itself. And then my second one was to play in the league, and I unfortunately didn't get invited to the combine, and I knew pro day was going to be a big part of my journey to the draft. And kind of sitting back and looking at all the work that I had put in, and all the days that I stayed an extra hour after training to do more drills or to get an extra set in or whatever, just prepping for that one moment, that one day, those couple hours, to now, me not having the opportunity to do that. So I was a little disappointed, but at the same time too, after that 24 hours was over with, I said 'You know what, it is what it is.'
"So ever since then, the process has been keep working, keep grinding the best way that I can, and the best way that I'm able to, with the lack of resources that I'm allowed to use right now, to just be ready for whatever that moment does present itself. So it's been a day-by-day battle at this point. 
"I'd say right now, my best friends are sit-ups, push-ups and my staircase in my house. So I've been trying to obviously be as innovative as I possibly can. It is pretty challenging, but you find ways to get it done. One thing I learned at Ohio State, that Coach Mick and Coach Meyer used to teach us all the time, is that if you want it, you will find a way to get it, period. If it needs to be done, you'll find a way to get it done. So I've just been kind of doing what I can to my best ability to try somewhat stay in shape and keep my body at a high, elite level to the best that I can right now.
"Coach Mick sent a couple of us former players an at-home workout, as well. And then, I'm also still in touch with the guys that I worked with at Grossetti Performance. They're gonna do daily workouts that you can kind of get online and stream them that you can do in the house. So those are more resources that I'm gonna utilize to my best ability."
While Landers had been planning to go back and forth between working out with some of his former Ohio State teammates at the Woody Hayes Athletic Center and with his former high school track and field coach Michael Fernandez at Wayne High School, he's currently spending all of his time at his home in Springfield, Ohio. That might not be the ideal place for Landers to train, but he is grateful to be there with his family – including his infant daughter, Jordyn – and have what they need for daily life.
"It's been a challenge, but it's one of those things where we've been able to roll with the punches and just kind of take it day-by-day still. Quarantining in a house, you get some more family time, but it's just one of those things, it's different. At the end of the day, we're still alive. We wake up in the morning, we got a roof over our heads. We have plenty of food in the refrigerator. So it's always a blessing. Yeah, it's different, and it's kind of a rough and scary situation, but you got to make the best of it, and I think we're doing so pretty well.
"As a country, we're having this issue, it's a crisis right now and sometimes, you got to find the light in the dark. And sometimes that light might just be something very little, but at the same time, it's still big. I feel like sometimes, people kind of take for granted the 24 hours that God allows them to have. Even waking up in the morning, at the end of the day, it's a blessing. That's how I view it. And even though we're having these issues as a nation right now, there are a lot of people that are able to wake up, and we're still trying to thrive and move forward the best that we can, and we have the opportunity to do so.
"God allowed me to be with my family, spend time with my family, put my daughter to sleep. So at the end of the day, you got to find that light in the dark. I try to see the bright side in everything."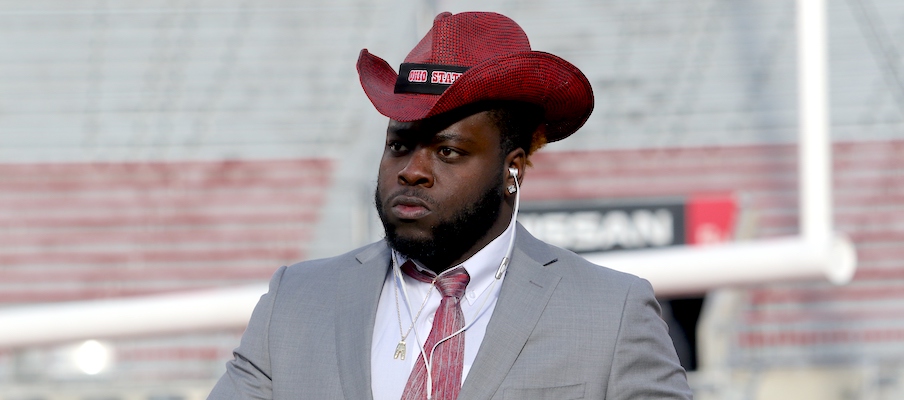 Landers has been open about the struggles he's had in his life with mental health, and he's still raising money for Nationwide Children's Hospital's On Our Sleeves campaign through "BB's Big Lift." While he's still working through the details of how that effort will proceed forward, as many of the pledged donations were tied to his bench press performance at pro day, he's already raised more than $1,000 through his pledge drive and wants to continue to be an advocate for mental health awareness.
In a stressful time for the world right now where people might be more likely to struggle with their mental health, Landers' advice is to turn to family and close friends for camaraderie and support.
"My tranquil place for me are my kids. My kids actually help me stay level-headed, and keep me mentally in a good place. So I have my mechanisms here with me, for the next couple weeks, 24/7. So at times, being away from them is when I struggle the most, but being here with them really does help me. 
"Everybody's completely different, but one thing for me personally, I've always found to help me is family are a part of the foundation of who you are. And those are the people who you make your most memories with. Your family doesn't have to be blood. A lot of people create their own families. A lot of people I consider to be a part of my family are not my blood, but blood couldn't make us any closer, and I still love being around them. So I would say for me, especially at this moment in time, being around family and making memories and spending time with family and the people who you consider to be your family is a great way to kind of keep your mental health in check."
Robert isn't the only athlete in the Landers family who has missed out on a huge opportunity this month due to the COVID-19 pandemic. Robert's younger brother Trey was a senior on the Dayton men's basketball team, who had the best regular season in school history and was in line to be a No. 1 seed in the NCAA Tournament before it was abruptly canceled. Now, Trey Landers – who is also hoping to pursue a professional career in his sport – is also dealing with the pain of losing an opportunity he had worked so hard for and the uncertainty of not knowing what will happen next.
That said, Robert Landers has instructed his younger brother to follow the same mantra that he holds himself to in order to move forward.
"It definitely has been difficult. To do what they did this season at Dayton, which no other team in Dayton history has done, it's rare that a season's so special, especially after overcoming all the obstacles that we had to overcome as a city with the tornadoes and then the shooting and just for them to be able to bounce back from those devastating tragedies and make this season as special as it was, it definitely hit him hard. Especially being from Dayton and being able to play for the hometown, team and he has been one of those guys that he has been the glue to the team to help kind of push them forward this season, with all of the success. And he definitely took it hard. And he's still kind of taking it hard. But it's one of those things, like I said, you got 24 hours to truly be upset and pissed off, and then you gotta get back to work. 
"And when it was all said and done and they found out about the end of the season, he had his 24 hours of being pissed and he's right back in the gym. And that's one thing about all of us is sports has always been a part of our tranquility. No matter what we've got going on outside of football or basketball, once I step on the field and once my brother steps on the court, whatever time that you're in this sport and you're doing what you love to do, everything in the outside world does not matter. And it was one of those things where once he got in the gym, it helped him a lot. And I've been in his ear as much as I possibly can, just giving him that motivation and just trying to give him that light in these dark moments. So it's one of those things, it's been a daily thing as far as communicating, trying to keep his head up. But I think he's doing a lot better with it, and he's trying to push forward and get ready for chapter two and phase two of what life and basketball have in store."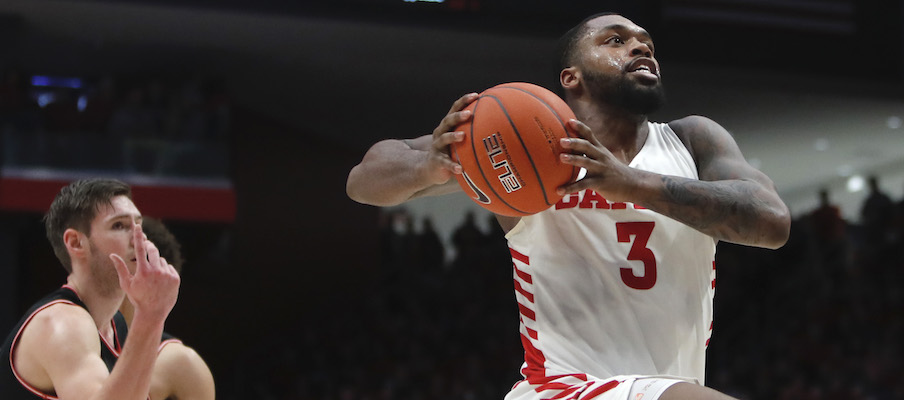 Life for the Landers brothers hasn't been easy. Their father was shot and killed when they were children, and their family dealt with some financial issues. That led to the subsequent anxiety and depression that Robert has had to overcome, while his brother had a front-row seat to tragedy when he was inside the bar where nine people were killed in a Dayton massacre in August. 
For all that they've been through, though, both of them are coming off of successful college athletic careers and now have a chance to potentially play professionally. So as they've been hit with adversity yet again, they know they're capable of getting through it.
"We do sometimes have to check ourselves and we sit back and reflect and have to look at what we've overcome, what we've been through; look at where we could have been, but where we ended up. And sometimes you gotta do that. Sometimes you gotta do that self-reflecting and have that talk within yourself, and you have to check yourself in order to put yourself in a different state of mind. And I think we've done that and we've looked at it like, 'Hey, we've done been through a lot worse, we've overcome a lot worse, and it is what it is.' We're gonna keep doing what we've been doing, sticking together as a family, just keep grinding and just keep trying to impact people around us and give ourselves the best that we possibly can."
With the NFL draft now less than one month away and all team visits and workouts currently on hold, Robert Landers doesn't know what the next month will have in store for him. That said, he is appreciative that he had the opportunity to play at Ohio State and play as much as he did there, knowing that could go a long way toward his hopes of being drafted as teams will forced to rely more on college game tape than ever before.
"Oh man, I'm beyond grateful. Playing at The Ohio State University, that's the cream of the crop. Less than one percent of guys get the opportunity to play at a school like Ohio State, and I was fortunate enough to be that less than one percent, and even better to be able to play D-line under a coach of Coach Johnson's stature.
What I was able to accomplish at Ohio State does speak volumes and is testimony to not only what I can do, but how good a coach Coach Johnson is, and I feel like over the course of time all the way up until my last season, I got better and better each season. Then I kind of hit a roadblock going into this season, just me hurting my knee out of season and having to get back. Outside of that, though, man, it's been a blessing. Wearing that Block O on the front of my chest and having a coach like Coach Johnson to coach me really does give me a leg up on a lot of my guys who might not have had the coaching that I had at Ohio State."