In the months leading up to the 2020 NFL draft, former Ohio State defensive tackle Robert Landers is joining us here at Eleven Warriors to document his quest to become a professional football player.
As Landers goes through the NFL draft process in hopes of hearing his name called in late April, he's checking in with us periodically to document his experiences along the way in his own words.
The second installment of Robert Landers' Journey to the NFL begins with an update on his preparation for Ohio State's pro day, which is just over two weeks away (March 25).
"I've kind of been honing in a little bit more on the smaller details with my training. Over this process, I've learned that there's a lot of technique that goes into the different testing that we do. And it's been blowing my mind. So I've just been trying to be like a sponge and absorb all the information I can get, picking up all the tricks and trades from Terry Grossetti, who I've been training with. And I've just been counting my blessings, man, taking it day by day. I've been blessed enough that God continues to give me 24 hours to do what I can do, so I try to take full advantage of it and try to do what I can to improve my game and prep me for the big day."
While Landers was training alongside several other NFL draft prospects, including former Ohio State teammate Rashod Berry, at Grossetti Performance in New Castle, Pennsylvania, he's now back in Ohio, where he's been spending time training with two of his former coaches. He and several of his former Ohio State teammates have been working out with Ohio State defensive line coach Larry Johnson at the Woody Hayes Athletic Center, while he's also been going back to Huber Heights to work with his high school track coach and math teacher, Michael Fernandez.
"I'll be working with Coach Johnson quite a bit here over the next couple weeks until pro day. And then I'm also going to be training with my old track coach/math teacher, his name is Coach Fern, at Wayne High School. So I'll be kind of going back and forth between the two. When it comes to the track side, he's one of the gurus, he's the GOAT. So kind of get some more mechanics down and get his perspective on things to try to better my 40 the best that I can.
"It works phenomenal in my favor, because I'm always going to be comfortable in my environment. And the biggest thing, it comes down to trust. Since I've built that relationship, I trust him, and I know he has my best interests at heart. And I know he's gonna give me as much as he can give me and provide me with the proper tools that I need to succeed and achieve the goals that I have set. So trying to get acquainted and feel a person out, I don't have to go through that process, so it makes it a lot easier.
"You're in an environment that over the course of time, you've had the opportunity to kind of dictate and create. You're already with people that you know, that you trust. And especially dealing with Coach Johnson, there's nobody better. It's Coach Johnson. So it makes the process fun. 
"And then being with the other guys, it's just, you get to reminiscing on all the time that you've put in together, and you kind of value this time that we have. Even though yeah, we're prepping for pro day, but you're having fun. You feel like you're back in practice again. Granted, nobody likes spring ball. It's God-awful. But the moments that you build with those guys that you can look back on is special. And we, at this point in time, have the opportunity to build more moments. So it's fun, and it makes the work good. We push each other harder than anybody else, so it makes it easy. I'm enjoying it."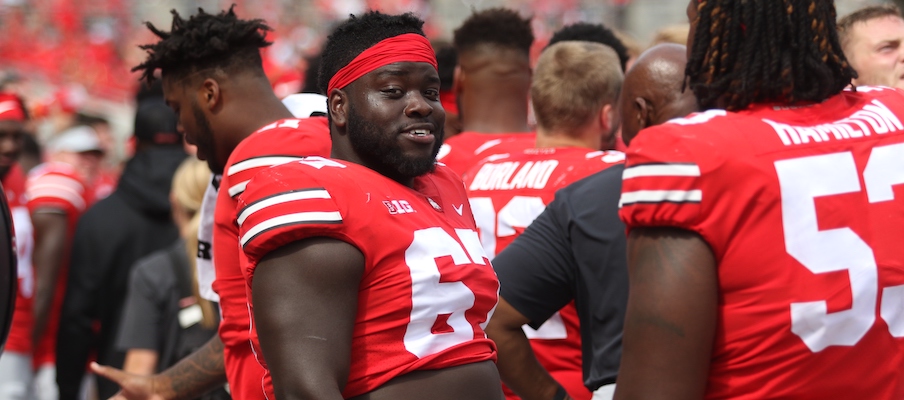 Because he wasn't invited to the NFL Scouting Combine, Landers opted to block it out as much as possible, focusing instead on continuing to work toward his own opportunity to impress NFL scouts at pro day, which will draw representatives from all 32 of the league's teams to Columbus. He acknowledged, though, that it was disappointing not to be in Indianapolis.
"I didn't watch it. But as a football player that aspires to be in the next level, making it to the combine is one of those things that you put on that goal board when you're a kid. I was a little down about it, but at the end of the day, one thing about Ohio State's pro day, that's the next-best thing you're gonna get to the combine. So I took my blessing that I got within this process and I prayed about it, got in my feelings and while the combine was going on, I went to the gym and got to work. So at that point, I looked at it as ain't no point in me watching it. A lot of guys are like, 'Well, that's competition.' At the end of the day, your biggest competitor is yourself. That's what I've learned."
Landers was proud to see 11 of his former Ohio State teammates get the opportunity to participate in the combine, especially fellow defensive tackle DaVon Hamilton, who led all defensive linemen with 33 repetitions of 225 pounds in the bench press.
"Watching some of my boys do drills, I was proud of them. They represented the name on their back and that Ohio State logo on the front of their jerseys very well, so I'm proud of them."
That said, Landers' own goal for pro day is to put up 40 repetitions in the bench press, which would have been the second-highest total among all players at the combine. He'll be raising money with every rep he does put up through "BB's Big Lift," a campaign through which he is taking pledges to donate to Nationwide Children's Hospital's On Our Sleeves initiative, which promotes mental health awareness and supports children and families battling mental illness. He also recently had the opportunity to visit the new Big Lots Behavioral Health Pavilion, which recently opened – thanks in part to financial support from Ryan Day and his wife – at Nationwide Children's Hospital to provide mental health services.
"I actually just did an event, like a meet-and-greet, with Nationwide Children's last week. Just kind of set up, took pictures, signed autographs, just have fun, and they actually let me go around the new facility and look at it. And it's beautiful. It's beautiful, it's phenomenal, the way that they have everything set up and the different little areas they got for kids and different activities that they have for them to kind of help them. I'm all for what they're doing, and I appreciate them for allowing me to kind of wear their brand. So it's been great."
All the while training for pro day and preparing to begin his NFL career, Landers has had to balance the responsibilities of being a father, as he has two young children. He will soon be living in Springfield, Ohio, between Columbus and Dayton, so that he will be able to see both of his children regularly while commuting back and forth between workouts.
"It's one of those things, it's hard to balance but it's not. Because I could say, having both of my kids and being around my kids, they are the aspects of me that kind of keep me level-headed. Going through this process, and even in college, the amount of time and work that you got to put in, the hours that you put in on a daily basis between football, school, practices, it can get hectic and you can really get caught up in your day-to-day lifestyle. And they kind of make me step back, bring me back to reality, and they put me in that tranquil place that I need to kind of reset and relax and start over. So it is difficult at times that I can't be with them as much as I want, but when I'm with them, phone is off, nobody's allowed to call me, text me. If I'm with my family, they can't grab the kids, because I've got them. They are my tranquility.
"I'm actually in the process right now of moving to Springfield, to make it a little bit easier to see them, and then I'm in a perfect spot between coming to Columbus to train, being in Dayton to see my son as well. So I'm making it work. Taking it day by day."
Landers hasn't yet had the opportunity to attend any of Ohio State's spring practices, in part because of his fatherhood responsibilities, but he plans to do so as soon as he can. And he'll be sure to make some jokes at the current Buckeyes' expense when he's there, as he is always one to try to lighten the mood.
"Unfortunately, my daughter likes to be a torment in the morning, so I haven't had the chance to get up and make my way down there, but I'm gonna definitely make my way down there probably next week, that's the goal. Make it to a couple practices. Talk a little crap. Just have fun. Gotta be me."
Landers did have the opportunity to meet some of his fans from Columbus on Saturday, when he participated in an autograph session at the Midwest Sports Spectacular, and he appreciated their support.
"That's a beautiful thing, man. The fact that you know Buckeye Nation is huge and you know they support you through thick and thin, especially during the season, but coming out here, being able to sign autographs, take pictures, put a smile on somebody's face but they're putting more of a smile on mine, it's special. The fact that they asked me to do it, it's even better. I appreciate them for allowing me to come here. They could have asked many other people, but I was one of the guys that they did ask out of the many that are here. So it's a blessing, and I appreciate them, and it was a fun event."
Having learned his lesson from a February autograph session in Grove City, Landers made sure to wear his signature cowboy hat on Saturday.
"The one time that I didn't wear it to my last signing, I had so many people ask me 'Where's the cowboy hat? Where's the cowboy hat?' I'm like all right, I'll have to make sure I bring it next time. I got to give the people what they want."
---
Stay tuned with Eleven Warriors for more updates from Landers as his Journey to the NFL continues over the next two months.