Branden Bowen didn't have much time to decompress after Ohio State's Fiesta Bowl loss to Clemson. He didn't even come back to Columbus.
Just four days after his final season as a Buckeye came to an end in Glendale, Arizona, Bowen began training for his pre-draft NFL workouts at EXOS San Diego in Carlsbad, California. He stayed out there until two weekends ago, when he finally returned to Columbus, where he is now continuing his training alongside fellow former Ohio State offensive lineman and 2020 NFL draft hopeful Jonah Jackson in advance of Ohio State's March 25 pro day.
Staying out west after the Fiesta Bowl was a sacrifice for Bowen, as it meant he had to spend two months away from his fiancée and infant son. He decided that was worth it, though, in order to get the best possible training for pro day with an eye toward proving he should be selected in next month's NFL draft. 
"It's definitely tough, but when you see the bigger picture and why you're doing all this stuff, it makes it a lot easier," Bowen said.
Bowen said he enjoyed having the opportunity to train at EXOS alongside other draft prospects from around the nation, giving him the chance to get to know new people and get a glimpse into what their college football programs were like. He also had that opportunity at the East-West Shrine Bowl, where he spent a week in St. Petersburg, Florida, in January, practicing and playing in an all-star game in front of NFL scouts.
One of the biggest things that stood out to Bowen from those experiences was how well-developed he was by Ohio State in comparison to some of the draft prospects he met from other schools. 
"It's definitely eye-opening. You see why we're as good as we've been every year," Bowen told Eleven Warriors at this weekend's Midwest Sports Spectacular. "Drawing up plays, drawing up the offense, being able to draw the defense across from it ... I didn't really realize in college how rare that was, but being around other guys and seeing their ability to do that or ability to not be able to do that, is really eye-opening and shows me how much (Ohio State) really did for me in terms of that."
There will be some adjustments Bowen has to make to play in the NFL, such as learning different terminology and different personnel formations – he said the Shrine Bowl was the first time he'd ever played in an offense with a true fullback – but the skills he learned from Greg Studrawa and his other coaches at Ohio State could give him a head start on his competition.
It also helps that one of his closest friends from Ohio State, Jamarco Jones, has already been in the NFL for two years and is sharing some of the tricks of the trade with Bowen as he goes through the draft process.
"I talk to Jamarco Jones probably every day, just about the schedule, about what my life is really looking like, because if you don't have someone like that, you just really have no idea what you're in for," Bowen said.
Bowen was disappointed that he didn't get an invitation to the NFL Scouting Combine, but he didn't let that get him down. He's excited about the opportunity he'll have at pro day later this month, and said his combine snub "just adds more fuel to the fire, and more reason to work."
Bowen said he doesn't have any number-specific goals for pro day, but wants to put together a well-rounded workout that shows he can play at the next level and most importantly – after he missed the entire 2018 season recovering from a broken leg – that he's healthy.
"I think that's the biggest question mark with me is my ability to stay healthy, and I think I proved that this year," Bowen said. "So just showing them that everything about me is healed and that's all in the past and show them that I can go out and play."
As a fifth-year senior, Bowen had his best season at Ohio State, starting all but one game at right tackle and earning second-team All-Big Ten honors. As a unit, the Buckeyes had one of the best offensive lines in the country and led J.K. Dobbins to the first 2,000-yard rushing season in Ohio State history, which Bowen said is the accomplishment he's most proud of from last season.
The way his Ohio State career ended, though, still stings.
"I still don't think I'm over the Clemson loss," Bowen said. "It's something I'll probably think about for at least the next year. Especially with it being my last game, talking with J.K. and Jonah about it, they feel the same way where it's just, it's hard to come to terms with it, still."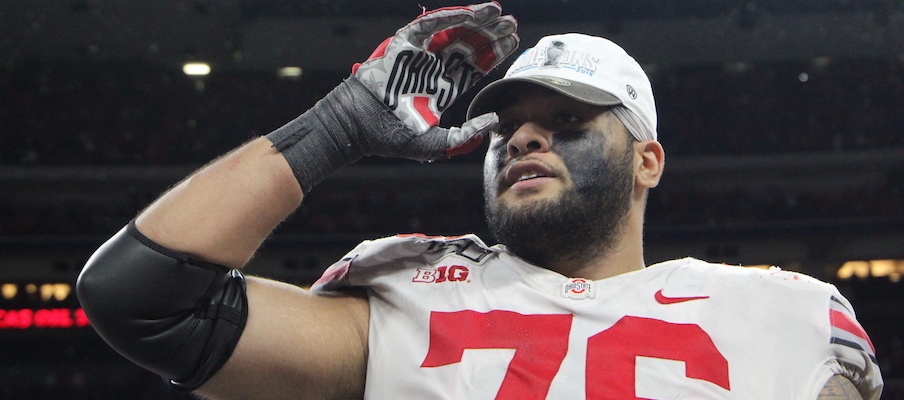 Now that he is back in Columbus, Bowen has been attending spring practices at the Woody Hayes Athletic Center and coordinating his training around when the current team trains. As he waits to find out what NFL team he'll be joining in late April, he's enjoying spending time with his former Ohio State teammates.
"I try to go there and train while they're there," Bowen said. "So I can still stay around the locker room, because I mean, I miss it. So yeah, I talk to them pretty much every day."
The Buckeyes are replacing two starting offensive linemen from last season in Bowen and Jackson, but Bowen – like Jackson, who said at the NFL Scouting Combine that he thinks Ohio State's offensive line could be even better in 2020 – expects his former unit to be just fine without him. He expects Nicholas Petit-Frere to be ready to take his place in the lineup at right tackle, along with several offensive linemen who are pushing for spots in the starting five.
"We went toe-to-toe last camp, and I think he's still right there, and he's ready to take a starting spot," Bowen said of Petit-Frere. "I think Paris Johnson, exact same thing. Dawand Jones, exact same thing. Harry Miller and Matt Jones, probably, the two biggest at the left guard spot."
Bowen will continue to train with his former teammates and coaches and attend spring practices at Ohio State over the next month, but by the end of the NFL draft on April 25, Bowen hopes to know what his next destination will be. And he's excited for that moment to come.
"It's crazy thinking that in a month, I'll know where I'll be playing for potentially the next four years, five years, however many years," Bowen said.
Bowen said his family – including his son Booker, who will celebrate his first birthday later this month – is excited about the next move, as well.
"We love the state of Ohio, but we also love traveling and love exploring new places," Bowen said.