INDIANAPOLIS – If you're a longtime Ohio State fan, you probably couldn't help but wonder "What if?" whenever Antoine Winfield Jr. made a big play during his collegiate career at Minnesota.
A son of legendary Ohio State cornerback Antoine Winfield, Winfield Jr. became a superstar in his own right at Minnesota, earning unanimous All-American honors in 2019 after recording 88 total tackles, seven interceptions (including one returned for a touchdown), two forced fumbles and three sacks while leading a Golden Gophers defense that ranked in the top 10 nationally in total defense and passing defense.
Now, Winfield Jr. is regarded as one of the top safeties in the 2020 NFL draft class. Yet despite his lineage of Buckeye greatness, Winfield Jr. never received an offer from Ohio State out of high school.
At the time, Winfield Jr. wasn't widely regarded as an elite prospect, as he was ranked as just the 1,415th-best player in the recruiting class of 2016. Had the Buckeyes signed him then, they likely would have faced doubters about their decision to sign a low-ranked three-star prospect based on bloodlines. Yet there's no question that the player he became at Minnesota could have made a big impact in scarlet and gray, too.
If Winfield Jr. had received an offer from Ohio State, he certainly would have considered it. He was born in Columbus and both of his parents went to Ohio State, so he grew up rooting for the Buckeyes, too. He didn't let the lack of an offer from Ohio State get him down, though. Instead, he chose to attend Minnesota – in the same state where his father played most of his NFL career for the Vikings – and set out to make a name for himself there.
"I knew wherever I'd end up, I was going to do my thing, so it was never a chip on my shoulder or anything," Winfield Jr. said during his interview session at the NFL Scouting Combine on Friday. "It was no hard feelings."
Should the Browns or Bengals be interested in drafting Winfield Jr., though, he'd certainly be happy to have the chance to play in Ohio now. His father grew up in Akron, and while his parents now live in Texas, most of his relatives still live in the Buckeye State.
"It'd be a blessing to go back up to Ohio," Winfield Jr. said when asked about potentially playing for the Browns. "That's where all my family is from, so it'd be fun to go up there and play for them."
No matter who drafts him, Winfield Jr. will look to continue following in his father's footsteps and become one of the NFL's top defensive backs after already following the path of becoming an All-American in college.
"It's very special," Winfield Jr. said. "This is something I've always wanted to do ever since I was a kid. I watched my dad play in the league for 14 years, and I knew at a young age this is what I wanted to do with my life. It's a surreal feeling just to be here right now, so I'm just excited and I'm enjoying the process so far."
Hudson wore Mattison sweatshirt to "stir it up"
Former Michigan linebacker Khaleke Hudson raised eyebrows before the Wolverines' game against Ohio State last season when he wore a sweatshirt in pregame warmups featuring a photo of a shrugging Greg Mattison, who had been an assistant coach at Michigan from 2011-18 before becoming Ohio State's co-defensive coordinator in 2019.
Ready for The Game. pic.twitter.com/3f0XrwJkCb

— Michigan On BTN (@MichiganOnBTN) November 30, 2019
When Ohio State ended up blowing out Michigan in that game, 56-27, many Buckeye fans and Jim Harbaugh critics pointed out to Hudson's sweatshirt as one example of the Wolverines not being as focused as they needed to be on the actual game.
Hudson had previously said he had no ill will toward Mattison, though, and he reiterated that during his media availability at the NFL Scouting Combine on Thursday.
"It was nothing against Coach Matty," Hudson said. "Coach Matty's my guy. It's just Ohio State-Michigan rivalry, I just had to stir it up a little bit. But Coach Matty's my guy. He taught me a lot of things also, even though he was a D-line coach (at Michigan), he taught me a lot of stuff. He really cared about everybody, and I don't hold it against him at all."
Ohio State linebackers coach Al Washington was also previously Hudson's linebackers coach at Michigan in 2018, and although he said he hasn't talked to Washington since the aftermath of the rivalry game, he still holds Washington in high regard, as well.
"He's still a great coach to me," Hudson said of Washington. "I still really care about him, he cares about me. I just like talking to him. He also helped my game go to the next level, and I really appreciate the time I spent with him.
"They made a decision for their family that was going to benefit themselves, and you can't do nothing but respect that decision."
Hudson was among the stars of the linebacker group at this year's combine, leading all linebackers with 30 reps of 225 pounds in the bench press while also running a 4.56-second 40-yard dash.
Buckeyes on returning Buckeyes
Because of the number of Buckeyes who get invited to the NFL Scouting Combine each year and Indianapolis' proximity to Columbus, the combine typically draws a sizable contingent of media who cover Ohio State – this year, eight reporters from six different outlets were there primarily to talk to the Buckeyes in attendance – and as such, it's commonplace for Ohio State's draft prospects to be asked about which returning players they expect to step up and replace them.
Once again, many of Ohio State's 11 combine invitees this year were asked about who Buckeye fans who should be expecting to break out in 2020, and some were also asked about specific players who could be in line to take their spots in the lineup. So with spring practices set to begin Monday, we rounded up their answers to those questions below.
J.K. Dobbins on Ohio State running backs
"We have some talented guys coming up, and they're going to work hard and Coach Alford is going to develop them. So I have no doubt, they won't lose a step."
On Master Teague: "I definitely think he's a guy that can handle the pressure. That last game against Clemson, he got thrust into the fire, so he didn't know what was going to happen. So he was kind of wide-eyed, I believe. But I think now, Coach Alford is going to develop him and have him ready to go."
On Marcus Crowley and Steele Chambers: "They'll be great running backs."
K.J. Hill on the returning Ohio State player people should be talking about more
"Y'all really talking about him but you're not, and that's Justin Fields. Because he was young last year, and he had one year under his belt, but I feel like throughout the season, he grew his game. Now coming in, he's going to have a big offseason, because he still has that chip on his shoulder. He threw the pick last seconds of the game (Fiesta Bowl loss to Clemson) that could have won it, and I know that's sticking with him through this whole process. So I feel like he's gonna come back even more explosive.
"He had flashes in the games, in practice. When he just puts it all together and just becomes consistent with it, it's gonna be this year, I feel like."
On which NFL quarterback he'd compare Fields to: "I'll tell you what he tells me, he tells me he's Deshaun Watson."
Binjimen Victor on which Ohio State receivers he expects to step up
"Jaylen Harris, Jameson Williams and Demario McCall in the H spot, because they've been working their tails off this past year. We just had a lot of depth and things like that, but I feel like this year, they're going to prove that they deserve to be on the field, and then they're gonna make plays whenever they get in there."
Austin Mack on how Ohio State will replace him, Hill and Victor
"I think they have a lot of guys there so far when it comes to talent, and at the end of the day, it's gonna be just about guys stepping up. There probably won't be as thick of a rotation anymore, which is great for the wideouts. I think they'll probably just run normally the three or four guys, and then keep trying to get guys developed. But it'll probably be more like a normal room when you only got three or four guys who are rolling the whole game."
Jonah Jackson on Ohio State's offensive line
"Honestly, it might be better. It might be better than it was last year because the guys that are coming in were just as good and ready to play in case me and Branden (Bowen) or somebody else was to go down, so I'm definitely excited for what's going on over there."
On Harry Miller, who could replace him at left guard: "A true freshman, he comes in and he's like, what, 310, 315 (pounds) now – you don't get true freshmen like that. When I was a true freshman, I was playing left guard in a right guard stance. He's above the curve, and a guy that's ready to go and he'll definitely be here (at the combine) one day."
On Nicholas Petit-Frere, who could replace Bowen at right tackle: "Another guy who's a great worker and he's got everything you could ask for in an offensive tackle: the smarts, the strength and everything, so I'm excited for the season ahead of them."
On under-the-radar offensive linemen to watch: "Definitely Enokk Vimahi, Ryan Jacoby. You guys already know about Dawand (Jones), Big Thanos. Harry and Nick. And there's a new freshman, Paris Johnson, I heard he's doing pretty good. So I'm excited to see them."
DaVon Hamilton on Ohio State's defensive tackles
"Honestly, there's a lot of talented people in that room. Tommy Togiai is no slouch in the middle. Haskell Garrett, he's been there for awhile. He kind of has some experience under his belt. And I'm kind of excited to see what they do."
On who he's excited to see play more: "Really, honestly, everybody in that room. Because we rotate so much, everybody's going to get a chance to play. But I'm really just excited for the whole room to blossom and be able to show what they got."
On Taron Vincent: "He's just kind of like a bull in a china shop. He's a really, really strong dude, and he really has a high motor. So when he gets out there, you're looking for the best. I expect the best out of him."
On who's the strongest defensive tackle: "Definitely Tommy. For sure Tommy."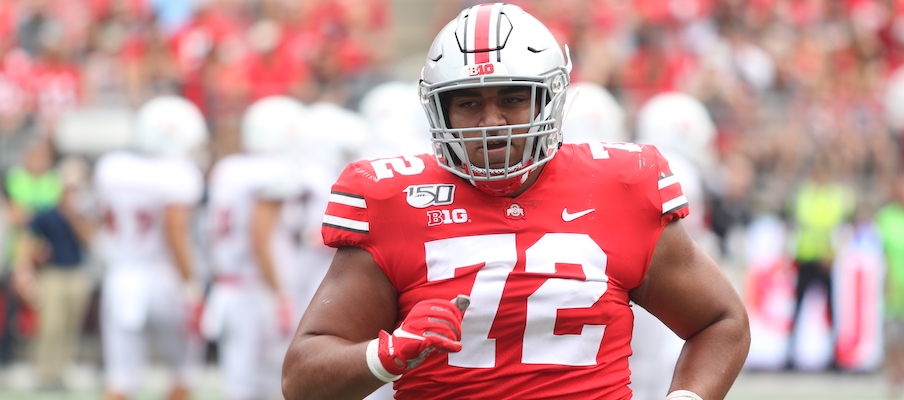 Malik Harrison on who will replace him at weakside linebacker
"It could be Teradja (Mitchell). Baron Browning can come over and play the Will. K'Vaughan Pope. It's a lot of guys in the LB room that has that talent, and when they get their shot, they're just going to go skyrocket."
Damon Arnette on which Ohio State defensive backs he expects to step up
"Starting on Monday, you should just watch the whole secondary. I feel like they're really going to do their thing. They got Josh Proctor, they got Cam Brown, Sevyn Banks. Of course Shaun Wade. That's the next wave."
Jordan Fuller on which Ohio State defensive backs he expects to step up
"I would say at safety, definitely Josh Proctor and Marcus Hooker. My boy Bryson Shaw is definitely gonna turn some heads too. Really, there's so much talent in the room, I can't even quantify it. But I would say, whoever's able to lock in the most into their job and to sacrifice the most for the team is gonna make the biggest impact. But (at cornerback) Sevyn Banks, Marcus Williamson, you got Cam Brown, Tyreke Johnson. It's hard for me to really single out. I'm telling you, there's a lot of talent."
On Josh Proctor: "He's one of the most talented individuals you'll ever come across in my opinion, in a lot of people's opinion. Just how big he is, how long he is but the speed and agility that comes with it and his competitive nature is off the charts. Really can't say enough about him and this year especially, he's really focused a lot more on the playbook and I know that's gonna keep going in an upper trend.
"I expect big things, and I know he expects big things out of himself too, so I'm really excited for him. He's a playmaker, and he always does stuff the right way. He's always around the ball. The special thing about Josh is that he can play in the middle of the field, but he can play a ton of different positions if asked to. So yeah, he's great."