Kyle McCord wasn't on his 'A' game Saturday afternoon in the Shoe.
Yet he still managed to complete 66.7% of his passes for 212 yards and two touchdowns. And, most importantly, he didn't turn the ball over.
In just over three quarters of work, McCord completed 20 of 30 pass attempts in Ohio State's dominant 37-3 win over Minnesota in the Buckeyes' final home game of the season. He began the game by completing six of his first seven passes for 86 yards. McCord then completed only four of his next 11 attempts. But, much like he has throughout much of the season, the junior played his best ball in the second half. McCord completed nine of his final 11 passes – including seven straight completions before he was replaced by freshman Lincoln Kienholz early in the fourth quarter – for 65 yards and two touchdowns.
Against Minnesota's two-high safety and soft coverage defense, much like opposing defenses have played in recent weeks, Ohio State's offense adjusted, leading to more short throws by McCord in a second half dominated by the Buckeyes. Ohio State outscored the Golden Gophers, 24-3, in the game's final 30 minutes.
To dive into how McCord performed in Ohio State's dominant win over Minnesota, we charted all 30 of his passing attempts in the game. (Note: The passing chart is categorized by how many yards the quarterback threw the ball in the air past the line of scrimmage on each attempt and whether the ball reached its target inside or outside the hashes, though the stats listed include yards gained after the catch on each completion.)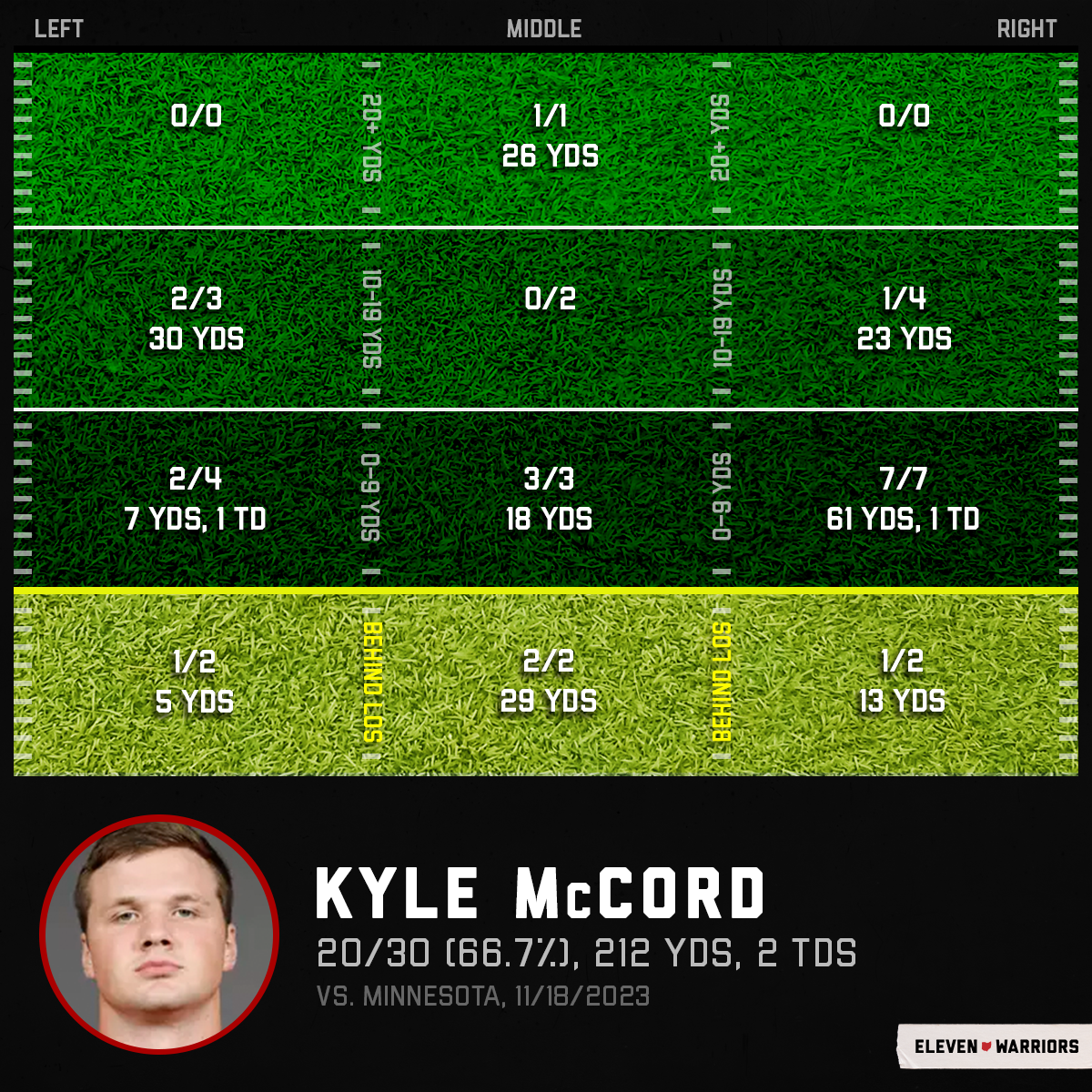 After posting a career-best 98.0 QBR the game prior against Michigan State, McCord's 64.0 QBR – his second-worst of the season – was the fifth-best in the Big Ten and ranked No. 62 in the FBS this past week. His 83.8 QBR on the season is the eighth-best in the country and second-best in the Big Ten, behind only Michigan's J.J. McCarthy (90.6, which is the second-best in the FBS).
With just one throw beyond 20 yards in the air, McCord matched his season-low from two weeks ago, when he threw just one ball, an incompletion, in that area of the field. Over the last three games (at Rutgers, Michigan State and Minnesota), he has now completed just 4-of-6 passes for 134 yards and a touchdown on throws beyond 20 yards.
McCord struggled in the intermediate part of the field against Minnesota, much like he has throughout the season, but he made up for it on passes within nine yards of the line of scrimmage. With Ryan Day's offense bringing back the touch pass – a short toss that is essentially a handoff for a wide receiver sweep – McCord completed 16-of-20 passes within nine yards of the line of scrimmage or in the backfield for 133 yards and two touchdowns.
The emergence of a healthy TreVeyon Henderson has played a major role in Ohio State's passing attack. Not only his pass-catching ability, but the way the Buckeyes have used play-action passes as well. Following a season-high 14 play-action passes against Minnesota (nine completions for 132 yards and a touchdown), McCord has completed 72-of-103 passes (69.9%) for 1,107 yards, eight touchdowns and one interception on play-action plays this season.
While opening up the field is something that many Buckeye fans have been critical of, McCord is taking advantage of the opponents' soft coverage, even if it means more shorter passes and drawn-out drives.
McCord certainly didn't have his best game against Minnesota, but there's nothing wrong with completing two-thirds of his passes. With that paired with his career game against Michigan State a week prior, McCord seems to be playing his best football at just the right time. With a top-three matchup against Michigan looming, Ohio State needs that to continue with its first-year starting quarterback.
"I think (I've improved in) every level, honestly. The biggest thing would just be that confidence level. Having confidence in myself and my teammates around me. You know, I think that was the biggest thing going back and watching that film from Week 1. I would say, just a little bit of uncertainty," McCord said after the win over Minnesota. "I think you can get as many practice reps as you want, but nothing is quite like those game reps. So just every week, getting more confident, more comfortable in there. I feel like we're starting to get this thing rolling."
Day would agree, as he hopes everything Ohio State has done through 11 games will culminate into the Buckeyes playing their best in Ann Arbor on Saturday afternoon.
"You can see when he's on rhythm ... we've got the weapons and he's got the talent," Day said following the win over Minnesota. "It's all built up toward this week to swing as hard as we can and play our tails off."
McCord didn't have any truly great throws against Minnesota, and he had some passes he would love to have back. That said, it's great to have a not-so-good game and still complete 66.7% of his attempts without turning the ball over.
A closer look at his best and worst throws against the Golden Gophers:
Good throw: 20-yard completion to Marvin Harrison Jr.
This isn't about the throw but more about the decision. Last week, McCord picked up a bad snap and threw it at the feet of a receiver in order to continue the drive rather than potentially turn the ball over. This week, he found Harrison for a short gain. Plays like this might not seem like a big deal, but they prove McCord's growth and calmness as he gains more experience.
For the second week in a row, Ohio State QB Kyle McCord fields a bad snap really well.

This time, he finds WR Marvin Harrison Jr. for his first reception of the day, good for 20 yards and a first down. pic.twitter.com/QWLPwH0ZwP

— Andy Backstrom (@andybackstrom) November 18, 2023
Bad Throw: Incompletion into double coverage
Not only did McCord throw an incompletion to Emeka Egbuka, who had two defenders on him, but he had Harrison wide open on the far sideline (left of the screen). This is the kind of throw that could easily lead to an interception if he makes it against Michigan.
On 2nd-and-10, it looked like there was miscommunication btwn Ohio State QB Kyle McCord and WR Marvin Harrison Jr. (McCord threw behind of Harrison, perhaps expecting him to sit down on the route).

Then, on 3rd-and-10, McCord threw into double coverage. He had MHJ in a 1-on-1. pic.twitter.com/4II8HafthO

— Andy Backstrom (@andybackstrom) November 18, 2023
Bad throw: Kyle McCord overthrows Julian Fleming on a would-be touchdown
This is one of those plays where McCord just has to put better touch on his pass because Fleming was pretty open. While leaving a touchdown off the board last Saturday wasn't a big deal, these are the types of plays that McCord must convert if the Buckeyes are to upset Michigan in Ann Arbor this weekend.
Ohio State QB Kyle McCord's going to want this one back. Had WR Julian Fleming open there. pic.twitter.com/QefKYgj45S

— Andy Backstrom (@andybackstrom) November 18, 2023
---
So far in 2023, McCord has completed 211-of-318 passes (66.4%) for 2,899 yards, 22 touchdowns and four interceptions. In the Buckeyes' six home games, McCord threw completed 118-of-168 passes (70.2%) for 1,729 yards and four touchdowns. In Ohio State's five road games so far this season, he has completed 93-of-150 passes (62%) for 1,170 yards, eight touchdowns and four interceptions.
McCord's passing chart through 11 games in the 2023 season: