More than five years after he started his collegiate career at Ohio State, Blue Smith finally scored his first collegiate touchdown last weekend.
In the first quarter of Western Kentucky's eventual 52-22 win over Houston Christian, the sixth-year senior wide receiver was left open along the right sideline and caught a 20-yard pass in the end zone for six points.
Just call him True Blue pic.twitter.com/6sEZMPl7dY

— WKU Football (@WKUFootball) September 9, 2023
After working his way toward that touchdown for more than a half-decade, the first emotion Smith felt after scoring was relief.
"It was like a big weight being lifted off my shoulders, if I'm being honest," Smith said. "That's one that I wanted for a long time. My parents were in the stands, my little sister, so to be able to share that moment with them and to be able to share the moment with my teammates meant the world to me. Those guys kind of know what I've been through, how much I wanted it, so they were excited for me, man. It was awesome. It was awesome just to get a team win. So definitely blessed."
Two games into the season at Western Kentucky, Smith has already caught more passes for more yards (eight catches for 88 yards and a touchdown) than he did in the first five years of his collegiate career combined (seven catches for 81 yards). It's the first time that Smith has seen consistent playing time, as he appeared in only three games in his lone season as a Buckeye and saw only occasional action across four seasons at Cincinnati.
The long wait to make an on-field impact since leaving high school has made Smith all the more grateful he has the opportunity to do so now.
"It's been a blessing," Smith told Eleven Warriors on Tuesday. "It's something that I've waited on for a pretty long time. So when I say it's a long time coming, it definitely is a long time coming. But I'm just blessed to be out there, blessed to have this opportunity. Wasn't really sure what I was gonna do when I left Cincinnati. So just to have this opportunity again, it means the world to me."
A four-star prospect ranked as the 126th overall player in 247Sports' composite rankings for the 2018 recruiting class, Smith arrived at Ohio State with expectations of becoming a weapon for the Buckeyes' offense but left the program after just one season. His decision to transfer from Ohio State came in part because of Urban Meyer's retirement as head coach at the end of his first season.
"I wasn't in a good headspace up there," Smith said. "I think that that point was probably one of the more tougher times, just because I was so young and I just felt really alone, felt like I didn't have anybody, and I just felt like it was a change that needed to be made. Coach Meyer was one of my best friends when I was there, and when he left, it almost broke my heart. He had to – you know, there was reasons. But yeah, it just broke my heart, man, and I felt like a change needed to be made. So I talked to my family for a while and we just decided that it was time."
Transferring to Cincinnati came with a vision of a clearer path to the field and a bigger chance to make an impact, but that vision never materialized. When Luke Fickell left Cincinnati for Wisconsin at the end of last season, Smith entered the transfer portal again after learning that the Bearcats' new coaching staff, led by Scott Satterfield, did not want him to return for his additional year of eligibility.
"If I'm being honest, they didn't want me back," Smith said. "I had just graduated, new coach coming in. He had probably guys he wanted on his mind that he wanted to bring in. So I mean, I can't blame him. If I wanted to be there or not, it is a business. But I left, and (Western Kentucky assistant receivers coach Zak Mizell) hit me up, and now I'm here, and I thank them every day."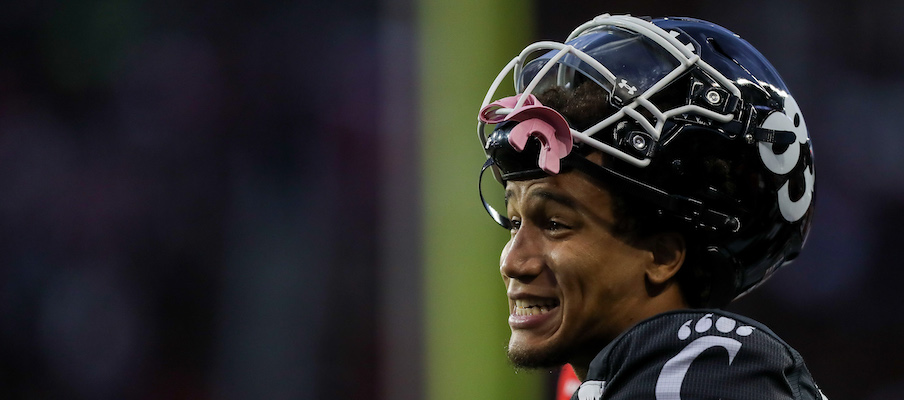 Smith acknowledges that he "probably would have looked at him crazy" if someone had told him five years ago that he would now be in his sixth year of college football playing at Western Kentucky. He also admits there were "plenty of times" he thought about stepping away from football when his stints at Ohio State and Cincinnati didn't go as planned.
"I think probably every year after I left O-State was just, 'Should I even be doing this?' I never lived up to expectations at O-State, I never lived up to expectations at Cincinnati, and that hurt me," Smith said. "And it was a lot of long nights. A lot of hard nights. You know, me and my family. But we weathered the storm. And one thing that my mom always told me was 'Keep that head high and shoulders back, no matter how you're feeling.' You know what I mean? And that's something that I stand on 100 percent."
Smith's love of the game was what drove him to keep playing football and take his third shot at success by transferring to Western Kentucky.
"A lot of my friends that also went to college to play football, a lot of them didn't last very long, for whatever reason. I just wanted to really just do this for myself," Smith said. "I didn't want to give up on something that I knew I'd never have another opportunity to do again. This is a small portion of my life, and I knew that just being able to put the pads on, run around, catch footballs, that's all I wanted to do. So to just not give up, to just not give up. Hold those close to me even closer. And just kept working. Just keep working, man."
"It definitely is a long time coming. But I'm just blessed to be out there, blessed to have this opportunity."– Blue Smith on making an impact at Western Kentucky
Now, Smith finally feels like he's on a team where he belongs for the first time in six years. He's one of 51 transfers on Western Kentucky's roster, and the Hilltoppers' pass-happy offense, which led the entire FBS in passing yards in 2022, is giving him plenty of chances to show what he can do.
"Man, this is the first time in years I've just been able to be Blue," Smith said. "No matter, you know, bad days, good days, I'm always able to be myself, and this is a place that people can be themselves. This is like a second-chance place, almost. And guys come in here with all different types of stories from all different types of places, for one common goal. So that's what that is. So I just thought that this would be the best place for me just because they allow me to be me, man. And I'm happy about it."
While Smith's Ohio State career didn't go as planned, he says he still draws from his time as a Buckeye five years later. The biggest thing that stuck with him, Smith said, is the "grind mentality" that was instilled in him by Ohio State director of sports performance Mickey Marotti.
"Coach Mick definitely will instill that grind mentality in you. No matter what the situation is, the circumstances; whether it's snowy games, cold games, rainy games, hot games; no matter what, just grind. And I think that's, even though I was there for one year, something that's always stuck with me is nobody really cares about what you're going through," Smith said. "Just grind. At the end of the day, you are a product of what you put out there."
Smith also says he's happy for his former Ohio State teammates who achieved more success than he did in Columbus. One such teammate was fellow wide receiver Chris Olave, who was a less-heralded prospect in the same recruiting class as Smith yet went on to become Ohio State's all-time career receiving touchdowns leader and is now one of the top young receivers in the NFL.
"Oh, man, it's great," Smith said. "He was my roommate when we were at school, so just seeing his whole journey, man, just how he kind of came to O-State, kind of how he got there, what he did his freshman year, it's great to see. It's great to see guys both getting drafted and doing what they talked about."
All of that said, Smith expects to be "full of emotions" when he returns to Ohio Stadium on Saturday to play against the Buckeyes. While most of his former Ohio State teammates have now completed their college careers – Josh Proctor and Matt Jones are the only members of his recruiting class still playing for the Buckeyes – he knows it will be special to play one more time in the stadium where he started his college career.
Smith already thought he'd have that opportunity in 2019, his first year at Cincinnati, when the Bearcats played the Buckeyes in the Shoe. He never ended up coming off the bench that day, when Ohio State beat Cincinnati 42-0, but he'll see plenty of playing time Saturday as a starting receiver for the Hilltoppers. 
The opportunity he didn't get last time will make him savor this opportunity that much more. And the Huber Heights, Ohio, native will be motivated to put his best foot forward in front of his family and friends who will be at the Shoe to watch him play in his home state again.
"I didn't get a chance to play the first time around when we went back with Cincinnati, and that broke my heart. I was the only receiver that didn't play that game, I wonder why, but we'll never know. But I guess God really wants me to play in the Shoe, because he's bringing me back again," Smith said. "And I'm gonna try to do everything I can to play well. I got a lot of people coming to that game, that's where I'm from. A lot of guys I know on the team still. And I'm just excited to go back, man. It's gonna be fun. Definitely will be."