Jyaire Brown spent this spring trying to prove he could make an impact at multiple spots in Ohio State's secondary.
Brown is in line to be one of Ohio State's top four cornerbacks this season and took enough first-team reps this spring that he appears to have a chance of earning snaps in this year's outside cornerback rotation. But Brown also spent some time practicing inside at the nickelback position, setting up the possibility that he could play a role as a slot cornerback this year.
Ohio State secondary coaches Tim Walton and Perry Eliano approached Brown with the idea of cross-training at both spots this spring, and Brown was happy to do so as he looks to contribute however he can in his sophomore season with the Buckeyes.
"I just got a hold of the opportunity. Wherever I can play on the field, I'm gonna get there," Brown said this spring. "Pretty much it was just brought to me by Coach Walton and Coach Eliano just to increase my value, man. Be versatile. Wherever I can help the team, that's what I'm gonna do."
While Brown lined up outside almost exclusively as a freshman, he has experience lining up inside from playing 7-on-7 with the Louisiana Bootleggers during his high school years. So he hasn't felt out of place practicing in the slot.
"I'm actually having a good time adjusting to a little bit of both," Brown said. "Played with the Bootleggers a long time in the nickel. So it's been a good adjustment just balancing my skills for both corner and nickel."
He acknowledged it is difficult, though, trying to master two different positions at once.
"Trying to balance both of those out, it's been a constant challenge, but I'm just trying to perfect my craft on both," Brown said.
It's still probably more likely Brown will see regular playing time outside than he will inside. Cameron Martinez took most of the first-team snaps this spring at the position Ohio State still calls nickel safety, while three-year Syracuse starter Ja'Had Carter is also expected to contribute at that spot after joining the Buckeyes via the transfer portal. Brown's fellow second-year cornerback Ryan Turner also saw extensive work at nickel in the spring game, whereas Brown played only outside in that Ohio Stadium exhibition.
But as Jim Knowles, Walton and Eliano weigh the possibility of using their cornerbacks in the slot more often this year, even if only situationally, Brown is a player who could give the Buckeyes a boost of man-to-man coverage ability at the position.
"He has a good skill set, man. He has good quickness, a good change of direction, good cover skills. He can come out of breaks really well," Walton said when asked why Brown was cross-training in the slot. "So we like to just give looks at that stuff, man, just to see how it all ties together in the end."
Brown already got a taste of significant playing time at the collegiate level last year when he played 197 snaps at cornerback and even started a game against Wisconsin due to injuries at the position. As a true freshman, Brown held his own when he got on the field, allowing just five catches for 61 yards on 13 targets and 94 coverage snaps, according to Pro Football Focus.
While Brown wasn't even supposed to be on the two-deep entering the year on a cornerback depth chart led by Denzel Burke, Cameron Brown, JK Johnson and Jordan Hancock, he arrived at Ohio State with a desire to play immediately and felt prepared when he got that opportunity.
"I came in wanting to get to work early. So it was kind of surprising me getting those early starts, but it was kind of like, you know, I knew I was gonna be here," Brown said.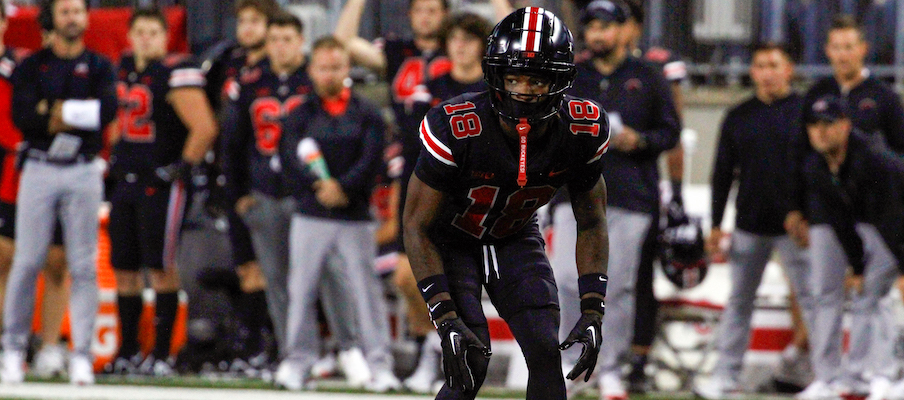 Brown said he learned from the mistakes he made when he got the chance to play last year, and he feels "a lot more comfortable" going into his second season of college football. That's something Walton has seen from Brown as well.
"He handled it well. He came in, did a good job. And now that experience that he had, you can see it a little bit now in practice, because he's confident, he's showing up, he's getting his hands on a lot of balls," Walton said of how Brown has built off of his first season. "Now the game is slowing down for him. He's able to apply a lot of the stuff now a little faster."
Brown bulked up this offseason to 183 pounds, which he said was a point of emphasis because director of sports performance Mickey Marotti was "on my ass all throughout the year just about me getting my weight up" last season. With more mass on his 5-foot-11 frame, Brown says he feels more confident addressing blocks and making tackles. That will be particularly important for Brown if he ends up playing nickel, where he'd be playing closer to the ball and would need to be a bigger factor in the run game.
With Cameron Brown now with the Los Angeles Chargers and Johnson now at LSU, the door is open for Jyaire Brown to play a bigger role in the outside cornerback rotation this season. That said, Burke and Hancock took the majority of reps with the starters this spring while the Buckeyes also added former Ole Miss cornerback Davison Igbinosun, who started 10 games for the Rebels in 2022.
Ohio State's coaches haven't responded definitively when asked if they expect to rotate more frequently at cornerback this year, which could be Brown's path to more consistent playing time. Brown is hoping that will be the case. But he says his focus is on getting better every day, no matter which spot he's lining up at, as he looks to demonstrate he can be an asset to the Buckeye secondary as a sophomore.
"That's something that could play a factor," Brown said when asked about the possibility of a three- or four-man cornerback rotation this season. "But we just have to see as the year goes on. We just gotta keep working."