Davison Igbinosun has dreamed of playing for Ohio State since he was a young child growing up in New Jersey. As a recruit out of high school, however, Igbinosun never received an offer from the Buckeyes.
So when Igbinosun entered the transfer portal after just one year at Mississippi, he didn't expect to hear from Ohio State.
"Ohio State was the place I wanted to be since I was a little boy," Igbinosun said. "Out of high school, they didn't actually come and get me. So hopping in the portal, if I'm being honest with you, I didn't think that they would offer me."
Igbinosun wound up being pleasantly surprised when his phone rang one day while he was lifting back home at his high school in Union, New Jersey. He didn't recognize the number, but it ended up being a call from Ohio State's New Hampshire-born head coach.
"It was, I want to say a Boston phone number. I'm like, 'Who could possibly be calling me?' And it was Ryan Day," Igbinosun said. "I just said 'God is good.'"
Igbinosun didn't commit to Ohio State right away. He also visited UCLA and Michigan, so Ohio State secondary coach Tim Walton wasn't sure if the Buckeyes' efforts to recruit Igbinosun would end up being successful. But the Buckeyes pitched Igbinosun on the opportunity to compete for national championships and be a part of Ohio State's brotherhood.
"We had to convince him of some things, because he had some activity," Walton said. "We were able to sell him on the family atmosphere, the opportunities here, the elite level of competition and ball, being an Ohio State Buckeye. So, in the end, we was able to win out."
That said, Igbinosun had his sights set on becoming a Buckeye as soon as he heard from Day.
"Deep down in my heart, I knew I was coming to Ohio State from the jump," Igbinosun said. 
Being from New Jersey, Igbinosun was excited about returning to play in the northern part of the United States after spending a year in the South. He also wanted to play for one of the top programs in the country and go somewhere he thought could develop him into a first-round NFL draft pick.
"Ohio State speaks for itself," Igbinosun said. "They were going to be the national champions (last season). Like, if a couple plays were different, they would have been the national champions. So I just feel like it was pretty easy."
While Ohio State didn't promise him a starting job, Igbinosun was unbothered by that because he felt the competition at Ohio State would push him to become a better player.
"Every school preaches competition, but Ohio State lives competition," Igbinosun said. "Every single day from the weight room to the field, you're competing in everything.
"I wanted to be a first-round draft pick. I feel like if you come to Ohio State, if you play with the best players every day you will be prepared."
Ohio State wasn't one of the first schools to reach out to Igbinosun when he entered the portal. The call he received from Day came more than a week after he entered the portal and just one week before he committed to the Buckeyes. He wasn't bothered by that either, though, because he understood how high the standard is to play at Ohio State.
"Ohio State's the top program, one of the top programs in the country. So they're just not going to go after everybody," Igbinosun said. "They need to make sure that you're a good enough player to play here. I feel like that's what took so long."
"I wanted to be a first-round draft pick. I feel like if you come to Ohio State, if you play with the best players every day you will be prepared."– Davison Igbinosun on transferring to Ohio State
It hasn't taken long for Igbinosun to show his new coaches that he is good enough to play at Ohio State. Since the start of spring practices, Igbinosun has consistently drawn praise for his performance from Ohio State's coaches, leading to his black stripe being removed after just five practices as a Buckeye.
"He's looking fantastic," Ohio State defensive coordinator Jim Knowles said. "He gets his hands on a lot of balls. He competes. He's got a mental toughness to him. Very pleased to have him here."
He's quickly made a positive impression on Ohio State's other cornerbacks, too.
"He's a great kid. He's really good," Jordan Hancock said. "So bringing him in really boosts all of us and he pushes all of us. So I feel like that was a great change for us bringing him in."
While it can take time for a transfer to get acclimated to playing in a different program, Igbinosun said his transition from Ole Miss to Ohio State hasn't been hard at all.
"I feel like it's been like very easy," Igbinosun said. "Ohio State has been very easy. It feels like home, like it feels like Jersey."
Igbinosun's decision to enter the transfer portal came after Ole Miss parted ways with co-defensive coordinator Chris Partridge, a fellow New Jersey native who is now the linebackers coach at Michigan.
"He was the main reason why I went down there in the first place. So I just feel like him getting fired, it was an opportunity to explore other options," Igbinosun said.
His one year at Ole Miss was a productive one, as he started 10 games at cornerback as a true freshman with 37 tackles and five pass breakups. And he believes the experience he gained with the Rebels has prepared him well for the challenge of playing for the Buckeyes.
"I feel like what I endured, as a true freshman coming in high school and enrolling early as a 17-year-old, I feel like it was the hardest thing that I ever had to do in my life," Igbinosun said. "So I feel like that prepared me for everything moving forward."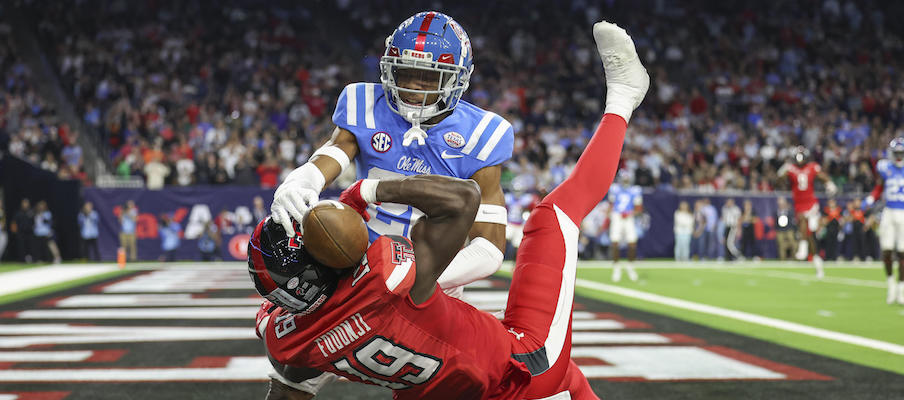 Igbinosun hasn't been guaranteed a starting spot this season, and he's been repping mostly with the second-team defense so far this spring. As highly as everyone has talked about him, though, it seems likely Igbinosun will end up in the starting lineup if he keeps performing the way he has so far.
"Just keep doing what he's doing," Walton said when asked what Igbinosun needs to do to earn a starting job. "He's learning. He's putting the time in. He's competing. He has a passion for the game. He has a good skill set. We just keep practicing and keep applying it, man, then we'll evaluate it at the end of the summer when we get ready to start getting ready to go."
Even though Igbinosun is off to a great start in the eyes of his coaches, he still feels like he's only scratching the surface of what he can be as a player.
"I feel like I haven't played my best football yet. Like I can be so much better than I am right now," Igbinosun said.
Igbinosun says his goal is to be Ohio State's next Jeff Okudah, who earned unanimous All-American honors in 2019 before going on to be selected as the No. 3 overall pick in the 2020 NFL draft. At 6-foot-2 and 203 pounds, he believes he brings a similar skill set to the Buckeyes.
"I'm a big corner. I'm a physical corner. I want to put my hands on you," Igbinosun said. "I'm gonna come up, make tackles. I'm gonna get pass breakups, get interceptions. I'm also a ballhawk as well. I just do a little bit of everything."