The torn ACL that ended Bradley Robinson's Ohio State career won't stop him from putting his long-snapping skills on display for NFL scouts at Ohio State's pro day on Wednesday.
Exactly five months to the day on which he suffered that injury in Ohio State's seventh game of the 2022 season against Iowa, Robinson will be back on the field at the Woody Hayes Athletic Center to participate in a pro day workout alongside the rest of the Buckeyes' 2023 NFL draft hopefuls. And he feels good about what he'll be able to do even though he's still in the midst of the rehabilitation process.
"It's never what I thought it would be, obviously, coming off ACL surgery. But it's honestly been really good," Robinson told Eleven Warriors of his preparation for pro day. "It's been a grind, but I've just tried to approach it each day with as positive (an attitude) as possible, and just attack it one day at a time. So it's been good."
After suffering that injury in October, Robinson said he gave himself two days to mourn the early end of his final season as a Buckeye. Then, he turned his focus to working his way back from the injury as quickly as possible so he could still pursue the opportunity to play at the next level.
"When I sat and talked with my family, like I think I took 48 hours after it happened at the game and kind of mourned it. And was sad, I cried, I felt every emotion possible, I was angry," Robinson said. "But then I showed up Tuesday morning to start, you have to do a bunch of rehab before surgery to get the leg strong for surgery, and I basically, I walked in Tuesday, and the entire goal was you can't be mad, you can't be upset, all you can do is just grind one day at a time because any other view or any other emotion is just gonna take away from the process and not make anything better. So I took two good days to just kind of be sad, pissed off, every emotion possible.
"And from then on, it was like, 'All right, it's time to get to work and try to get out of this better than I was going in.' So that's been the focus the whole time."
As a long snapper, Robinson said he could have tried to play through the injury. But while "it really sucked" for Robinson not to finish out the season with his teammates, he's glad he didn't because of the long-term effects that could have had on his knee.
"When the surgeon finished the surgery, he goes, 'You made the right decision,'" Robinson said. "He goes, had you tried to play at all on it, basically I would have had some chronic knee issues before I was 35."
Robinson didn't let the injury keep him down for long, though. Just five weeks after he suffered the injury, Robinson walked without assistance onto the field at Ohio Stadium for Senior Day. Three months after suffering the injury, Robinson was already back on the field snapping.
Almost 12 weeks post op, felt good to get back into snapping today! pic.twitter.com/nVtgMiqTWD

— Bradley Robinson (@BRobinson_42) January 30, 2023
Initially, Robinson had to snap without moving his legs at all, which he believes helped him hone in on perfecting his upper-body technique. Going into pro day, Robinson feels as though he is able to snap the ball as he normally would and move without limitations.
"When I first got back into snapping, I had no leg movement at all. And that was actually like, I viewed it as a benefit, because then you can just really focus on like the upper body and the arm motion, your hands and your grip on the football and really emphasize that," Robinson said. "But that probably went on for like two weeks and then honestly I felt like I'm pretty normal. Like right now, I feel as normal as I could be snapping, and I've slowly like upped the volume each day. Like when I first got into it, it was like okay, I got like 10 snaps in me and then I get sore. And now I'm at the point where I go in, I have full training sessions with punters and kickers for one to two hours and I'm snapping the whole time, feeling good doing it and there's really no restriction on the snapping whatsoever."
Great time out in Arizona getting ready for pro day next week! #GoBucks pic.twitter.com/HgUKlQhntv

— Bradley Robinson (@BRobinson_42) March 14, 2023
Although he has been back to running for nearly a month, Robinson won't do any of the running and jumping drills at pro day – which aren't a big piece of the evaluation for long snappers anyway. But Robinson will go through a snapping and blocking workout and participate in the bench press.
Given that he's still not fully healthy, Robinson hasn't been able to train for pro day the same way he would have if he hadn't gotten hurt. But he just wants to put his best foot forward and embrace the opportunity to be a part of the event while showing NFL scouts he's taking his rehab seriously.
"I just want to show progress," Robinson said. "The whole thing is I'm not trying to go out there and have a perfect day or anything like that. I just, one, I want to have fun. It's been a big mental thing of, you know, having a season-ending, Ohio State career-ending injury that like you didn't get to finish the season and to have all the enjoying memories you thought you were gonna have. And for me, I always viewed the NFL opportunity as it got more and more like plausible, like it's all still extra, it's all the cherry and the sprinkles on top. And I want to make sure I take advantage of it and have fun. 
"The whole goal was always to just show that I'm progressing with rehab and I'm serious about my rehab. And that's what, first thing like when it happened, and then after the season, I sat down with my agent and it was basically like, talked with them and it was like, hey, like, you just got to grind every day and just prove that you're rehabbing well and caring about what you're doing. So I'm just trying to go out there, number one goal is to have fun, number two is just show that I've made really good progress in rehab."
"I took two good days to just kind of be sad, pissed off, every emotion possible. And from then on, it was like, 'All right, it's time to get to work and try to get out of this better than I was going in.'"– Bradley Robinson on recovering from his knee injury
Robinson grateful to Ohio State, excited for the future
When Robinson initially transferred to Ohio State in 2017 after one year at Michigan State, he wasn't expecting to play in the NFL. A big reason why he chose to become a Buckeye was that he planned to attend medical school and felt the connections he would gain from becoming an Ohio State student would help him achieve that goal.
"When I chose to come to Ohio State, my other option was the school up north. I had a couple of offers from other schools like Boston College and Indiana, and I was pretty set on joining my brother up north," said Robinson, whose older brother Andrew was a long snapper at Michigan. "But Ohio State reached out, and for the longest time I was planning on going to med school, before football things kind of picked up. So when Ohio State reached out, I was kind of like, I had some connections here already in the medical field that I've had to this day, and I was kind of like, 'you know what, let me explore this option.' Because at the end of the day, no matter what about football, you'll be a part of a great university and a great brand."
Robinson said his six years at Ohio State ended up being more than he could have imagined – both on and off the field.
On the field, Robinson was Ohio State's starting long snapper from the beginning of the 2020 season until his injury last season. A starter in 29 consecutive games who was consistently reliable in that role, Robinson has reason to believe he can play in the NFL as he looks to follow in the footsteps of two former Ohio State long snappers, Liam McCullough and Jake McQuaide, who are already in the league. Ohio State was tied with Baylor and LSU for the most long snappers in the NFL last season.
"Me and Liam have been joking (that Ohio State is) Long Snapper U," Robinson said.
Robinson said he talks to both McCullough and McQuaide regularly, so he's turned to both of them for advice as he looks to earn an NFL roster spot. He's also received mentorship from Arizona Cardinals kicker Matt Prater, who he spent time training with in Arizona last week. And having spent six years at Ohio State, Robinson has no shortage of former Buckeye teammates who have already gone on to play in the league that can help him prepare for the next level.
"One of the best things about being at Ohio State is I got a team full of guys that have tons of experience at the next level. Thayer Munford's one of my best friends and he's back in town and Columbus, he was my old roommate, like seeing him all the time, I talk to him about all that stuff," Robinson said. "And it's good right now, like (last week), everybody that was gone training elsewhere at the combine is back in town. So we were all working out (Wednesday) and like talking and stuff, it's just good to like kind of basically just get everybody on the same page and just swap stories as we continue on this great journey."
If Robinson doesn't make it to the NFL, he'll still be well-prepared for the next phase of his life because of his time at Ohio State. While Robinson is no longer planning to go to medical school, he already has three degrees from the university – bachelor's degrees in human nutrition and in human development and family science and a master's degree in exercise physiology – and could still earn a fourth, as he's been working toward a Ph.D. as a graduate student researcher in Ohio State's Department of Human Sciences.
Even as he's trained for the NFL this spring, Robinson has still been working in the research lab as part of a team led by Ohio State professor Jeff Volek, who he says has been "super supportive" of both his football dreams and his academic aspirations.
"I'm at a point where I'll either be an NFL football player or I'll have a doctorate and have great opportunities either way, so I'm truly blessed for that," Robinson said. "I didn't know if I was gonna continue on in the lab after my season was done, I thought I was gonna go out and train somewhere and be away. But I talked to him, I was like, 'Hey, here's what happened. I still want to try to play in the NFL. But you know, I'd be naive to think that things weren't affected by my knee.' And that's where we kind of sat down for an hour meeting and we just planned out these different things and he was super supportive. And everyone there, I had no issue saying and accepting, if football didn't work out, I get to work with these great people in this great research lab every single day and then come away with a doctorate."
Regardless of whether he ends up playing in the NFL, Robinson intends to work in the exercise science field when his football career is over. Specifically, Robinson hopes to work with biowearables and develop new ways for athletes to use those devices to improve their performance.
"Those are great devices for people with health issues and in Type 1 diabetes and stuff, but I'm trying to be there at the forefront, if possible, for using it in the athletic industry," Robinson said. "So I've been talking to a bunch of different people, and I've met with a bunch of different people about that. So the dream is to be involved with that, when all is said and done, just because it combines the athletic background and the passion for sports and training with everything I've done in the classroom and the science stuff of it. So it's exciting stuff. I don't know where that will go. But that's something I'd like to be a part of."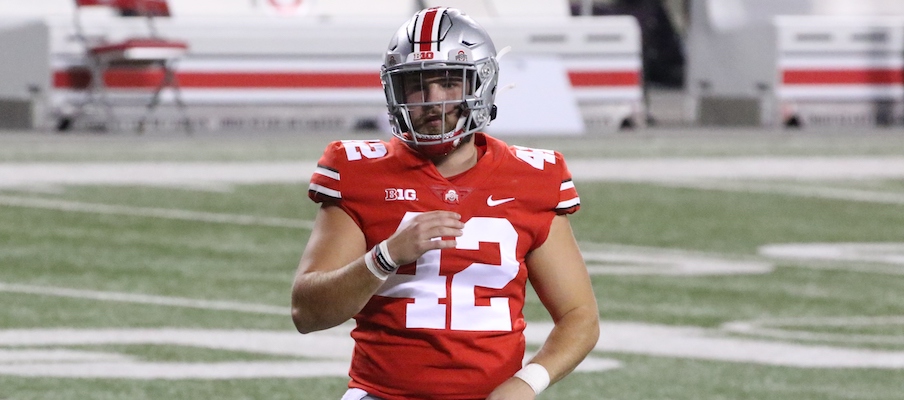 Playing at Ohio State came with plenty of challenges, Robinson said, but he says the lessons he learned from his time as a Buckeye will guide him for the rest of his life.
"Ohio State, I tell everybody, it's not an easy place to be. It's not an easy place to play. It is a high-energy, intense place to be, and you need to come in ready to work. But I think down the line, I'll never have an experience like that again, where so much is required of somebody in a building, in a program," Robinson said. "So I think it just prepares you for honestly the real world. Like you're used to getting up and grinding every single day and it being challenging and different things happen that you have to overcome, and I think that's the biggest thing is I've really learned to overcome situations and different things that have popped up along the way and how to be a better man because of it and just work harder."
Robinson believes the future of Ohio State's long snapper unit is in good hands with Arizona State transfer John Ferlmann, who he's gotten to know over the last few months and described as "a hell of a snapper." Drawing from his own experience, though, Robinson said his biggest advice to Ferlmann and the rest of Ohio State's specialists is to work hard and focus on pushing themselves to be the best they can be regardless of how the depth chart might shake out.
"The biggest thing at the long snapper position is you just got to worry about your own performance. You can't worry about another guy or if they bring somebody in or anything like that. All that matters is are you doing the best you can do," Robinson said. "The biggest thing at the long snapper position is you just got to worry about your own performance. You can't worry about another guy or if they bring somebody in or anything like that. All that matters is are you doing the best you can do, and moving on."