Now that we know which players are returning to Ohio State and which Buckeyes are moving on, it's time to take a look at how much eligibility every Buckeye has left entering the 2023 season.
Because the NCAA gave all players who were in college in 2020 an extra year of eligibility due to the impact COVID-19 had on that season, it can still be challenging to keep track of how much eligibility each player has left, particularly when it comes to upperclassmen. Add in transfers and redshirts, and matters become even more complicated.
Fortunately, we've done the math so you don't have to.
Ohio State currently has 89 scholarship players – four above the 85-man limit, which the Buckeyes will need to get down to before the start of the season – who will either be with the Buckeyes this spring or are set to join the team this summer. All of those players are categorized below by their current class standing and how many years of eligibility they have left at Ohio State.
Super Seniors with One More Year of Eligibility (4)
QB Tristan Gebbia
WR/RB Xavier Johnson
RG Matt Jones
S Josh Proctor
Gebbia, who started his college career at Nebraska in 2017 before transferring to Oregon State in 2018, has already used both his redshirt year and his COVID year but is expected to receive a seventh year of eligibility after missing the entire 2021 season with a hamstring injury. He's the only seventh-year senior on the Buckeyes' 2023 roster.
Johnson, Jones and Proctor are all using their COVID year to play a sixth season with the Buckeyes in 2023 after taking redshirts earlier in their Ohio State career – Johnson and Jones as freshmen in 2018 and Proctor as a true senior in 2021 after he suffered a season-ending leg injury.
Redshirt Seniors with Two More Years of Eligibility (6)
TE Cade Stover
C Victor Cutler
G Enokk Vimahi
DT Jaden McKenzie
LB Steele Chambers
LB Tommy Eichenberg
All six of these Buckeyes redshirted as freshmen in 2019 and will be fifth-year seniors this season, but still have the COVID year available should they choose to return for a sixth season in 2024.
Stover, Chambers and Eichenberg are all probably more likely to enter the 2024 NFL draft, as they're all returning starters who could have reasonably entered this year's draft. The sixth year could be more valuable to Cutler and Vimahi, who will be among those competing to earn starting spots on Ohio State's offensive line this offseason, and McKenzie, who has played only sparingly in his first four years as a Buckeye.
Seniors with Two More Years of Eligibility (6)
RB Chip Trayanum
WR Julian Fleming
TE Gee Scott Jr.
LB Cody Simon
S Ja'Had Carter
S Lathan Ransom
None of these six Buckeyes have taken a redshirt, but all of them still have two more years of collegiate eligibility because of the extra year they received as freshmen in 2020.
Trayanum, Scott and Simon are among those Buckeyes who could benefit from having a fifth year of eligibility, as none of them are in line to be starters this year. The extra year of eligibility also adds value to the transfer addition of Carter, who could potentially play two seasons at Ohio State, though he already has multiple years of starting experience and could look to enter the 2024 NFL draft if he earns a starting job with the Buckeyes this year.
Juniors with Two More Years of Eligibility (11)
QB Kyle McCord
RB TreVeyon Henderson
WR Emeka Egbuka
WR Marvin Harrison Jr.
LG Donovan Jackson
DE Jack Sawyer
DE J.T. Tuimoloau
DT Tyleik Williams
CB Denzel Burke
CB Jordan Hancock
P Jesse Mirco
As members of the 2021 class who haven't redshirted, these 11 Buckeyes don't have any extra eligibility. Since they weren't in college in 2020, they didn't get the extra year of eligibility that the players in classes before them did; therefore, they have only two years of eligibility remaining even though they have only been at Ohio State for two years.
Many of these Buckeyes will be candidates to enter the NFL draft after just three years anyway – particularly Harrison, Tuimoloau, Egbuka, Henderson and Jackson. All of them except McCord and Hancock have already played major roles for the Buckeyes, and all 11 of them could be starters this year.
Being down to two years of eligibility makes this year's quarterback competition McCord's last real chance to win the starting job at Ohio State, as Devin Brown still has two years before he can enter the NFL draft. Ohio State perhaps should have redshirted Hancock in one of his first two seasons, considering he only played six games in 2021 and five games in 2022, but having only two more years of eligibility will give him greater urgency to earn a starting job or at least more playing time this year.
Redshirt Juniors with Three More Years of Eligibility (12)
RB Miyan Williams
TE Joe Royer
OT Josh Fryar
C Jakob James
OL Trey Leroux
OL Grant Toutant
DE Mitchell Melton
DT Ty Hamilton
S Cameron Martinez
S Kourt Williams
K Parker Lewis
K Jake Seibert
Even though they started their college careers one year earlier than Ohio State's 11 true juniors, the Buckeyes' 12 redshirt juniors have one more year of eligibility than the true juniors do because they have taken redshirt years – all in 2020 except Lewis, who took his last season after transferring to Ohio State from USC – and still have their COVID year available in addition to two traditional years of eligibility.
Considering that most of these Buckeyes have played only sparingly since they arrived at Ohio State, there are plenty of candidates on this list to potentially play three more years of college football. Miyan Williams is the most likely candidate on this list to enter the 2024 NFL draft as a redshirt junior, but everyone else in this group still has a lot to prove to become an NFL prospect.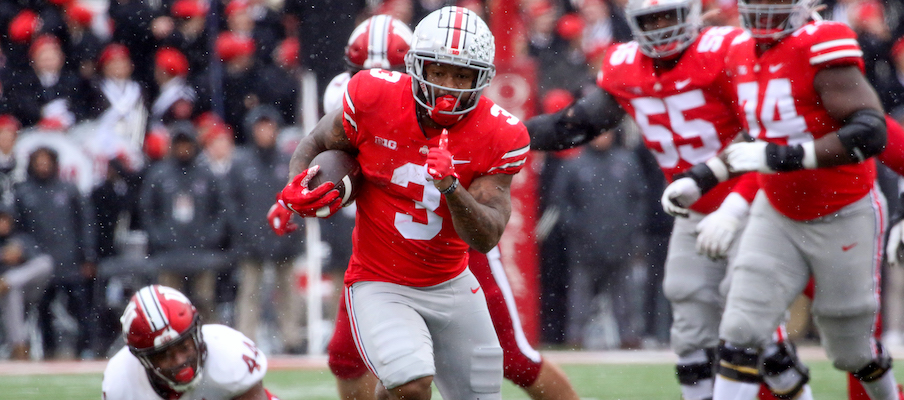 Redshirt Sophomores with Three More Years of Eligibility (8)
RB Evan Pryor
WR Jayden Ballard
TE Sam Hart
OT Zen Michalski
OL Ben Christman
DT Mike Hall
LB Reid Carrico
LS John Ferlmann
All eight of these players redshirted as true freshmen in 2021, giving them three more years of collegiate eligibility even though they didn't get the extra year of eligibility the 2020 class did. 
While all of them are eligible to enter the NFL draft next year, Hall is the only one who looks like a potential candidate to do so right now, as none of the others have seen regular playing time for the Buckeyes yet. (Ferlmann was the starting long snapper at Arizona State last year, but it's rare for a long snapper to enter the draft early.)
Sophomores with Three More Years of Eligibility (9)
RB Dallan Hayden
WR Kojo Antwi
WR Kaleb Brown
DE Caden Curry
LB C.J. Hicks
CB Jyaire Brown
CB Davison Igbinosun
S Kye Stokes
S Sonny Styles
Eight members of Ohio State's 2022 class played in at least five games as true freshmen, leaving them with three more years of eligibility entering the 2023 season. The same is true for Igbinosun, who brings three years of eligibility to Columbus after playing in all 13 of Ole Miss' games as a true freshman.
Redshirt Freshmen with Four More Years of Eligibility (13)
QB Devin Brown
WR Caleb Burton
WR Kyion Grayes
TE Bennett Christian
OT George Fitzpatrick
OT Avery Henry
OT Tegra Tshabola
C Carson Hinzman
DE Omari Abor
DE Kenyatta Jackson
DT Hero Kanu
LB Gabe Powers
CB Ryan Turner
Thirteen members of Ohio State's 2022 class preserved their four years of eligibility by playing in no more than four games as true freshmen. Notably, that includes Brown, giving him plenty of time to still potentially be a future starter for Ohio State even if McCord wins this year's quarterback competition.
True Freshmen with Four More Years of Eligibility (20)
QB Lincoln Kienholz
WR Brandon Inniss
WR Bryson Rodgers
WR Noah Rogers
WR Carnell Tate
TE Jelani Thurman
OT Luke Montgomery
OT Miles Walker
G Austin Siereveld
C Joshua Padilla
DE Joshua Mickens
DE Jason Moore
DT Kayden McDonald
DT Will Smith Jr.
LB Arvell Reese
CB Jermaine Mathews Jr.
CB Calvin Simpson-Hunt
S Jayden Bonsu
S Malik Hartford
S Cedrick Hawkins
The equation is simple for Ohio State's 20 newest freshmen. All of them will start their college careers on a standard eligibility clock, giving them four seasons of eligibility with the option to spread those four seasons out over five years if they take a redshirt year.