Had Sonny Styles remained in his original recruiting class and joined Ohio State as a midyear enrollee, he'd just be beginning his career as a Buckeye this month. Instead, Styles already has a full season as a Buckeye under his belt.
Originally a member of the class of 2023, Styles opted to forgo his senior year at Pickerington Central High School and reclassify into the 2022 class, allowing him to enroll at Ohio State last summer. It's a decision he's glad he made.
"I've been telling people all the time, I'm glad I came early," Styles told Eleven Warriors in an interview at Ohio State's media day before the Peach Bowl. "I think it helped me for this year, and it's gonna help me for next year as well."
Despite being only 17 years old when he arrived at Ohio State, Styles was one of the first members of Ohio State's 2022 freshman class to earn playing time. Appearing in every game except the season opener against Notre Dame, Styles played the second-most special teams snaps among all Buckeyes (229) while he also played 67 snaps on defense. Those defensive snaps didn't just come in blowout wins, either, as Styles played a dozen snaps against Georgia in the College Football Playoff.
Styles believes the experience he gained in 2022 will go a long way toward enabling him to play a bigger role in 2023.
"I think that's really gonna help me," Styles said. "Because I think a lot of times as a freshman, it's a confidence thing and getting comfortable. And I feel like my confidence has grown over the year and I've gotten really comfortable."
Even though he could have still been playing high school football this past fall, Styles said he never felt out of place in his first year at Ohio State.
"I don't feel like I shouldn't be here," Styles said. "I feel like I belong."
"I've been telling people all the time, I'm glad I came early." – Sonny Styles on his decision to reclassify
Ohio State safeties coach Perry Eliano believes Styles was able to acclimate quickly to the collegiate level because he came in with the right mindset.
"Sonny's a great young man, first and foremost. Comes from a great family. His parents have done a great job with him. Extremely mature, mature beyond his years," Eliano said during Peach Bowl media day. "He's humble. He came in with no entitlement piece. He just worked. He wanted the respect and trust of his coaches, as well as his brothers. And he's gained that and he's earned that. To see him grow from the summer to right now is awesome.
"It's not surprising, because I see the work he puts in day in and day out. He wants to make sure he's the very best for his teammates. It's not about Sonny, it never has been. It's about 'Coach, what do I have to do to be the very best for my teammates, for the people that trust me, that believe in me?' And so, I'm excited for him. I've seen the young man just grow, but he just has those intangibles. He has those things that you love. It's not about him. It's about the team. It's about us."
Styles made the decision to reclassify because he thought it would be a "good learning experience" that would accelerate his development, and he feels that's exactly what happened. On the field, Styles believes he learned how to become a more detail-oriented football player than he ever had to be as a five-star talent in high school. Off the field, Styles got his first taste of life as an adult as he lived away from his parents for the first time.
"I think from a football perspective, the little details. You know, in high school, you kind of just do your own little thing. The little details don't mess you up as much. I think I've grown a lot with the little details," Styles said of what he's learned in his first year as a Buckeye. "And then outside of being on the field, just having my own schedule. Being able to maintain that and self-accountability. You know, in high school, you got your parents around, coaches and teachers and stuff like that, you're still a kid. When you get to college, you got to be more accountable for yourself."
2023 Outlook
If Styles was just now starting his Ohio State career as a freshman, expectations for his 2023 season would be tempered by the fact that he's a first-year Buckeye. Now that he's a sophomore with nearly 300 total snaps of playing experience under his belt, Styles is fully expected to compete for a substantial role in Ohio State's defense this offseason.
The fact that Styles was trusted to play 12 defensive snaps in Ohio State's biggest game of the season says a lot about how much he impressed his coaches as a freshman, and the specific role he played in that game provides a lens into how he could be utilized in the defense going forward.
Styles replaced outgoing nickel safety Tanner McCalister in situations where the Buckeyes wanted a bigger body on the field to match up with Georgia's multiple-tight end formations. He effectively took the place of Cody Simon in Ohio State's defensive rotation against the Bulldogs, as Ohio State lined Styles up at the linebacker level rather than bringing in Simon to play as a third linebacker (with the exception of one play).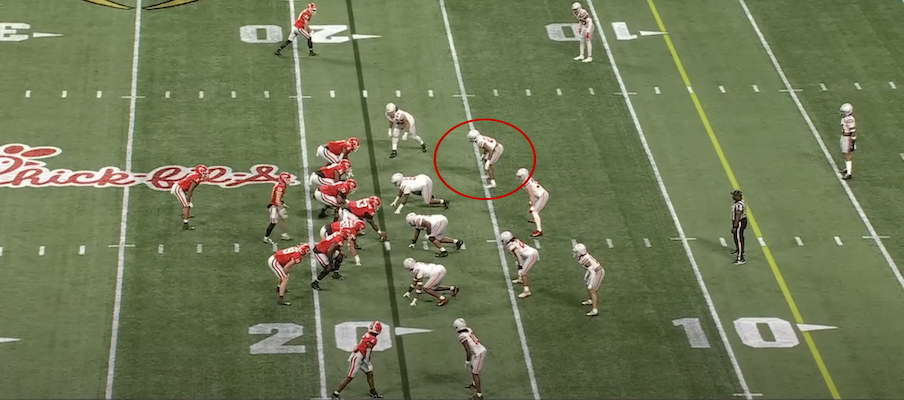 At 6-foot-4 and 222 pounds with room to grow as he goes through his first full offseason this year, Styles has the size to play linebacker on a more regular basis going forward. But he's also a candidate to be Ohio State's starting strong safety in 2023.
Lathan Ransom was Ohio State's starting strong safety this past season, but he could move to free safety to replace Ronnie Hickman. Josh Proctor is also a candidate to start after beginning last season as the starting strong safety before being usurped by Ransom, and Kourt Williams – who offers a linebacker-like build like Styles – will look to reestablish himself in the safety rotation after missing the second half of the 2022 season with a shoulder injury.
Considering Styles was already the first man off the bench by the end of his freshman year when he still could have been in high school, there's reason to like his chances of winning a starting job. Going through winter workouts and spring practices for the first time this year should only make Styles more prepared to play a bigger role as a sophomore, and he has all the physical tools to develop into a star.
If Styles isn't a starting safety this year, he could still see substantial snaps playing the hybrid linebacker/safety role in which he saw first-team snaps as a freshman, and that's a role Ohio State should look to utilize him in no matter what his place is on the depth chart. Expanding the use of Styles in that role could give Ohio State more flexibility on defense, as he can replace the nickel safety when the Buckeyes want more size on the field while he could also theoretically substitute in for a linebacker in dime packages to give the Buckeyes more coverage ability in passing situations.