Despite being the No. 1-ranked linebacker and No. 7 overall prospect in the recruiting class of 2022, C.J. Hicks didn't play a single defensive snap for Ohio State as a true freshman.
Such was life for a linebacker outside the two-deep on Ohio State's depth chart in Jim Knowles' first season as defensive coordinator. Tommy Eichenberg and Steele Chambers played the vast majority of snaps as Ohio State's starting linebackers, and the Buckeyes never played more than four linebackers in any game, except Teradja Mitchell playing one snap in a four-linebacker package against Northwestern.
That said, Hicks still found a way to contribute as a true freshman by establishing himself as a regular on special teams. Except for Ohio State's season opener against Notre Dame, Hicks played on special teams in every other game this past season, totaling 161 snaps – tied for the fifth-most on the entire team – between the kickoff coverage, kickoff return and punt return units.
Of course, Hicks would have liked to have seen some playing time on defense. He spent far more time watching from the sideline in 2022 than he ever had in his football career, having played on defense, offense and special teams at Archbishop Alter High School. But Hicks knew when he arrived at Ohio State that he would likely have to wait his turn at linebacker, so he embraced his opportunity to play on special teams and help the Buckeyes any way he could.
"Coming in, yes, I wanted to play, obviously. But I don't have no problem sitting down and watching my teammates ball out," Hicks said during an interview at Ohio State's media day before the Peach Bowl. "Put the best guys out there and ball out and do what's best for the team. I'm not a selfish guy. I wanna see all my guys eat, and Tommy and Steele are eating."
Hicks is hungry to play a more prominent role on defense when that time comes. But he prioritized the team's goals over his individual goals as a freshman.
"I feel like everybody that's here and that plays football, period, wants to at least see the field and play a few snaps at their position," Hicks said. "But at the end of the day, you can't be selfish. You have to play as a team and do what's best for the team."
Even though he never got on the field at linebacker in year one, Hicks feels he learned a lot from his first season as a Buckeye. One of the biggest things he learned was patience.
"This year has taught me to be patient," Hicks said. "Because throughout my whole life, I've started and played football every year. That includes my freshman year at Alter. So yeah, it just taught me patience and being able to be a good teammate off the field and the same thing on the field."
Even though he wasn't in the game plan on defense, Hicks said he still received plenty of attention from Knowles over the past year that helped him develop. After lining up everywhere from the secondary to edge rusher in high school, Hicks says Knowles has "helped me become a true linebacker."
"He's helped me see a lot of things that usually I wouldn't see," Hicks said. "Watching the whole field, watching the line of scrimmage, seeing what certain guys are going to be doing, he's helped me a lot."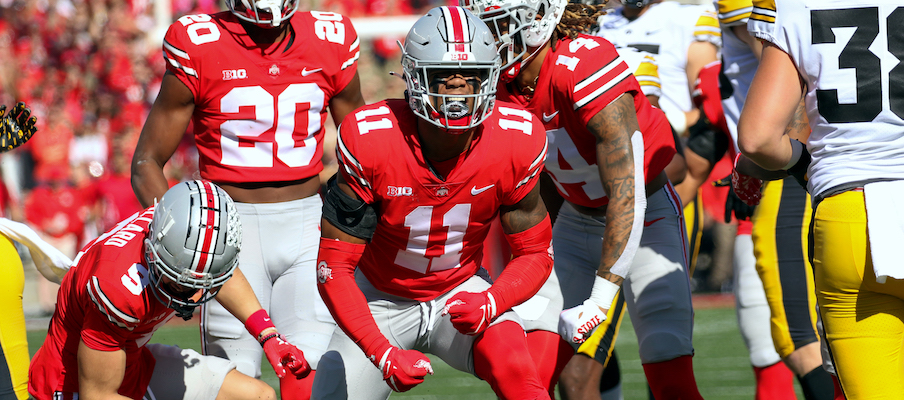 Hicks also says he's learned a lot from Ohio State's veteran linebackers, starting with Eichenberg. Even though Eichenberg isn't overly talkative, Hicks says he built a close bond with Eichenberg over his first year as a Buckeye and that Eichenberg has helped him become a more confident player.
"Tommy's been through a lot, and he's one of the main guys that I go to talk to about anything," Hicks said. "It's crazy, because when I first got here, I thought he didn't like me … he was my lifting partner when we first got here, and I was trying to like be talking to him, get to know him and he was shutting it down because he doesn't really talk. But the more we were around each other, the more we opened up. I'm happy he's in my life, and I'm happy to have him as a teammate."
Hicks, who spent his freshman year practicing at the same Will linebacker position Chambers started at, said he's also learned a lot from Chambers.
"Steele's my guy," Hicks said. "He's an older guy, so he definitely shows me everything that I need to know."
Outlook for 2023
With Chambers and Eichenberg returning for the 2023 season as fifth-year seniors, it's uncertain how many opportunities Hicks will have to play a bigger role on defense as a sophomore. He'll still have to compete to earn a spot on the two-deep as Cody Simon returns as the No. 3 linebacker, Palaie Gaoteote IV could still return for a sixth year of eligibility and Reid Carrico and Gabe Powers will also be hoping to earn playing time.
However, quickly establishing himself as a core special teams player is a positive sign for what Hicks' Ohio State future could be. Players who make early impacts on special teams at Ohio State usually go on to play bigger roles on defense or offense as their careers progress.
Although Hicks suffered an injury scare when he had to be helped off the field on the opening kickoff of Ohio State's regular-season finale against Michigan, that injury shouldn't prevent Hicks from competing for a position on the depth chart in spring practices. Hicks said he hyperextended his knee when he collided with Xavier Johnson on that kickoff return, but that didn't stop him from playing on the kickoff return team in the Peach Bowl, albeit with a knee brace.
Ultimately, how much Hicks plays in 2023 will depend upon whether Knowles makes a concerted effort to get him involved, whether that means rotating him in at Will linebacker or adding a package into the defense for Hicks to take advantage of his athleticism and versatility. That could depend on how Hicks improves in his second offseason and if he practices well enough to show he can be trusted to play on defense with the game on the line. 
Given the defense's struggles in the final two games of 2022, though, Knowles should be looking for ways to get more playmakers on the field in 2023. While Chambers and Eichenberg are still likely to play the substantial majority of snaps at linebacker next season, Hicks has the potential to be a difference-maker in a situational capacity, perhaps especially in passing situations where he could give the Buckeyes a boost of coverage ability.