Kamryn Babb's national television debut was a big mistake.
The Buckeyes were busy canceling Michigan's so-called Revenge Tour in 2018 when true freshman Chris Olave – who had already scored twice that afternoon – blocked a punt which Sevyn Banks corralled and carried into the south end zone.
Ohio Stadium has hosted a myriad of chaotic rivalry moments in its 100 years. Olave's effort on that play probably ranks second all-time in the punt block category, only behind the one Michigan's Al Wahl took of Vic Janowicz's foot in 1950.
That block tilted the Snow Bowl in the Wolverines' favor, sending OSU coach and alumnus Wes Fesler fleeing town – which resulted in what's now known in Columbus as the Woody Hayes Era. Wahl was understandably never credited for initiating this sequence of events.
It took years for Ohio State fans to reach the realization their team might have actually won the Snow Bowl, despite what the scoreboard (which nobody could see) displayed as time expired. No positive visceral fan reaction from that punt block ever materialized in Ohio Stadium.
Olave's block was a stark contrast – it hatched an instant frenzy; an iconic event in rivalry history that fans in the stands could see clearly along with a national television audience. It was a moment.
The broadcast credited Babb, who was inactive that day. In fact, he had never played a down.
Fox analyst Joel Klatt was looking at an outdated roster, which listed Olave as No. 86, with Babb still owning 17. Olave had barely seen the field that season, competing for playing time with upperclassmen like Parris Campbell, K.J. Hill, Terry McLaurin, Johnnie Dixon, Austin Mack and Binjimen Victor.
Babb was out of that competition that summer. He had yet to wear pads at Ohio State.
Olave's introduction to the Wolverines earlier in the game was unexpected. Klatt had not studied, prepared for or spoken to him during the Fox crew's pre-production. He entered the game with just five catches, which put him outside of the top 10 receivers entering Saturday. Olave was on nobody's radar, including Michigan's.
He needed the pronunciation guide to say Olave correctly after he scored the first touchdown of the game. Ryan Day's strategy of running mesh and crossing routes using loaded receiver sets to counter Michigan's aggressive blitzing schemes and man coverage had paved the way for the freshman's big-stage breakout.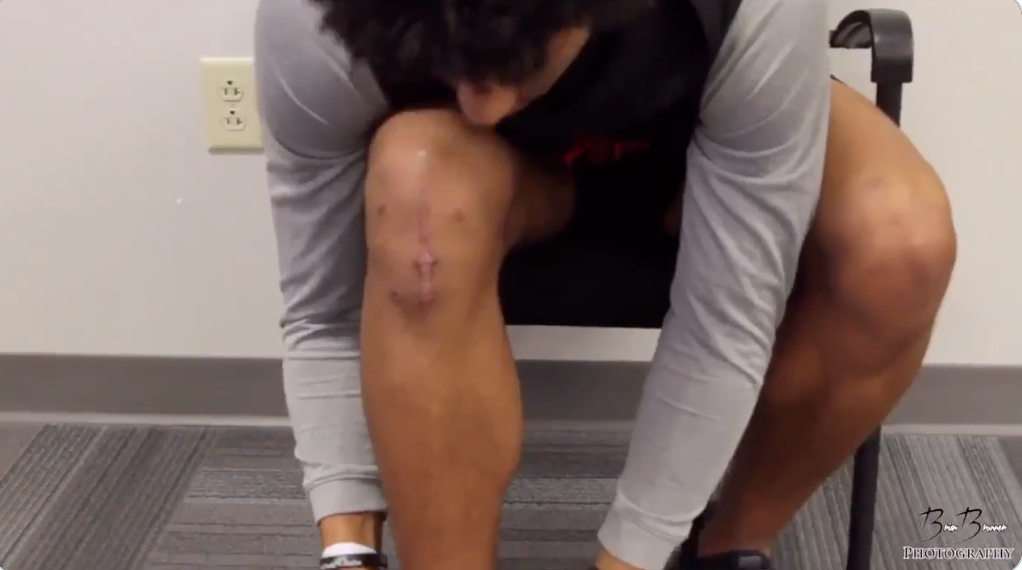 A punt block scheme designed specifically for him by DC Greg Schiano should have only enhanced it. But if Klatt was not ready to talk about Olave that afternoon, he was even less prepared to say Babb's name. It's unlikely he could have identified either player prior to that afternoon.
Babb had been missing from the field much longer than he had been at Ohio State; he missed half his junior year in high school with an injury, and then all of his senior year with a torn ACL. Ohio State honored his scholarship, and then during June workouts –prior to his first college class – he tore his other ACL, ending his freshman season before his freshman year could begin.
Had Babb returned from that injury in four months to block a Michigan punt, he might have closed the gap between the Snow Bowl block and what happened that November afternoon in 2018.
It would have been a miraculous story of perseverance. That story was still in the cards.
He was cheering from the west sideline with his teammates when Olave took that punt off Will Hart's foot while wearing his old number. His name was then shouted on the broadcast, which made his national television debut a case of mistaken identity. That was five years ago.
And until Saturday, it was the only in-game soundbite of Babb's college football career.
---
The pandemic violated every aspect of 21st century life all the way down to how we interpret the passage of time. Our days and nights were infringed by so much anxiety and turmoil that minutes and months we spent in isolation from each other began blending together.
Today, that experience still makes timestamps feel ambiguous. Using events as historical markers is more effective than dates in appreciating the passage of time. Barack Obama was president when Babb made his first recruiting trip to Columbus. Yeah, right?
Michigan State was the defending B1G football champion when he came to town. Day was transitioning from Philadelphia Eagles quarterback coach to the same position with the San Francisco 49ers. C.J. Stroud had just completed eighth grade in California.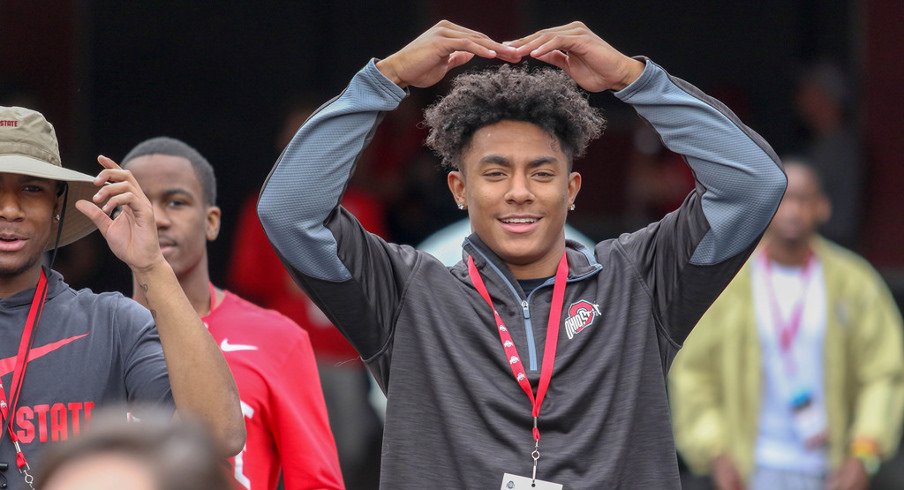 Babb visited Ohio State four reconstructive ACL surgeries ago. He suffered a meniscus injury just this spring which kept him out of action. Then in August, he only partially tore a knee ligament, a relatively lucky setback that kept him inactive for the first nine games of the 2022 season.
He has been prepped for surgery and fitted for leg braces more times than he has registered statistics in football games.
The program he was first introduced to in 2016 was led by the few remaining sophomores of the CFP championship season. Ohio State's receiver room included Noah Brown, who in Buckeye football lore is famous for a catch at Oklahoma he had not yet made when Babb first came to town.
K.J. Hill would become the Buckeyes' all-time receptions leader and had been on campus a full year, but had not yet caught a single pass when Babb was sizing up the program. That's how long Babb has been writing his college football story. Eras ago. Presidencies ago.
The kid from St. Louis enjoyed his visit that May so much, he returned to town in June for another look and came back again in November for the Michigan game.
Experience of a lifetime, never seen anything like it! #Zone6 #GoBucks https://t.co/TH1hhnmWxW

— Kamryn Babb (@kamm_o) November 27, 2016
He was all Buckeye from that day forward, even if it wasn't public. Everything was still in front of him – his senior season in high school, three or four years in Columbus, a stint in the NFL and then life's journey beyond football. Four ACL surgeries, a few more knee injuries and a broken leg were not in the cards.
His string of injuries makes no sense, partly because that volume of bad luck shouldn't exist – but mostly because choosing to keep coming back feels like punishment gluttony to most of us.
Returning from that many surgeries and going through rehab that many times just to try and play football does not compute. At some point, medical retirement must have been discussed and evaluated before being unconsidered.
One broken leg? Sure, back in January Lathan Ransom left Pasadena wearing an air cast in an ambulance, missed the second half and the postgame celebration and is right now a Thorpe semifinalist. Josh Proctor broke his leg against Oregon last September and is back on the field this season.
One torn ACL? Sure, Tyler Friday, Josh Fryar, Jaylen Johnson, Mitchell Melton, Evan Pryor, Ronnie Hickman, Jantzen Dunn and Kourt Williams all have surgically-repaired ACLs. They've all felt or heard that horrible pop, been prepped for surgery, gone under the knife and spent too much time staring at their repaired limbs late at night while absorbing the mental distress of an athlete too injured to even practice.
That's 10 guys on the current Ohio State roster whose legs have been surgically repaired. But if you take what Proctor, Friday, Fryar, Johnson and Melton have all endured individually, Babb matches their setbacks all by himself. It's a contest nobody wants to win.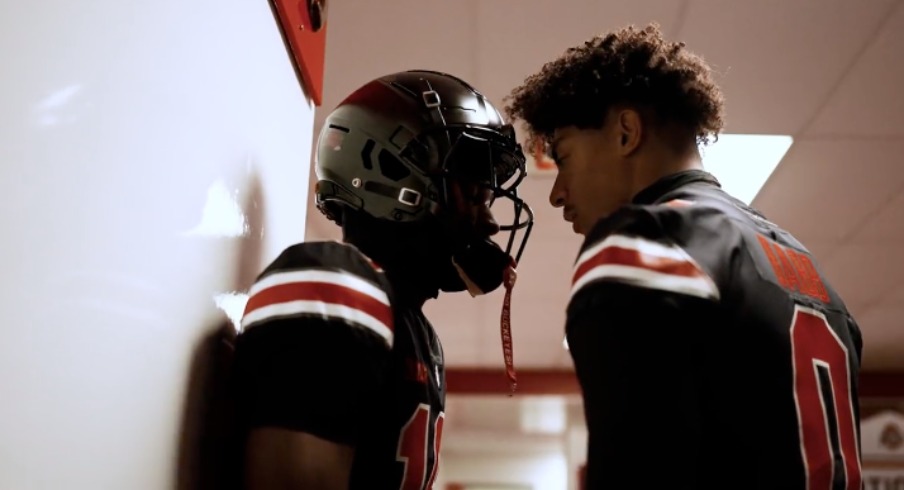 Ransom, Pryor, Hickman, Dunn and Williams gets you another Babb. All of the horrible pops, their surgeries, rehabs, anxieties, self-pity, the unsolicited journeys into dark psychological spaces.
All of their challenges and setbacks added up, all by himself.
And there's a cumulative effect to suffering the same injury, the same surgeries and derailed destiny. That second torn ACL hits differently than the first. The third hits harder than the second. This is how escaping a fifth completely torn ACL back in August might have felt like good luck.
Babb kept his commitment to Ohio State quiet for nearly a year before making it official five years ago next month. Whenever the Buckeyes land a prized recruit, the commenters on this web site assemble for a celebration, which quickly mutates any discussion of the player into a series of celebratory GIFs. It's both predictable and charming.
Tucked into the animation parade from Babb's 11W commitment story is a glimpse:
This dude was the number one receiver in the country before his injury. He was uncoverable.
Babb did not participate in a single football game at home in Missouri while he was quietly committed to Ohio State, during which time the Buckeyes maintained their commitment to bringing him and his surgically-repaired leg to Columbus.
Injuries heal. They loved his potential. They admired his character. Kam was their type of guy.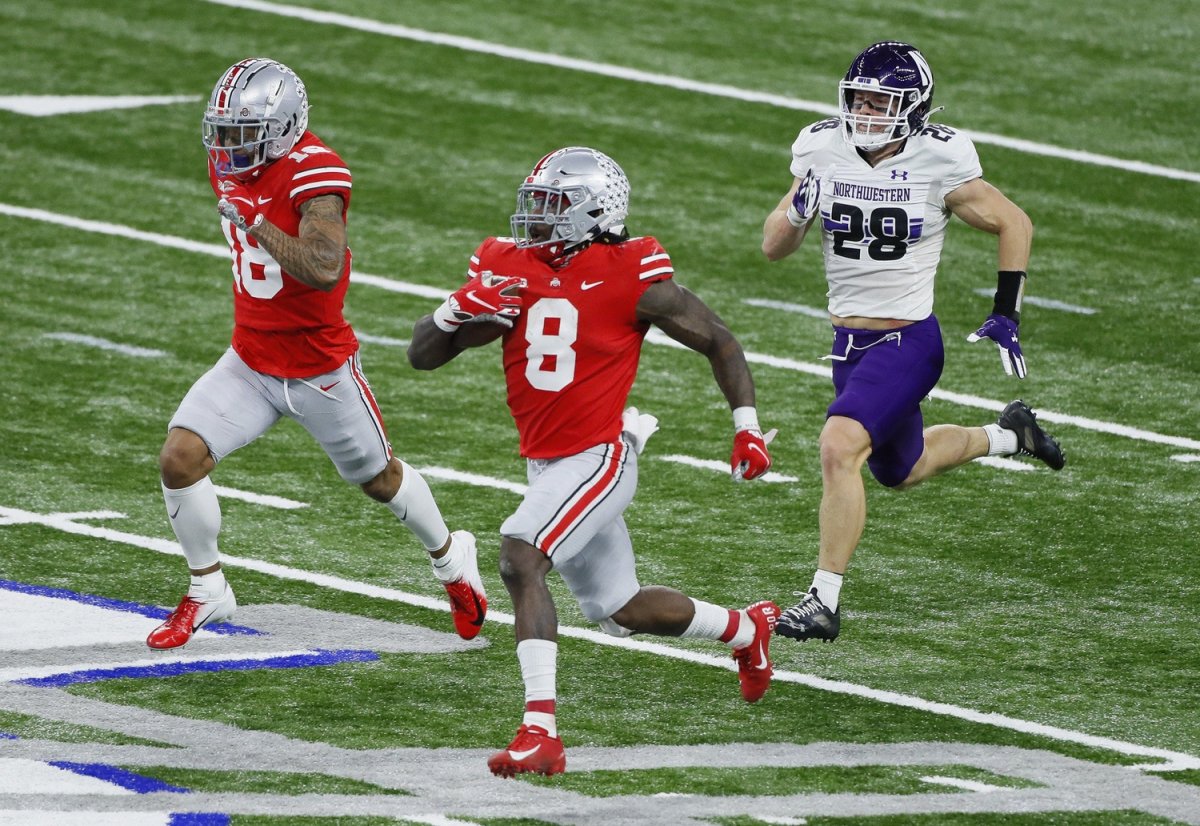 Babb did get on the field for 31 snaps during the pandemic-shortened 2020 season, including 19 against Northwestern in the 2020 B1G championship game. Olave didn't make the trip.
Justin Fields played the game with a sprained right thumb, hampering Ohio State's ability to do much of anything through the air. Babb's first catch would have to wait, as the first half was defined by the Buckeyes' inability to look anything like themselves for the first time in Day's tenure.
Trey Sermon rushed for 271 of his 331 yards in the 2nd half, breaking Eddie George's 25-year-old school record. All eyes were on him, so it's understandable if you happened to miss that Babb was clearing space for him on a few of his downfield sprints.
BABB HAS GIVEN HIS TEAMMATES Strength INOCULAtions. Motivational transplants. Hope transfusions. HE IS THE program's most PROLIFIC donor.
Who is that number 18? Well, it's the same kid who wore No. 5 during his recruiting visit, then 17, then 18, then 7, then 8 and then prior to this season, Number One. Babb had spent most of his time with the program in rehab. It seemed his number changed after each surgery.
Outside of Olave's punt block in 2018, nobody heard his name during broadcasts. Outside of anyone who had a fresh roster handy, it was hard to identify him by number, since it kept changing.
Outside of anyone who followed college football recruiting closely or recalled his decorated high school career which basically ended in his junior season, he was just a name on a page.
But every person in the Ohio State locker room – player, coach, staffer, nutritionist, everyone – knew who Babb was, which generally doesn't happen for guys who don't play. And then in April, every person watching the Ohio State spring game abruptly found out what Number One – who had already been a captain once – meant to the program.
The Horseshoe watched in silence as everyone in the Ohio State football program except for Number One took the field and then knelt in remembrance of Dwayne Haskins.
Stadium timestamps have always been difficult to appreciate – a minute left on the game clock might take a half-hour to complete. A commercial break following a kickoff may only take three minutes of real time, but when you're at the game they feel a lot longer.
Ohio Stadium was absolutely still as everyone watched Number One lead the program in prayer. Babb was not wearing a mic, so the 60,000 in attendance could only see that it was happening. The only sound was solemn stadium silence.
It's difficult to keep that many people quiet for an indeterminable amount of time. Number One was stoic as the sole voice in a poignant moment that followed an emotional video tribute to Haskins. It was impossible to look away, even though nothing could be heard.
Babb has embodied what perseverance looks like in the flesh for several years, serving as a pillar for every player who has faced a fraction of his setbacks. Number One showed everyone how to handle their own adversity with grace.
That afternoon he lent his voice when it was hard to speak. But no pads. He still couldn't play.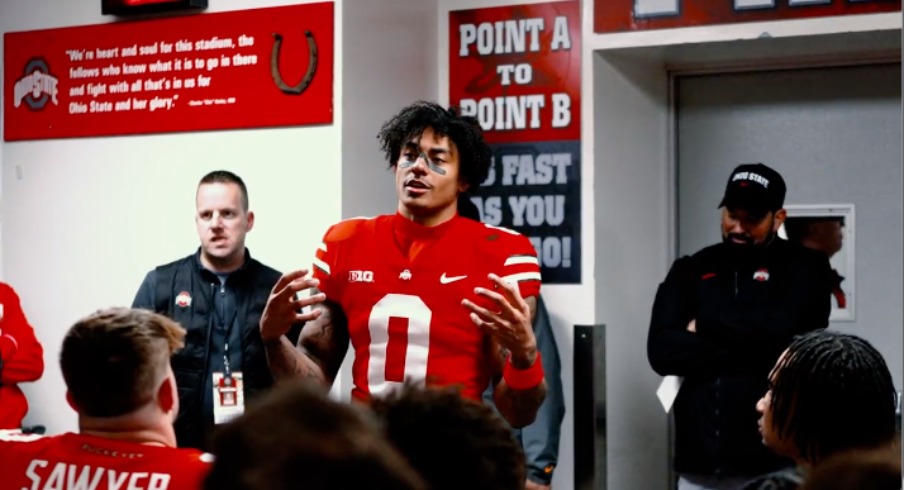 No journey through life is unscathed, which means even the luckiest among us face misfortune and heartbreak. Your choices whenever adversity arrives are resilience or despondence. It's so easy to go negative. Complaining is what happens when adversity goes malignant.
On a team where players both compete against and alongside each other, there's always an opportunity to become radioactive and take others down. The 2021 Buckeyes faced some culture challenges, exacerbated by players whose adversity went malignant.
But despite having too many reasons to feel sorry for himself, Babb has always chosen buoyancy. The voices in his head could have sent him into dark places where he could and may have suffered alone. He also could have pulled others down that path with him.
Intrusive thoughts become an unwanted character in your life, like repaired ligaments that refuse to stay intact. But instead, Babb has maintained a zest for being present, which is how a guy who couldn't get on the field was the only one standing on it during Haskins' remembrance.
Babb is known less by his elite football ability than by the space between his ears and the unrelenting charity of his heart. Torn ligaments will never define the player who became the most powerful vector for inspiration that anyone in the Ohio State football program has ever experienced.
His public prayer for Haskins was the final time Number One wore No. 1. After the NCAA approved number zero in 2020, Ohio State immediately took steps to make it more than a novelty.
In honor of Bill Willis: Toughness. Accountability. Fight. These are all the traits Bill Willis exemplified throughout his life. The number 0 is a badge of honor. It represents FIGHT - the backbone of our culture.
Babb was awarded Block 0 in August. That's higher than Number One, in every way possible.
---
This past Saturday the Indiana Hoosiers visited Ohio Stadium. IU has a losing record against every one of the original Big Ten football programs. No team loses more than Indiana does.
When a program has nowhere to go but up, the culture is a clean slate – basically a ball of clay or a blank sheet of paper, since we've been losers since the sport began isn't an effective battle cry.
No program starts from scratch more often than Indiana does, and to head coach Tom Allen's credit, the foundation for the rebuild is sound (he's just very bad at everything else). Under Allen, Indiana's helmets have had LEO printed on the pad securing the facemask to the shell.
It is a reminder to Love Each Other, a sturdy cultural foundation to build upon in the quest to make any other program the biggest loser in the sport. A unified locker room is in better position to put forth the best version of itself on the field, the court, the pool – venue and sport are irrelevant. LEO is not optional for a winning culture.
A prime example for how vital this is – and how easily LEO can slip – can be seen in Tuscaloosa and College Station this season. Alabama, a behemoth in most years, appears to be a bunch of talented strangers wearing the same uniform in 2022. Texas A&M, which conspicuously purchased the best recruiting class in history, might be the SEC's weakest team.
IU is just bad. LEO isn't its issue – but it doesn't need to be printed on the helmet, either.
That's because LEO is the stitching within the material which keeps the whole outfit from falling apart; it's not the defining feature. This past Saturday in Ohio Stadium, one team had LEO printed on its helmets and lost by 42 points. The other got a delay of game penalty for too much LEO.
Ohio State's program stitching became a little too prominent, as dozens of players who have nothing to do with extra points spilled onto the field after a touchdown which had no impact on the outcome.
Officials flagged Ohio State five yards. Nobody cared. Nobody even noticed.
Babb's national television debut may have been a big mistake. His encore was a triumph.
Each time the Buckeyes score points in Ohio Stadium, the band launches into the chorus of Buckeye Battle Cry from its perch in the South Stands. Aside from the crowd noise and stadium announcer, this is the defining audible signal that the home team just increased its point total.
Babb's teammates had racked up 1,381 points inside of Ohio Stadium since he joined the program in 2018, not counting any of the scores from the pandemic season when the band was absent. So there have been roughly 275 renditions of the Buckeye Battle Cry chorus that included fans in the stands clapping and high-fiving each other in celebration.
Each scoring drive in football tells a different story, but the ending is always the same: Points. Every one of those chronicles is biased toward players who touch the ball; the quarterback, a running back, a receiver, the kicker or any defender who spontaneously becomes a point-scorer.
When a lineman somehow scores points, everyone rejoices. That's always a good story.
None of the stories for the first 1,381 points OSU scored at home with Babb on the roster with fans and the band in the stands included his name. But the story of the 1,387th point scored in Horseshoe since the kid who has worn eight numbers first arrived in Columbus will forever read like this:
2nd & 1 @ IU 8 (8:49 - 4th) C.J. Stroud pass complete to Kamryn Babb for 8 yds for a TD
This was designed and called specifically for him. The Buckeyes had plenty of points already. But this wasn't a touchdown for posterity, the scoreboard, Las Vegas or anyone else.
It was a payment to a player picked apart by bad luck who responded every time by giving pieces of himself to his teammates who could still play. He raised the blood pressure for his fellow walking wounded who weren't quite as resilient in dealing with their own setbacks.
Strength inoculations, motivational transplants, hope transfusions; Babb is the Ohio State football program's most popular living donor, having given the Buckeyes every bit of his spirit and determination.
And also, multiple ligaments in each leg. An on-field eulogy following an unimaginable tragedy. Toughness, accountability and fight which has been revered for years and will be referenced for decades to come.
At the same time, Babb has stayed unbroken and defied logic, both in his injury frequency as well as the number of times he has come roaring back. When your limbs take turns betraying your football dreams, it's easy for the soul to break. Quitting is always a temptation.
Eventually, every football player stops playing. But that's not the ending Babb chose to write. Not yet.
The headline in August was Kamryn Babb Suffers Another Injury Setback. If the next story about him had read Kamryn Babb Medically Retires from Football, anyone who knew what he had sustained would have understood.
Each football career tells a different story with the same ending. Eventually, every football player stops playing. But that's not the ending Babb chose to write. Not yet. And we're not at the end, either.
His story has been dominated by doing the harder thing, choosing to try again, being more than his scars and having no measurable football statistics other than a) two-time Ohio State captain and b) football games missed due to injury.
Babb lends Ohio State everything he is able to give. On Saturday, it gave him a touchdown.
The ball was delivered by the current Heisman favorite, a quarterback who had yet not started high school back when Babb was getting his first tour of the Woody.
Babb secured his first collegiate pass in Ohio Stadium's north endzone. Then he tumbled toward the visitor sideline, opposite from the one where he has mostly been a spectator in a game jersey for the past five seasons. Babb only had a second to process that five years into college, he had just secured his first catch in a live game.
And then immediately the realization washed over everyone who knew what Block 0 had been through. Kamryn Babb just scored a touchdown. Kamryn Babb just scored a touchdown.
He ran to the back of the endzone as the band played Buckeye Battle Cry to commemorate his first score since 2015, which was on a high school field somewhere in Missouri. 
The drive sheet says the touchdown drive took six plays and 75 yards, which is only technically correct. It took six years, too many surgeries and an unimaginable number of comebacks to reach the north endzone.
Babb gave the program everything he had. On Saturday, it gave him six of the most memorable points the stadium will ever see.
This time, Klatt did not bother with names. He just gasped before briefly going silent to compose himself. Then he attempted to tell Babb's story, from his arrival to that touchdown.
It's not the one Babb set out to write. But it's clear by what he's written thus far that he has a firm grasp on what being the master of his own fate means. His story has more unwanted obstacles and twists than others.
That has only driven him to embrace and appreciate his blessings. It's not about the ball, or the knee, or the other knee, or what was taken from him. It's always been about the heart.
And now Babb is an Ohio State legend whose story is still in progress, for the simple fact that he refused to allow broken ligaments and bad luck to write the epic story of his soul.