Eight years ago Nick Saban was very concerned about player safety.
He was distressed about the emerging up-tempo brand of football that had gained popularity. More tempo created more plays, which in turn fostered more opportunities for injuries to happen. A burgeoning health crisis loomed.
Saban played the player safety card so convincingly the NCAA rules committee proposed "the 10-second rule." It would have impacted offenses like Oklahoma's, which c o i n c i d e n t a l l y had just torched Alabama's defense in the Sugar Bowl. But this was about protecting the kids.
"The 10-second rule" would have prohibited teams from snapping the ball with more than 30 seconds remaining on the 40-second play clock. Saban used a curious metaphor in making the case for banning up-tempo football:
"The fastball guys [up-tempo coaches] say there's no data out there [that up-tempo football poses a threat to player safety] and I guess you have to use some logic. If you smoke one cigarette, do you have the same chances of getting cancer if you smoke 20? I guess there's no study that specifically says that. But logically, we would say, 'Yeah, there probably is.'"
Was Dr. Saban suggesting the sport he lorded over carried cumulative, uniform and irreversible health risks? That is harsh. I think Ohio State's defense last season was as harmful as smoking an entire carton of cigarettes and Ryan Day's offense is basically a multivitamin laced with amphetamines. I guess there's no study that specifically says that. Being a pretend doctor is fun.
Saban's cigarette metaphor only flies if every single football play is exactly the same, which if true (it's not) would make Jim Bollman the Marlboro Man. FYI those were tusks, not cigarettes.
If you've been in a coma since the summer of 2014 when Saban voiced his up-tempo grievances, here's what happened next: First, Ohio State won the national title. Second, the Alabama head coach did not end up dying on that hill.
And third, that's because after "the 10-second rule" died in committee, Saban charged up that hill and claimed it for his program. The Crimson Tide would not beat the uptempo guys, they would simply hire them.
TEXAS A&M just landed as many 5-star PLAYERS in 2022 as IT signed OVER seven previous recruiting classes, combined.
It worked, and it still works eight years later. Over the past three seasons only 11 FBS programs have run more plays than Saban's Tide, who pivoted from winning championships with defense and ball control to winning with offense and points. That's a lot of cigarettes, especially for an anti-smoker.
Saban didn't like what he saw coming for his college football empire eight years ago because it was a mortal threat to everything he had built. Once he realized change was inevitable, he acquiesced to what normal was becoming, and with the Tuscaloosa death machine at his disposal - became pretty good at executing that which he previously loathed.
Evolution forced Saban's hand, and the Alabama of 2012 would not be nearly as competitive in the past several CFPs if it hadn't. That Tide today would be Wisconsin Deluxe, winning 10 games annually along with an occasional NYE 6 bowl. It would be Alabama historically, but not Alabama currently.
We covered all of that to get to Saban's latest grievance about what normal is becoming.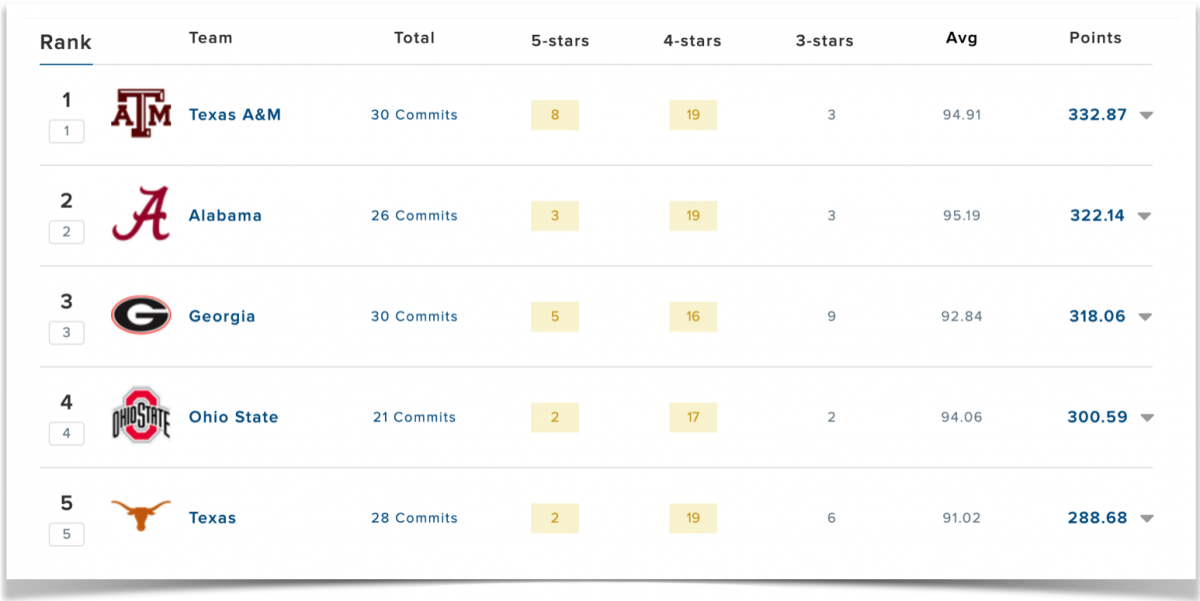 Texas A&M signed 30 dudes with only three holding fewer than four stars. The Aggies just landed as many 5-star players in 2022 as they signed in their seven previous recruiting classes combined.
Where did this TAMU momentum come from, you ask? Francis Schmidt (the guy who created the Gold Pants tradition and has also been dead for 78 years) was still coaching the Buckeyes the season of Texas A&M's most recent national title. TAMU's most recent conference title turns 25 next year. You might remember it from that season's Sugar Bowl. It wasn't very good.
The Aggies have won their division twice in program history. To put that in perspective, Northwestern has won the B1G West twice since 2018. NU's 2022 class is ranked no.48.
Saban said Texas A&M bought its recruiting class. It would be scandalous if it wasn't so obvious.
The NIL era is evolving faster than the NCAA can contain it, and the head football coach in Tuscaloosa is voicing his displeasure over the current state of affairs with the same concern he brought to the emergence of up-tempo football eight years ago. It's the same thing. It's going to transpire the same way. It will conclude in similar fashion.
We haven't reached the NIL is like cigarettes phase yet, but Saban's angst is warranted:
@AlabamaFTBL is just ridiculous pic.twitter.com/BtRuz3mabc

— FOX College Football (@CFBONFOX) February 4, 2021
Alabama and Georgia just finished 2-3 instead of 1-2, and unlike whenever Ohio State, Clemson or any other acceptable foreign program accompanies them to the Recruiting Champs dais, this time it's Texas A&M - an SEC immigrant with nothing approaching a championship legacy, and whose best coach ever has a statue on Alabama's campus.
A classic NIMBY situation. The bagmen are calling from inside the house. Eight years ago:
Saban didn't like what he saw coming for his college football empire because it was threat to everything he had built.
Back then it was the Oklahoma Sugar Bowl. Today it's the Texas A&M recruiting class.
The NCAA is run by old men with no urgency or charisma. It's a looted, graffiti-covered shell of what a governing body is supposed to look like. The NIL genie is out of the bottle and Texas oil money has leeched onto it with gusto. All TAMU did was raise prices and while putting conspicuous price tags on the players.
It's not sustainable, but championship-starved programs have never cared about sustainability.
Alabama's institutional recruit-buying machine won't sheepishly exit its golden era and cede its empire to a program that hasn't won anything during Saban's 70 years on earth. It's going to evolve the way it did eight seasons ago and become best-in-class at whatever the new normal is. That does not mean become the highest bidder.
Ohio State, which values sustainability, has taken a very cautious approach by bundling NIL into a much broader, big picture-oriented value proposition focusing on 40-year value versus the four-year sum (similar to Michigan's historic pitch, but without overvaluing a partially-complete General Studies curriculum).
You can bet Alabama's refined approach will be a more audacious version of the strategy in Columbus, and over the next few seasons, that should be enough to put the Aggies in their rightful and historic place.
Once TAMU resurgence wave recedes, Saban will calm down. Maybe he'll even have a cigarette.