Own the group chat with The Weekender, highlighting the biggest stories in college sports, standout writing from Eleven Warriors, and a glance at what's next.
Texas A&M vs. Alabama just got a lot spicier
It started Wednesday when Nick Saban turned what should have been a private email to the Crimson Tide Foundation asking it to bagman just a little harder into a public affair, openly accusing semi-rival Texas A&M of purchasing the nation's top recruiting class which is a long-held Alabama tradition.
TAMU held a retaliatory press conference on Thursday and Dan captured all the sordid details of the response here. Pearls were clutched, feathers were ruffled and a longstanding unspoken agreement between Southern Gentlemen to honor fellow thieves was shattered. This is all very funny because SEC programs have been openly cheating and buying recruits for decades.
As any functioning adult knows, whenever a cartoon villain publicly accuses a rival of something, it's projection. Saban voluntarily reawakened many human receipts to God's Conference's systematic corruption of amateurism that would send a 2011 Tatgate fainter into a forever-coma.
Shit Trap 02/03 I was offered 60k just to come on a visit to help with recruiting when they were on probation. So yeah I know what you mean when they been paying for years.

— ANTONIO CROMARTIE (@CRO31) May 19, 2022
Alabama's boosters are famous for leaving hilariously detailed paper trails for paying players and even paid off Saban's mortgage. All Coach Nick had to do was silently honor his fellow thieves for raising their bagman game and quietly ask his bagmen to elevate theirs. The most conservative interpretation of why he said anything is that oil money makes him nervous.
Ryan Day's Strategy Produces an Offense for All Seasons 
Which offense has the best odds to convert a series? The results may won't surprise you:
Threw together a quick and dirty mixed effect model that answers: "Given game situation, which team has the best odds to convert a series?". Here are the top 25 teams last year. Kinda cool to see the top 4 alternate between option/run heavy teams and downfield passing teams #CFB pic.twitter.com/JIIfmc3wkb

— CFBNumbers (@CFBNumbers) May 21, 2022
Even with a relatively stale rushing attack behind a line that barely featured guards, the Buckeyes were far and away the best Power 5 program when it came to series success. Imagine if they can maintain this level of success in 2022 and pair it with an okay defense!
Meanwhile, on the sad end of that scale:
Here is the bottom 25 for the season. Its been stated before, but Clemsons defense CARRIED the team. If the offense had a little bit more of a pulse, a UGA Clemson rematch in the natty would have been a sight to see #CFB pic.twitter.com/xxhRtiE2Fa

— CFBNumbers (@CFBNumbers) May 21, 2022
Four B1G programs, including the last two B1G West champions. These days, defense doesn't win championships. It merely helps the offense not lose championships.
Purdue's Next Man Up Will Be Someone Else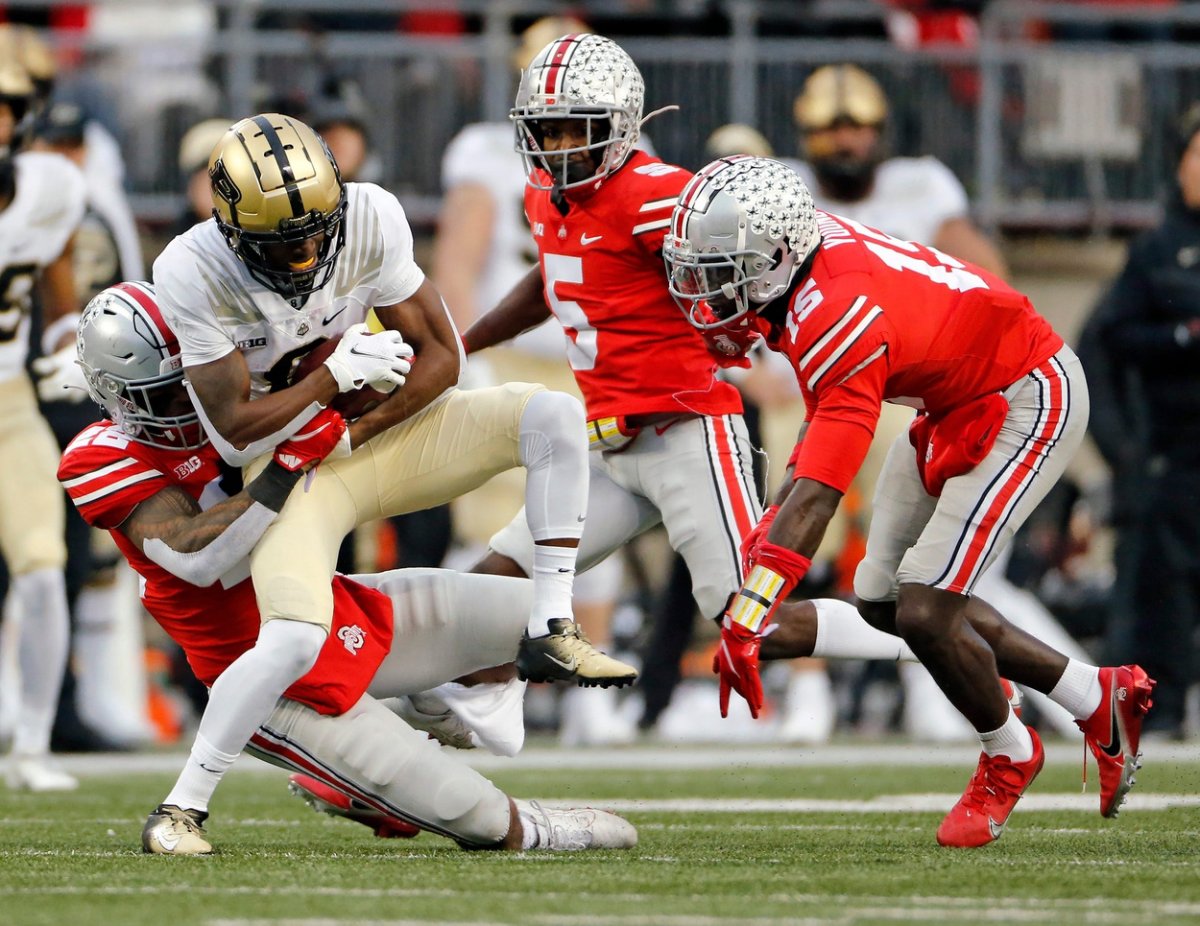 Purdue wideout Milton Wright reportedly failed to meet academic requirements and is no longer with the Boilermakers. He was Purdue's new no.1 receiver with David Bell now a member of the Cleveland Browns.
Wright had seven catches for 98 yards and a touchdown last November in Ohio Stadium. The Boilers aren't on Ohio State's schedule in 2022, which is great news for Buckeye fans considering it's West Lafayette's turn to host the meeting. They would not see Wright either way.
That said, Purdue still beat Tennessee in the Music City Bowl - a virtual UT home game - without Wright (or Bell, or George Karlaftis). Broc Thompson, who had seven catches for 217 yards (!) and two scores against the Vols while playing injured (!!) will likely be the next man up, after the next man up.
ICYMI
Notre Dame's third-ever visit to the Horseshoe will take place under the lights.
A proposal by Ohio High School Athletic Association schools that would have given prep athletes in the state the ability to make earnings off their name, image and likeness failed, by a vote of 538 to 254. 
Ryan Day and Chris Holtmann both received contract extensions this week, ensuring both men will continue to be millionaires for the foreseeable future. Could these contract extensions be the missing pieces that get the Buckeyes another CFP crown or Sweet Sixteen birth? Many people are saying this.
Up Next
Men's and Women's Tennis: NCAA Singles & Doubles Championships | Champaign | Monday, TBA
Men's and Women's Track & Field: NCAA Regionals | Bloomington, IN | Wednesday - Saturday
Men's Golf: NCAA Championship | Scottsdale | Friday - Wednesday
Rowing: NCAA Championship | Sarasota | Friday - Sunday
Football: Season opener vs. Notre Dame | Columbus | Sept 3, 7:30pm