Before each Ohio State game, Eleven Warriors catches up with a media member who covers the opposing team to get their perspective on the Buckeyes' upcoming opponent.

MICHIGAN STATE
SPARTANS
2-3
ROSTER / SCHEDULE
---
4 P.M. – SATURDAY, OCT. 8
SPARTAN STADIUM
EAST LANSING, MICHIGAN
---
ABC
WatchESPN
Ahead of Ohio State's first road trip of the season to East Lansing, we welcome back Matt Wenzel, who covers Michigan State for MLive and has been a frequent visitor to Across The Field for Ohio State's annual games against the Spartans.
While our past conversations with Wenzel have often focused on the challenges Michigan State will present to Ohio State, this year's edition focuses largely on the challenges the Spartans have faced themselves, as they're entering this week's game on a three-game losing streak. Now just 2-3 this season, the Spartans face a challenging path just to earn bowl eligibility as they still have all of Ohio State, Michigan and Penn State on the schedule, and Wenzel doesn't think the losing streak is likely to end this week.
Why have the Spartans struggled so much this season, is there already buyer's remorse about giving Mel Tucker a 10-year, $95 million contract extension, what's the outlook for the remainder of the season and is there any reason to believe Michigan State could upset the Buckeyes on Saturday? Wenzel answers all of those questions and more for us below.
Michigan State lost only two games all of last season. The Spartans have now lost their last three games in a row. What's gone wrong?
Wenzel: In short: Everything. Well, that's not accurate. Michigan has one of the nation's best punters in Bryce Baringer. But, when that's what you're hanging your hat on nearing the midway point of the season, there are a lot of problems.
The pass defense, which ranked last in the country in yards allowed in 2021, could be even worse this season. Michigan State's defense can't get off the field on third down and the pass rush has been almost nonexistent against Power Five opponents. The Spartans have been plagued by a slew of injuries that sidelined four Week 1 defensive starters in tackle Jacob Slade, end Jeff Pietrowski, linebacker Darius Snow (out for the season) and safety Xavier Henderson.
On the other side of the ball, the offense can't sustain drives. The running game has been a mess the last three weeks, quarterback Payton Thorne has been inconsistent and the Spartans had a missed field goal, field goal blocked and botched extra point in last week's loss at Maryland.
Mel Tucker constantly talks about the need to play complementary football. His team is doing the opposite of that.
Are you sensing any buyer's remorse from Michigan State after giving Mel Tucker a $95 million contract extension, or does confidence in the program's future under his leadership remain high?
Wenzel: The optics definitely aren't good and the price on that fully guaranteed contract comes with expectations that aren't being met, but it's still very early in the deal. It is also worth noting two wealthy donors chipped in an undisclosed amount toward the raise so it's unclear how much the university itself increased his pay.
If you're looking to Twitter for takes on Tucker's contract following a 2-3 start, you know what's there. I think rational fans (they do exist) are disappointed in the start – which they should be – but don't have such a short memory they forget an 11-2 season, New Year's Six bowl win and top-10 finish in the rankings last year.
It's also worth remembering how Michigan State put together that resurgent season. The schedule was easier and set up well for a good start. The Spartans were also a clutch team that was 5-0 in games decided by 10 points or less, including four by five points or less.
Michigan State won with razor-thin margins last season and, with a tougher schedule, no Kenneth Walker III and widespread problems, an ugly 2-3 start is the result. Tucker has been a solid recruiter and a long-term view of how he builds the program will be needed before issuing a final verdict on the contract.
The road ahead doesn't get any easier for Michigan State with Ohio State, Michigan and Penn State all still on the schedule. What are your expectations for how the rest of this season will go for the Spartans?
Wenzel: Heading into the season, I thought the floor for this team was probably seven wins and picked them to win nine in the regular season. Right now, becoming bowl-eligible would be an accomplishment.
Michigan State could easily head into November at 2-6. After that, there are games against Illinois, Rutgers, Indiana and Penn State. Prior to the season beginning, that final third looked like it was probably three wins with a toss-up against the Nittany Lions. Now? Not one game on the schedule can be circled as a likely win.
If there's a reason for Michigan State to feel confident it can upset Ohio State this week, what would that reason be?
Wenzel: Tucker on Monday said it starts with belief. Hey, the 1980 U.S. hockey team knocked off the Soviets so never say never. This game is nowhere near the same in importance but the odds feel almost as daunting. On paper and what we've seen with our eyes, it looks like a huge mismatch.
If there's one thing for Michigan State fans to hold out hope for is that the program has been the David to Ohio State's Goliath, at times. The Spartans have 10 wins in the series when the Buckeyes were ranked in the top 25. There was the 28-24 win in Columbus in 1998. And then without starting quarterback Connor Cook, the Spartans somehow won 17-14 in the Horseshoe in 2015 en route to a Big Ten title and spot in the College Football Playoff.
Under a new regime, Tucker has also found a way to defy odds. Michigan State's lone wins in his first season were upsets against ranked teams – Michigan and Northwestern – and there's no sense his players are bailing. That's been evident in goal-line stands on the road late in losses. There's still fight in this team, but Ohio State will always be the biggest challenge on the schedule and Tucker knows that after winning a national title as an assistant with the Buckeyes.
Improbable and head-scratching results are part of the series between the border rivals. It's just difficult to see a scenario where there's another upset this year.
Which Michigan State players will present the toughest matchups for the Buckeyes?
Wenzel: Given the way this matchup looks, I'll be concise and go with one player on offense, defense and special teams.
Jayden Reed, WR
Reed is Michigan State's top playmaker and is coming off a season in which he was named a first team All-American as an all-purpose player by the American Football Coaches Association. He had 59 catches for 1,026 yards and 10 touchdowns, two punt return scores and a rushing touchdown. After passing on leaving for the NFL and having higher hopes as a fifth-year senior, it has been a slow start for Reed, who is still dealing with a back injury. But, he's still Thorne's No. 1 guy with Keon Coleman behind him.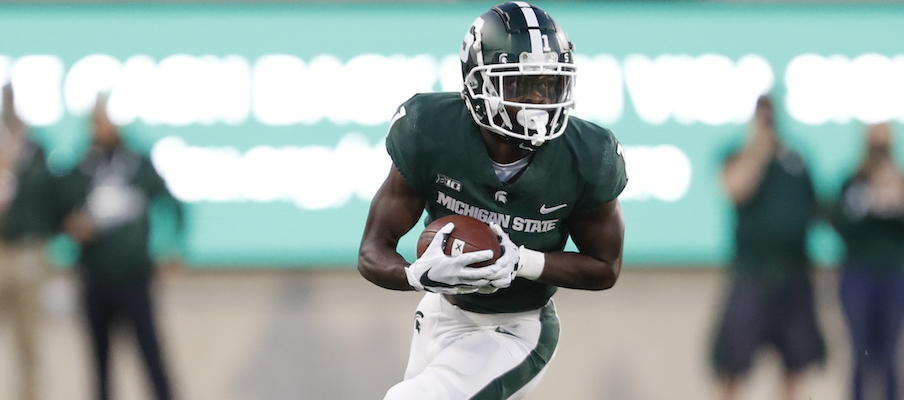 Jacoby Windmon, DE
An offseason transfer addition from UNLV, Windmon made the move from linebacker to defensive end late in fall camp. It paid off as he led the nation with 5.5 sacks through the first two games. Windmon still leads the country with five forced fumbles. He has zero sacks since the opening two games as opponents have focused on him, but he remains the Spartans' top pass rusher and best hope of getting to Stroud.
Bryce Baringer, P
A former walk-on who joined the team in a pinch in 2018, lost his roster spot due to a numbers crunch a year later and is now one of the best punters in the nation with a possible NFL future. Baringer's path to get to this point is remarkable. He's also a huge special teams weapon for a team that's obviously needed its punter. If Michigan State has any hope on Saturday, everything needs to go right and that includes flipping the field.
How do you see Saturday's game playing out?
Wenzel: A year ago, I thought Michigan State had little chance of slowing down Stroud and Ohio State's passing attack but would be able to score. I was right about the former, wrong about the latter. Now heading into another matchup and having watched every snap for the Spartans this season, I can't see any reason to believe this will be a competitive game. Ohio State 49, Michigan State 14