Ohio State has won all of its last three games by at least 31 points, and it's won all eight games it's ever played against Rutgers by at least 22 points.
The Buckeyes will look to keep both of those streaks going when they host the Scarlet Knights at Ohio Stadium for their fifth home game in five weeks on Saturday afternoon.

RUTGERS
SCARLET KNIGHTS
3-1
ROSTER / SCHEDULE
---
3:30 P.M. – SATURDAY, OCT. 1
OHIO STADIUM
COLUMBUS, OHIO
---
BIG TEN NETWORK
FOX SPORTS
Ohio State typically does a good job of avoiding bulletin-board material, and this week has been no different. None of the Buckeyes who met with the media this week predicted a blowout win or talked down on Rutgers. Ryan Day said the Scarlet Knights are "better than they've been in the past," and J.T. Tuimoloau described them as "a sneaky good team."
Read between the pleasantries, though, and the Buckeyes seem to be more concerned about whether they'll continue to play up to their standard – which in this case means another dominant win – than about any threat Rutgers will present as an opponent.
"We've got to do a great job … of continuing to build and grow and enhance," Day said this week. "Just hold up the standard for what we're holding ourselves up to. And that means we got to get better this week."
The Headlines
Another Top-10 Defense Comes to Town
Rutgers will be the third straight team to come to Columbus ranked in the top 10 nationally in a major defensive category entering its game with Ohio State. Toledo ranked second in the FBS in scoring defense and fourth in the FBS in total defense going into its matchup with the Buckeyes, while Wisconsin ranked eighth in points allowed per game and 11th in yards allowed per game before it played Ohio State.
Ohio State carved both of those defenses up anyway, scoring 77 points on 763 yards against Toledo and 52 points on 539 yards against Wisconsin.
Rutgers is ranked ninth in the country in yards allowed per game (249.5) and has given up only seven offensive touchdowns in four games, and Day is impressed by what he's seen from the Scarlet Knights defense.
"These guys have played a lot of football and they have some bigger guys up front than in the past, so statistically, they're doing a great job and played well again last week," Day said. "So this is a defense that by far, in the three years we've played, the best one we've played since Greg (Schiano)'s been there."
Much like the Rockets and Badgers, however, the Scarlet Knights go into their trip to Ohio State having faced no offense even close to comparable to the one they're about to face. None of the three FBS teams Rutgers has played – Boston College, Temple and Iowa – ranks better than 110th nationally in scoring offense or 121st in total offense. 
Ohio State, on the other hand, ranks second in total yards per game and third in points scored per game, making this week the first real test of how good the Scarlet Knights are defensively.
Injury Questions on Both Sides
Ohio State could be without multiple starters again this week as Day said Thursday he had no update to provide on wide receiver Jaxon Smith-Njigba or cornerback Cameron Brown after both of them missed last week's win over Wisconsin with injuries. Day said the Buckeyes are expecting to have starting cornerback Denzel Burke back this week, describing Burke as "ready to roll" after "a good week of practice" even though he was seen wearing a cast on his hand last week.
Rutgers, meanwhile, has been dealing with multiple injuries at the quarterback position. Noah Vedral, the Scarlet Knights' starting quarterback for the past two seasons, has not yet played this season due to an upper-body injury. Gavin Wimsatt, a highly touted recruit who split snaps with Evan Simon in Rutgers' first two games of the season, did not play in the Scarlet Knights' loss to Iowa last week after limping off the field with an injury in their previous game against Temple.
Those quarterback injuries have played a part in Rutgers' early-season offensive struggles, as Simon has completed 55 of 89 passing attempts for only 566 yards with three touchdowns and two interceptions, including one that was returned for a pick-six last week against Iowa. The Scarlet Knights currently rank 111th in the FBS in passing yards per game, 97th in total offense and 84th in scoring offense.
Both Wimsatt and Vedral offer more of a threat with their legs than Simon, which would add another element to Rutgers' offense if either of them is able to play this week. That said, Ohio State's defensive players didn't seem overly concerned about having to prepare for multiple quarterbacks.
"You watch the film on all of them and you prepare for all of them," Ronnie Hickman said without elaborating when asked about the possibility of Rutgers playing multiple quarterbacks.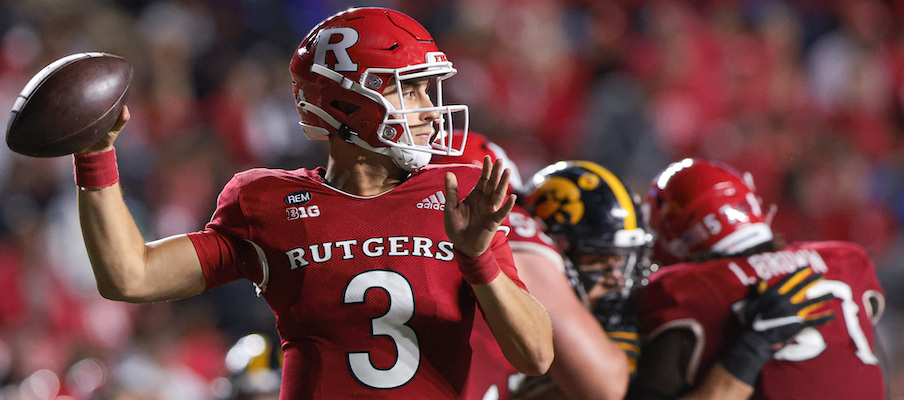 Scarlet Knights Playing to Win
Realistically, it would come as a surprise if Rutgers is even able to keep Saturday's game close, and the Buckeyes will be disappointed if they allow that to happen. The Buckeyes are favored to win Saturday's game by 40 points, their second-highest spread of the season behind only the non-conference opener against Arkansas State.
Just don't tell that to Greg Schiano, who isn't interested in leaving Columbus with a moral victory. Even though his team is a massive underdog, Schiano says the Scarlet Knights' goal for Saturday's game is nothing less than getting their first-ever win over the Buckeyes.
"We're going to Columbus to win the game. Will that happen? You know there's another team on the other sideline that wants the same thing," Schiano said. "But we are going to do everything we can, we are going to practice and get ready and go out to Columbus and play our best."
If the Scarlet Knights find a way to pull off the upset, it would undoubtedly qualify as one of the biggest wins in program history. If they lose, they'll start Big Ten play 0-2 after going 3-0 in the non-conference segment of the season.
Keep An Eye on These Guys
WR Aron Cruickshank
A fifth-year senior wide receiver and return specialist who is now in his third year at Rutgers after previously spending two years at Wisconsin, Cruickshank is the Scarlet Knights' most dynamic offensive weapon. He leads Rutgers with 18 catches (more than twice as many other Scarlet Knight) for 162 yards and two touchdowns this season, also rushed for a 26-yard touchdown against Boston College and has five career return touchdowns (four kickoff, one punt).
The Buckeyes will need to be aware of where Cruickshank is lined up at all times, as Rutgers will likely find creative ways to get the ball in his hands. He's one of only two Scarlet Knights (along with tight end Johnny Langan, who also occasionally lines up at quarterback) with more than 200 all-purpose yards this season, so the Buckeyes will likely be successful on defense if they can limit Cruickshank's impact.
S Christian Izien
The most productive player on Rutgers' highly ranked defense has been Izien, a fifth-year senior safety who leads the Scarlet Knights with 32 total tackles including 2.5 tackles for loss and 1.5 sacks. He's also credited with two pass breakups and blocked a punt in the Scarlet Knights' 66-7 win over Wagner.
A veteran of 33 starts for the Scarlet Knights, Izien lines up as both a safety and in the slot for Rutgers and has caught Day's attention as he's watched the Scarlet Knights' defensive film not only this week but over the years.
"He's very active, really good player, a lot of production," Izien said. "He's played a lot of football, too. I was watching the game from a few years ago, and he was out there a couple years ago."
P Adam Korsak
We don't usually highlight a punter in this section of the preview, but you might end up seeing a lot of Korsak if Ohio State's defense performs up to expectations this weekend. And he's arguably the Scarlet Knights' best player – or at least its most nationally prominent.
A Ray Guy Award finalist last season who already holds several school records, Korsak is widely regarded as one of the best punters in all of college football. Now in his fifth year at Rutgers, Korsak has averaged 43.8 yards per punt and has downed 119 of his 290 career punts inside the opponent's 20-yard line; only 67 of his 290 punts have been returned for a total of 354 yards and zero touchdowns.
Game Week Talk
"He's a very good coach that does a great job schematically and motivating his team. They play very hard."– Ryan Day on Greg Schiano
Day and Schiano worked together during Day's two seasons as Ohio State's offensive coordinator before he became the Buckeyes' head coach. Although Schiano was not retained as defensive coordinator when Day was promoted, Day still thinks highly of his former co-worker, saying "he has a lot of great traits."
"They run a lot of things and you've just gotta be on your toes for it."– J.T. Tuimoloau on Rutgers' trick plays
Since Schiano became Rutgers' head coach, the Scarlet Knights have developed a reputation for frequently going into the bag of tricks, especially when they're playing against Ohio State. Tuimoloau learned that from playing against Rutgers last year and says he and his teammates will be ready to expect the unexpected.
"If you play poorly against a team like Ohio State, it really gets exposed."– Greg Schiano
While Schiano wants his team to go to Columbus with the belief that it can win, he's also realistic about how challenging that will be to accomplish. He said Rutgers' goal for this week's trip is "to play our very best game," and he knows that will be needed for the Scarlet Knights just to have a chance to pull off the upset.
Projected Starters
Ohio State
Pos
Rutgers
OFFENSE
C.J. STROUD
QB
EVAN SIMON
TREVEYON HENDERSON
RB
KYLE MONANGAI
MARVIN HARRISON JR.
WR
SHAMEEN JONES
JULIAN FLEMING
WR
ARON CRIUCKSHANK
EMEKA EGBUKA
WR
JOSHUA YOUNGBLOOD
CADE STOVER
TE
JOHNNY LANGAN
PARIS JOHNSON JR.
LT
WILLIE TYLER III
DONOVAN JACKSON
LG
J.D. DIRENZO
LUKE WYPLER
C
IRELAND BROWN
MATT JONES
RG
CURTIS DUNLAP JR.
DAWAND JONES
RT
HOLLIN PIERCE
DEFENSE
J.T. TUIMOLOAU
DE
AARON LEWIS
JACK SAWYER
DE
WESLEY BAILEY
TARON VINCENT
DT
IFEANYI MAIJEH
MIKE HALL
DT
KYONTE HAMILTON
STEELE CHAMBERS
WLB
DEION JENNINGS
TOMMY EICHENBERG
MLB
TYREEM POWELL
TANNER MCCALISTER
NB
SHAQUAN LOYAL
DENZEL BURKE
CB
MAX MELTON
JK JOHNSON
CB
ROBERT LONGERBEAM
RONNIE HICKMAN
S
AVERY YOUNG
JOSH PROCTOR
S
CHRISTIAN IZIEN
Get Smart
Ohio State will celebrate the 100th anniversary of Ohio Stadium, which officially turns 100 next Friday, during Saturday's game. A historical marker celebrating the Shoe's 100th anniversary was installed outside the stadium's northwest rotunda earlier this week, and the family of stadium architect Howard Dwight Smith will be recognized during halftime of Saturday's game.
Ohio State will also hold its 110th Homecoming celebration this weekend. The Homecoming Court will be recognized during pregame festivities.
Ohio State has outscored Rutgers 428-88 – an average of 42.5 points per game – in the past eight matchups between the two teams, which have been played annually since 2014.
The Buckeyes have won their last 26 consecutive Big Ten home games – a conference record – dating back to their Big Ten opener against Rutgers in 2016.
Rutgers' roster includes three players from Ohio: wide receiver Don Munnerlyn (Columbus/Independence), offensive lineman Kwabena Asamoah (Pickerington Central) and long snapper Ed Rogowski (Streetsboro/St. Edward).
Ohio State's roster includes five players from New Jersey: Luke Wypler, Ronnie Hickman, Tyler Friday, Cody Simon and Kyle McCord, whose father Derek was a quarterback at Rutgers.
Javontae Jean-Baptiste also played high school football in New Jersey (Bergen Catholic), while fellow New York native Matt Jones played with Cruickshank and Izien at Brooklyn's Erasmus Hall High School, which has six alumni on Rutgers' roster.
How It Plays Out
Line: Ohio State -40, O/U 58
A 40-point spread is a big number to cover – Rutgers has at least kept its last three meetings with Ohio State within 39 points – but a majority of our staff members believe the Buckeyes will win this year's game against the Scarlet Knights by at least six scores.
Based on what we've seen from Ohio State's offense over the last two weeks, it's easy to envision the Buckeyes scoring 50+ points again this week. While the Scarlet Knights' defense has successfully limited all of its first four opponents to no more than three touchdowns, that early success came against weak competition, and they're less talented than the Wisconsin defense Ohio State carved up last weekend.
Rutgers' offense isn't likely to pose much of a threat to Ohio State's defense either, considering the Scarlet Knights have scored only one touchdown in each of their last two games. Both of those games were against top-20-ranked defenses (Temple and Iowa), and a healthier quarterback depth chart would potentially give them the chance to be more effective offensively, but the Scarlet Knights have been worse statistically than the four teams Ohio State has held to 21 points or fewer in its first four games.
The biggest threat to an Ohio State cover might be the possibility of the Buckeyes taking their foot off the gas pedal early and playing their backups for most of the second half. But as long as the Buckeyes can keep playing the way they have been playing, all signs point to a convincing win for the home team in Columbus on Saturday afternoon.
Eleven Warriors Staff Prediction
56
 
13