Before each Ohio State game, Eleven Warriors catches up with a media member who covers the opposing team to get their perspective on the Buckeyes' upcoming opponent.
With Rutgers set to travel to Columbus for its ninth annual tilt with Ohio State this week, we caught up with Brian Fonseca, who covers the Scarlet Knights for NJ.com.

RUTGERS
SCARLET KNIGHTS
3-1
ROSTER / SCHEDULE
---
3:30 P.M. – SATURDAY, OCT. 1
OHIO STADIUM
COLUMBUS, OHIO
---
BIG TEN NETWORK
FOX SPORTS
The Scarlet Knights have never come within 22 points of beating Ohio State, but they're off to a 3-1 start this season. Will this be the year Rutgers finally gives Ohio State a close game? Fonseca doesn't think so, nor does he think the Scarlet Knights are likely to win many more games than the games they've already won.
In his Q&A with Eleven Warriors, Fonseca evaluates how the Scarlet Knights went undefeated in non-conference play, what they've done well to field a top-10 defense so far this season and why that might not matter on Saturday in Columbus.
Rutgers went 3-0 in non-conference play before losing its Big Ten opener against Iowa. How would you evaluate the Scarlet Knights' first month of the season?
Fonseca: Results-wise, as good as they could have hoped coming into the season. They needed to beat Boston College, Wagner and Temple for any realistic shot at a bowl game, so knocking those three off was crucial. As far as how they've played, it's been a mixed bag. Rutgers had some good moments, like the game-winning 96-yard drive against Boston College, but it struggled mightily to move the ball against Temple and had two back-breaking turnovers against Iowa. The defense has been rock-solid for the most part, so Rutgers hangs its hat on that end. But its offense is very far behind, which should make every competitive game they play in for the rest of the season a nail-biter.
Rutgers hasn't finished a season with a winning record since 2014. Do you think that's an achievable goal this year, and what will be the keys to making that happen?
Fonseca: I do not. The math barely adds up for a bowl win, so it would be surprising to see them win half of their last eight games. Realistically, Rutgers will not upset Ohio State, Michigan or Penn State based on how that trio is playing, so the Scarlet Knights have to win three of five games against Nebraska/Indiana/Michigan State/Maryland/Minnesota to get to six wins. To do that, the defense needs to keep playing at a high level and force more turnovers — Rutgers won at Temple because of a pick-six, for example — and hope its offense can take care of the ball.
The Scarlet Knights currently rank ninth in the country in total defense. What have they done best defensively so far, and do you think that will translate to playing against Ohio State?
Fonseca: Rutgers has been strong at stopping the run thanks to a stout, deep defensive line that rotates eight or nine players every game. Defensive ends Wesley Bailey and Aaron Lewis have stood out on the edge and veterans Mayan Ahanotu and Ifeanyi Maijeh have played well inside. But Ohio State is a different animal than every other team Rutgers has played or will play the rest of the year, so while I think Rutgers could have some initial success, the reality is the Buckeyes should eventually dominate the way they did against Wisconsin last weekend.
Rutgers' offense has been less effective, scoring no more than 22 points in three games against FBS opponents. What have been the Scarlet Knights' biggest issues on that side of the ball?
Fonseca: The offensive line has struggled in pass protection, giving up at least two sacks in every game against FBS opponents, and the quarterback situation has been unstable. The Scarlet Knights do not have a dependable, experienced player available behind center, and that's really hurt. Veteran Noah Vedral has been hurt since training camp, so Rutgers ran a two-quarterback rotation with young guys Evan Simon and Gavin Wimsatt that was rather clunky. Then Wimsatt got hurt against Temple and missed the Iowa game, so Simon took all the reps, and while his stat line was solid (300 yards, one TD, two INTs), he struggled early on against Iowa's elite defense.
Which Rutgers players are most capable of giving Ohio State trouble?
Fonseca: Defensively, I can see Lewis/Bailey disrupting the Ohio State offensive line. On the other end, wide receiver Aron Cruickshank could be dangerous when he gets the ball in space.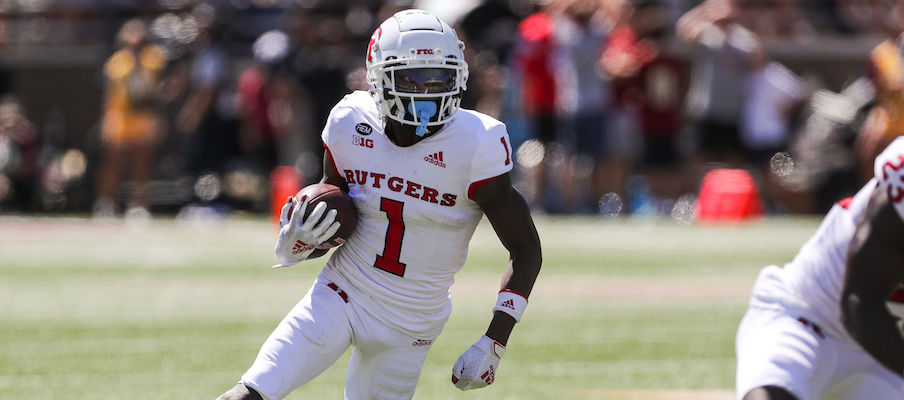 Rutgers has lost every game it's played against Ohio State by at least 22 points. Will the Scarlet Knights finally give the Buckeyes a competitive game this year, or will the blowout streak continue?
Fonseca: All things point toward another blowout in Columbus. The Scarlet Knights have one of the worst offenses in the Big Ten. The Buckeyes could have scored 100 points on Wisconsin if they wanted to, and while Rutgers ranks better than the Badgers defensively, I'm not convinced it will be able to stop Ohio State's offense. Like the first eight games in this series, it's going to be a matter of when the Buckeyes decide to take their foot off the gas. I'm going Ohio State 56, Rutgers 10.