Kamryn Babb's value as a leader within the Ohio State football program was apparent during last month's spring game at Ohio Stadium.
While Babb wasn't able to play in the game due to injury, he orchestrated the most memorable moment of the day. After a video paying tribute to former Ohio State quarterback Dwayne Haskins (who died just one week earlier) played on the scoreboard immediately following the end of the first half, Babb led a prayer in front of the entire team and a crowd of 60,007 fans.
For those fans who stood in silence as Babb shared his message with the Buckeyes, it may have been their first glimpse at what Babb means to the Ohio State football team as a spiritual leader.
For his teammates and coaches within the program, that's what they see every day.
"He's always spending time with his teammates. He's always trying to, if somebody has a bad day, he's right there. If somebody has a good day, he's right there. He's the kind of guy you want to be around," Ohio State director of sports performance Mickey Marotti said earlier this month. "Just want to be around that guy. He means so much to this program. You just don't have any idea how much he means."
After that beautiful Dwayne Haskins video, former teammate Kamryn Babb (@kamm_o) led @OhioStateFB in prayer. pic.twitter.com/3cV7VBMUvL

— Ohio State on BTN (@OhioStateOnBTN) April 16, 2022
Four years into his Ohio State career, Babb has yet to catch a single pass. He hasn't even played a snap in three of his four seasons as a Buckeye. After tearing his right ACL as a senior in high school, Babb tore his left ACL during summer workouts as a true freshman in 2018, then tore the same ACL again in spring practice in 2019. He played occasionally (for a total of 31 offensive snaps) during Ohio State's COVID-shortened season in 2020, but missed all of last season after tearing his right ACL for a second time.
Those injuries have kept Babb from making the on-field impact he was expected to make when he arrived at Ohio State as the No. 73 overall prospect and 13th-ranked wide receiver in the recruiting class of 2018. But being sidelined hasn't stopped Babb from being an inspiration to his teammates off the field.
"He's a guy that rubs off on others," Ohio State wide receivers coach Brian Hartline said. "What do they say, surround yourself with people you want to become, right? So those that are maybe on the fence from a faith perspective or a positivity perspective or a guidance perspective, Kam's there to kind of push you over the edge. Being around guys like that with great energy, it's really hard to bring bad energy. It would take more effort to fight the type of energy he brings than it would just to go along with it. So Kam does a great job rubbing off on guys and really making our room a better room because of who he is.
"He would be a guy that, when you look back, probably has made more of an impact on others than maybe anybody else around this team. So a very special young man."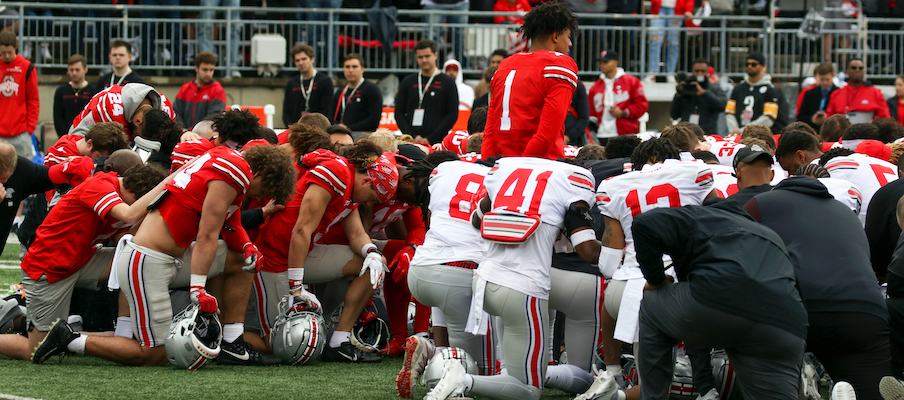 Despite all the hard luck he's had with injuries, Babb continues to exude positivity. He acknowledges there have been days amid all the setbacks he's suffered that he's questioned whether he should continue playing football. But he credits his faith, his teammates, Ohio State's staff and his family with keeping him motivated.
"Jesus Christ, my lord, my savior, my father, he's my everything. It's his story, and as long as he's behind me, it doesn't really matter who else is," Babb said during a media availability in March. "But this team, I can tell you, is behind me, and my family and the people close to me. So I'm just grateful for them and all the fans that are, I'm grateful for them as well. And just hope I can show them what I've got to bring to the table."
Babb believes the adversity he's had to battle through over the last four years has made him mentally and spiritually stronger.
"I don't know if I would be the same man if I hadn't gone through all those things," Babb said. "So I'm grateful to have gone through all of them."
Even though he's spent most of his Ohio State career in the training room, Babb says he's become physically stronger, too. Babb said in March that his knees felt as good as they ever have even though he's torn both of his ACLs two separate times. And he's worked hard to continue improving as a football player despite not being able to play or even practice much.
"You would think somebody with four ACLs, you'd have arthritis or you got something going on in your knees or your body. And really, I feel great," Babb said. "I feel this is probably the fastest and strongest I've ever been, and it's kind of increased every year. I do a lot of things in a weight room, so even though I wasn't out here doing things on the field, I was still lifting, still running."
Later in March after that interview session, Babb suffered another setback that sidelined him for the rest of spring practices. Fortunately, he avoided major injury this time around, and Ohio State's coaches are expecting him to be full go for summer workouts.
"We had a little bump in the road that we were a little worried about, but it didn't come back as a big deal," Ryan Day said. "I thought up until that practice, he had been really practicing at a high level. Really had a chance to have an impact on this offense, and I think he will."
Babb was drawing rave reviews for his performance in spring practice before that injury. C.J. Stroud said Babb was "looking amazing," and fellow wide receiver Marvin Harrison Jr. said he thought Babb is "gonna have definitely a big role" this season.
Although Babb hasn't been able to put his skills on full display in an actual game since he was a high school junior, the fifth-year senior – who still has two more years of eligibility at Ohio State – still has high aspirations for what he can accomplish as a wide receiver for the Buckeyes. If he can stay healthy and earn a role in Ohio State's wide receiver rotation this fall, Babb believes Ohio State fans will be impressed by what they see.
"I think the sky's the limit," Babb said. "I don't know how it's gonna look or what it's gonna look like, I don't know what's gonna happen. But in my head, I got a certain image, and I'm just as ready as anybody else is."
What will fans see when they finally get to watch Babb play? Babb, who's listed at 6 feet and 205 pounds, describes himself as a "physical, explosive guy" and "somebody that's not scared to go up and get the ball." Jaxon Smith-Njigba seconded that assessment, describing his fellow wideout as "crazy athletic."
"When he's out there, he's just an explosive player, a great player," Smith-Njigba said. "I just can't wait to see him play, honestly. I don't want to talk about it too much, because I know when he gets out there, everything that's said, all the answers will be answered.
"Every time he comes back, he's making big plays. So we're just praying that we all stay healthy, and we can all contribute into a national championship."
Kam Babb sporting No. 1 for the Buckeyes and looking healthy going through drills here: pic.twitter.com/Vk0OpeO3Mo

— Griffin Strom (@GriffinStrom3) March 8, 2022
Hartline says Babb "is fully capable and has all the tools to be a very successful receiver."
"He's a very consistent player. He's strong, smart, catches the ball well. Does everything you ask of him," Hartline said. "There's nothing lacking. There's nothing that he can't be an Ohio State wide receiver."
Babb will need to be healthy in preseason camp if he's going to earn a major role in Ohio State's receiver rotation this year, as the Buckeyes have no shortage of talented wideouts vying for playing time. Smith-Njigba, Harrison, Emeka Egbuka and Julian Fleming are expected to lead the rotation while Jayden Ballard, Xavier Johnson and the freshman quartet of Kyion Grayes, Caleb Burton, Kaleb Brown and Kojo Antwi will also be competing for spots on the two-deep.
Babb says he isn't worrying about how much playing time he'll get. Rather, he's just trying to prove that he can help the Buckeyes on the field this year, trusting Day and Hartline to ultimately make the decisions that put the team in the best position to win.
"We got so many great receivers in this room, so how dare I be selfish?" Babb said. "I want everybody to eat, and I want everybody to get theirs, because everybody deserves to shine. So whenever my number is called, I just want to make that play.
"Obviously I want to play, and everybody in this room wants to play, but I think we're such a close-knit group of guys, man, everybody wants everybody to do their best. And I do know this is bigger than me. So it's not about the touches and things, but it's about what can I do to help this team, and I just want to put my best foot forward."
Regardless of how much Babb plays this fall, he'll be one of the Buckeyes' top leaders. He's one of three returning captains from last season, along with defensive end Zach Harrison and linebacker Teradja Mitchell, and the likely frontrunner to wear the Block 0 uniform this year because of his character and perseverance. In an offseason where Ohio State has placed an emphasis on forging leadership, Babb might be as important to that effort as anyone else on the roster.
"He would be a guy that, when you look back, probably has made more of an impact on others than maybe anybody else around this team."– Brian Hartline on Kamryn Babb
That said, Babb believes he can have a bigger presence as a leader if he's out on the field contributing. And he's optimistic he will finally be able to do that in 2022.
"There was a challenge to it when you're not playing and still trying to motivate, but now when you're actually playing and you can actually produce on the field, I think that's a little different," Babb said. "This is bigger than me, and I know in my head, if I can get through this, maybe somebody that's struggling through the same thing or even something worse can look at my story and be like 'He did it, why can't I?' Because I'm no different than anybody else."
He will certainly have many people rooting for his success this season, especially among those who are with him every day at the Woody Hayes Athletic Center.
"I can talk for hours about Kam Babb and what he's done. Being a captain, everything he's been through," Day said. "And so we're Kam Babb fans around here. Everybody loves Kam. … And if he can stay healthy, he's gonna have an impact on this offense for sure."