Ohio State's recruiting class of 2016 officially ended its run in Columbus when Demario McCall played his sixth and final season with the Buckeyes this past fall.
While his lengthy career never blossomed into what many believed it could become when he arrived at Ohio State as the No. 44 overall prospect in the 2016 class, there were plenty of other players in his class – which was ranked as the fourth-best class in the country at the time – who went on to play major roles for the Buckeyes.
Although it did not spawn quite as many marquee players as the 2017 class that directly followed it – a class that still has one of its members on the Buckeyes' 2022 roster (Jerron Cage) – the class of 2016 made a significant impact at Ohio State nonetheless, highlighted by a pair of superstars who would become first-round NFL draft picks in just three years as well as nine other players who became multi-year starters for the Buckeyes, including three multi-year captains.
Out of the 24 total scholarship players who signed with the Buckeyes in 2016, exactly half of them became starters for Ohio State while three of them had lengthy careers as backups. The other nine left the team to either transfer elsewhere or stop playing football altogether before exhausting their collegiate eligibility.
Now that all 24 members of the 2016 class have completed their Ohio State careers, it's time to take a look back at how each of them fared in Columbus and what they've done since.
Two Superstars
QB Dwayne Haskins
While Haskins was only a one-year starter at Ohio State, his lone season leading the Buckeyes' offense was one of the greatest individual seasons in OSU history.
Haskins completed 70 percent of his passing attempts for 4,831 yards and 50 touchdowns – both school records – and finished third in the Heisman Trophy race while winning the Silver Football and Big Ten Offensive Player of the Year honors and leading the Buckeyes to a 13-1 record with a Big Ten championship and a Rose Bowl win in 2018.
A different kind of quarterback than just about every other quarterback Urban Meyer recruited during his seven-year tenure, in that he did almost all of his damage with his arm rather than with his legs, Haskins was selected with the No. 15 overall pick in the 2019 NFL draft, becoming Ohio State's first Round 1 pick at quarterback since Art Schlichter in 1982. And by redefining Ohio State's offense as one in which pass-first quarterbacks could thrive, he set the stage for the run of elite quarterbacks that appears set to continue at Ohio State for years to come.
DE Nick Bosa
The lone five-star recruit in Ohio State's class of 2018, Bosa became exactly the kind of player he was expected to be when he arrived at OSU as the eighth-ranked overall player in his class, though his Buckeye career might always be remembered most as a case of what could have been.
Bosa made an immediate impact as a true freshman, recording 29 total tackles with seven tackles for loss and five sacks even though he never started a game. He established himself as one of college football's elite defenders as a sophomore in 2017, when he recorded 16 tackles for loss with 8.5 sacks and earned first-team All-American and Big Ten Defensive Lineman of the Year honors even though he was still only a part-time starter.
He got off to a spectacular start in 2018, recording six tackles for loss with four sacks in just two-and-a-half games, but his season and Ohio State career ended prematurely when he suffered a core muscle injury in the Buckeyes' third game of the year against TCU. That kept Bosa from making as big of a mark at Ohio State as he could have, but that didn't stop him from being selected with the No. 2 overall pick in the 2019 NFL draft, and he's continued to be a dominant force for the San Francisco 49ers, earning first-team All-NFL honors in 2021.
Nine Multi-Year Starters
S Jordan Fuller
Outside of Haskins and Bosa, no other member of the 2016 class made a bigger impact on Ohio State or has had a better start to his NFL career than Fuller, who became a starting safety for the Buckeyes in 2017 and was one of their most important players for the next three years.
Fuller was an anchor of Ohio State's defense from 2017-19, and while his contributions were overshadowed at times by stars like Chase Young and Jeff Okudah, he played a crucial role as the "eraser" at free safety on Ohio State's No. 1-ranked defense in 2019. Fuller was one of the Buckeyes' top three tacklers in each of his three seasons as a starter, and he was also a two-time captain in 2018 and 2019.
Despite falling to the sixth round of the 2020 NFL draft, Fuller earned a starting job for the Los Angeles Rams in 2020 and became one of their captains in 2021, helping lead the Rams to a Super Bowl championship last season.
G/C Michael Jordan
No one in the 2016 class played a bigger immediate role than Jordan, who became the first true freshman offensive lineman to start a season opener for Ohio State when he became the Buckeyes' starting left guard right away.
Jordan started 41 straight games over three years with the Buckeyes, moving to center in 2018 and earning first-team All-American honors at that position after two seasons at left guard.
The No. 130 overall prospect in the 2016 class was selected with the No. 136 overall pick in the 2019 NFL draft and has started 29 games in his first three seasons in the league, in which he now plays for the Carolina Panthers after starting his NFL career with the Cincinnati Bengals.
DE Jonathon Cooper
The second-highest-ranked signee in Ohio State's 2016 class, Cooper never quite became the star defensive end Bosa was but still had an Ohio State career to remember nonetheless.
After a quiet start during his first two years in Columbus, Cooper started 25 games over his final three seasons as a Buckeye and was a two-time captain in 2019 and 2020, becoming the first-ever Buckeye to wear the Block 0 jersey in 2020. He recorded 75 career tackles with 15 tackles for loss and 10 sacks and had his best season as a redshirt senior, earning second-team All-American honors as he helped lead the Buckeyes to a national championship game berth.
Like Fuller, Cooper has already outperformed his draft position in the NFL as he started five games and recorded 38 total tackles for the Denver Broncos as a rookie last season despite falling to the seventh round of the 2021 NFL draft.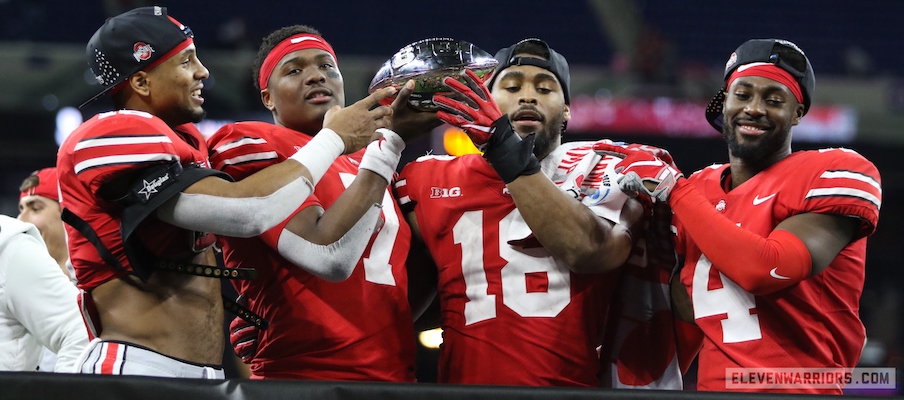 LB Tuf Borland
Borland entered rare air during his Ohio State career by becoming just the second three-time captain (along with J.T. Barrett) in program history. He was a captain for each of his final three seasons at Ohio State (2018-20) and started 41 total games over his last four years as a Buckeye, in which he totaled 229 tackles with 19 tackles for loss and 6.5 sacks.
A limited athlete for a modern linebacker, Borland was a polarizing player among Ohio State fans, but he was highly respected within the Woody Hayes Athletic Center as a leader who played a significant role as the Buckeyes won four consecutive Big Ten championships in his four playing seasons.
Borland was not selected in the 2021 NFL draft, but played in two games for the Minnesota Vikings last season and will be competing for a roster spot in Minnesota once again this year.
LB Malik Harrison
Although he was only a three-star recruit ranked as the No. 683 overall prospect in the 2016 class out of Columbus' Walnut Ridge High School, Harrison quickly proved he should have been rated much higher as he became a starting linebacker for the Buckeyes by the end of his second year at Ohio State.
Harrison became Ohio State's top linebacker in each of his final two seasons at Ohio State, tying for the team lead with 81 tackles in 2018 and leading the team with 75 tackles in 2019, earning first-team All-Big Ten honors in his senior season, when he recorded 16.5 tackles for loss.
The Baltimore Ravens drafted Harrison in the third round of the 2020 NFL draft. He has started 11 games and recorded 69 total tackles in his first two seasons in the league.
TE Luke Farrell
Even though he never had more than 20 catches or 205 receiving yards in a season, Farrell was what the Buckeyes needed him to be at tight end. 
An excellent blocker, Farrell provided plenty of value for Ohio State's offense as he started 32 games over his final three seasons as a Buckeye, consistently grading out as a champion for doing his job effectively even though he rarely made big plays in the passing game.
Farrell was selected by the Jacksonville Jaguars in the fifth round of the 2021 NFL draft and started four games in his rookie season in the league.
WR Austin Mack
The No. 72 overall prospect in the 2016 class, Mack never put up huge numbers for the Buckeyes but was a steady contributor in Ohio State's wide receiver rotation for each of his final three seasons in Columbus, catching between 24-27 passes for 331-361 yards every year from 2018-20.
Mack, who started a total of 28 games for the Buckeyes and caught 79 total passes for 1,050 yards and six touchdowns in his Ohio State career, went undrafted in 2020 but caught seven passes for 91 yards as a rookie with the New York Giants. He's now with the San Francisco 49ers and hoping to earn a spot on their 53-man roster after playing in zero regular-season NFL games in 2021.
WR Binjimen Victor
Like Mack, Victor arrived at Ohio State as a top-100 overall prospect in the 2016 class but never fully lived up to expectations as a Buckeye, considering Meyer once described him to be as talented as any receiver he had ever coached. 
There were certainly flashes of that talent throughout his career, though, as he caught 83 passes for 1,340 yards over four seasons, including 18 receiving touchdowns – tied for the 12th-most among all players in Ohio State history. He was the Buckeyes' third-leading receiver in his final season at Ohio State in 2019, when he caught 34 passes for 545 yards and six touchdowns.
Also like Mack, Victor was signed by the Giants after going undrafted in 2020, though he never played in a regular-season game with the team. He's now with the Ravens, but has yet to play in a regular-season game with them either.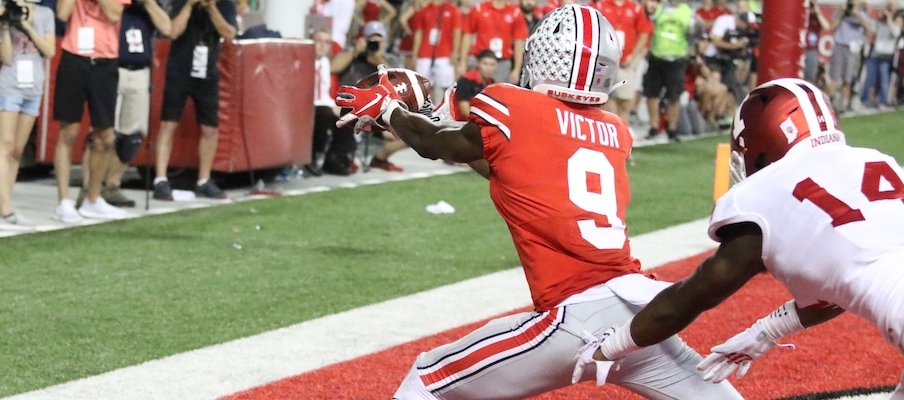 P Drue Chrisman
Ranked as the No. 1 punter in the class of 2016, Chrisman was a rock-solid punter for the Buckeyes for four years, averaging 44 yards per punt over the course of his career. He downed 83 of his 185 career punts inside the opponent's 20-yard line and was twice a Ray Guy Award semifinalist.
The self-described "bottle flip extraordinaire" spent time on the Bengals' practice squad last season and is back with the team this offseason, though his chances of becoming a regular-season punter in 2022 took a hit when Cincinnati re-signed longtime punter Kevin Huber for another year.
One More One-Year Starter
G Malcolm Pridgeon
Pridgeon, who joined the Buckeyes from the junior college ranks as he spent two years at Nassau Community College before matriculating to the NCAA level, brought two years of eligibility to Ohio State and became the team's starting left guard in 2018 after taking a redshirt in 2016 and serving as a backup in 2017.
After starting all 14 of Ohio State's games in 2018, Pridgeon went undrafted in 2019 but has spent time with the NFL's Houston Texans, Cleveland Browns and Pittsburgh Steelers, though he has yet to appear in a regular-season game.
Three Career Backups
TE Jake Hausmann
Despite being ranked as the No. 4 tight end in the 2016 class, Hausmann did not make a major impact for the Buckeyes, catching just three career passes for 26 yards and a touchdown and never starting a game in his five-year Ohio State career.
Hausmann spent time with the Detroit Lions and later the Giants as an undrafted rookie last season, but did not play in any regular-season games and was waived by the Giants on Tuesday.
CB/WR/RB Demario McCall
Ranked as the No. 44 overall prospect in the country, McCall was the third-highest-ranked Ohio State signee in the 2016 class but never found a consistent role for the Buckeyes, bouncing back and forth between running back and wide receiver for his first five years at OSU before moving to cornerback for his sixth-year senior season. He never started a game at any of those positions.
Nevertheless, McCall earned a great deal of respect from his Ohio State teammates and coaches for his unwavering dedication to the program, as he stuck with the Buckeyes and was a regular on special teams throughout his career even though he didn't see the field much on either offense or defense. A fan favorite throughout his Ohio State career, McCall will be fondly remembered as a Buckeye even though his on-field contributions fell short of expectations.
G Gavin Cupp
A three-star prospect who famously became a Buckeye after having his Michigan State scholarship offer pulled after a visit to Ohio State, Cupp was a backup for his entire career with the Buckeyes, appearing in 22 games but never making a start on Ohio State's offensive line.
Cupp did not pursue a professional football playing career but now works in the NFL as a youth marketing associate for the Vikings.
Nine Early Departures
LB Keandre Jones
After three years as a backup linebacker for the Buckeyes, Jones opted to transfer to Maryland for his final season of college football in 2019. The top-100 high school prospect got his opportunity to start as a Terrapin and ran with it, recording 74 total tackles with 15 tackles for loss, seven sacks and three forced fumbles in his lone season in College Park.
Though he still went undrafted in 2020, Jones has spent the last two years with the Bengals and saw playing time on special teams in all of their final nine games of last season, including all four games of their run to the Super Bowl.
RB Antonio Williams
Williams, like Jones, opted to return to his home state for a chance at more playing time, transferring to North Carolina after backing up Mike Weber and J.K. Dobbins for two years at Ohio State.
Although Williams continued to be a backup for most of his two seasons at UNC, he did enough with the opportunities he got as a Tar Heel – rushing for 826 yards and eight touchdowns in two seasons in Chapel Hill – to land with the Buffalo Bills as an undrafted free agent. He spent two years with the Bills, rushing for 63 yards and two touchdowns in his only regular-season game appearance in 2020, and is now with the Giants.
C Jack Wohlabaugh
Wohlabaugh never made a game appearance in two seasons at Ohio State before transferring to Duke, where he went on to have a productive four-year run with the Blue Devils, starting 29 total games and earning All-ACC honorable mention recognition in 2019 and 2021.
The three-star recruit from Stow, Ohio, entered the 2022 NFL draft but has not landed with a team after going undrafted.
CB Rodjay Burns
Burns' Ohio State career started with a bang when he returned an interception 75 yards for a touchdown in Ohio State's season-opening win over Bowling Green in 2016. He would appear in only six more games for the Buckeyes after that, however, before transferring to Louisville in 2017.
Burns became a linebacker at Louisville and had three productive seasons for the Cardinals, recording 179 total tackles with 20.5 tackles for loss, four sacks, two interceptions and a fumble return touchdowns. But Burns never landed an opportunity to play in the NFL.
S Wayne Davis
Davis appeared in just two games in two seasons at Ohio State before transferring to James Madison, where he played both safety and linebacker and had a productive four-year career for one of the FCS' top programs, recording 196 total tackles, 16 tackles for loss, 3.5 sacks, six interceptions and 27 pass breakups at JMU.
Like Wohlabaugh, Davis was eligible for the 2022 draft but has not yet gotten an opportunity with an NFL team.
DT Malik Barrow
Barrow's Ohio State career was derailed by injuries, as he was medically disqualified by Ohio State in 2018 after suffering three ACL tears. He appeared in only two games as a Buckeye.
Despite that, Barrow opted to continue his career elsewhere and is actually still playing college football. The seventh-year senior is now on his fifth college football team – Davenport University, a Division II school – after stints at UCF, Rutgers and Alabama A&M.
TE Kierre Hawkins
One of the three four-star tight end recruits in the 2016 class, Hawkins never appeared in a game in two seasons with the Buckeyes before transferring to Youngstown State, where he caught four passes for 61 yards in two seasons before his football career came to an end.
OL Tyler Gerald
A four-star offensive line recruit, Gerald never played in a college football game. He spent just one season with the Buckeyes before leaving the team and the sport altogether.
S Jahsen Wint
Wint spent four seasons with the Buckeyes as a backup safety but was dismissed from the team in 2020 after he and fellow Ohio State football player Amir Riep were arrested on rape and kidnapping charges. Wint and Riep are still awaiting trial on those charges, and neither has played elsewhere since being dismissed from the Ohio State football program.
Ohio State's Recruiting Class of 2016

| Pos | Player | Ranking | Rating | OSU Starts | Drafted/Played in NFL? |
| --- | --- | --- | --- | --- | --- |
| DE | NICK BOSA | #8 (#1 SDE) | ★★★★★ | 10 Games | First-round draft pick |
| DE | JONATHON COOPER | #33 (#3 WDE) | ★★★★ | 25 Games | Seventh-round draft pick |
| CB/WR | DEMARIO MCCALL | #44 (#2 APB) | ★★★★ | 0 Games | Has not signed with team |
| WR | AUSTIN MACK | #72 (#9 WR) | ★★★★ | 28 Games | Went undrafted but has played |
| QB | DWAYNE HASKINS | #91 (#7 PRO) | ★★★★ | 14 Games | First-round draft pick |
| WR | BINJIMEN VICTOR | #97 (#12 WR) | ★★★★ | 15 Games | Has not played in a regular-season game |
| LB | KEANDRE JONES | #98 (#9 LB) | ★★★★ | 0 Games | Went undrafted but has played |
| TE | JAKE HAUSMANN | #121 (#4 TE) | ★★★★ | 0 Games | Has not played in a regular-season game |
| G/C | MICHAEL JORDAN | #130 (#14 OT) | ★★★★ | 41 Games | Fourth-round draft pick |
| S | JORDAN FULLER | #134 (#6 ATH) | ★★★★ | 40 Games | Sixth-round draft pick |
| G | MALCOLM PRIDGEON | #4 JUCO (#3 OT) | ★★★★ | 14 Games | Has not played in a regular-season game |
| G | TYLER GERALD | #164 (#8 OG) | ★★★★ | 0 Games | Did not pursue NFL career |
| RB | ANTONIO WILLIAMS | #169 (#7 RB) | ★★★★ | 0 Games | Went undrafted but has played |
| TE | LUKE FARRELL | #191 (#7 TE) | ★★★★ | 32 Games | Fifth-round draft pick |
| DT | MALIK BARROW | #299 (#32 DT) | ★★★★ | 0 Games | Still playing college football |
| LB | TUF BORLAND | #324 (#22 OLB) | ★★★★ | 41 Games | Went undrafted but has played |
| TE | KIERRE HAWKINS | #329 (#13 TE) | ★★★★ | 0 Games | Did not pursue NFL career |
| S | WAYNE DAVIS | #335 (#33 CB) | ★★★★ | 0 Games | Has not signed with team |
| G | GAVIN CUPP | #413 (#42 OT) | ★★★ | 0 Games | Did not pursue NFL career |
| C | JACK WOHLABAUGH | #437 (#20 OG) | ★★★ | 0 Games | Has not signed with team |
| LB | MALIK HARRISON | #683 (#48 ATH) | ★★★ | 28 Games | Third-round draft pick |
| P | DRUE CHRISMAN | #767 (#1 P) | ★★★ | 48 Games | Has not played in a regular-season game |
| CB | RODJAY BURNS | #769 (#71 CB) | ★★★ | 0 Games | Has not signed with team |
| S | JAHSEN WINT | #871 (#61 ATH) | ★★★ | 1 Game | Has not pursued NFL career |