Even though Ohio State has only been through one practice with new offensive line coach Justin Frye, there already appears to be a clear group of five frontrunners to start on the offensive line for the Buckeyes in 2022.
Paris Johnson Jr., as expected, opened the spring as Ohio State's first-team left tackle after starting at right guard last season. Luke Wypler remains in place as the starting center, as does Dawand Jones as the starting right tackle. Matt Jones and Donovan Jackson appear poised to be the new starting guards.
The other two offensive linemen who were expected to be their biggest competition for starting spots, Harry Miller and Josh Fryar, will both be unavailable for the entire spring, which will likely leave them with significant ground to make up if either of them is going to earn a starting job in preseason camp. And as of now, there's no other obvious challengers to the top five on the depth chart.
As far as the starters are concerned, there's reason to feel good about Ohio State's potential to have a great offensive line this fall. Wypler and Jones both performed well for the most part in their first seasons in the lineup, and should be better in 2022 now that they each have a full season of starting experience under their belts. Johnson earned second-team All-Big Ten honors in his first year as a starter, and he has the potential to really emerge as a star now that he's at tackle, the position he was initially recruited to play as the No. 9 overall prospect in the class of 2020.
Both Ryan Day and Kevin Wilson said after Tuesday's practice that the left tackle job is Johnson's to lose as spring begins, and they're both optimistic about his potential in that role.
"We recruited him as a tackle, we always felt like he was a tackle," Day said. "To his credit, he wanted to get on the field last year and really learned a lot playing last year at guard. Just pad level, understanding calls, it's really going to pay dividends for him down the road. But now making the transition to tackle is, he's played it his whole life other than last year, so it's not like it's new to him but this will be his first time starting out there and he's gotta grab onto it and own it.
"His approach every day, his work ethic, all those things are really off the charts. And I know he's already started a great relationship with Justin so this is just a start to it. And we'll kind of get an idea of where we are about midway through (spring), but he has high aspirations and he's a high achiever, so when he sets his mind to something it usually happens."
Wilson said the starting left tackle will be whoever the Buckeyes feel most comfortable with protecting C.J. Stroud's blind side, but he anticipates Johnson will ultimately be that player.
"It's the quarterback's blind spot, and so it's really, you need someone's that gonna be very dependable. He's a tremendous athlete, tremendous upside," Wilson said. "I know Justin will do a great job with him, but we'll need a consistent player out there in between he, Dawand or Zen (Michalski) or even Donovan Jackson. The most consistent player will probably be at left tackle. And right now, he's starting there with the opportunity to prove he's going to be that guy. You would expect him to, the ball's in his court."
Wilson described Matt Jones as a starting guard while also saying that Jones would likely be the next man up at center right now if something were to happen to Wypler. And the glowing review Wilson gave Jackson on Tuesday certainly made it sound like the true sophomore – who, like Johnson, was also a five-star recruit – has the inside track to earning the other starting guard spot.
"He's got some skills that are like, 'Wow, like that's not an O-line skill. That's an athletic skill,'" Wilson said of Jackson. "He showed up with skill. He showed up with a lot of maturity. He doesn't practice like a first-year guy. He doesn't practice like a guy that just got here out of high school. He's not practicing now in the spring like this is my first spring. He's a very mature kid, very, very smart.
"I expect him as a first-year potential starter right now to be a guy that plays at a very high level. He is a very gifted, talented player and not just physically. He's got some stuff in his heart. And he's got a chance to be a special player."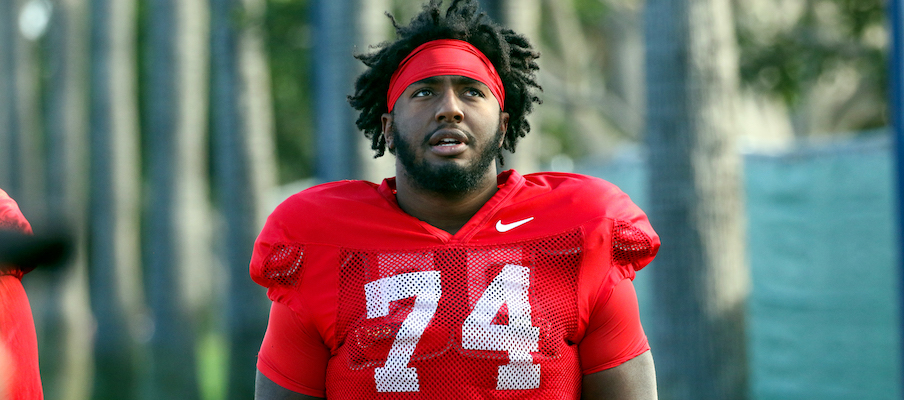 The big question that remains for the Buckeyes is the depth behind their projected starters up front, especially with Miller and Fryar both currently sidelined. Fryar is expected to be back for preseason camp, but Miller's status remains murky after he missed nearly all of last season, and Day declined to provide specifics when asked Tuesday about Miller's ongoing absence from the team, saying he would not go into details about why players were unavailable.
Based on what Wilson had to say Tuesday, it sounds as though redshirt freshman Zen Michalski would currently be the top backup at offensive tackle and redshirt sophomore Jakob James would be the top backup on the interior offensive line. But Wilson acknowledged there's a gap between the top five offensive linemen and everyone else, though there remains plenty of time for the other offensive linemen to close that gap since spring practices just began.
"I think Zen's coming along nicely. Jakob James has had an outstanding offseason, gives us some good depth inside. But there's probably a little bit of separation between the five based on experience and talent," Wilson said. "If (the other offensive linemen) can be here every day, practice every day, get better every day, they'll have chances to be our main guys. Time's gonna tell."
The rest of Ohio State's scholarship offensive line roster for this spring consists of redshirt junior Enokk Vimahi, redshirt sophomores Trey Leroux and Grant Toutant, redshirt freshman Ben Christman and true freshman George Fitzpatrick. Three more true freshmen – Avery Henry, Carson Hinzman and Tegra Tshabola – will join the Buckeyes this summer after graduating from high school this spring.
Projected 2022 Offensive Line Depth Chart
Unit
Left Tackle
Left Guard
Center
Right Guard
Right Tackle
FIRST
PARIS JOHNSON JR.
MATT JONES
LUKE WYPLER
DONOVAN JACKSON
DAWAND JONES
SECOND
ZEN MICHALSKI
ENOKK VIMAHI
JAKOB JAMES
HARRY MILLER*
JOSH FRYAR*
THIRD
GEORGE FITZPATRICK
BEN CHRISTMAN
TOBY WILSON
TREY LEROUX
GRANT TOUTANT
*Unavailable for spring practice