Cade Stover is back at the position he was initially recruited to play at Ohio State.
As a recruit out of Lexington High School, Stover envisioned himself being a hard-hitting linebacker for the Buckeyes. After just one season on the defensive side of the ball, Stover was moved to tight end, where he spent the past two seasons. Going into his fourth season at Ohio State, however, Stover is back on the defensive side of the ball and expecting to stay there after playing 46 snaps as a Sam linebacker in the Rose Bowl.
Even though Stover likely would have been in line to start at tight end if he had stayed there, he believes linebacker is where he can make the biggest impact for the Buckeyes this year.
"I feel like linebacker, you take the handcuffs off me, you really let me just be me out there and impact the game," Stover told Eleven Warriors during a promotional event on Friday. "I feel like linebacker and playing defense, I can impact that game every single play."
Although it proved to be only a temporary switch, Stover believes he became a more well-rounded football player by playing tight end for the past two years.
"Seeing different sides of the ball, versatility-wise is huge for me," Stover said. "Being able to play multiple spots, it's a blessing and a curse. But seeing both sides of the ball, understanding what you're looking for on both sides, that helps you on either side of the ball."
Still, Stover longed for the opportunity to be back on the defensive side of the ball. When asked whether he missed playing linebacker for the past two years, Stover reiterated his answer three times.
"Yeah, every day," Stover said. "Every day. Every day."
"I feel like linebacker and playing defense, I can impact that game every single play."– Cade Stover on moving back to defense
Stover doesn't know exactly what his new role on Ohio State's defense will look like yet. With several weeks still to go until the Buckeyes start spring practices, he says he hasn't heard much yet from new defensive coordinator Jim Knowles and the rest of the staff about how they plan to utilize him.
It's been widely speculated Stover will play Leo, a hybrid linebacker/defensive end position that was a staple of Knowles' defense at Oklahoma State. New Ohio State safety Tanner McCalister, who knows Knowles' defensive scheme well after playing for Knowles at Oklahoma State, said last week he believes Stover would be well-suited to play Leo.
"I've been working with him in the weight room and things like that, he seems like a guy that's gritty and likes to get after guys, so I can see him doing something like that," McCalister said.
Stover, who has a defensive end build at 6-foot-4 and 257 pounds, also believes Leo would be a great role for him if that's where he ends up playing.
"We haven't really gotten into the nitty-gritty of it yet at all, but from what I hear, it seems like that can be a really good fit for me," Stover said. "I'm excited to learn more about it."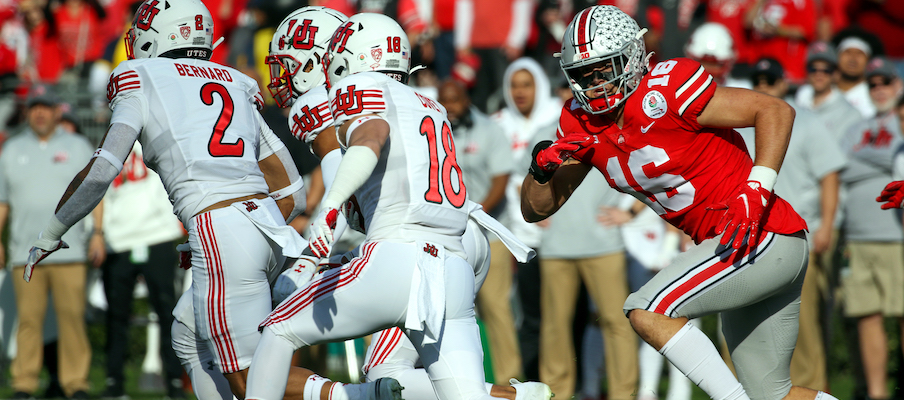 Because he is now on the back end of his Ohio State career, Stover admits to being uneasy about not knowing exactly what his role will be yet. Considering he is entering his redshirt junior season with the Buckeyes, Stover doesn't want to wait any longer for the chance to be a major contributor.
"I'm at the point now, I want to impact the game and take a leadership role on this team and just help us win ball games," Stover said. "I've been here, so let's get rolling."
Stover certainly hopes this position change will be his last, and he acknowledges it's not ideal to be changing positions again this late in his Ohio State career.
"It's frustrating. It's worrisome a little bit at some points," Stover said of changing positions multiple times. "But I'm just gonna keep taking it like I always have and step by step, just keep rolling."
Stover also knows it's up to him to put in the work to prove he belongs at the top of the depth chart. He says he's been doing that in winter workouts, which he says "has been probably the hardest winter I've had since I've been here," and he wants to be a team leader, too – though he isn't trying to do anything different than he's been doing to make that happen.
"Really just being me," Stover said. "Don't make anything fake. Just be you, be genuine and just put your head down and grind like you do all the time."
Once practices begin this spring and games begin this fall, Stover plans to show he belongs on the field by playing hard and fast and "bringing all the toughness and tenacity."
"It's your decision every play whether you try and pin somebody's helmet back … so that's what I'm gonna try to do," Stover said. "Just really bringing toughness and tenacity every single play all the time, and just energy and passion. You see somebody with good energy, it's gonna rub off on you."