Ohio State hasn't had a wide receiver selected in the first round of the NFL draft since Ted Ginn Jr. and Anthony Gonzalez were both selected in the first round in 2007.
That drought is about to end.
Fifteen years after the Miami Dolphins took Ginn with the No. 9 overall pick and the Indianapolis Colts took Gonzalez with the No. 32 overall pick, it's a virtual certainty that Ohio State will have at least one wide receiver selected in the first round of the 2022 NFL draft, and a strong possibility that the Buckeyes will once again have two.
Garrett Wilson and Chris Olave are both projected as likely first-round picks in this year's NFL draft, and they're the headliners of Ohio State's class of 2022 NFL draft prospects, which is a bit smaller than the past couple of years but still features a bunch of potential draft picks.
Ohio State has had at least seven players selected in every NFL draft since 2016, and the Buckeyes are well-positioned to extend that streak to seven years in 2022. After having 10 players selected in each of the last two drafts, however, reaching double-digit draft selections looks less likely this year. Though the Buckeyes have double-digit prospects who should at least get looks from NFL teams, several draft-eligible Buckeyes who likely would have been drafted chose to instead stay at Ohio State for another year, including defensive end Zach Harrison, offensive tackle Dawand Jones and cornerback Cameron Brown.
A note before we continue: While the deadline to declare for early entry into the NFL draft was Monday, "super seniors" who only have the additional year of eligibility remaining still have until Feb. 4 to withdraw their names from the NFL draft. An Ohio State spokesperson said Tuesday that Noah Ruggles is expected to return for his additional year of eligibility, but five other potential "super seniors" – Sevyn Banks, Jerron Cage, Palaie Gaoteote, Teradja Mitchell and Mitch Rossi – have not yet confirmed their plans. Since Banks told Eleven Warriors in December that he would likely go pro after the Rose Bowl, he is included in the list below, but the other players are assumed to be returning for another season until they confirm otherwise.
Below, we take a look at the Buckeyes who are expected to pursue NFL careers in 2022 and how NFL teams might view them as prospects ahead of this year's draft.
Two First-Round Wide Receivers
Garrett Wilson, WR
Wilson is projected by some NFL draft analysts to be the first wide receiver selected this year; in NFL mock drafts released Wednesday, The Athletic's Dane Brugler has Wilson going to the New York Jets as the No. 10 overall pick and the first wide receiver off the board, while ESPN's Mel Kiper Jr. has Wilson going to the Cleveland Browns as the 13th pick and second wideout selected (behind USC's Drake London).
A first-round selection seems like a lock for Wilson, and it would be surprising if he isn't drafted in the top 20 picks. His three years of Ohio State film should speak for itself, as he has proven production as both an outside receiver and slot receiver – 143 catches for 2,213 yards and 23 touchdowns in all. He routinely dazzled at Ohio State with both his ability to play the ball in the air and his athleticism to create big plays in the open field, all the while demonstrating rare body control and plenty of route-running skill.
Chris Olave, WR
Wilson isn't the only former Ohio State wide receiver who should hear his name called in the first round of this year's draft, and we're not talking about Jameson Williams, who should also be a first-rounder after his All-American season at Alabama. Olave is also well within the conversation to be one of the first wide receivers off the board, and could also be a top-20 pick; Kiper has Olave going 19th to the Philadelphia Eagles, while Brugler has Olave going 28th to the Detroit Lions.
As Ohio State's all-time leader in touchdown receptions, Olave should be high on the board of any team looking for a deep threat in this year's draft. He combines special ability to track and make plays on the deep ball with excellent speed and route-running ability, making him a player who can immediately help an NFL team stretch the field while also being a go-to target in the intermediate passing game.
Five More Sure-Fire Draft Picks
Nicholas Petit-Frere, OT
At 6-foot-5 and 315 pounds with tremendous quickness for his size, Petit-Frere fits the prototype for what an NFL offensive tackle should look like. He played like one in his final season at Ohio State, too, as he was an Outland Trophy semifinalist and first-team All-American in 2021.
Petit-Frere has shown he can play on both ends of the line, starting at left tackle this past season after starting at right tackle in 2020. He excelled in pass protection at both spots, allowing just two sacks in 2021 and zero sacks in 2020, per Pro Football Focus. He wasn't quite as dominant as he needed to be down the stretch of his final season at Ohio State to solidify himself as a first-round pick, but he's widely projected to be a second-round selection and could potentially push his way back into the late first round with strong pre-draft workouts.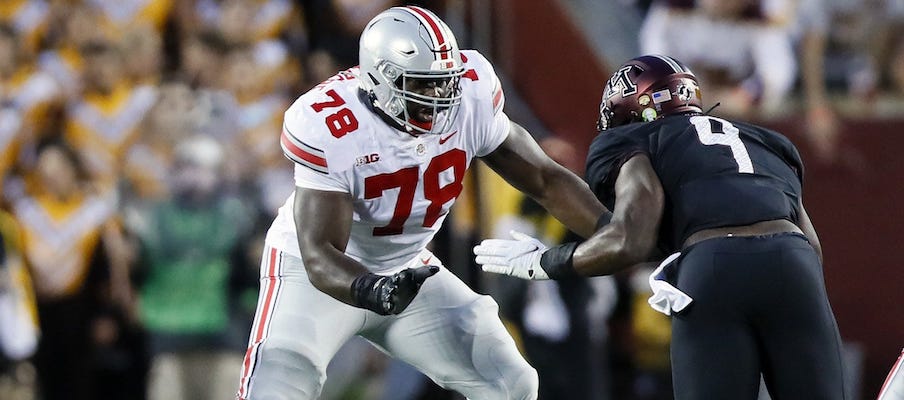 Jeremy Ruckert, TE
NFL teams will have to weigh potential vs. production when grading Ruckert as a draft prospect. While he never put up huge numbers at Ohio State, catching 54 passes for 615 yards and 12 touchdowns over the course of his four-year career, that had more to do with playing an offense that doesn't throw to the tight end frequently than it did with any deficiency in Ruckert's game.
Physically, Ruckert fits the prototype for an NFL tight end at 6-foot-5 and 250 pounds with the athleticism to make big plays over the middle of the field. It wouldn't come as any surprise if Ruckert puts up bigger receiving numbers at the next level than he ever did at Ohio State, while he's also a solid blocker with plenty of experience playing both in-line and flexed out.
Ruckert has been projected to be selected as early as the second round, and he'll be among the players trying to bolster their draft stock at the Senior Bowl during the first week of February.  
Thayer Munford, OT/G
Munford put his versatility on display for NFL scouts this past season by moving inside to left guard after starting the previous three seasons at left tackle. He didn't perform as well inside as he did outside in 2020, when he was one of the best offensive tackles in college football, but his experience playing both positions could still increase his value as some NFL teams could see him as better suited to play guard at the next level.
He isn't quite as agile as Petit-Frere, which will likely be reflected in where each of them get drafted, but his four years of starting experience and proven track record as both a pass protector and run blocker should ensure that he gets selected in the middle rounds of the draft as an offensive lineman with the potential to play everywhere but center up front.
Haskell Garrett, DT
Another Buckeye who will look to impress NFL scouts at the Senior Bowl will be Garrett, who's also projected to be selected in the middle rounds of the draft after two productive seasons as a starting defensive tackle to conclude his Ohio State career.
Following a breakout 2020 season in which he earned All-American honors, Garrett battled through injury as a fifth-year senior but still led the Buckeyes with seven tackles for loss and 5.5 sacks. He might not offer elite size by NFL standards at 6-foot-2 and 300 pounds, but his ability to penetrate the line of scrimmage and disrupt plays in the backfield from the 3-technique spot should make him a valuable piece of an NFL defensive tackle rotation.
Tyreke Smith, DE
Smith didn't have a ton of production at Ohio State – he finished his four years as a Buckeye with only eight career sacks – yet he still offers plenty of intrigue as an NFL prospect. With excellent first-step quickness off the edge, Smith was both a disruptive pass-rusher and a solid run-stopper when he was at his best, even though he never put up big numbers.
Like Ruckert and Garrett, Smith will be in Mobile, Alabama for a chance to elevate his draft stock at the Senior Bowl next month, and he should test well at the NFL Scouting Combine. So while his Ohio State statistics make him more likely to be a late-round pick than an early-round pick, he could move up the board if he can make the case that his best football is still in front of him.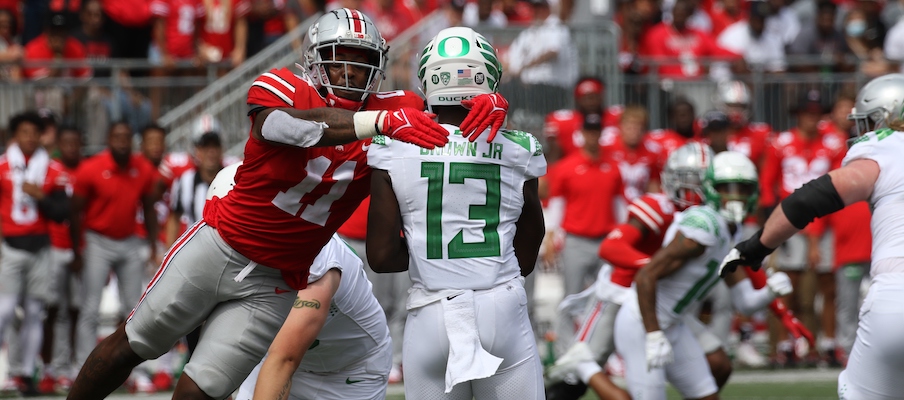 Other NFL Draft Hopefuls
Sevyn Banks, CB
If Banks keeps his name in the NFL draft pool, his draft stock might be the most difficult to forecast of any Ohio State player in this year's class.
Going into the 2021 season, Banks was projected to be drafted as early as the first round. Those projections were based on a belief that Banks would become a shutdown cornerback this past season, which didn't happen as Banks was in and out of the lineup and battled injuries throughout the season.
At 6-foot-1 and 200 pounds, Banks still has a great blend of size and athleticism that could entice an NFL team to bet on his potential in the middle to late rounds. Much like Shaun Wade a year ago, however, it's unlikely Banks will be selected anywhere near as early as some believed he would be before his fourth season at Ohio State began.
Master Teague, RB
Unlike Wilson and Petit-Frere, the other two Buckeyes who entered the NFL draft early, Teague is far from a sure-fire draft selection. After rushing for just 348 yards and four touchdowns in his final season as a Buckeye, Teague will likely have to earn his way onto a roster as an undrafted free agent.
That said, it's unlikely Teague would have improved his draft stock significantly by returning to Ohio State, as he still would have been behind TreVeyon Henderson and Miyan Williams on the depth chart. While he could have looked to transfer elsewhere, there's no guarantee that would have boosted his draft stock either. And Teague can give himself a chance to be drafted in the late rounds by performing well at Ohio State's pro day – which he should, considering he can reportedly run a 4.35-second 40-yard dash, vertical jump 40 inches and broad jump 11 feet.
Antwuan Jackson, DT
Jackson never became a major difference-maker for the Buckeyes, but he was a solid contributor in Ohio State's defensive tackle rotation over the past three seasons, starting most of the 2021 season at nose tackle and recording 48 total tackles with nine tackles for loss and 3.5 sacks during his career.
That might not be enough to get Jackson drafted, but he should at least get the chance to compete for a spot in a defensive tackle rotation as an undrafted free agent. He demonstrated the versatility to play both nose tackle and 3-technique during his Ohio State career, which could bolster his chances of making a roster in a league where backups are expected to be able to play multiple roles.
Demario McCall, CB/WR/RB
McCall confirmed after the Rose Bowl that he will take his best shot at playing in the NFL, but which position he would play at the next level is uncertain. Although he played three positions in six years at Ohio State, ultimately playing cornerback for his final season as a Buckeye after five years of moving between running back and wide receiver, he never played enough at any of them to give NFL teams a great deal of film to study.
He can certainly say he is versatile, and he is a good athlete with experience playing a multitude of roles on special teams. McCall is a long shot to get drafted, but his ability to play in all three phases of the game could give him a chance to make a roster or a practice squad – though he'll need to find a permanent position and prove he can make an impact at it to stick around in the league.