Entering this week, Ohio State was one decision away from a conundrum on the offensive line.
The Buckeyes have known since December that 2022 will mark the first season in five years in which neither Thayer Munford nor Nicholas Petit-Frere will hold down the starting left tackle position. Munford already surprised many with his decision to come back for a fifth year in 2021, and Petit-Frere officially opted out of the Rose Bowl to prepare for the next level on Dec. 27.
But if Dawand Jones, who started all but one game at right tackle for the Buckeyes in 2021, had also opted to declare for the NFL draft, Ohio State would have quickly found itself without a single returning player with experience starting at tackle.
Fortunately for the Buckeyes, Jones announced Monday that he will return to the team next season.
Breaking News: Dawand Jones will be returning for his senior year at Ohio State.

— Dawand Jones (@dawandj79) January 17, 2022
Just six months ago, the thought of Jones considering an NFL draft declaration might have seemed far-fetched. The three-star prospect from the class of 2019 had only started one game entering 2021, and that was as a replacement due to a COVID-19 outbreak along the Ohio State offensive line ahead of its Dec. 5, 2020 matchup with Michigan State.
With both Munford and Petit-Frere returning as starters at tackle, it appeared as though Jones would have to wait his turn for one more year before earning a spotlight role on Greg Studrawa's unit. But behind the scenes, the emergence of the 6-foot-8, 360-pound physical specimen was shaking things up in preseason camp.
Soon after, Ohio State unveiled a lineup with Petit-Frere and Jones at tackle and Munford at left guard during an open practice period in August. Studrawa said at the time that the lineup was not set in stone, but it ended up prevailing as the front five of choice for the Buckeyes, affording Jones an opportunity to shine as a full-time starter a bit earlier than most might have expected.
Thirteen games later, not only did he finish the year as Ohio State's top-rated tackle per Pro Football Focus, but Jones had a higher position grade than all but 13 other tackles in the country. Only one other tackle in the Big Ten, Wisconsin's Tanor Bortolini, finished the season with a higher PFF grade. By comparison, Petit-Frere – widely expected to be a day two draft pick – was ranked 47th by PFF among tackles around the country.
Ohio State gave up the 14th-fewest sacks in the country and the third-fewest in the Big Ten in 2021. But the Buckeyes had occasional issues, particularly against Michigan, when pass-rushers Aidan Hutchinson and David Ojabo had a field day against the Ohio State front. It was far from a banner performance for Jones, who took that game into consideration when mulling over his draft decision and will now use it as fuel for his senior season with the Buckeyes.
"It's out there. We watched the film the other day and the team up north is a great team and we were too, but they were just better that day, for sure," Jones said on Dec. 16. "It taught me a lot. Just gotta be prepared more, I feel like. I was in a horrible place just knowing that it's loud and I just feel like I didn't react to it well."
With Jones officially coming back, Ohio State's prospective 2022 offensive line is not difficult to piece together on paper, even with a change in leadership with former UCLA offensive coordinator Justin Frye replacing Strudawa as offensive line coach.
Five-star prospect Paris Johnson will likely slide from right guard to left tackle (his natural position coming out of high school) unless the Buckeyes prefer to shift Jones to the left side. Luke Wypler returns as Ohio State's starting center, and the redshirt freshman logged the most snaps on the entire roster this past season. Matthew Jones, who was the sixth man for the Ohio State offensive line in 2021, will slot into a full-time starting job for the first time, and five-star talent Donovan Jackson could move into a starting role in his second season in the program.
Frye and company will have to figure out exactly what to do with Harry Miller, who was pegged as Ohio State's starting center last year before missing most of the season with injuries, but a healthy Miller may give the Buckeyes more depth on the inside than they seem to have on the edge.
What makes Dawand Jones' decision to come back so crucial for the Buckeyes is there was no clear-cut option to replace him in 2022. Josh Fryar, a three-star interior offensive lineman out of high school in the class of 2020, might have been the leading candidate despite also having spent plenty of time repping at guard for the Buckeyes to this point. Not to mention, Fryar was listed as unavailable for the Rose Bowl and may be dealing with an injury to start the offseason.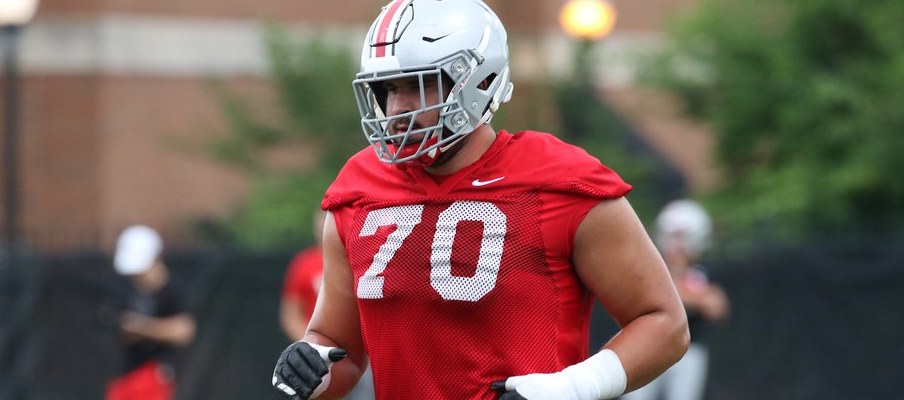 Beyond Fryar, Ohio State might have had to turn to a veteran interior lineman like Enokk Vimahi to step outside or try to expedite the development of second-year tackles Ben Christman and Zen Michalski out of sheer necessity.
Out of that crop, Fryar logged 94 snaps in 2021, Vimahi played 76, Michalski saw just two and Christman did not play at all. Third-year lineman Trey Leroux played eight snaps on the season, and the 6-foot-7 Ohio native might have factored into the conversation as well if Jones had not returned to the fold.
Even with Jones' return, the depth at tackle is on somewhat thin ice. Expectations are high for Johnson's performance at his natural position on the outside, but he still has yet to start a game at tackle for Ohio State. With just one year as a starter, Jones is now by far the most experienced tackle on the roster, and there isn't an obvious star-in-waiting to step in if either Jones or Johnson goes down this season.
Barring injury, Ohio State should be just fine on the outside of the offensive line with what could be two of the top tackles in the country. But make no mistake, it was Jones' decision to return that prevented a potentially desperate situation from taking place at the position in 2022.