Before each Ohio State game, Eleven Warriors catches up with a media member who covers the opposing team to get his or her perspective on the Buckeyes' upcoming opponent.

#11 UTAH UTES
10-3 (9-1 PAC-12)
ROSTER / SCHEDULE
---
5:10 P.M. – SATURDAY, JAN. 1
ROSE BOWL
PASADENA, CALIFORNIA
---
ESPN
WATCH ESPN
As Utah prepares to face Ohio State at the Rose Bowl in the final game of the season for both teams on Saturday, we're joined by Josh Newman of the Salt Lake Tribune to learn more about the Utes, how they overcame two tragic losses to win the Pac-12 title and what challenges they will present to the Buckeyes this weekend in Pasadena.
There seems to be a lot of excitement among the Utes and their fans about playing in the Rose Bowl for the first time. Could you explain what this game means to the Utah program and its fanbase?
Newman: What this game means to the program and the fanbase is sort of a loaded question. For starters, short of one day getting to a College Football Playoff, this represents reaching the summit for the program, for the fanbase and for head coach Kyle Whittingham, who is going to his first Rose Bowl. The goal every year is to win the Pac-12 and get to the Rose Bowl. For the first time, both of those things have been accomplished.
I also think this represents the culmination of a trying season, which included grieving Ty Jordan's death, compounded by Aaron Lowe's death (more on that below). Lowe's death especially, in-season and resulting in an aggravated murder charge, really affected a lot of people and continues to affect a lot of people, whether that's players, coaches, administrators or fans. Plowing forward, winning the Pac-12 and getting to a Rose Bowl feels like the strongest possible way to honor their respective memories.
Two Utah players, Ty Jordan and Aaron Lowe, were killed in shootings over the past year. How do you think the team has been able to achieve the success it has on the field while dealing with such tragic losses off the field?
Newman: I've written this a couple of times recently, but I think Whittingham has been a rock through this whole thing. There is no playbook when a player dies, let alone two players, let alone two players that were best friends, let alone when the second player took on the first player's jersey number after that death. Whittingham deserves a ton of credit.
Aside from that, Whittingham has a 15-player leadership council, which is similar to a captaincy while holding some decision-making power. Those players – all veterans, all older, all mature – shouldered some of the burden after Lowe's death. That was a huge benefit.
Donna Lowe-Stern, Aaron Lowe's mother, spoke at a team meeting days after her son's death and essentially gave the team permission to move forward. If there were any holdouts that didn't think the right thing to do was play, Lowe-Stern calmed people down in the middle of her own grief.
Utah enters this game on a six-game winning streak, including two wins over the same Oregon team that beat Ohio State early in the season. What have been the keys to the Utes' improvement and success down the stretch of the season?
Newman: Utah has run the ball exceptionally well for the last two months, mostly with Tavion Thomas as a wrecking ball, but with bits and pieces of T.J. Pledger and Micah Bernard mixed in. That has come with the offensive line being dinged up at times, but having enough depth to move guys in or kick other guys outside. The offensive line began the season as a question mark, but has turned into a huge strength.
Cam Rising has largely been mistake-free, Devin Lloyd has played like an All-American at linebacker, the secondary has survived a rash of injuries, true freshman safety Cole Bishop has emerged as potentially the next stud Ute at the position, and on and on it goes. 
There is no one reason Utah is here. Rather, quite frankly, it is a vast number of reasons, not limited to the ones mentioned here.
Where do you think Utah could have an advantage in this game, and where might the Utes be at a disadvantage?
Newman: The country watched Ohio State's defensive front give up 297 rushing yards to Michigan a month ago. If that's what that front seven is going to produce, then I like Utah's offensive line to win that matchup up front.
Of course, it won't be as easy as I just made it sound, but the Utah offensive line, with a versatile interior guy in Nick Ford and two legitimate tackles in Bam Olaseni and Braeden Daniels, has been quite dominant for long stretches, even in the middle of the aforementioned injuries.
If the offensive line gets going and Tavion Thomas gets in a groove and Rising has time in the pocket to make a decision, Utah's offense is dynamic enough to put up a bunch of points, even against the Buckeyes.
In terms of a disadvantage, the Utah secondary, specifically the cornerbacks, are at a dire point in terms of depth. Clark Phillips III will start on the outside, Malone Mataele is the nickel and that other outside spot is a huge question mark. JT Broughton, Faybian Marks and Zemaiah Vaughn are all out for the season, leading to some speculation that a position change will help determine who starts opposite Phillips III, a former Ohio State verbal commit.
What is Utah supposed to do with that against C.J. Stroud?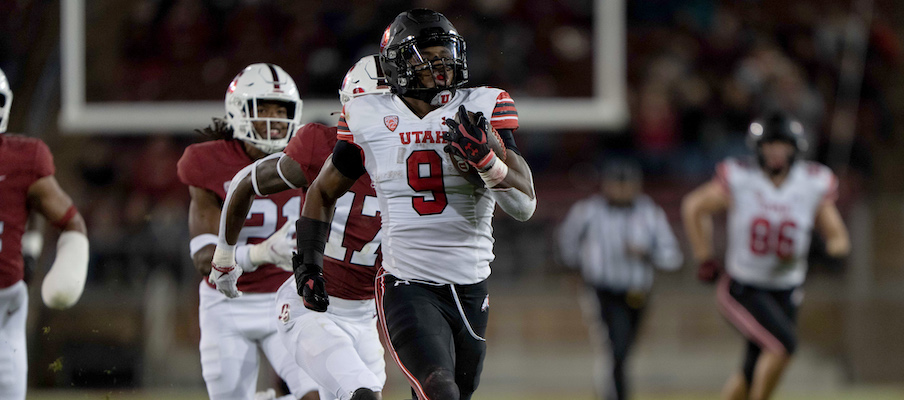 Q: Who are some of the Utah players that Ohio State fans should know about entering this game?
Newman: I think I have mentioned most of them above.
Cam Rising entered the mix late in the third quarter of the third game of the season and has been terrific since. Tavion Thomas has 20 touchdowns and over 1,000 rushing yards. Britain Covey is an electric return specialist. Any time he touches the ball, either on returns or out of the slot, something big can happen.
Defensively, Devin Lloyd and Nephi Sewell at linebacker, and Mika Tafua, the Pac-12 leader in sacks this fall, are three key guys to keep an eye on. All three of those guys are underclassmen who have already declared for the NFL Draft.
Q: Ohio State is favored to win this game by 4.5 points. What do you think needs to happen for Utah to pull an upset, and do you think it will?
Newman: Here is one thing to consider: Utah is very, very engaged. The Utes want to be in Pasadena. This is considered the grand prize. Can we say the same for Ohio State, which had eyes on the CFP, but is instead "relegated" to the Rose Bowl?
I think engagement, and how much players want to be there on Jan. 1 is a real, tangible thing and I think it will play a role. From that perspective, I have to believe Utah has an edge.
If the Utes offensive line can get cranked up, if the defense can at least slow Stroud down a little bit – admittedly easier said than done – I like Utah to win this game.
Utah 34, Ohio State 31.