The Ohio State football program is a dangerous place to be coy.
Every press conference, recruiting visit, tweet, grunt - any noise seeping out of the Woody Hayes Athletic Center is captured and amplified for the masses to consume. All coaches, especially the one of charge, have to embrace that reality.
This dynamic is one of those hardwired and uncontrollable constituency characteristics, so trying to change or evade it is a wasteful errand. Hoping OSU fans or even OSU media outlets won't notice or question the slightest microscopic detail is just silly.
Walk through campus tailgating lots on a November Saturday and you'll meet a grandmother of 14 who knitted the dazzling scarlet and gray sweater she's proudly wearing. She'll tell you today's opponent's 3-technique defensive lineman has a tendency to cheat toward the guard side, which may clog up the inside zone plays.
Gotta bounce those runs outside. That grandma is who we are. She's us. And we're locked in.
Always listen to grandmas, especially the ones who a) make their own clothes and b) don't smooth over the toothpick holes in their homemade buckeyes on purpose so that everyone knows they are authentic without having to ask. Eat at least three. She'll be insulted otherwise.
Being coy while winning by 35 is a relatively safe place. Doing it AND losing to Michigan by 22 at home is a dangerous game.
And insulting is not desirable, which also goes for Ohio State coaches with the audacity to be sketchy in moments which demand transparency. This fan base cannot be gerrymandered to only include mild-mannered, distracted, patient or rational fans. First of all, there's only like seven of those people among us.
And second, this isn't politics. You cannot draw a perimeter around the so-called Buckeye Nation.
The noise seeping out of the Woody since the bye week has carried an odd scent to it. Ohio State's brilliant performance over its first six games (solving on the fly how to operate without Jaxson Smith-Njigba or Julian Fleming on opening night should not be diminished) led many of us - author included - to believe that team could return to the field at the moment of its choosing.
But once Michigan finally arrived and then looted town, it was clear the 6-0 team tapped out midseason and either chose not to return, or has been willfully prevented from reappearing. Whatever took place at the Woody during what now feels like a cursed bye week still does not appear to be fully cured or understood.
And the constituency just wants to understand why. There's a whole damn list of why questions. Being coy while winning by 35 is a relatively safe place. Doing it while losing to Michigan by 22 at home as a touchdown favorite is a dangerous game.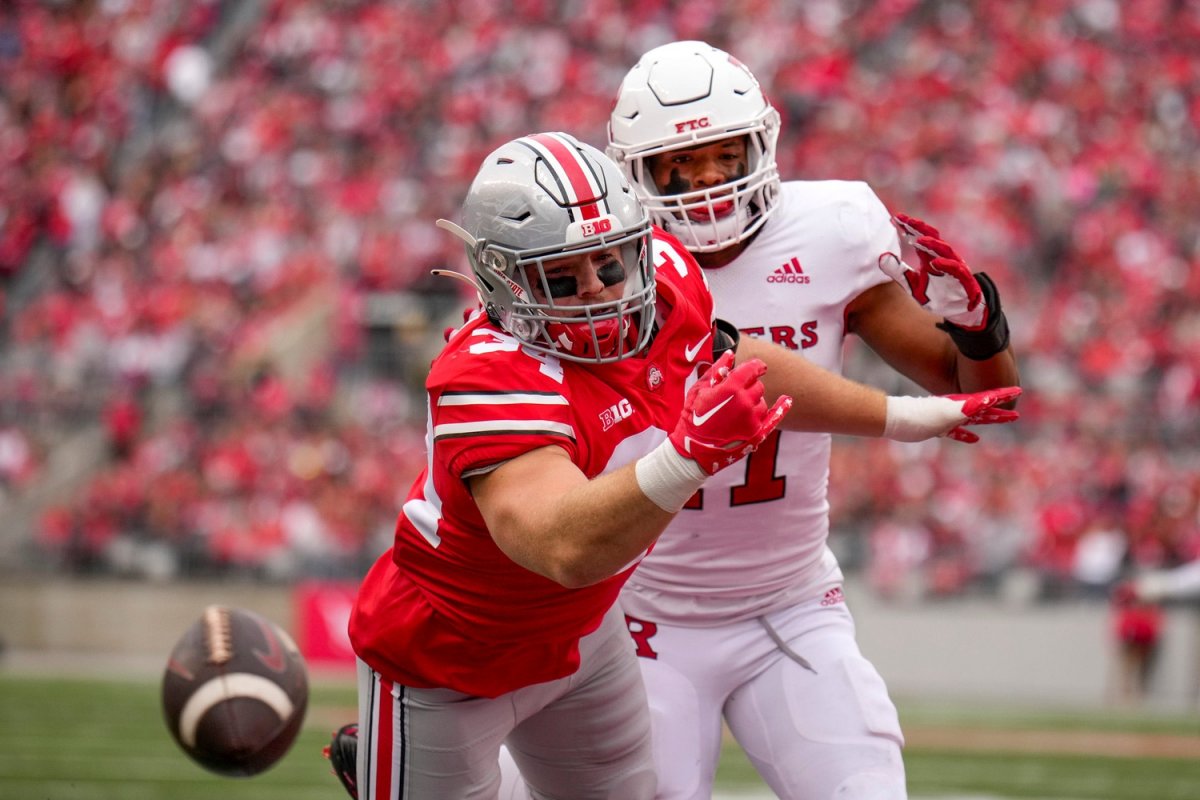 If Ohio State's intention at 6-0 was to evolve into a jack-of-all-trades offensively, it worked. The Buckeyes have just sort of dabbled in whatever since that trip to East Lansing. Marvin Harrison Jr. caught as many touchdown passes in three quarters against the Spartans that afternoon as he had over the final six games, combined. He didn't get worse. It's not him.
The Buckeyes are decent running the ball. They're now just decent airing it out. They appear to be refusing the opportunity to exploit or lean on their talent advantages anymore, which has downgraded the offense from daunting to just decent.
We've seen the potential and since the bye week, this ain't it. Pick the datapoint of your choosing to make the same argument - the Buckeye offense has been recalibrated to randomized opportunity distribution, seemingly intent on involving aliens like Harrison, former walk-on Mitch Rossi and former walk-on Xavier Johnson equally.
When a team commits to becoming the jack of all trades, it ends up the master of none. Its identity becomes muddled, both for its opponent but especially for its superstars. The most glaring issue with this strategy is that this Ohio State team is forced to engage and win scoring contests whenever its still-evolving defense finds itself in a tough spot.
We've known this for a year. It's how the Buckeyes won the Rose Bowl - they turned it into a video game and leaned on their two best receivers to make it into a scoring contest. Against Michigan, they attempted to win a football game instead. That...didn't work.
The strategy doesn't make any sense, and our hyper-engaged fanbase with weaponized passion and football fluency would just like to know why they seem to be so stubbornly committed to it.
---
Ohio State's treatment of its best player is the center of this weird stretch of ambiguity.
JSN was basically lost for the year before September concluded, and his status has been treated enigmatically for the past three months - which is to say Ohio State was never direct or straightforward with his condition, like it didn't want to reveal too much about it.
Patient privacy doesn't extend to college football injury lists. This unnecessary quasi-HIPAA treatment began during the COVID season when player availability was deliberately kept mysterious for, well, foggy pandemic reasons which made sense at the time.
It's almost 2023; we're done-done with 2020. Also, hamstring injuries aren't contagious or monitored by the World Health Organization. But even without JSN, Ohio State looked like a national championship-caliber team operating at maximum speed right up until its bye week.
That version of this team was last seen in East Lansing. In the meantime, running backs have been taking turns abruptly missing Saturdays. Even pleasant surprise TC Caffey was lost for the year, though no injury was ever mentioned. His absence was chalked up to "a long-term issue" which is deliberately opaque.
Losing to Michigan the way Ohio State did illuminated the path out of that pivotal bye week, which separated two teams that only dressed like each other.
Speculation had floated around JSN's re-integration bogging down cohesion or good old-fashioned subterfuge ahead of the Michigan game, but injuries to just about every position but quarterback should not dramatically alter strategy or cause the downshifting we've seen from games seven through 12.
If the Buckeyes had continued to operate at pre-bye levels while maintaining their odd injury status shell game, the constituency might have shrugged. I subscribed to Michigan subterfuge theory.
Now that it's been thoroughly disproven, courtesy shrugs are no longer appropriate. The Ohio State football program is a dangerous place to be coy. The program is currently 0/2 in its three-goal platform, with the B1G championship and Michigan game both lost.
Its third goal - winning the national title - is still possible. As is beating Michigan, potentially. It's a comprehensively weird season which Ohio State's braintrust made unnecessarily weirder.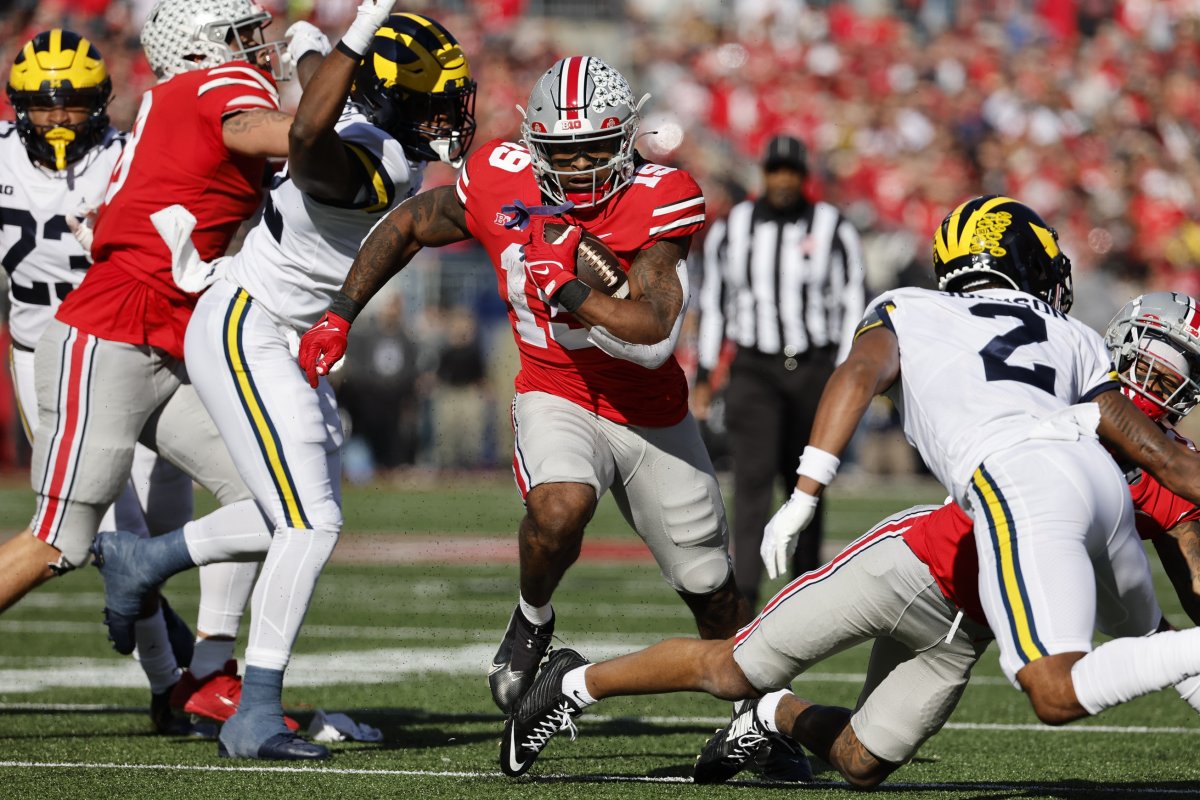 Shielding constituents from what's happening is a common practice in organizations, constructed under the false premise that bad news - or too much of it - is distracting to the mission. This practice is a symptom of weak leadership divorced from the reality of where it operates.
The problem is that constituents talk to each other. They hear the same noises; they smell the same scents. If they seek and do not receive the information they want, they'll fill that void with the worst-possible explanation out of suspicion. No news must mean bad news.
A vacuum then fills up with manufactured theories about curious things like the truth behind Ohio State's odd availability lists. Why do the Buckeyes have so many soft-tissue injuries? Is it strength and conditioning? Is NIL too distracting? Mercury retrograde? Vegas meddling? Micromanagement?
This is all avoidable. Messaging is as much a skill as it is a strategy for keeping the mission clean.
The chatter created by how Ohio State managed everything from its availability lists to its curious offensive game planning leading to the Michigan game was relegated to whispers or verbose Wednesday afternoon 11W columns right up until everything caved in on Senior Day.
And now it all feels adversarial. The tone has changed. JSN isn't playing, and the word hamstring only comes up in some of those whispered conversations. This isn't the program to lead if you want unprecedented events like best player opts out of College Football Playoff to go away quietly.
That's because in the absence of clearly-messaged transparency, constituents may find the worst-possible version of the truth to be illuminating. Rumors and facts start to sound like each other. Choosing to be opaque before a fiercely-attentive audience is choosing violence.
Losing to Michigan the way Ohio State did illuminated the path out of that pivotal bye week, which separated two teams that only dressed like each other. The Buckeyes backing into the CFP creates the obvious opportunity to achieve one or possibly two of their program goals.
But it should also clear up how the 2022 team is remembered. If the team deployed over the first six games decides - or is allowed - to face Georgia, the constituency may dismiss itself from filling the information void. Because that team can win any scoring contest. It's been there all along.
And if the Buckeyes can win twice like that, Ohio State's coaches will be free to enjoy being coy.