At the start of the 2021 season, things appeared to be going as well as they possibly could be for Miyan Williams.
Even though he was only a three-star recruit in the class of 2020, Williams began his redshirt freshman season as Ohio State's starting running back. He beat out multiple older running backs, including incumbent starter Master Teague, to win the starting job, and ran for a 71-yard touchdown on the Buckeyes' very first possession of the season.
This was just too easy for @OhioStateFB's Miyan Williams pic.twitter.com/zhlHFs15O9

— FOX College Football (@CFBONFOX) September 3, 2021
As it would turn out, though, Williams gained more yards on that one run than he would gain in all but two games for the rest of the regular season.
Williams remained the starting running back for one more game, gaining 77 yards on 14 carries in Ohio State's loss to Oregon, but did not play at all in the Buckeyes' next game against Tulsa, in which TreVeyon Henderson cemented himself as the starting running back by rushing for 270 yards and three touchdowns.
From that point forward, Williams' playing time for the rest of the regular season was sporadic. After returning to run the ball nine times for 47 yards against Akron, he was listed as unavailable for both of the next two games. In the second half of the regular season, he carried the ball more than eight times just once: Against Purdue on Nov. 13, when he ran for 117 yards on 14 attempts.
Ultimately, Williams made good use of his carries when he got them, rushing for 491 yards and three touchdowns on just 69 attempts for a Big Ten-best average of 7.1 yards per carry. Still, Williams acknowledges the season hasn't gone exactly the way he had hoped.
"It's a lot of ups and downs like a roller coaster," Williams told Eleven Warriors before participating in an autograph session on Saturday. "But you just gotta keep faith and keep going. That's what I did."
Williams said his family has helped him keep his head up when he's gotten frustrated.
"I remember who I do it for," Williams said. "No matter how I'm feeling, they just continue to push me."
Williams still feels blessed to be playing for Ohio State, an opportunity that nearly didn't even come his way until late in the 2020 recruiting cycle. And he knows he still has plenty more opportunities in front of him – including this season, with the Rose Bowl against Utah still to play – to make an impact for the Buckeyes.
"It's been really fun," Williams said of playing for Ohio State. "Getting to play next to my teammates that I call my brothers now. So it's just been fun. It's been a journey. It's not finished yet. Gotta keep going."
One thing that's made this season special for Williams is the opportunity to play alongside C.J. Stroud, who considers Williams such a close friend that he told reporters in New York earlier this month that he would have chosen Williams if he could have brought one teammate with him to the Heisman Trophy ceremony.
Williams said he was honored that Stroud said that about him, but he wasn't surprised by Stroud playing well enough to earn an invitation to New York.
"It's kind of what you expect when you watch him," Williams said. "When I watch him practice every day, he does the same things he does in a game. The way he practices, it didn't surprise me, because I knew how he was gonna do it."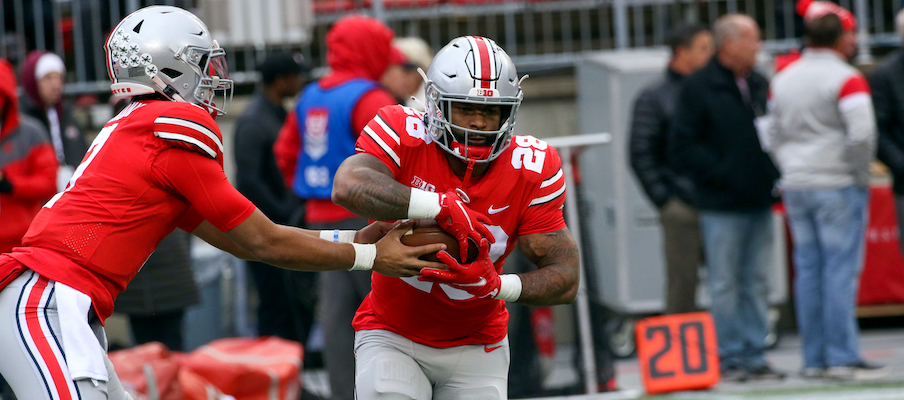 A native of Cincinnati, Williams said it still hurts that the Buckeyes lost their final game of the regular season to Michigan. He says that will "definitely" fuel Ohio State in the offseason.
"We'll see about it next year," Williams said.
Williams says the Buckeyes have had "a lot of energy" in practice since that loss, and he's excited for the opportunity to play one more game this season in the Rose Bowl. And he's working hard to put his best foot forward in practice to make his case that he belongs on the field more when the Buckeyes play the Utes.
"Just trying to get better on little things and do what I can do best to help the team and try to get that win," Williams said when asked what he's working on in bowl practices.
While Ohio State leaned primarily on Henderson in the run game after the first couple regular season contests, Williams performed well enough to make a case that he deserves a larger share of the carries going forward. Henderson acknowledged last week that his body starting to wear down over the course of the season, so it could potentially be beneficial for both running backs if Williams – who offers a different running style at 5-foot-8 and 225 pounds to the explosive 5-foot-10, 215-pound Henderson – mixes in for more regular carries next season.
Tony Alford and the rest of Ohio State's coaching staff will ultimately decide how much Williams plays in future games, but he believes he complements Henderson well to form a strong 1-2 punch in the Buckeyes' backfield that could be even better in 2022 now that both of them have a full season's worth of playing experience.
Beyond what happens on the field, Williams enjoys the brotherhood he shares with Williams and the rest of Ohio State's running backs.
"We complement each other all the time on and off the field," Williams said. "We joke around a lot too. All the running backs, we all just complement each other."