Ohio State's freshman class of 2021 arrived in Columbus as the highest-rated recruiting class in school history. Six games into its first year at Ohio State, the hype train has only sped up.
In the first half of a season in which the Buckeyes have shown significant improvement after a shaky start, one of the biggest bright spots has been the emergence of numerous immediate standouts within the true freshman class.
The headliner of the freshman class so far – not only at Ohio State but throughout all of college football – has been TreVeyon Henderson, who's already established himself as the Buckeyes' clear-cut No. 1 running back with 605 rushing yards, 766 total yards from scrimmage and 11 touchdowns scored (nine rushing, two receiving). His rushing average of 8.77 yards per carry is the best among all Football Bowl Subdivision players with at least 50 carries this season, and he's the only true freshman on the current watch list for the Maxwell Award, which honors college football's best player.
On the other side of the ball, another freshman who's made a huge impact is Denzel Burke, who's already solidified himself as Ohio State's No. 1 cornerback. Burke has played the most snaps of any Ohio State defender (350) and has excelled in coverage. He's currently tied for seventh among all FBS players with seven passes defended, including an interception that he returned for a touchdown in Ohio State's fifth game of the season against Rutgers; per PFF, Burke has allowed just 14 catches for 136 yards on 33 targets and has not allowed a completion of longer than 13 yards all season.
Another immediate star from the freshman class has been defensive tackle Tyleik Williams, who's currently graded by PFF not only as Ohio State's best defensive player but as the third-highest-graded interior defensive lineman in the entire country. Although he has not yet started a game and played just three snaps in Ohio State's first two games of the year, Williams has been a disruptive force when he's been on the field. He leads the Buckeyes and is tied for seventh in the Big Ten with four sacks.
Five-star wide receiver Emeka Egbuka has emerged as a game-changer on special teams. After gaining the second-most kickoff return yards (166) in a single game in Ohio State history against Maryland, Egbuka currently has the third-best kickoff return average in the country (34.4 yards per return) with 275 yards on just eight returns. He's also flashed his ability as a receiver, turning his first career catch against Akron into an 85-yard gain.
Aside from Quinn Ewers, who hasn't yet played after reclassifying to the 2021 class and arriving in August, each of the other six five-star prospects in Ohio State's highly touted true freshman class (who include Henderson and Egbuka) have already started to make an impact. 
J.T. Tuimoloau has made two starts at defensive end and has recorded eight total tackles with two tackles for loss, one sack and one pass breakup, while Jack Sawyer has recorded seven total tackles with two sacks, a pass breakup and a forced fumble. Donovan Jackson has already made enough of an impression on the coaching staff that Ohio State is finding ways to get on the field, mixing him in with the first-team offense as an extra offensive lineman in jumbo packages. And when C.J. Stroud sat out the Akron game to rest his injured shoulder, Kyle McCord – who's now the Buckeyes' No. 2 quarterback – filled in as Ohio State's starting QB and played well enough to earn Big Ten Freshman of the Week honors, throwing for 319 yards and two touchdowns on 13 completions and 18 attempts.
That said, it's not just the five-stars from the 2021 class who have made an immediate impact. Williams and Burke were both four-star recruits. Fellow four-star recruit Evan Pryor has flashed in late-game action, running for a 12-yard touchdown on his first-ever series as a Buckeye against Akron. Three-star recruit Jesse Mirco has been rock-solid as the Buckeyes' new punter, averaging 44.1 yards per punt while downing seven of his first 14 punts of his American football career inside the opponent's 20-yard line. Even a walk-on has gotten in on the action, as Toby Wilson has seen playing time in each of Ohio State's last three games as the center with the second-team offensive line.
In total, 18 of the 23 scholarship players (plus Wilson) in Ohio State's recruiting class of 2021 have already seen playing time for the Buckeyes. And we've likely only seen the very beginnings of what the freshman class could become.
Ohio State's Freshman Class of 2021
Pos
Name
Rating
2021 Stats
QB
QUINN EWERS
★★★★★
Has not played
DE
J.T. TUIMOLOAU
★★★★★
6 games, 2 starts, 8 tackles, 2 TFL, 1 sack, 1 PBU
DE
JACK SAWYER
★★★★★
6 games, 7 tackles, 2 sacks, 1 FF, 1 PBU
WR
EMEKA EGBUKA
★★★★★
6 games, 4 catches for 116 yards, 8 kickoff returns for 275 yards
OL
DONOVAN JACKSON
★★★★★
6 games
RB
TREVEYON HENDERSON
★★★★★
6 games, 4 starts, 70 carries for 612 yards, 7 catches for 154 yards, 11 TD
QB
KYLE MCCORD
★★★★★
3 games, 1 start, 16-24 passing for 348 yards and 2 TD, 1 INT
CB
JAKAILIN JOHNSON
★★★★
1 game, 1 tackle
DT
MIKE HALL
★★★★
2 games, 1 tackle
CB
JORDAN HANCOCK
★★★★
3 games, 1 tackle, 1 PBU
RB
EVAN PRYOR
★★★★
3 games, 10 carries for 50 yards, 1 TD
LB
REID CARRICO
★★★★
3 games, 2 tackles
WR
MARVIN HARRISON JR.
★★★★
6 games, 1 catch for 9 yards
WR
JAYDEN BALLARD
★★★★
3 games, 1 catch for 4 yards
OL
BEN CHRISTMAN
★★★★
Has not played
DT
TYLEIK WILLIAMS
★★★★
6 games, 12 tackles, 4.5 TFL, 4 sacks, 1 FF, 1 PBU
S
ANDRE TURRENTINE
★★★★
2 games
S
JANTZEN DUNN
★★★★
2 games (out for season)
CB
DENZEL BURKE
★★★★
6 games, 6 starts, 16 tackles, 1 INT, 1 TD, 6 PBU
OT
ZEN MICHALSKI
★★★★
Has not played
TE
SAM HART
★★★
Has not played
S
JAYLEN JOHNSON
★★★
Has not played (out for season)
P
JESSE MIRCO
★★★
6 games, 14 punts, 44.1 yards per punt, 7 punts inside 20
Prospect Rating Data: 247Sports
 
"My freshman teammates, just wait, man," Burke said last month. "They're gonna make a name for themselves soon. We all some dogs. Soon, you'll see."
Tuimoloau said last week that he thinks his freshman class "can do a lot of special things." Sawyer said last week that it's "scary" what his freshman class could accomplish over the course of its time at Ohio State.
"For the next couple of years, it's gonna be a lot of fun," Sawyer said. "What I like about this class is we're all grinders. We all like to get in the Woody, we all like to work out, we all like to practice football and we're all really focused on football, too. So it's good to be around a group of guys like that."
Ryan Day said in late September that he did not expect so many true freshmen to be making as big of an impact as they are for the Buckeyes this quickly. Ohio State gave them the opportunity to compete to climb the depth chart right away, though, and Henderson said he and his class of players came in determined to make their mark as soon as possible.
"I just think we came in with a lot of hunger," Henderson said. "We were hungry to get on the field early. We didn't want to wait. So I think just having that hunger and then that work ethic we've put in over the spring and the summer paid off. It definitely paid off."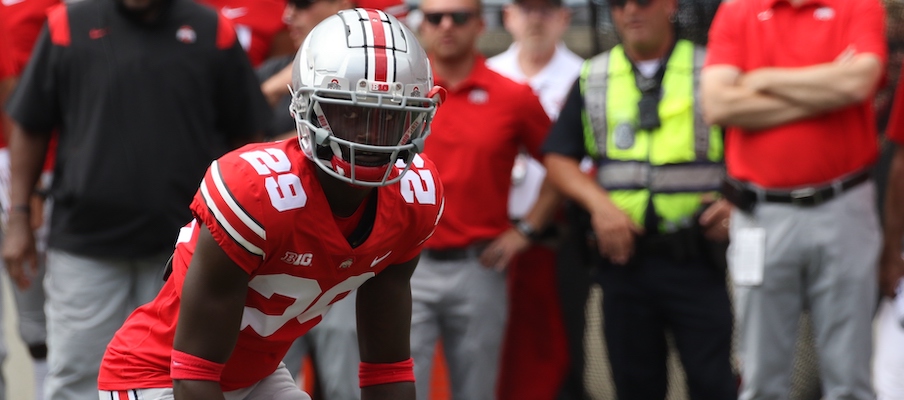 Ohio State director of player personnel Mark Pantoni had said this summer that he thought the Buckeyes' class of 2021 was "one of the most mature and best groups we've ever had." While meeting with the media in late May, Pantoni said the freshman class – a class that included 15 early enrollees, which certainly helped put many of them in position to make an immediate impact – "came in day one, put their heads down and went to work."
Day says that's had a lot to do with the freshman class's early success, and it gives him a lot of excitement for what the class could accomplish as their Ohio State careers continue this season and beyond.
"I think when you combine maturity and talent and production then you have something special, and I'm excited to say that I see that in some of these guys," Day said. "It is exciting to know that the future's really, really bright when you have talented young men who have maturity and have a seriousness and a focus in their approach … The more we can build on that, the brighter the future's gonna be."