This is, as it is every year, the time when Ohio State's coaches are reticent to say too much. They impress the importance of competition and never want to make any declarations about playing time or lineups.
That's the case, as to be expected, once again – including the topic of linebackers.
"Nothing's been decided yet," Ryan Day said after Wednesday's first practice of preseason camp.
Oftentimes, those words can be coach-speak for, "I don't want to tell you right now." But the linebacker position has so many moving parts at the moment and has to replace so much production that any definitive statements made by the third-year head coach on Wednesday would have been nothing short of surprising.
The Buckeyes have, perhaps, a longer way to go to figure out the depth chart at linebacker than any other position on the team.
The main reason? Al Washington is shepherding in a new era at the position. All four linebackers who played the most snaps last year – Baron Browning, Tuf Borland, Pete Werner and Justin Hilliard – are now gone. No linebacker currently on the roster has ever started a game for Ohio State, and none of them even reached 100 defensive snaps in last year's eight-game schedule.
Fourth-year Teradja Mitchell and second-year Cody Simon took the initial first-team defense reps at Will and Mike, respectively, when camp broke on Wednesday. 
Mitchell, who's been a backup the past three seasons, is the closest to being locked into a starting role. His first-team partner for the first day of camp – Simon – was a top-100 recruit in the 2020 cycle but played only 14 defensive snaps last year. He's positioning himself for a meaningful role as a sophomore.
"Cody had a very good spring," Day said. "Where it goes and stuff, we'll see."
Where it goes, as he said, is difficult to predict because of the status of several others in the room.
Dallas Gant missed the entirety of spring camp with a foot injury that had him spend some time on crutches. He was back in action on Wednesday but wasn't running with the ones.
Palaie Gaoteote, the fourth-year USC transfer, participated in the first practice but is not currently on scholarship and has not yet received a ruling from the NCAA on whether he'll be eligible to play this fall.
Steele Chambers is in the midst of moving from running back to linebacker, with Day mentioning "there's a great opportunity to get on the field for him there" if he sticks at the spot.
The implementation of the bullet – where Ronnie Hickman and Craig Young are competing for a starting job – has led to questions about where K'Vaughan Pope fits as a fourth-year junior who's primarily been a strongside linebacker. 
With the uncertainty surrounding so many of them, along with younger guys like Tommy Eichenberg and Reid Carrico trying to make names for themselves, Day mentioned the possibility of Ohio State shuffling through its linebackers in games more than it has over the past couple of years.
"I think we're going to need a bunch of those guys," Day said. "Last year, there was four of them, and they're the ones who played. This year, my guess is it's going to be a little bit by committee, but we'll see. We'll see how the next few weeks go. But there are some veteran guys in there that have to play for us – Teradja and Dallas and K'Vaughan. They're into (Year 4), and it's time to go. Some of those younger guys are doing a great job in pushing –Tommy and Cody. And it's good to get Steele in there and see him running around a little bit, as well.
"That's a position, obviously, that's going to get a lot of attention here and get a lot of focus from the staff, certainly through August. Hopefully in about two weeks we'll get a better idea of who's going to be starting in that first game."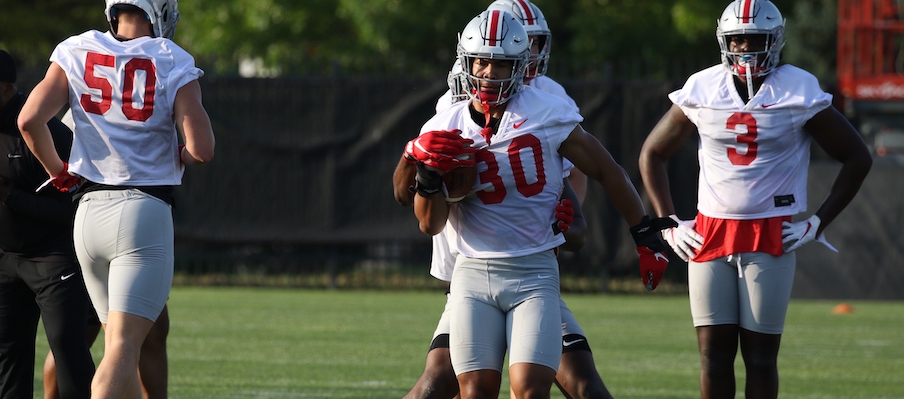 Mitchell, who has the most returning production among the linebackers, is trying to lock down a starting spot. Gant came into the calendar year as one of the most likely options to end up next to him. Simon, quite clearly, has put himself in a position to play a lot this fall. 
Gaoteote remains a wild card. Day said Wednesday that it could be "another week or so" before Ohio State gets a ruling from the NCAA on his eligibility. Because of his eligibility situation, the coaches have been reluctant to give him starting or backup reps.
"He's part of the program. He's part of the 117 (players)," Day said. "I think it's another week or so before we can really get an answer on it. That puts us in a pinch. So we can't throw him in really with the ones or the twos. It doesn't make sense because that's wasting reps if he's not available. We'll kind of see what happens. He's certainly got to get reps, but to put him in with the ones and the twos right now, I don't think that makes sense because we don't know if he's going to be eligible or not."
At some point in the near future, Ohio State should get its answer on Gaoteote. And whether it's the one they're hoping for or not, it'll help put at least one piece of this puzzle together.
Less than a month remains until the season kicks off in Minneapolis, and a lot remains for the Buckeyes to figure out at linebacker before the defense runs out there for the first time.