Through its first two years at Ohio State, only a few members of the recruiting class of 2019 have seen consistent playing time for the Buckeyes.
Unsurprisingly, those have been the four highest-rated members of the class, who were also the only four Ohio State signees ranked among the top 100 prospects in 247Sports' composite rankings for the 2019 class.
Five-star wide receiver Garrett Wilson has been the star of the 2019 class so far, already catching 73 passes for 1,155 yards and 11 touchdowns in his first two seasons as a Buckeye.
Fellow five-star recruits Zach Harrison and Harry Miller haven't quite become stars yet – Harrison needs to be more productive and Miller needs to be more consistent than they've been so far – but Harrison was a regular in the defensive end rotation and Miller was a starting guard last season, and both of them are projected starters this year.
Jameson Williams transferred to Alabama this offseason, but was also a starting wide receiver for Ohio State last season.
Outside of Wilson, Harrison, Miller and Williams, the 2019 signee who's seen the most playing time for the Buckeyes so far was actually the lowest-rated recruit of the class: Dawand Jones. The 6-foot-8, 360-pound offensive lineman has shown intriguing potential in limited action, and started at left tackle against Michigan State last season when Thayer Munford and Nicholas Petit-Frere were unavailable. With Munford and Petit-Frere both back for another season, though, Jones will likely have to wait until 2022 for his chance to start unless Ohio State moves him inside to guard, which didn't appear imminent this spring.
The other 12 members of Ohio State's recruiting class of 2019 have each played fewer than 100 snaps so far in their Ohio State careers. And though all of them remain with the Buckeyes, none of them enter their third year at Ohio State as sure-fire starters, though some of them could have opportunities to play bigger roles this year.
Two potential breakout players to watch among the third-year Buckeyes are Ronnie Hickman and Craig Young, both of whom are candidates to start at the bullet position this season. It was unclear coming out of spring whether one was ahead of the other in that competition, but it's likely both will see playing time in that role; they offer somewhat different skill sets, as Young was recruited as a linebacker while Hickman was recruited as a safety. As long as the bullet becomes the regular component of Ohio State's 2021 defense that it's expected to be, there should be plenty of snaps available for that duo, though second-year Kourt Williams will also push for playing time.
Another third-year Buckeye who Ohio State will be counting on this year is Cade Stover, the frontrunner to be the No. 2 tight end this season. While Jeremy Ruckert is locked in as the Buckeyes' starting tight end, they've regularly used two-tight end sets in recent seasons, opening the door for Stover – the fifth-highest-ranked recruit in the 2019 class, who began his Ohio State career on defense before moving to tight end – to see substantial playing time if he shows he can make plays as a pass-catcher and blocker.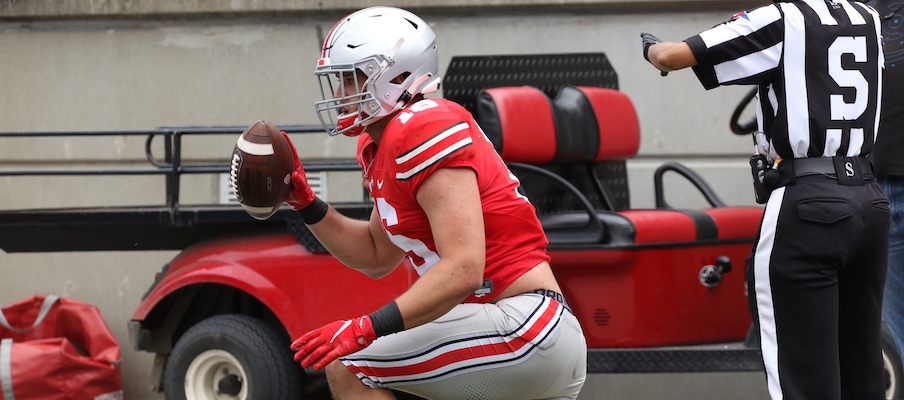 Tommy Eichenberg took some reps with the first-team defense this spring, so he's a contender to play a significant role in the linebacker rotation this season. Bryson Shaw could be Josh Proctor's top backup at free safety. Noah Potter is pushing for a spot in the defensive tackle rotation after moving inside this spring. Marcus Crowley is vying for a place in the running back rotation. It's still unclear how much playing time will be available to each of them this season, though.
Enokk Vimahi and Ryan Jacoby are battling to earn spots on the offensive line two-deep, but both of them appear destined to remain backups for 2021. Steele Chambers' anticipated move to linebacker is an intriguing move for his future, but he'll likely need time to develop at that position after spending the last two years at running back. Cormontae Hamilton flashed playmaking ability in his 16 snaps last year, but there could be too many defensive linemen in front of him on the depth chart for him to see consistent playing time this year, as is the case for Jaden McKenzie.
It shouldn't come as a huge surprise or disappointment that the 2019 class hasn't yielded a lot of starters yet. With only 17 enrollees and four top-100-ranked prospects, the class of 2019 was Ohio State's smallest recruiting class since 2007 and its lowest-ranked recruiting class since 2010. All of the players who haven't played much yet were expected to need some time to develop before they became key players for the Buckeyes.
Add in the fact that 18 members of Ohio State's 2018 class are still on the roster, along with four fifth-year seniors from the class of 2017, and many of the third-year Buckeyes are still waiting their turn behind players who arrived at Ohio State before them.
If more impact players don't emerge from the 2019 class over the next two to three years, that would certainly be a disappointment. The good news for them and the Buckeyes, though, is that all of them still have at least three years of eligibility after the NCAA gave all players a free year of eligibility last season. While Wilson and Harrison are far more likely to leave for the NFL after this season than they are to still be on the roster in 2023, there's still plenty of time for the many members of the class who haven't played much yet to have a chance to make their mark at Ohio State.