One of Ohio State's all-time great safeties has died.
Mike Sensibaugh, who still holds Ohio State's all-time record with 22 career interceptions, died Wednesday at 72 years old, Ohio State announced Monday.
A member of the "Super Sophs" class that led Ohio State to the 1968 national championship, Sensibaugh – who formed an elite pairing of safeties with Jack Tatum – had nine interceptions in 1969 (still tied for the school record with Craig Cassady) and eight interceptions in 1970. He earned first-team All-Big Ten honors in both of those seasons and first-team All-American honors in 1970.
His 22 career interceptions are the second-most of all players in Football Bowl Subdivision history.
Sensibaugh was also a punter for the Buckeyes, and set a Rose Bowl record with 319 punting yards in their win over USC to clinch the national championship at the end of the 1968 season.
He was inducted into the Ohio State Athletics Hall of Fame in 1997 and was named to the Ohio State All-Century Team by the Touchdown Club of Columbus in 2000.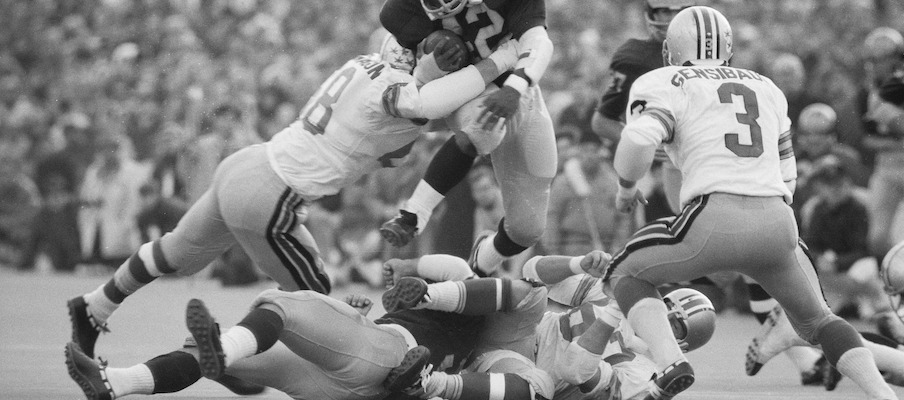 Following his Ohio State career, Sensibaugh went on to play eight seasons in the NFL – five with the Kansas City Chiefs and three with the St. Louis Cardinals. He continued to be a ballhawk at the professional level, intercepting 27 passes in his 92-game NFL career.
At the time of his death, Sensibaugh was living in Wildwood, Missouri, where he owned and operated Sensibaugh Pools.
Donations to honor Sensibaugh can be made to the Concussion Legacy Foundation, 361 Newbury St., 5th Floor, Boston, MA 02115 or online at concussionfoundation.org.