The main attraction at Tuesday's Ohio State pro day did not disappoint. And there were plenty of other standouts from the Buckeyes' deep group of NFL draft prospects, as well.
Justin Fields was the headliner of Tuesday's event at the Woody Hayes Athletic Center, as all eyes were on how well he would throw and how fast he would run, and he impressed in both areas. Among the other Buckeyes who participated in on-field workouts on Tuesday, other top performers who also likely elevated their NFL draft stocks included linebackers Baron Browning and Pete Werner, running back Trey Sermon, defensive linemen Tommy Togiai and Jonathon Cooper and tight end Luke Farrell.
Our look at seven Buckeyes who helped themselves on Tuesday begins with Fields proving why he might be the best quarterback prospect Ohio State has ever had.
Justin Fields
Shortly after Fields' throwing session wrapped up at the Woody Hayes Athletic Center on Tuesday, NFL draft analyst Matt Miller shared a text from a scout that summed up just how well Fields had performed:
Just had a scout text me from the Ohio State pro day.

That was the best QB workout Ive seen in a while@justnfields

— Matt Miller (@nfldraftscout) March 30, 2021
Fields was all smiles after he finished passing the ball on Tuesday, and he had reason to celebrate. In a lengthy throwing session in front of representatives from 31 NFL teams, the amount of inaccurate throws Fields made on Tuesday could be counted on one hand, while he demonstrated his ability to sling the ball all over the field from both inside and outside the pocket.
While just about all of his deep balls were on target, the one that really got everyone talking was a long bomb to C.J. Saunders on which he rolled just outside the left hash then launched the ball off his back foot 65 yards downfield to connect with his former Ohio State wide receiver.
Justin Fields showing off today @JustnFields | @OhioStateFB pic.twitter.com/kJeNM9Mglj

— NFL (@NFL) March 30, 2021
"As a former quarterback, I probably would have broken my hip trying to throw that one," Ohio State coach Ryan Day said after the pro day. "It just goes to show you how accurate he is downfield. He's the most accurate down-the-field passer I've seen."
Although Fields was pleased with how he threw the ball, he said he was "kind of mad" about his 40-yard dash time, which officially clocked in at 4.45 seconds. Fields had proclaimed he would run in the 4.3s at pro day, so he didn't quite live up to his own expectations.
From an NFL scout's perspective, though, 4.45 is plenty fast enough. To put that in perspective, the fastest quarterback at last year's NFL Scouting Combine (Hawaii's Cole McDonald) ran a 4.58. A 4.45 40 time is elite for a quarterback – especially for a quarterback who measures in at 6-foot-3 and 227 pounds, as Fields did Tuesday – and will make him one of the fastest quarterbacks in the NFL.
Fields didn't participate in any of the other measurable drills aside from the 40-yard dash on Tuesday, but he really didn't need to. No one's going to draft him based off of how high he can jump or how much he can bench; they're going to draft him based on how well he can throw and run, and he showed Tuesday that he can do both at an elite level.
Baron Browning
Browning was already viewed as one of the most physically gifted linebackers in the 2021 draft class even before Tuesday, but he proved just how athletic he is with his performance at pro day.
He was timed as fast as 4.51 seconds in the 40-yard dash, though his official composite time among NFL scouts was 4.58 seconds, according to Senior Bowl executive director Jim Nagy. Either way, any time under 4.6 seconds is a fantastic speed for a 6-foot-3, 245-pound linebacker like Browning, who's big enough that he's actually getting some looks as a defensive end.
Browning also posted excellent numbers in the vertical jump (40 inches), broad jump (10-foot-10) and 3-cone drill (6.76 seconds). All of those numbers would have ranked in the top three among linebackers at last year's combine. Browning's 3-cone time actually surpassed former Ohio State teammate Malik Harrison's from last year's combine, where he topped all linebackers with a 6.83, and Browning said he actually surprised himself with how well he jumped.
GET @baronbrwnng! @OhioStateFB LB Baron Browning locked in a 40-inch vertical at Pro Day pic.twitter.com/UOxXufAngx

— Ohio State on BTN (@OhioStateOnBTN) March 30, 2021
All of those numbers make it likely an NFL team will take a chance on Browning in the early rounds as an elite athlete with the versatility to potentially play either on the edge or as a traditional linebacker.
"I think it helped me a lot," Browning said of his pro day performance. "I think teams were wondering, I think they knew my versatility but they just wanted to kind of verify what I could do testing-wise, so I'm just glad I did what I did and made it out healthy."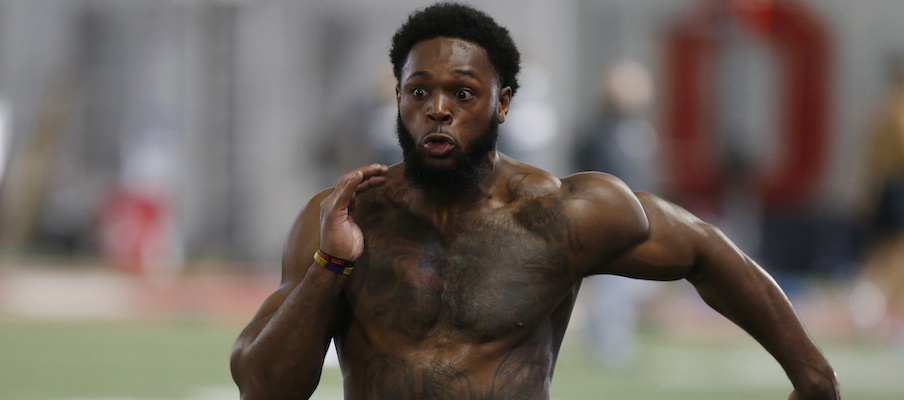 Pete Werner
While Browning's reputation as an elite athlete was already well-established before pro day, Werner didn't always get as much credit for his athleticism as he deserved during his Ohio State career. He should finally get that credit now, though, with the numbers he posted on Tuesday.
Werner was also timed at 4.58 seconds in the 40 while he leapt 39.5 inches in the vertical jump and 10-foot-2 in the broad jump and ran a 6.95-second 3-cone drill. All of those numbers are well above average for an NFL linebacker prospect, and he has the size to pair with that athleticism too at 6-foot-3 and 238 pounds.
LBs looked good as a whole. Baron Browning and Pete Werner were awesome. Justin Hilliard was explosive and quick. Jonathan Cooper participated with LBs and really held his own

— Joshua E Perry (@RIP_JEP) March 30, 2021
Like Browning, chances are good Werner will hear his name called in the second or third round of the draft after his strong pro day showing.
"I thought it was a great day all the way around," Werner said after his pro day workout. "I thought I came out here and used those months of training well, and thought I had a great day."
Tommy Togiai
Togiai didn't quite accomplish his goal of breaking the NFL Scouting Combine bench press record on Tuesday, but he still proved his standing as one of the strongest players in this year's NFL draft. By putting up 40 reps of 225 pounds at pro day, Togiai had seven more reps than former Ohio State teammate DaVon Hamilton at last year's combine – where he topped all defensive linemen with 33 reps – and more than any defensive lineman has had at the combine since Buffalo Bills defensive tackle Harrison Phillips put up 42 reps in 2018.
"I'm a little disappointed, I felt like maybe I could do more, but 40's a good number, I'm OK with that," Togiai said.
"40!"

DL Tommy Togiai (@Big_Tom72) puts up FORTY reps on the bench press at @OhioStateFB Pro Day. pic.twitter.com/P0iuGYTbVL

— Ohio State on BTN (@OhioStateOnBTN) March 30, 2021
Togiai's strength is his most famous trait, but he's also an excellent athlete for a 296-pound nose tackle, and he put that on display Tuesday as well. Anything under five seconds is an excellent 40-yard dash time for a defensive tackle, and Togiai ran a 4.97. He also ran a 7.20-second 3-cone drill, which ranks as one of the 10 fastest times for a defensive tackle since 2000, and showed his explosiveness with a 32-inch vertical jump.
His combination of size, strength and athleticism makes him another Ohio State draft prospect who could come off the board as early as the second round.
"Everyone thinks of me as just strong and big and that's it, but I've also, I've got the speed along with it," Togiai said. "I can move, and I kind of just wanted to put that on showcase today."
Trey Sermon
Like Fields, Sermon didn't quite accomplish his goal in the 40-yard dash, in which his fastest time was 4.57 seconds. Sermon hoped to run the 40 in faster than 4.5 seconds, and the time closer to 4.6 isn't likely to help his draft stock.
It might not hurt it either, though, because it's unlikely anyone who watched Sermon's film was expecting to see him run a blazing time. And his numbers in numerous other drills help make up for his pedestrian 40.
Specifically, Sermon shined in the vertical jump – raising nearly $8,000 for his mother's nonprofit for domestic violence survivors with his 37-inch leap – and impressed with a 10-foot-5 broad jump and 6.83-second 3-cone drill. His 3-cone time would have been the best among all running backs at last year's combine, while his jump numbers would have both ranked in the top 10.
He also put his receiving ability on display as one of the pass-catchers for Fields' workout on Tuesday, which was important for him to do after he was only used occasionally as a receiver with 12 catches for 95 yards at Ohio State last year, and showed he was healthy after injuring his shoulder in the national championship game.
"I showed what I'm capable of, along with my game film, so I'm happy with my performance," Sermon said after his workout. "I'm not satisfied, because I feel like I could have done better, but I'm still happy and I'm proud of what I did today."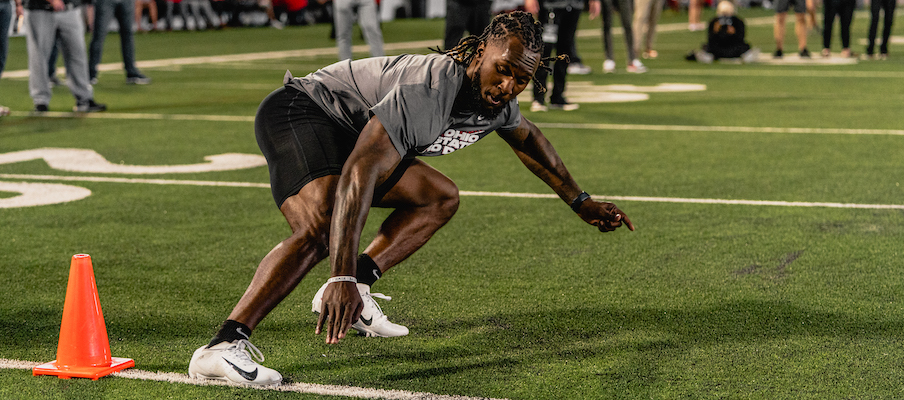 Jonathon Cooper
Another defensive prospect who had a well-rounded showing at Tuesday's pro day was Cooper, who put up 28 reps in the bench press while running a 4.69-second 40-yard dash and a 6.99-second 3-cone drill.
That 3-cone time would have ranked Cooper second among defensive linemen at last year's combine, while the 40 time would have ranked third. Both of them were a tenth of a second faster than the numbers posted at the 2019 combine by his former Ohio State teammate Nick Bosa, who went on to be the No. 2 overall pick in the NFL draft.
Cooper isn't going to be drafted that highly, but he had the kind of workout he needed to have on Tuesday to help solidify himself as a Day 3 draft pick. Perhaps most interestingly, Cooper participated in linebacker drills, and he held his own in the process. While he has defensive end size at 6-foot-3 and 253 pounds, he told reporters after the pro day that many NFL teams are looking at him as a potential outside linebacker, particularly in a 3-4 defense.
"I just wanted to make sure I showed the scouts and everybody that I can play linebacker and that I feel really comfortable in space and that I'm ready for the next level," Cooper said. "I feel like the thing I did best was probably just showing my athletic ability throughout D-line and linebacker drills. I feel like if anybody watches that tape of me, they'll really see that I'm a football player and I can adjust to anything."
Luke Farrell
While talking about Luke Farrell earlier this month, Ohio State offensive coordinator and tight ends coach Kevin Wilson said he "had several pro scouts say they think he might be as good a blocking tight end as there is coming out in the draft." So there were surely NFL teams taking a close look at Farrell on Tuesday, especially evaluating what Farrell could do as a receiver.
Farrell's 40-yard dash of 4.79 seconds wasn't anything special, but he shouldn't have been expected to run any faster than that. He did put up some impressive testing numbers in other drills, though, particularly a 36.5-inch vertical jump, which would have tied for the second-best number among tight ends at last year's combine. He also had 22 reps in the bench press, which would have been fourth among tight ends at last year's combine, and a 9-foot-10 broad jump.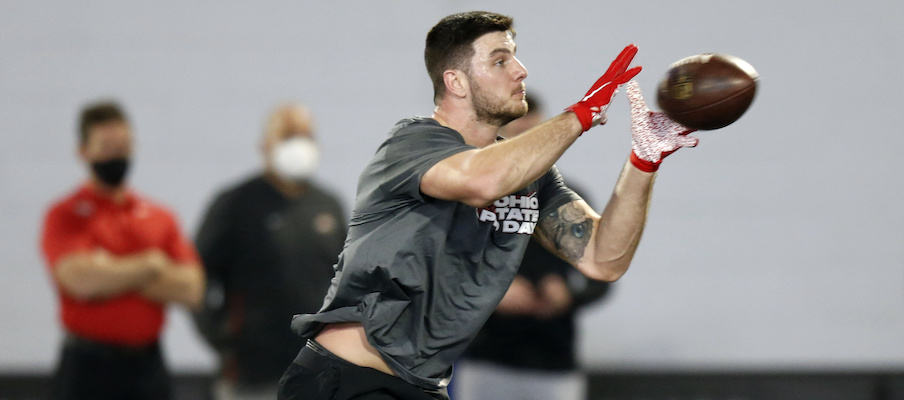 Most importantly, Farrell caught the ball well and looked crisp running routes as one of Fields' pass-catchers, which was necessary for him to do after he caught just 12 passes in his final two seasons at Ohio State. If Farrell gets drafted, it's going to be because of his blocking ability – it's unlikely he'll ever be a top pass-catcher in an NFL offense – but showing he has the ability to at least contribute reliably in that area can certainly bolster his stock.
"I think that was part of it, just to show my versatility and really just what I'm capable of in the pass game," Farrell said after his pro day workout. "I agree (with what Wilson said), I think I'm the best blocking tight end in the draft and I think I'm more than capable in the pass game and have showed that by capitalizing on the opportunities I've got. I think I showed that today."