Spring is coming.
Ohio State, just like Alabama, will begin its 15 allotted practices on March 19. That day, the national championship runner-ups will get back onto the field at the Woody Hayes Athletic Center to begin anew in its chase for trophies.
Until then, the Buckeyes will continue their offseason workouts led by Mickey Marotti. To pass the time, we're looking at three things each of Ohio State's offensive assistants will want to accomplish in the spring.
Quarterbacks coach Corey Dennis
1. Make Significant Progress in Quarterback Competition
Anybody expecting Ohio State to name a starting quarterback this spring should probably get ready to be let down. None of the three guys competing for the job opening created by Justin Fields' exit – C.J. Stroud, Jack Miller and Kyle McCord – have ever thrown a pass at the collegiate level. To expect one of them to win the job in the span of 15 practices is unrealistic. But Dennis – and head coach Ryan Day – have to come out of the spring with a much better idea of what they have at the position and who will enter the offseason as the favorite. While they might not say much publicly, they should have better insight themselves.
2. Create Competitive, Game-Like Situations
What do you do when none of your quarterbacks have ever played meaningful snaps for Ohio State? You try to simulate them in practice. Day has talked about the plan to do that in March and April, and Dennis will play a big role in ensuring the trio of quarterbacks benefit from those moments. 
3. Keep Everybody (As) Happy (As Possible)
All three of these quarterbacks want to start. They believe they can start. Only one will actually start. So, naturally, feelings will get hurt. That's the nature of a quarterback battle. It's up to Dennis to ensure nothing gets out of whack behind the scenes and impedes progress. Remember: Day spent the majority of the 2020 season with Fields, and Dennis worked primarily with Stroud and Miller. He has strong relationships with the returners and has built a bond with McCord.
Running Backs Coach Tony Alford
1. Figure Out if TreVeyon Henderson is Special
Thinking back to J.K. Dobbins' freshman season, it became apparent almost right away that he was something special. People couldn't stop praising him. If Henderson is to take a similar path, as some have suggested he might, we should have a decent idea by the end of spring camp. Alford will figure out what he has in all of his tailbacks, but Henderson in particular intrigues people. And rightly so. He's the No. 1 running back recruit in his class.
2. Get Master Teague to Take the Next Step
At this point, it sort of seems like Teague is who he is. And that's a really solid running back. Somebody who has twice earned All-Big Ten honors. But is he dynamic? No, he hasn't been. If Alford can find a way to develop Teague in a way where he can take the next step and become more of an impact player at the tailback position, Ohio State would benefit.
3. Hammer Home Competition
There are no sure things in this room. At least, there shouldn't be. With Henderson, Teague, Miyan Williams, Steele Chambers, Evan Pryor and Marcus Crowley fighting for touches, Alford should be able to create a sense of competition in the room that goes beyond even where it usually is. Four returners combined with two incoming top-100 overall recruits have a tendency to make that happen.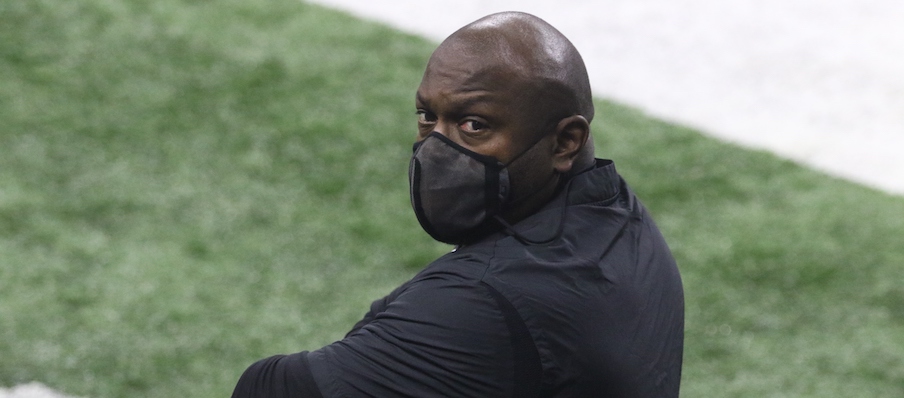 Wide Receivers Coach Brian Hartline
1. Figure Out Who Fits Where
Hartline doesn't lack options. His room doesn't have any talent deficiency. He could go any number of ways with all of the guys at wide receiver, so it's up to him to get a grasp of how best to deploy his guys. Will Chris Olave and Garrett Wilson play the vast majority of snaps or will Hartline go back to a six-man rotation? Is there any chance of Wilson moving back outside? Might Jaxon Smith-Njigba or Julian Fleming challenge Jameson Williams for a starting spot? Are there any pairings or trios that work really well together? Those are some of the questions Hartline has to ask.
2. Prepare The Underclassmen For Possibly Big Roles
One look at the freshmen and sophomores in Ohio State's position room is enough to make any wide receiver coach in America start drooling. Hartline brings back Fleming, Smith-Njigba and Gee Scott Jr. to pair with Emeka Egbuka, Jayden Ballard and Marvin Harrison Jr. All six of those guys are top-100 prospects, and all six of them will try to wedge their way into the rotation. The nature of a five-game regular season in 2020 means they're all mostly unproven at the collegiate level. Hartline has to get them ready despite their lack of experience.
3. Keep Chris Olave and Garrett Wilson Fresh And Healthy
As of now, there's no real debate: Olave-Wilson is the best duo of wideouts in college football. Any conversations about Ohio State as a national championship contender include both of their names coming up in the first couple of sentences. This spring, neither of them has anything to prove. Sure, they'll want to get their reps. But the key will be to have them peaking as the season starts. Hartline has to make sure they stay on that track.
Tight Ends Coach/Offensive Coordinator Kevin Wilson
1. Figure Out the Backup Tight End Situation
Rarely does a team have as much tight end depth as Ohio State did last season with Jeremy Ruckert, Luke Farrell and Jake Hausmann all being reliable upperclassmen. Now, the Buckeyes are in the complete opposite situation. They have no proven commodities outside of Ruckert. There's Cade Stover, Mitch Rossi, Joe Royer and Sam Hart. Stover is a converted defensive end, Rossi is a walk-on, Royer didn't play a snap as a true freshman and Hart enrolled in college two months ago. Wilson has to make sure one or two of them will be ready for snaps alongside Ruckert in the fall.
2. Continue Turning Jeremy Ruckert Into A Full-Fledged Star
Much like the situation with Olave and Wilson, avoiding injury is essentially the most important part of Jeremy Ruckert's spring. But he also wants to continue to take the next steps as a blocker to make him more of a complete tight end while ensuring he remains in tip-top shape to play the most snaps of his Ohio State career. Wilson will help get the most out of him.
3. Get An Idea Of How To Maximize This Offense
Along with his duties as a position coach, Wilson has to come out of the spring knowing more about the strengths and weaknesses of the offense as a whole and how to make it special come the fall. He and Day are the two who will be at the forefront of doing just that.
Offensive Line Coach Greg Studrawa
1. Find A Reliable Center
Over Studrawa's years at Ohio State, he has seen some pretty darn good centers come through. Josh Myers was the latest. With Myers gone to the NFL, Studrawa needs to keep that line of quality anchors in the middle going. By the end of the spring, he needs to have a good idea of who he can count on at center. Harry Miller has been the odds-on favorite to succeed Myers for over a year. Matthew Jones has some experience at the position, too, though. Either way, this is a spot Studrawa has to have locked down sooner than later.
2. Come Out Of The Spring With Leaders at Guard Spots
Maybe the Buckeyes don't leave spring camp knowing exactly what their starting offensive line will look like come the season. That wouldn't necessarily be a bad thing. But they should have a good idea of who will start on the interior, including at guard where Miller, Matthew Jones, Dawand Jones, Paris Johnson, Ryan Jacoby and Enokk Vimahi will compete.
3. Build Chemistry
Thayer Munford probably won't take as many reps as most given that he's a fourth-year starter. Nicholas Petit-Frere's workload might be a bit lessened. All three interior spots are up for grabs. Generally, it won't be too easy for Ohio State to build chemistry up front this spring, but Studrawa has to do what he can to make that happen.