Even though Ohio State hasn't had a lot of outgoing transfers in recent years, there were numerous former Buckeyes who had productive seasons playing for other teams this fall.
Additionally, a couple other former Buckeyes will be on the field playing in the Football Championship Subdivision's unconventional spring season, which is being played this spring after the FCS opted to punt its championship out of the fall due to the COVID-19 pandemic.
With the Football Bowl Subdivision's 2020 season in the rear-view mirror and the FCS season now underway, we take a look at what former Buckeyes did for other teams this fall and the ones that you can still watch play this spring.
In total, 12 former Ohio State scholarship players were on other college football teams' rosters for the 2020-21 season, though not all of them actually got on the field this fall. That said, we provide updates on all 12 of those Buckeye transfers below.
Transfers Who Played This Fall
Trevon Grimes, WR, Florida
Grimes' production steadily increased in each of his three seasons at Florida, and he had a good final campaign for the Gators in 2020, catching 38 passes for 589 yards and nine touchdowns, ranking third on the team in all three categories. His contributions played a part in Florida leading the entire FBS with 378.6 passing yards per game in 2020.
His performance in 2020 earned him a roster spot in the 2021 Senior Bowl, and he now looks to have his name called in this year's NFL draft. The former top-50 overall recruit certainly has the physical tools to play at the next level, with good athleticism for his size at 6-foot-4 and 217 pounds, though he's not expected to be drafted before the late rounds.
Rodjay Burns, OLB, Louisville
An Ohio State cornerback recruit who evolved into a linebacker at Louisville, Burns capped off a productive career for the Cardinals by recording 58 total tackles, eight tackles for loss, two sacks and two pass breakups while also returning seven punts for 22 yards in 2020.
Following back-to-back seasons as Louisville's second-leading tackler, Burns opted to enter the 2021 NFL draft rather than use his additional year of eligibility. He hasn't generated much buzz yet as a draft prospect, though, and it's unclear where he would fit on an NFL defense, as he's undersized for an NFL linebacker at 6-foot and 215 pounds.
Brendon White, S, Rutgers
After transferring within the Big Ten to play his final season of college football for his former Ohio State defensive coordinator and position coach Greg Schiano, White re-emerged as a starting safety at Rutgers. He was only able to play in five of the Scarlet Knights' nine games due to injury, but he recorded 40 total tackles, one interception, one forced fumble and two pass breakups in those games, earning honorable mention All-Big Ten honors.
Like Burns and Grimes, White opted to begin pursuing an NFL career this spring rather than use his additional year of collegiate eligibility. While he has the size of an NFL strong safety at 6-foot-2 and 220 pounds and flashed big-play ability at both Ohio State and Rutgers, he doesn't appear to be a projected draft selection right now, though he did earn an invitation to the East-West Shrine Bowl (which was not actually played this year due to COVID-19).
Jaelen Gill, WR, Boston College
Gill also reunited with a former Ohio State assistant coach in 2020, following Jeff Hafley to Boston College as an offseason transfer after playing only sparingly in two seasons with the Buckeyes. 
He saw much more consistent playing time in his first season with the Eagles, in which he caught 29 passes for 435 yards and one touchdown in 11 games. He also had four kickoff returns for 63 yards and seven punt returns for 61 yards.
A near-five-star H-back recruit out of high school, Gill played exclusively at wide receiver in his first season at Boston College. Though he still hasn't quite emerged as the star playmaker he was expected to be when he arrived at Ohio State, he had some big moments in his first year in the ACC, including a pair of 100-yard receiving games against Virginia Tech and Notre Dame, and he still has three more years of eligibility.
Isaiah Pryor, S/LB, Notre Dame
Even though he left Ohio State before the end of the 2019 season, Pryor still got to play in this past season's College Football Playoff after transferring to Notre Dame as a graduate student. That said, Pryor was a backup in his first season with the Fighting Irish, playing mostly on special teams and recording only eight total tackles in 12 games.
Pryor, who played mostly at the "rover" linebacker position when he was in the game on defense, did have a sack and a forced fumble in Notre Dame's 45-3 win over Pittsburgh in October. And he's expected to play a bigger role for the Fighting Irish in 2021 now that the player he backed up this past season, Butkus Award winner Jeremiah Owusu-Koramoah, is on his way to the NFL.
Malik Barrow, DL, Rutgers
Barrow, who was medically disqualified from playing at Ohio State in 2018 after tearing his ACL for the third time, played for his third college team in 2020.
After playing in three games as a graduate transfer at UCF in 2019, Barrow transferred again to join Schiano and White at Rutgers and played in the Scarlet Knights' first three games of the season as a reserve defensive lineman. He did not play again the rest of the year, however, after recording no statistics in those three games.
Barrow has not yet decided whether he will enter the 2021 NFL draft or return to Rutgers for one more season. As a senior, he has until March 1 to withdraw his name from the draft and use his additional year of eligibility should he choose to do so.
Did Not Play in 2020
Jack Wohlabaugh, C, Duke
An All-ACC honorable mention in 2019, Wohlabaugh was expected to be one of the ACC's best centers in his third season at Duke. Unfortunately for Wohlabaugh, his 2020 season ended before it began when he suffered a torn ACL during preseason camp.
Fortunately for Wohlabaugh, the free year of eligibility provided by the NCAA will allow him to play one more season for the Blue Devils in 2021.
Tate Martell, QB, Miami
Martell's second season as a Miami football player didn't last long, as he was suspended prior to the Hurricanes' season opener and ended up opting out of the remainder of the season.
Now, Martell is set to transfer for a second time after entering the transfer portal last month. He still has two more years of collegiate eligibility and is surely looking to be a starting quarterback this fall, but he'll likely have to transfer to a Group of 5 or Football Championship Subdivision team to get that opportunity now. There's already one 247Sports Crystal Ball in for Martell to transfer to his hometown UNLV, though it's unclear whether UNLV is actually interested in bringing him on.
L'Christian "Blue" Smith, WR, Cincinnati
After catching just two passes for 19 yards in his first season as a Bearcat, Smith never saw the field in 2020. He's battled injuries in first two years at Cincinnati, which have played a part in keeping him buried on the Bearcats' wide receiver depth chart.
Even though he's the highest-rated recruit on Cincinnati's entire roster, he could face an uphill climb to earn playing time once again in 2021, as the Bearcats return six of their seven receivers who caught passes in 2020. That said, Smith still has three more years of eligibility to potentially break through and showcase the talent that made him a top-150 prospect out of high school.
Alex Williams, DE, Vanderbilt
Williams did not play in his first year at Vanderbilt after transferring from Ohio State last January, but he also still has three years of remaining eligibility thanks to the NCAA giving all players a free season of eligibility in 2020. He'll look to impress the Commodores' new coaching staff and earn a spot in their defensive line rotation in 2021.
Playing This Spring
Wayne Davis, S, James Madison
James Madison is expected to be one of the FCS' best teams this year – the Dukes are ranked fourth in Athlon Sports' preseason top 25 – and Davis is expected to be one of their top players. Davis, who had 62 total tackles, 8.5 tackles for loss, nine passes defensed, two interceptions and a forced fumble in 2019, is set to start at strong safety, and he's been described as the quarterback of James Madison's defense.
"Wayne is an excellent communicator, and he gets everybody in the right spot," James Madison coach Curt Cignetti recently said, per Wayne Epps of the Richmond Times-Dispatch. "And then he's got exceptional athletic ability."
James Madison is set to open its eight-game regular season with a home game against Morehead State on Saturday. The game will be televised on NBC Sports Washington, and all of James Madison's games this season will be available online with a FloSports subscription.
Brian Snead, RB, Austin Peay
Snead and the Austin Peay Governors already played in three games this fall. As you might recall, they played Central Arkansas in the first game of the 2020 college football season all the way back on Aug. 29, while they also played a pair of games against Pittsburgh and Cincinnati. Now, they are set to play a seven-game spring regular season against Ohio Valley Conference opponents.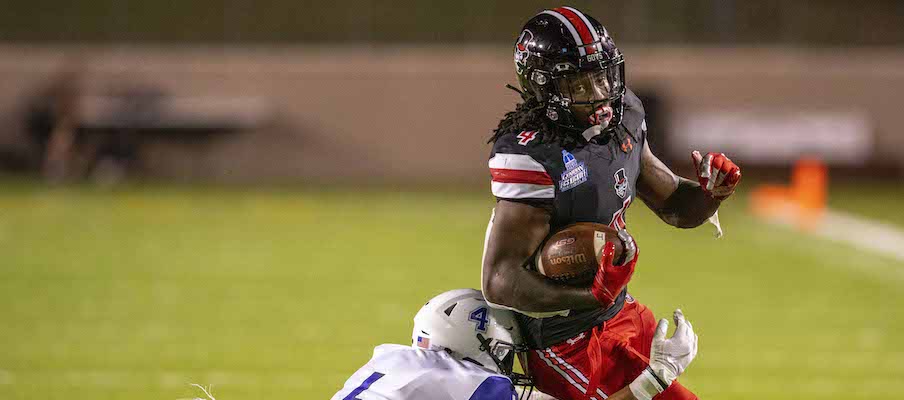 In Snead's first three games as a Governor this fall, the former Ohio State running back – who played for Iowa Western Community College in 2019 after he was dismissed from Ohio State in 2018 – ran for 88 yards on 31 carries. He'll look to get into more of a groove this spring as the No. 2 running back on Austin Peay's depth chart.
Austin Peay kicks off its spring season with a road game at Tennessee Tech at 1 p.m. Sunday. All of its games this season are set to be streamed on ESPN+.