In the week between Ohio State's national championship game loss to Alabama and the deadline for underclassmen to declare for the 2021 NFL draft, Tommy Togiai had a tough time deciding what he should do.
Having been at Ohio State for only three years, Togiai certainly considered staying in Columbus for one more year and playing his senior season for the Buckeyes. After discussing it over with his family, Togiai ultimately determined it was in his best interest to go pro now. But that decision, which he announced just hours before the deadline, wasn't an easy choice for him to make.
"It was probably the hardest decision I've made so far in my life," Togiai told Eleven Warriors on Friday. "Just going back and forth on whether I wanted to come back or go, I went back and forth a lot. Especially the week leading up to when I had to make my final decision. Just talking with my family and Coach J and Coach Day, after just the hard discussions, my family really just thought it was best if I declared."
Togiai sought feedback from the NFL's College Advisory Committee, which told him he projects to be a second- or third-round draft pick, and he felt the time was right to go pro. He put himself in position to be an early- or middle-round NFL draft pick with an excellent 2020 season in which he emerged as a star nose tackle for the Buckeyes and earned second-team All-Big Ten honors while recording 23 total tackles, 4.5 tackles for loss, three sacks, two pass breakups and one forced fumble in just seven games.
"I feel really healthy. My body feels great. And I just had momentum I think," Togiai said. "I had a good year."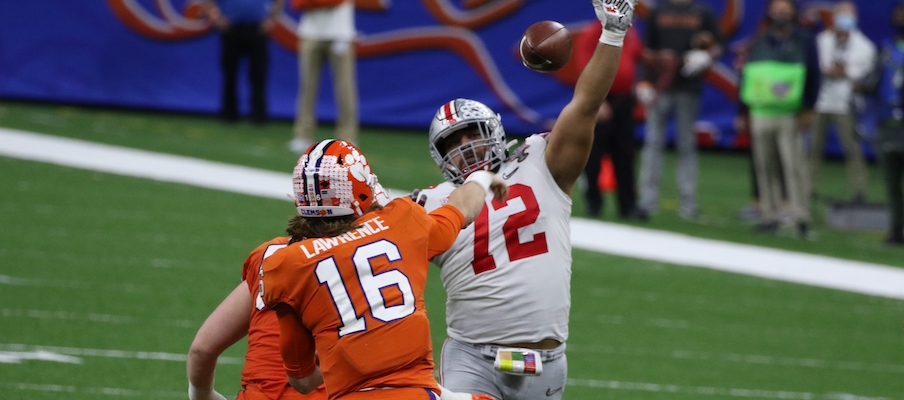 Still, Togiai debated internally whether he should play one more season as a Buckeye, especially because of the way his Ohio State career ended. Togiai was unable to play in the national championship game, and didn't even get to make the trip to Miami with the Buckeyes, after he tested positive for COVID-19.
"I cried my eyes out when I got the news that I wouldn't be able to play in the national championship," Togiai said. "It was just really heartbreaking for us because all the emotions that come with it, just not being able to go out there and play the last game with my brothers. At all the times I could have gotten it, it was right before the most important game of my career. It's all good, but yeah, it was just heartbreaking."
Togiai, who said he watched the game at home while in isolation, still doesn't know how he contracted the virus, as he was diligent about following the team's health and safety protocols all season long.
"I was wondering like how I could have got it 'cause I had done great all year of not getting it, I always followed all the protocols and everything of just staying in kind of our bubble, not doing anything, not going out or anything, just staying in our bubble," Togiai said. "It was just like so crazy to me of where I could have got it from."
Fortunately, Togiai did not develop any symptoms from the virus, and he's feeling fully healthy now as he trains for Ohio State's March 30 pro day.
"I cried my eyes out when I got the news that I wouldn't be able to play in the national championship." – Tommy Togiai on testing positive for COVID-19
Togiai, who is currently training at EXOS' performance center in Phoenix, Arizona, is hoping to run the 40-yard dash in less than five seconds and put up more than 40 reps of 225 pounds in the bench press. Some of his Ohio State teammates have already predicted Togiai will break the NFL Combine bench press record (49 by Stephen Paea in 2011) at pro day, but Togiai doesn't want to set his expectations quite that high.
"If I can try to get past the record, I'm going to try to, but I'm just gonna try to get past 40 or more," Togiai said.
Tommy gone break the bench record at his pro day .. mark my words

— Teradja Mitchell (@teeraaw__) January 19, 2021
Reflecting back on his Ohio State career, Togiai says the biggest thing he'll miss about being a Buckeye is the brotherhood he had with his teammates. He's confident, though, that his three years of playing for the Buckeyes have prepared him well for his NFL career.
"You really don't know how hard you really need to work until, I think I learned that from Ohio State, how hard you really need to work, how hard you can push yourself and go past your limits and then just how to handle yourself with the maturity and the respect," Togiai said.
As he now looks to become the next Ohio State defensive lineman to excel in the NFL, he's especially glad he spent the last three years learning the tools of the trade from Larry Johnson.
"He's the best D-line coach in the country," Togiai said. "That's No. 1. Then just all the guys he's coached, you see what they're doing at the next level, and I'm sure he's gonna have more guys after me and all that. So it's all a testament to him of where I am today. He's given me this opportunity. I wouldn't be here without him. So I was just thankful that I had the opportunity to be coached by Larry Johnson."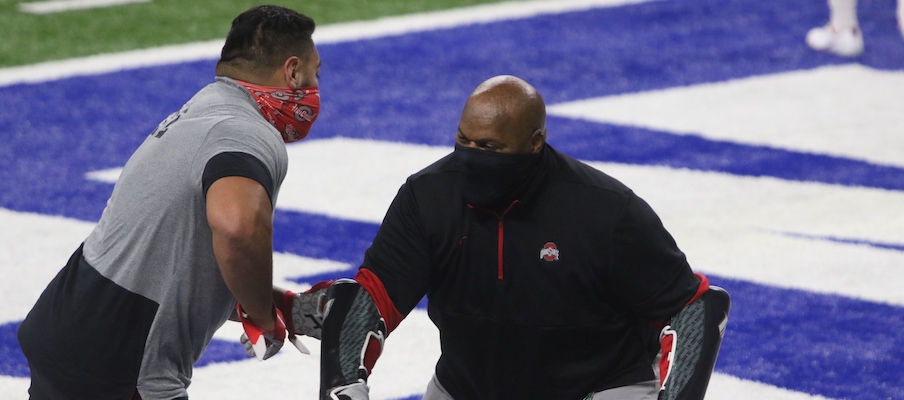 While Johnson and the Buckeyes certainly would have loved to have Togiai back for another year – Ryan Day said as much last week, but said they wish him "nothing but the best" – Togiai said he is "very confident" the combination of Jerron Cage, Antwuan Jackson and possibly Taron Vincent (who has played mostly at 3-technique but could move to nose tackle next season with Haskell Garrett returning) will make a "big leap" and pick up where he left off.
As the only member of Ohio State's original recruiting class of 2018 (since Justin Fields started his college career at Georgia) who entered the 2021 NFL draft, he'll be watching next season as the Buckeyes look to make another run to the national championship game, and he expects them to be even hungrier for a title than the 2020 squad was.
"I would look out," Togiai said. "I know they're going to have a chip on their shoulder coming in, approaching this next season just how we did after that past season … I think they're gonna have even a bigger chip on their shoulder going into this next season."