We have all kinds of questions.
We've reached the middle of the week and bowl season is finally heating up. Of course, the one that really matters will go down Friday night when the Buckeyes get their chance for redemption against Dabo Swinney and the Clemson Tigers. No one is giving Ohio State much of a chance, and that seems to be adding to the players' motivation.
We all know about the unfortunate conclusion of last year's contest. This time around, we've got some of those same familiar faces as well as a new cast of characters. There are numerous storylines leading up to the semifinal matchup. Today, we're looking at the most pressing questions that should help determine who moves on to play for the title. 
---
Does Justin Fields Get Back to His Usual Ways? 
Justin Fields has been incredible through about 90 percent of his Buckeye career. In 20 games, the junior has put up some eye-popping numbers and solidified himself as a high draft pick. However, in Ohio State's biggest games of 2020, he's made some uncharacteristic mistakes and turned the ball over five times.  
Chris Olave's return is undoubtedly a big deal for the Buckeye passing game, and the Olave/Garrett Wilson pairing will be far and away the most impressive wideout duo the Tigers have faced thus far. Fields has completed just shy of 73 percent of his passes this season. But in the games against the Hoosiers and Wildcats, that number is significantly lower; all the way down to 53 percent. A repeat performance simply won't cut it Friday night in New Orleans.
Can Ohio State Capitalize on Nolan Turner's Absence?
Fifth-year senior Nolan Turner is the veteran presence in the secondary and one of the Tigers' defensive leaders. He's played more snaps than any other defender in 2020, leads the team in interceptions, and ranks second in tackles. Needless to say, his absence in the first half should be something Ryan Day is looking to take advantage of. 
The Buckeyes got off to a hot start against Clemson a season ago, but unfortunately the success on offense didn't carry over once they reached the red zone. If I were in Day's shoes, I'd do everything in my power to target the middle of the field to exploit a defense that's missing one of its leaders. Turner's third-quarter return will surely provide a big boost to what Brent Venables has planned in New Orleans. Much like last time, field goals aren't going to cut it. 
Which Trey Sermon Will be on Display?
Heading into the Big Ten title game, Trey Sermon had rushed for 344 yards and one touchdown while averaging a little over six yards per carry through five games. His record-setting performance against Northwestern boosted his stat line up to 675 yards, three scores, and eight per attempt. No one is expecting a repeat performance, but another solid showing would go a long way in taking some of the pressure off of Justin Fields. 
I think we have a pretty good idea of exactly who Master Teague is as a running back. The jury still seems to be out on Sermon, however, as most of his season had just been "okay" prior to the explosion in Indy. The offensive line was certainly creating holes against the Wildcats, but Sermon was breaking tackles and finishing runs in a way that we hadn't seen before. We'll see what version shows up Friday night against the nation's ninth-ranked rush defense.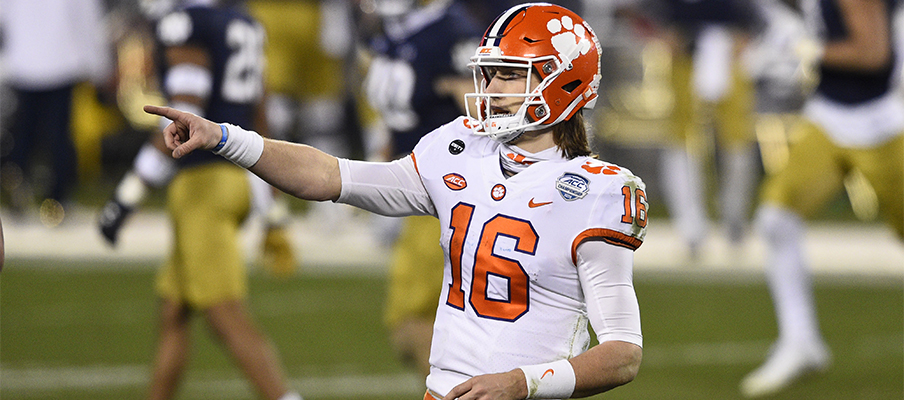 Can the Defense Limit Trevor Lawrence's Rushing Ability? 
When the two teams last met, Trevor Lawrence rushed for 107 yards and his 67-yard touchdown dash gave the Tigers some serious momentum heading into the half. Now, he's coming off a 14-carry, 90-yard performance against the Fighting Irish in the ACC title game. Outside of the Nebraska game, the Buckeyes haven't dealt with too much mobility under center. The future Jacksonville Jaguar obviously presents an entirely different challenge. 
Ohio State's rush defense has been stout (No. 7 nationally), but Clemson's run-pass-option offense can be tricky for any team to defend. Travis Etienne did most of his damage in the passing game last year, but the speedster also has to be accounted for in the RPO game. Tommy Togiai and Haskell Garrett will need to continue their superb play and the defense as a whole will need to stick to their gaps and assignments to prevent – or at least limit – some of the big plays we saw in the Fiesta Bowl.
How Will Kerry Coombs Handle Amari Rodgers?
Last year's Tigers had two superb outside receivers in Justyn Ross and Tee Higgins. This time around, slot man Amari Rodgers is the passing game's top threat. The game's single biggest advantage is likely going to be Clemson's passing offense against the Buckeye secondary, and I'm intrigued to see what kind of plan Kerry Coombs cooks up for this one. 
I've seen some suggest moving Shaun Wade back to the slot to man up with Rodgers. If Cam Brown were available, then maybe that would be an option. But as things stand with a depleted unit, I'm just not sure how feasible that would be at this point in the season. 
Assuming Wade stays on the outside, we could be looking at Josh Proctor and Marcus Williamson lining up against Clemson's best wideout. That could obviously present some problems for the secondary. Could we see a bit more zone from the Buckeye defense? That's another possibility and may be the right move considering the circumstances.
Ohio State ranks No. 104 nationally against the pass, and plenty of eyes will be on Coombs in what's sure to be his biggest challenge since taking over as defensive coordinator. 
---
Clemson remains a 7.5-point favorite for the rematch in The Big Easy. Dabo has been up to his usual weird antics, and I don't think I've heard anyone in the national media picking the Buckeyes to win. It feels a lot like things did back in late 2014 prior to the matchup with the Crimson Tide.
The Buckeyes and Tigers are set to kick things off shortly after 8 p.m on New Year's Day. What are your biggest questions heading into this season's semifinal?