Trey Sermon's success at Ohio State isn't guaranteed.
That isn't a reflection of his talent (which is readily apparent), or his importance to the Ohio State offense (which will be paramount), or Ryan Day's desire and ability to integrate him into his system (which will be extremely high). Instead, it's an acknowledgement that all of those things aren't necessarily a given, despite what we've seen from the Buckeyes and Sermon in recent years.
Trey Sermon is absolutely a talented running back. There's no real doubt about that; he has all the physical tools to succeed and recently passed the first significant milestone on his way towards becoming a full-fledged star in the Ohio State offense.
But the question that both Sermon and Ohio State needs to be able to answer is whether or not he can become a consistently impactful player for the Buckeyes, and that might be a little harder to answer.
Let's start with things from Ohio State's perspective. The Buckeyes are coming off an historic year in the running game; J.K. Dobbins broke records and wreaked havoc on opposing defenses throughout all of 2019 en route to the first 2000 yard rushing season in Ohio State history. In doing so, Dobbins averaged 6.7 yards per carry, had eight games with at least 150 yards rushing, and somehow his worst games came against his worst opponents (Florida Atlantic and Rutgers).
All of that made it easy to forget what happened to the running game in 2018, a remarkably and unusually weak effort from a team that has prided itself on a balanced offensive attack for years. In 2018, the Buckeyes as a whole averaged only 4.21 yards per carry, which was somehow even worse than their output in the 2011 season and is at least a yard per carry worse than every other season in the 2010's. While Dobbins may have split carries with Mike Weber in 2018, he was still clearly the bell cow. It just didn't work out, and he was held to under four yards per carry in seven games that season.
And then everything changed in 2019. The addition of Justin Fields certainly altered the dynamic of the running game, but credit needs to be given to the coaching staff and J.K. Dobbins for figuring out what would work best for him as a player and then executing that plan to its fullest.
The element that they had, however, is one that Trey Sermon and the Buckeyes don't possess in 2020: time.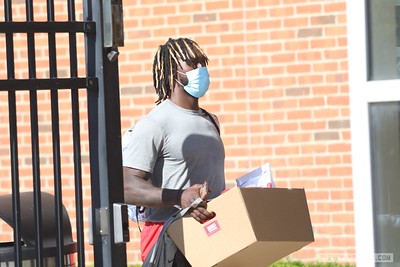 Trey Sermon is every bit as capable as J.K. Dobbins in reeling off a 200-plus yard rushing game, and in fact has done that before against Texas Tech in 2018. But he's also been inconsistent in a Big 12 not exactly known for tough defense.
After that Texas Tech game, Sermon torched Oklahoma State for another 124 yards on just 16 carries. Then in his next four games against Kansas, West Virginia, Texas, and Alabama, he had 33 total carries for just 101 yards as he struggled with injuries to close out the season.
Injuries hampered Sermon in 2019 as well; after looking at a return to form with limited carries early on, another injury forced him to the bench and, eventually, to Columbus.
In June, we wrote about Sermon's importance to the offense, and what his role in it might look like:
More likely than not, Sermon will flirt with 200 rushes in 2020, even accounting for Fields potentially rushing more than last year, when he had 137 carries.

"We're anxious to get started with him, and we're happy to have him," Alford said earlier this year. "We're expecting him to come in here and compete and help this football team the best that he can."
Hopefully Trey Sermon ends up with something equivalent to that kind of workload in a shortened 2020 season, but the road to get there might be tough. Ohio State, like everyone else in college football, has been hamstrung by changes in scheduling and a difficult ramp-up process to the new football season. A shortened season means that every game takes on increased importance, but it also means that players and coaches have even less time to get acclimated to game situations. If Sermon isn't able to handle the role of the featured back right out of the gate, it becomes increasingly likely that we'll see more of the likes of Master Teague and company.
That Oklahoma State game that I mentioned? It took place on November 10th, 2018. It was also the last time that Trey Sermon ran for over 100 rushing yards over the course of four quarters.
Sermon is absolutely capable for reaching that number in every game for the Buckeyes in 2020, but it will require him to make an immediate impact on a team that can't afford to spend a season figuring out how to best utilize one of the most important pieces of their offense.
The good news is that immediacy, caused by the looming departures of so many stars on a loaded roster, might just be the thing that allows Trey Sermon to make the kind of strides that his coaches know he's capable of.