The momentum, even without a vote from the presidents and chancellors happening on Sunday, appears heading toward a fall season beginning in October.
Nobody yet has come out to say such a start date is a certainty. But various reports throughout the weekend, even on Sunday evening, hinted that optimism over the season starting in October is getting increasingly higher.
That didn't stop Shaun Wade from opting out of the upcoming college football season, though. The star cornerback went public on Monday, saying he won't play another snap for Ohio State as he instead will spend the coming months training for the 2021 NFL draft, in which he's projected to be selected as a first-round pick.
Thank you Buckeye Nation!

Forever a Buckeye! pic.twitter.com/VFjKukLpLV

— Shaun Wade (@shaunwade24) September 14, 2020
The impact of his choice on the Buckeyes, whenever they kick off the upcoming season, can't possibly be overstated. Here are five initial impressions on how it affects them.
It wasn't supposed to end like this
This had all the makings of a storybook ending.
Wade, a sometimes under-the-radar slot cornerback, found himself in a spotlight he didn't want when Fiesta Bowl referees ejected him for a controversial targeting penalty when he hit Trevor Lawerence in the College Football Playoff semifinal matchup with Clemson. His night ended prematurely, and the Buckeyes fell in devastating fashion, 29-23. Rather than potentially become a first-round draft pick in the spring of 2020, he decided to return for one more season of college football with hopes of avenging the loss to the Tigers by winning a national championship and increasing his draft stock and potentially rising to a top-10 pick as an outside cornerback.
The coronavirus pandemic, along with uncertainty about the Big Ten's upcoming season, led to Wade's opt-out and ended those hopes.
Perhaps Ohio State can achieve the national title that Wade returned to school to capture. Provided it begins its season in October, it'll still be one of the country's top three contenders. But now, it'll have to do it without Wade.
The secondary's leader, veteran and best player leaves
It feels like it happened about a decade ago given what has happened in the world over the past half-dozen months, but when Wade announced he planned to stick around at Ohio State, it was a massive deal.
The secondary lost two first-round cornerbacks – Jeff Okudah and Damon Arnette – to the NFL, along with two-and-a-half-year starting safety and team captain Jordan Fuller. Wade easily could have followed them out the door after three years of college football, and if he had done so, the Buckeyes would have had to replace all four starting defensive backs.
Well, now Ohio State is in that exact situation.
It loses the redshirt junior who had become the leader of the secondary, having been voted a team captain by his teammates. It loses a veteran who's one of just two Ohio State defensive backs – along with senior Marcus Williamson – who've been around the program for at least four years. And it loses its best player on the entire defense.
There's no overstating the impact of not having Wade around anymore.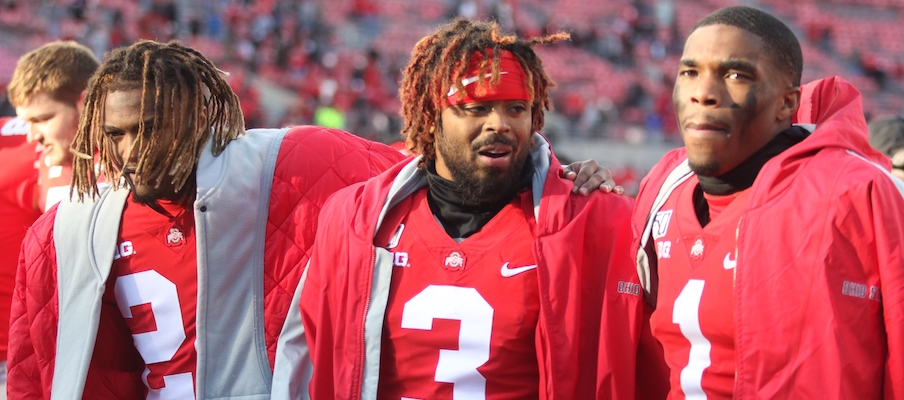 No true No. 1 cornerback anymore
A desire to shift from nickelback to outside cornerback played a role in what spurred Wade to stay in college following the 2019 season. After playing on the inside with Okudah and Arnette outside of him, he hoped to prove to NFL teams that they can trust him out there. With them gone, he was locked in as the No. 1 cornerback.
Now with Wade on his way out the door, the Buckeyes don't have a true No. 1 cornerback.
Instead, they have two likely starters – Sevyn Banks and Cameron Brown – for three cornerback positions. Neither Banks nor Brown, a pair of third-year juniors, have come close to starting a full season for the Buckeyes, though those inside the Woody Hayes Athletic Center are confident in both of them.
Banks, a Floridian who played 170 snaps last season, was touted by Greg Schiano ahead of the 2018 Rose Bowl as someone who "could be the next big-time corner here if he keeps developing." Brown, who was on the field for 254 snaps last year, is the total physical package Kerry Coombs would want in a cornerback as a 6-foot, 192-pounder who claims he can run a 4.2-second 40-yard dash.
They'll both be counted on to start and produce consistently in their first major roles as Buckeyes, and it's not too difficult to find optimism in them. Yet neither of them are true No. 1 corners yet. 
Wade was the linchpin of Jeff Hafley's defense as the nickelback in 2019, and he was set to serve as the No. 1 outside cornerback in 2020 with Coombs able to put the secondary together around him. He can't rely on Wade in that way anymore.
Major depth concerns
Ohio State has a grand total of four cornerbacks who aren't true freshmen: Williamson, Banks, Brown and Tyreke Johnson.
That's an issue. Potentially a major issue.
Coombs, we already know given his first stint in Columbus, enjoys rotating cornerbacks. He might not have a chance to do that in 2020. Day, earlier this year, said he intended to keep the single-high-safety defense intact. Because doing so requires three cornerbacks – two on the outside and one in the slot – to play, it's unclear whether or not Ohio State will be able to rely on that defensive alignment as heavily as expected.
Simply put, the loss of Wade further shakes up an already shaky secondary's plans.
Banks and Brown have to come through for Ohio State. It's past time for Williamson and Johnson to begin contributing in major ways for the Buckeyes, too. Those four will make up the core at cornerback. The loss of Wade, though, also further opens the door up to freshmen Ryan Watts, Lejond Cavazos and Cameron Martinez, all of whom were four-star recruits. An unexpectedly quick ascent from any of them would be a welcomed surprise for Ohio State.
Is this secondary good enough to win a national title?
This is the million-dollar question.
Can you win a national championship after losing Okudah, Arnette, Fuller and now Wade? Until we see Banks, Brown, Williamson, Johnson, Josh Proctor and Marcus Hooker together on the field, nobody can answer that with any degree of certainty. 
But a defensive backfield that doesn't return a single starter, even for a powerhouse such as Ohio State which is expected to replace all four with one-time four-star prospects, is not an optimal situation. That's just a fact.
Simply taking a positive attitude and saying "Next man up" turns out to be a lot easier than a team having to actually go find replacements for three first-round cornerbacks in one offseason while maintaining a national championship-level secondary.