Who are Ohio State's four greatest players of all-time at each position? We're asking Eleven Warriors readers to help us decide.
In a variation of the popular "Mount Rushmore" debate, Four Kings will be identifying the Buckeyes' best of the best at each position group, beginning this week with a selection of Ohio State's four most legendary quarterbacks.
After the Eleven Warriors staff went through the history books to narrow down Ohio State's quarterback list to 15 nominees, we asked 11W readers to vote for their top four. Their selections chose a group of four Buckeye signal-callers whose accomplishments across a span of more than 70 years have cemented each of their places in Ohio State lore.
Ohio State's Four Kings at quarterback:
Les Horvath (1940-42, 44)
Horvath's passing statistics certainly don't stand out – between the 1942 and 1944 seasons, Horvath completed just 25-of-50 passing attempts for 509 yards with three touchdowns and five interceptions – but his accomplishments undeniably do. As both a quarterback and halfback for the Buckeyes, Horvath helped lead Ohio State to its first national championship in 1942, then returned from a year away from the gridiron to become Ohio State's first Heisman Trophy winner in 1944.
In a very different era of football, where passing was much more scarce and offensive numbers were much lower, Horvath did most of his damage on the ground – his 924 rushing yards in 1944 were a school record – and became one of the Buckeyes' first superstars. And he's still the only Ohio State quarterback with both a Heisman and a national title to his name.
Rex Kern (1968-70)
Among quarterbacks who have started at least 15 quarterbacks, no Ohio State quarterback has ever had a better winning percentage than Kern, who went 25-2 as a three-year starter for the Buckeyes.
The leader of the "Super Sophomores" class that led Ohio State to the 1968 national title, Kern went on to be a first-team All-American in 1969. A dual-threat who made plays as both a passer and a runner, Kern's 4,158 career yards of total offense were a school record when he completed his Ohio State career and still rank 17th in school history, even as offensive numbers have ballooned in the past 50 years.
Troy Smith (2003-06)
With nearly 22 percent (out of a possible 25 percent) of total votes cast, Smith was the leading vote-getter in our balloting, as just about everyone agreed that the 2006 Heisman winner and unanimous All-American ranks as one of Ohio State's four best quarterbacks ever.
Smith started more than two full seasons for the Buckeyes, compiling a 25-3 record as a starting quarterback that included three wins and zero losses against Michigan, but he's one of the Four Kings because of his Heisman Trophy-winning season in 2006, when he led Ohio State to a 12-0 regular season and a berth in the national championship game, earned unanimous All-American honors and set the record for receiving the highest percentage of Heisman ballot points ever (91.6 percent), which stood until Joe Burrow surpassed it last year.
J.T. Barrett (2014-17)
The Big Ten's all-time leader in total offense (12,697 yards), total touchdowns (147) and touchdown passes (104), Barrett set school career records in just about every category possible during his four years starting games at Ohio State. Barrett's 38 wins as a starting quarterback are the most in Ohio State history, he's the only Ohio State quarterback to ever start in four wins over Michigan and he was the first three-time captain in school history.
Barrett wasn't on the field for the final three games of Ohio State's 2014 national championship run due to a broken ankle, but he played a crucial role in getting the Buckeyes to that point. He was a three-time Big Ten Quarterback of the Year, helped Ohio State win two Big Ten titles and lost just six games in 44 starts.
Even though Barrett had his share of detractors during his Ohio State career, his longevity as a successful Buckeye quarterback was second to none, and he received the second-most votes in our balloting, making it clear that the majority of Buckeye fans do regard him as one of Ohio State's all-time greats.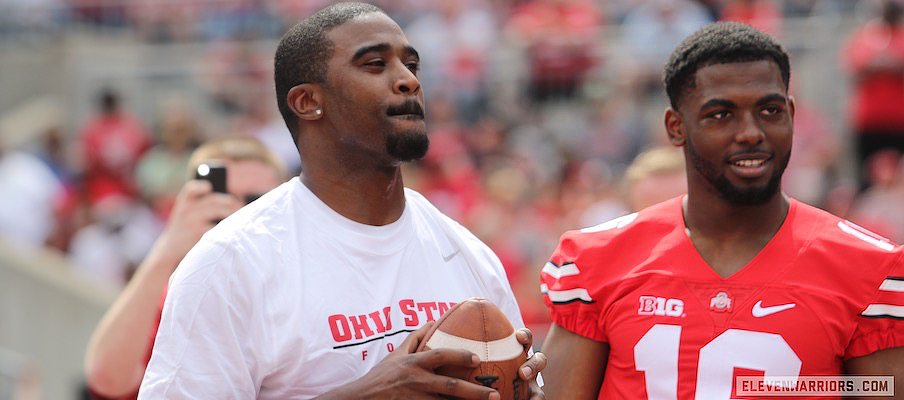 ---
Five other Ohio State quarterbacks who warrant honorable mention recognition after receiving at least 5% of the total votes cast by 11W readers:
Voting Results

| Quarterback | Votes |
| --- | --- |
| TROY SMITH | 21.92% (863 VOTES) |
| J.T. BARRETT | 16.99% (669 VOTES) |
| REX KERN | 12.14% (478 VOTES) |
| LES HORVATH | 9.22% (363 VOTES) |
| DWAYNE HASKINS | 8.33% (328 VOTES) |
| CRAIG KRENZEL | 6.71% (264 VOTES) |
| ART SCHLICHTER | 6.27% (247 VOTES) |
| JUSTIN FIELDS | 5.59% (220 VOTES) |
| BRAXTON MILLER | 5.11% (201 VOTES) |
| CORNELIUS GREEN | 3.2% (126 VOTES) |
| JOE GERMAINE | 2.06% (81 VOTES) |
| BOBBY HOYING | 1.07% (42 VOTES) |
| TERRELLE PRYOR | 1.04% (41 VOTES) |
| DON SCOTT | 0.28% (11 VOTES) |
| JIM MCDONALD | 0.07% (3 VOTES) |

Dwayne Haskins (2016-18): Edged out by Horvath by less than one percentage point in our balloting, Haskins had by far the most prolific passing season in Ohio State history in 2018, when he set Big Ten records by throwing for 4,831 yards and 50 touchdowns. That was his only season starting for the Buckeyes, however, and his lack of longevity was held against him by some voters.
Craig Krenzel (2000-03): Individually, Krenzel's passing numbers were unspectacular even for his era. As a team leader, however, few Ohio State quarterbacks have ever been more successful, as he went 24-3 as a starting quarterback, leading the Buckeyes to a 14-0 season and a national championship in 2002.
Art Schlichter (1978-81): Schlichter was arguably the best passer in Ohio State history until Haskins came along, and he still ranks second in school history with 7,547 passing yards. His on-field career, however, has been overshadowed by his off-field troubles ever since, as Schlichter has spent most of the past 25 years in prison after gambling addiction derailed his professional football career.
Justin Fields (2019-): If Fields gets the chance to play another season for Ohio State and plays as well or better than he did last season, he could cement himself as one of the Buckeyes' four greatest quarterbacks ever. Like Haskins, though, the fact that he's started just one season – and in Fields' case, he's only even been at Ohio State for one season – kept him from earning a spot in this top four.
Braxton Miller (2011-15): The Big Ten Offensive Player of the Year in both 2012 and 2013, Miller might very well be one of the Four Kings if he hadn't suffered a shoulder injury that ended his career as a quarterback before the 2014 season. Before that injury, though, Miller was one of the most dynamic playmakers Ohio State has ever had, and he still ranks second in school history with 88 total touchdowns and third with 8,609 yards of total offense.
---
Photos of Horvath, Kern and Smith: Ohio State Dept. of Athletics