When it was finally revealed Monday that 11 of the Big Ten's 14 university presidents and chancellors had voted in favor of postponing fall sports, you didn't have to be Sherlock Holmes to figure out which three schools had voted against the postponement.
Leaders from Ohio State, Nebraska and Iowa had all made their disagreement with the Big Ten's decision known, and sure enough, ESPN's Adam Rittenberg and The Athletic's Nicole Auerbach both reported Monday that those were the three schools whose presidents voted for the conference to play football and other sports this fall.
For Ohio State, the team we typically write about here at Eleven Warriors, that serves as an affirmation of what the university had said all along: new Ohio State president Kristina Johnson was supportive of Gene Smith and Ryan Day in their fight for the Buckeyes to be able to play this fall.
"I want to thank Dr. Johnson for her unwavering support," Smith said in an open letter on Aug. 19. "She has been 100% aligned with Coach Day and me as we have moved through the decision process. We benefit greatly from her keen insights and understanding of intercollegiate athletics as an administrator and a former student-athlete.
"The Ohio State University is confident that we have the safety protocols and rigorous safeguards in place for our student-athletes to practice and return to competition immediately."
While many Ohio State players, coaches, parents and supporters are understandably still upset about the decision the Big Ten made to shut down the fall sports season three weeks ago, Monday's revelation is evidence that the frustration surrounding that decision should not be directed toward Ohio State's own university leadership, as numerous parents of Buckeye players already said during their rally outside Ohio Stadium on Saturday.
"Our beef is not at all with Ohio State University," said Kyle Borland, the father of Ohio State linebacker Tuf Borland, during Saturday's protest outside the Shoe. "Our beef is with the Big Ten. Our beef is with university presidents who won't show us (why they voted not to play)."
That's not to say there aren't still questions for Johnson to answer – she still hasn't spoken publicly about the decision to postpone fall sports, and several parents said Saturday that they would like to have an opportunity to meet with Johnson – but it is an indicator that Ohio State's leadership was coordinated in the belief that the Buckeyes should get the opportunity to play this fall despite the ongoing COVID-19 pandemic.
The same cannot be said for most other Big Ten schools.
While Day and Nebraska coach Scott Frost had support at the presidential level in their public calls to save the fall season, Penn State coach James Franklin – who called the decision to postpone the season "extremely disappointing" – did not. Nittany Lions athletic director Sandy Barbour said a week after the decision that it was "unclear" if there had even been a vote on whether to play this fall, but it is now clear that Penn State president Eric Barron sided with the majority of Big Ten presidents and supported the decision to postpone the season.
Similarly, Michigan coach Jim Harbaugh has also been vocal about his opinion that the Wolverines can play safely this fall; he released an open letter advocating for a fall season just one day before the decision to postpone was finalized, and continued to call for playing this past week when Michigan revealed its football players took 822 COVID-19 tests with zero positive results during the month of August. Michigan president Mark Schlissel, however, said he "fully" supported the decision to postpone the season, saying "there are currently too many challenges to preventing spread of the infection among our student-athletes and coaches during practice and competition."
Given the recent report by Sam McKewon of the Omaha World-Herald that "every Big Ten athletic director was in favor of playing a fall football season," it's likely there was disagreement among leaders at each of the 11 schools whose presidents voted against playing this fall. Some schools, however, at least did not allow that discord to play out in public view; at Minnesota, for example, football coach P.J. Fleck said his players supported the Big Ten's decision and that it was "the right choice for them to keep them safe and healthy," though Minnesota president Joan Gabel claimed that the university presidents "didn't vote, per se."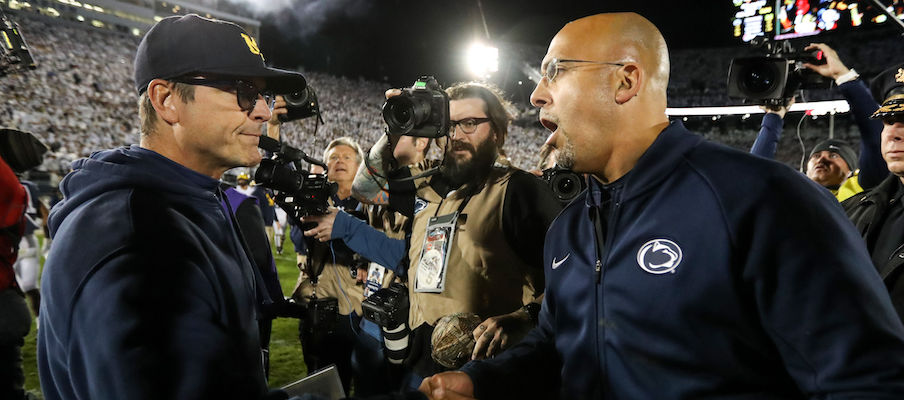 Regardless of how those discussions played out, it's now openly apparent that Ohio State was one of the only Big Ten schools that made an aligned push to save the fall football season, which will only increase the Buckeyes' frustration with the rest of the conference if SEC, ACC and Big 12 teams get the opportunity to compete for a national championship while they are sitting at home.
Whether that will change anything for Ohio State and the Big Ten going forward is uncertain. It's highly unlikely Ohio State will look to leave the conference, as some fans have postulated it should, but will this propel the university to throw its weight around more – as the Big Ten school with the most successful football program – in future conference discussions? The Big Ten made the most revenue of any conference in 2019, so there's still value for Ohio State in being part of the conference, but it surely won't be forgotten anytime soon that the Buckeyes might have just lost their chance to win a national title based on the votes of university presidents whose schools' football teams mostly didn't have that same potential.
Now that it's clear Ohio State was in the minority of schools that actually voted to play football this fall, its fight to convince the Big Ten to reconsider postponement might have been an uphill battle from the beginning. Even so, there are now visible rifts within the conference that might not be repaired quickly, as both the vocal opposition from the schools who fought to play this fall and the majority consensus among university presidents not to play this fall make it clear that leaders across the Big Ten were never all going to be on the same page in deciding on whether or not to play.