While the headlines of the past two weeks have been dominated by the Big Ten's decision to postpone fall sports, the neverending debate surrounding that decision and the conference's work toward a winter or spring football season, the NCAA's decision to grant all fall sports athletes an additional year of eligibility got a bit overlooked.
It shouldn't be, though, because that decision could have significant ramifications – some good, some not so good – for Ohio State and other college football programs for years to come.
Given the circumstances of this year, giving all fall sports athletes a free year of eligibility and an additional year to complete their eligibility – regardless of whether or not they play this fall or spring – is a good move in a vacuum. All of those athletes are looking at shortened or non-traditional seasons if they happen at all this year due to the COVID-19 pandemic, and it's likely more athletes would have chosen to opt out and redshirt if playing in those seasons meant losing a year of NCAA eligibility.
As part of the decision to issue a blanket eligibility waiver to all fall sports athletes, the NCAA also determined that current seniors in those sports will not count against team scholarship limits next year if they choose to take advantage of the opportunity to return for another year. But the NCAA hasn't addressed the potential issues that could arise after next year if teams are forced to get back to traditional scholarship limits in 2022.
The free year of eligibility is a clear and deserved benefit for seniors to have the option to play the full season next fall that they won't get to play this fall, and it will have other noteworthy short-term benefits for college football teams (assuming they are able to play at some point this year), as well. But it also comes with some side effects that will create additional challenges for those teams to navigate as they manage their rosters over the next four to five years.
Below, we take a look at what some of those benefits and challenges could be.
More Incentive to Play This Year
This is the most obvious reason why the Division I Board of Directors voted to give all fall sports athletes an additional year of eligibility. Without it, every fall sports athlete – or at least those with visions of playing four full college seasons – would have had reason to consider opting out this year rather than using up a year of eligibility for seasons that will be scaled back at best and may never be completed at worst. 
That certainly doesn't make it a no-brainer for athletes to play this season, as all will have to weigh the risks of playing in a pandemic while those whose seasons have been postponed to the spring semester will have to consider the risks of playing two seasons in one calendar year. But it at least gives them one less thing to worry about while also giving them the potential to make up for some of what they might lose this year.
No Worries About Redshirts This Year
This will be a nice short-term benefit for college football teams, as they'll be able to play all of their players this year without worrying about keeping younger players they want to redshirt under the four-game limit. Because this year will effectively serve as a free redshirt year for everyone, college football teams will be able to play their freshmen as much as they want without thinking about the impact that could have in 2024.
This could be particularly beneficial for teams who play in the spring, as they will likely lose some players to opt-outs – particularly teams like Ohio State who are loaded with NFL prospects – and could also look to rotate players more heavily to preserve them for a fall season on a shorter turnaround. Perhaps most notably for the Buckeyes, it eliminates the question of whether they should redshirt freshman quarterbacks C.J. Stroud and Jack Miller, who could both be needed to play immediately if Justin Fields opts out of the winter/spring season.
It also opens the door for early enrollees in the recruiting class of 2021 to be able to play without losing a year of eligibility, though the NCAA hasn't ruled yet on whether midyear enrollees will be eligible to play in second-semester seasons.
A Year Back for Everyone
Beyond the freshmen who might play more immediately as a result of the blanket waiver, the other players who stand to benefit most from the NCAA's ruling are those who haven't played much early in their careers but are on the verge of finally playing significant roles now. 
For example, the Ohio State linebacker trio of Teradja Mitchell, Dallas Gant and K'Vaughan Pope – who haven't played much entering their junior years due to the depth at linebacker in front of them – now have three remaining seasons of eligibility instead of two, which could be valuable to them since none of them redshirted earlier in their careers. Cornerback Marcus Williamson, already a senior after a quiet first three years at Ohio State, could now have the potential to play a key role in the Buckeyes' secondary for two seasons instead of just one. Dawand Jones now effectively gets his redshirt back after playing in nine games last year, potentially increasing his chances of becoming a future starter on the Buckeyes' offensive line.
Heck, it's even possible that Tuf Borland could be the first four-time captain in Ohio State history now, or that Justin Hilliard could become a seventh-year senior.
Those latter possibilities are less likely to happen, as players who are already in a position to enter the NFL draft are less likely to stay another year in college just because they can, but there certainly will be players over the next five years who benefit from an extra year to play college football that they would not have had otherwise.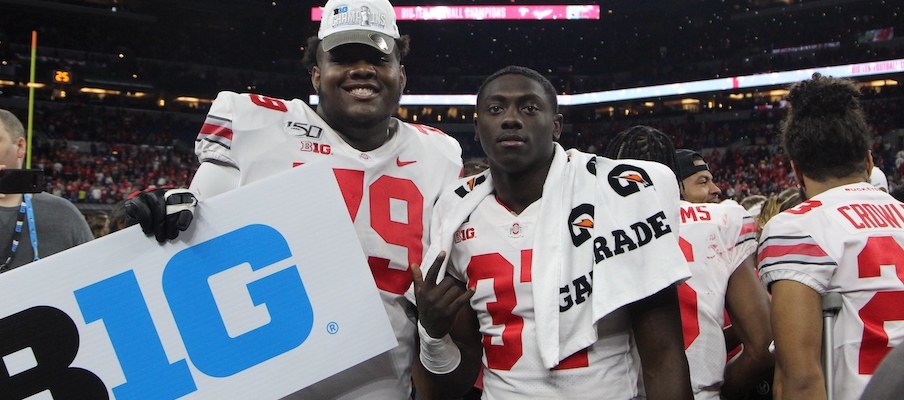 More Scholarship Players in 2021
Because the current seniors who choose to stay for one more year will not count against scholarship limits next year, college football teams will be allowed to have more than 85 scholarship players in 2021. That's important for their recruiting classes of 2021 – which for some schools, like Ohio State with its 18 commits, are already mostly filled – and will give teams extra depth at whichever positions they're lucky enough to have their seniors stay for one more season.
More scholarships might not be something all schools can afford to pay next year after a year in which they are set to face massive revenue losses due to COVID-19, but Ohio State will presumably find a way to make it work. This could have an adverse effect on walk-ons trying to make college football teams next year – unless teams are also allowed to exceed roster limits next year – but all in all, more scholarship players should be a benefit for teams like Ohio State in 2021.
Scholarship Crunch in 2022
Unless teams are granted additional scholarship limit relief in future seasons to account for the current juniors, sophomores and freshmen who are also getting an additional year of eligibility, 2022 is when the challenges associated with that decision could really start to come into play. 
If teams are forced to get back to the traditional limit of 85 scholarships for the 2022 season, it's likely there will be a numbers crunch at one end of the roster or the other, whether that means smaller recruiting classes in 2022, upperclassmen being asked to move on before their fifth or sixth years or more likely, some combination of both.
Let's do the thing where we take a second to understand extra eligibility:

- everyone on '20 roster gets extra year
- 85-scholarship limit doesn't apply in '21
- must return to 85 after that
- somebody loses: either fewer freshmen can come in or players can't stay for fifth year pic.twitter.com/YP5tCzaI1e

— Emily Giambalvo (@EmilyGiam) August 21, 2020
Teams aren't going to want to take decisively smaller recruiting classes in 2022, as that would mean passing up on talented players and create its own set of roster issues down the line, so it's likely coaches will have to have some tough conversations in a couple years with upperclassmen who aren't significant contributors.
Longer Waits to See The Field
For younger players who are currently mired behind older players on their respective teams' depth charts, the additional year of eligibility for everyone could mean waiting another year to climb the depth chart and get on the field. While they'll now have an extra year of eligibility to potentially make that up on the back end, that might not be might consolation for players who have visions of getting on the field early and pursuing NFL careers.
At a school like Ohio State, that impact could be somewhat negated by the fact that many top players probably aren't going to stay for five or six years anyway if they emerge as top NFL prospects. But for every player who does hold a spot in the lineup for an extra season, there could be another player that gets lost in the shuffle, as there will still be talented recruits coming in every year trying to take the older players' spots.
More Transfers
In part because of the last point, it's likely the extra year of eligibility will lead to even more activity in the NCAA transfer portal over the next four to five years. As players become sick of waiting for their turn to play and have an extra year of eligibility to go play elsewhere, it could become more enticing than ever for players to explore their opportunities to seek out starting jobs elsewhere.
That will become especially true if the NCAA expands the one-time transfer exception to all sports, which could happen as soon as next year. But even if it doesn't, the graduate transfer rule that allows players to transfer elsewhere for graduate school and play immediately will be utilized more than ever, as there will be many more players over the next four years who still have a year or two of collegiate eligibility available after they graduate. 
Of course, the flip side to that is there could be less roster spots available for transfers due to all the players who will be in college for an extra year, which could mean more players getting stuck in the transfer portal or being forced to settle for less desirable options if teams have less roster spots available to pursue transfers.
More NFL Draft Decisions to Navigate
Ohio State already has to navigate the uncertainty of whether its top juniors and redshirt sophomores will enter the NFL draft or return for another season every year, but now there will be even more players with that decision. While the players who are true freshmen now might still be true freshmen next year, players will still be able to enter the NFL draft once they're three years removed from high school, which means they'll still be eligible for the 2023 draft even though they'll only be true sophomores or redshirt freshmen in 2022.
With more players on the roster who are three or more years removed from high school for the next four to five years, there will be even more players with NFL draft decisions to make after each season. That's not a bad thing, as it could result in the Buckeyes and other teams getting an extra year out of some of their star players than they originally would have, but it will increase the uncertainty teams will face each year in projecting their roster turnover from one year to the next.
In the short term, the blanket waiver will create a very unusual twist for the 2020-21 season, as even current seniors will have to decide whether to enter the NFL draft or stay for one more year. It's likely that most seniors who are in line to be selected in the 2021 NFL draft will still choose to go pro, but any NFL-ready players who choose to return for another year will be a nice bonus considering they won't count against the scholarship limit in 2021.
Five Years to Get Back to Normal
Add all of the above together, and the impact of the NCAA's decision to give every fall sports athlete an additional year of eligibility will be felt for at least the next five years, for better or for worse.
While a sixth-year senior like Hilliard is now is usually a rarity in college sports, it could become semi-normal from 2021 through 2025 – when current freshmen could be playing their senior seasons if they take a redshirt year in addition to this year – as could be fifth-year juniors, fourth-year sophomores and third-year redshirt freshmen. Rosters could become backlogged with players from the recruiting classes of 2017, 2018, 2019 and 2020, and crunching the numbers to bring in full or mostly full recruiting classes in 2022, 2023, 2024 and 2025 could become more challenging as a result.
Over time, some of those issues could work themselves out, and it could be somewhat easier to navigate for Ohio State – because it has more players who will emerge as NFL prospects before they exhaust their eligibility – than other schools. But as long as the 85-man scholarship limit remains in place, the extra year of eligibility for current college football players will have a ripple effect that adds a variable to the roster management equation until all of those players have exhausted their eligibility.