Urban Meyer, Ryan Day and Gene Smith sat side by side in front of a packed room of reporters on Dec. 4, 2018 at the Longaberger Alumni House. The outgoing head coach, the incoming head coach and the athletic director making the transition happen once again maintained a united front.
And all three used the same word – infrastructure – at least once that day.
Smith: "The reality is we have a strong infrastructure in place that I know that (Day) has embraced and will continue to embrace."
Meyer: "The good thing about Ohio State under Gene's leadership is that the infrastructure is solid top to bottom."
Day: "Very humble to be taking over for coach Meyer and what he's done here. But the footprint that he's left here and the infrastructure is strong."
On that critical afternoon, Smith said he and the other decision-makers involved in determining Meyer's replacement considered going through with a national search, later telling Eleven Warriors that he had compared Day with two other college coaches and an NFL coach. Smith considered the outside candidates "very good" options, noting that he knew some of them personally.
Yet he said he "felt more comfortable coming back to Ryan Day."
"Our program does not need disruption," Smith said, explaining the decision. "It does not need to blow up and have people come in and try and adapt to our standards of operation and try and change the infrastructure that we've put in place for the student-athlete."
Ah. yes. That word – infrastructure – again.
Smith wouldn't have hired Day if he didn't believe he could run the behemoth of a program better than anybody else available. But it would be foolish to think the idea of making an internal hire of Day and keeping in place much of what Meyer built across seven years didn't weigh heavily in his mind. 
In this case, maintaining the infrastructure in place meant, in large part, retaining two of the support staffers that Meyer once brought with him to Columbus in 2012: strength and conditioning coach Mickey Marotti and director of player personnel Mark Pantoni.
Eight years after they were hired and 18 months after they stayed on staff when Ryan Day took over, their impact is being felt as much as – or more than – ever before. 
Nobody could have envisioned a coronavirus pandemic shutting down spring camp after only three practices, forcing the vast majority of players home to train without their gyms open. But having Marotti around as one of the most widely respected – and highest-paid – strength and conditioning coaches certainly helps,  even if he had to go through what he called the biggest challenge of his professional life.
"Character is really shown when nobody is looking, and this is really the test of that," Day said in March.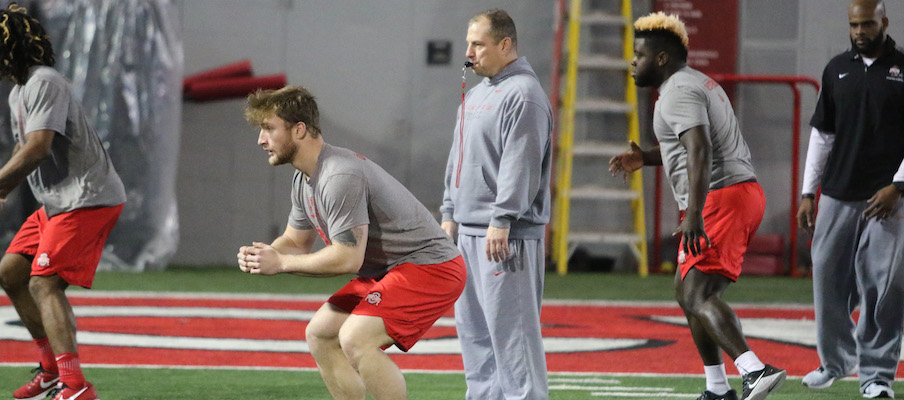 With the entire team working out away from the facility for three months, it was also the test of the culture that both he and Marotti have worked to implement over the past couple of years. Will each player and the team as a whole be better, worse or stay the same? As both Day and Marotti said, time will tell the story of who spent the months away from the Woody Hayes Athletic Center grinding the way they would be if they were in Columbus or slacking off.
Once fall rolls around, whichever team has the players who were locked in the most to their duties during their time away from their coaches will benefit. Ultimately, nobody knows yet which teams – or individual players – will enjoy the greatest advantage, and it'll be difficult to draw a direct correlation between what happened many months ago to the on-field results this fall. 
But if the culture that Marotti helped build and maintains means what it's supposed to, then the Buckeyes should be one of the beneficiaries.
When introducing his coaching staff to the Schottenstein Center crowd during halftime of a January 2019 basketball game, Day referenced the retention of Marotti as "the most important hire I made on this coaching staff, to bring toughness, make sure we're in great shape and get this team ready to go." Over the past few months, having Marotti around mattered more than Day could have known when he said those words.
Along with Marotti, Day also kept Pantoni on his staff to continue heading the recruiting department. Earlier this year, Pantoni called it a "no-brainer" to stay on staff in a post-Meyer era at Ohio State.
"When we sat down, I expressed, 'Hey, I love it here. I love working with you, and if you're good with me staying here, I'm good,'" Pantoni said in April. "And he said, 'Let's go. Let's do it.' And so we kind of just knew it was going to be as it is and let's keep things rolling."
Rolling is an apt word for what has happened in Columbus in the recruiting world.
Right now, the Buckeyes have a stranglehold on the No. 1 2021 recruiting class ranking. It would take a massive finish from Alabama, Clemson or somebody else to knock them out of the top spot. They also have the best average recruit ranking in the cycle despite having a class of 19 commitments, which is the second-most in the Big Ten. The group is buoyed by four five-star prospects – Jack Sawyer, TreVeyon Henderson, Donovan Jackson and Kyle McCord – and features seven other top-100 overall recruits.
Pantoni, of course, doesn't deserve all the credit for the class.
Day's proven to be an outstanding recruiter, and he's filled out his staff to include high-powered assistants on the recruiting trail, including Brian Hartline, Kerry Coombs and Larry Johnson. But Pantoni is the man who lives and breathes recruiting every waking hour. He helps Day strategize, set agendas, identify targets and secure signatures on National Letters of Intent.
During a pandemic without any visits allowed and a ban on in-person recruiting, Pantoni and Day are dealing with suboptimal circumstances. Yet given that they have the nation's best class in the 2021 cycle, it's fair to say that they've adapted as well as anyone could expect.
If Smith had opted to go with an outside candidate, there's a decent chance that neither Marotti nor Pantoni are in Columbus right now. But as they navigate uncharted territory together, Ohio State benefits.