When Amari McMahon was a child, he chipped his tooth after tripping at a swimming pool. That injury ultimately led McMahon to the career path he is now set to begin.
McMahon had to undergo a variety of dental procedures over the next several years, and his visits to the dentist, oral surgeon and orthodontist piqued his curiosity. Eventually, McMahon decided he wanted to become a dentist himself, and now, he's set to begin that journey by enrolling in Ohio State's College of Dentistry this fall.
He earned that opportunity by excelling in his undergraduate studies over the last four years, earning his bachelor's degree in biology with cum laude honors this spring. And for the past three years, McMahon did that all while balancing his studies with playing for the Ohio State football team.
In his first year at Ohio State, McMahon chose to focus solely on academics, wanting to ensure nothing would get in the way of doing what he needed to do to get into dental school. He had dreamed of playing college football, though, and promised his father he would try to chase that dream. So after getting through his first year of college and managing his studies effectively while finding he still had plenty of free time, McMahon – who had previously starred at Dublin Scioto High School just outside of Columbus – opted to try out for the Buckeyes prior to the 2017 season.
"I just decided to really put my summer into working out, really getting in football shape and then decided to walk on," McMahon told Eleven Warriors in an interview this week.
McMahon is a scheduler who tries to plan out his days as much as possible, which enabled him to continue to succeed in the classroom while also participating in football team activities each day. He said Ohio State's coaches and staff, particularly running backs coach Tony Alford and director of player development Ryan Stamper, helped him stay on course by understanding his goals and connecting him with helpful resources.
"I could talk to them whenever I wanted to about coursework, talk to academic advisors, so it was definitely a good support system," McMahon said. "Coach Stamp, he's always there for us, he'll hit up anybody to help us. Coach Alford, my position coach, he'd do anything for us. They're always there for you. They know what a student-athlete's struggle is like."
It also helped to have plenty of teammates, such as three-time Academic All-American safety Jordan Fuller, who were also serious about their work both in the classroom and on the football field.
"Me and Jordan Fuller have, I feel like, a special connection, because we were so heavy academically in the classroom, so it was just kind of cool to see someone else really just striving and achieving academically that I could compare to," McMahon said.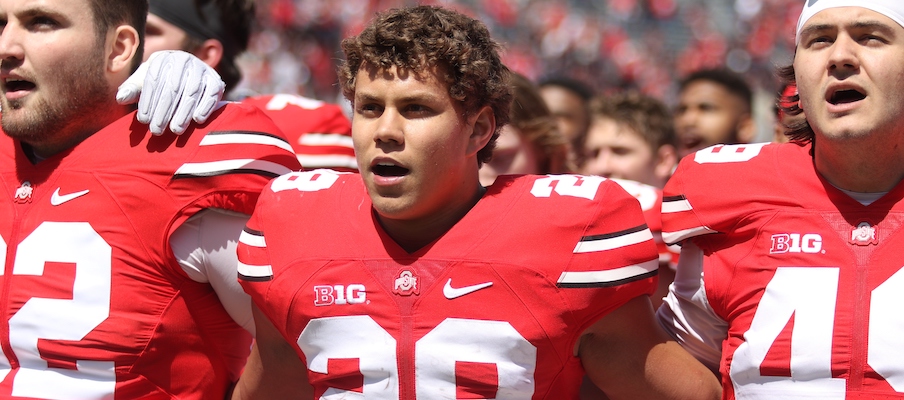 McMahon's life as a student-athlete certainly wasn't easy. Between his rigorous course load and the demands of playing for the Buckeyes, there were days when McMahon would be up until 2 or 3 a.m. working on his academics, then get back up at 6 a.m. for lifting or practice. McMahon said it was all worth it, though, to achieve his goals of both wearing the scarlet and gray and getting into dental school.
"The journey, the experience, all the connections, all the friendships you make, it's definitely worthwhile in the end," McMahon said. "I wouldn't trade it for anything in the world."
As he now begins the rigorous process of becoming a dentist, for which he'll be in school for another four years, he believes the lessons he learned from being a Buckeye will help him succeed in the next phase of his life.
"As a walk-on, we're not guaranteed, we have to work for everything," McMahon said. "So definitely just the idea of hard work, work ethic has definitely increased. Time managing, because you could be the hardest major here at Ohio State and you're still just gonna put forth the effort because you want to do it for your team. And the whole idea of the team aspect, like I know I'm gonna struggle with dental school, so I'm gonna have to make friends and we're all gonna have to work together to basically achieve one goal, and that's becoming a dentist."
McMahon didn't see the field much for the Buckeyes – though his one and only carry last season went for 10 yards – but has many fond memories from his career at Ohio State, including three wins over Michigan and trips to the Rose and Fiesta Bowls. And while he never earned an athletic scholarship as a football player, his time with the Buckeyes – paired with his high marks in the classroom – has led to receiving multiple scholarships for his graduate studies.
Last week, Ohio State named McMahon as one of its recipients of the Corwin A. Fergus Award, which will provide him with a $5,000 scholarship renewable for up to three years. On Thursday, McMahon was named as Ohio State's male recipient of the Big Ten Postgraduate Scholarship, which is worth $7,500.
McMahon said "it means everything" to be recognized for his academic achievements and receive those awards.
"It definitely helps out a lot, just with how expensive dental school is and having not to pay any of those back," McMahon said. 
Unbelievably honored and humble to receive another award for my future plans of attending dental school and to represent the best conference in the nation! @OhioStateFB #GoBucks https://t.co/ozvVgEMXvC

— Amari (@amarimac) May 28, 2020
Ultimately, the impact McMahon has the potential to make as a dentist is likely to far surpass the impact he made as an Ohio State football player, but from his time as a Buckeye, he'll carry with him lessons that will help him excel in his career and memories he'll have for the rest of his life.
For potential future walk-ons who might want to follow in his footsteps by playing for Ohio State while also pursuing their academic goals, McMahon's advice is to "take nothing for granted."
"Enjoy every moment of it," McMahon said. "If you decide to walk on, be ready for tough journeys but also be ready for just a real fun, unique experience that you can tell for future generations and families to come. So it's definitely worthwhile."