As Lejond Cavazos and Ryan Watts begin their careers as Ohio State cornerbacks, they're well-aware of the high standard they're expected to live up to.
With the selections of Jeff Okudah and Damon Arnette in the top 20 picks of this year's NFL draft, Ohio State has now had seven cornerbacks become first-round picks in the last seven years. All of them were coached for at least one year by Kerry Coombs, who is now back as Ohio State's defensive coordinator and secondary coach after a two-year stint with the Tennessee Titans.
The chance to follow in their footsteps is one reason why Cavazos and Watts both chose to become Buckeyes, so they aren't going to shy away from the expectations.
"Knowing that you have a first-rounder every year at the position I play, you have to step up, regardless of if you're ready or not," Cavazos said in February during his first interview session as a Buckeye. "You have to step up and hold the legacy there. There's going to be first-rounders this year, next year, the year after me and so on. This is a cornerback school. There's a lot of position schools but when you think of Ohio State, you think of Cornerback U. So that was a big thing for me."
Watts says the same drive that pushed him to become one of the nation's top cornerback prospects in high school will motivate to become one of the next great college cornerbacks and NFL prospects at Ohio State.
"Just like I saw myself going D-I, I'm gonna see myself going to the NFL in the first round," Watts said. "With that, though, comes hard work, especially here at Ohio State. Just keep up my hard work, and I feel like it'll all pay off."
Both of them have already had the opportunity to get to know some of the recent Ohio State cornerbacks whose lead they're now trying to follow. Cavazos said he met Marshon Lattimore and Denzel Ward when visiting Ohio State for the 2018 and 2019 spring games. Watts knows Okudah through Clay Mack, a defensive back trainer who both worked out with in their native state of Texas.
"I look up a lot to Marshon Lattimore and Denzel Ward, but I try to model myself after Jeff because he's another long, versatile corner," Watts said. "So I try to mimic what he does and try to even improve it and make it easier for myself."
Ranked as the No. 202 and No. 352 overall prospects, respectively, in 247Sports' composite rankings for the recruiting class of 2020, Watts and Cavazos don't come to Ohio State with the same five-star hype as Okudah. But the Buckeyes wouldn't have recruited them if they didn't have NFL potential, and they have plenty of examples to look up to – like Ward and Arnette, the No. 270 and No. 653 overall prospects in the class of 2015 – that demonstrate how Coombs and Ohio State could develop them into elite cornerbacks. 
Besides, both of them are confident young cornerbacks who aren't overly concerned about what their recruiting rankings were.
"Honestly I don't really listen to all of that outside noise, because I know what I am capable of and the coaches that brought me in know what I am capable of," Cavazos said. "Just trusting my coaches here, I know they will get me to where I need to be."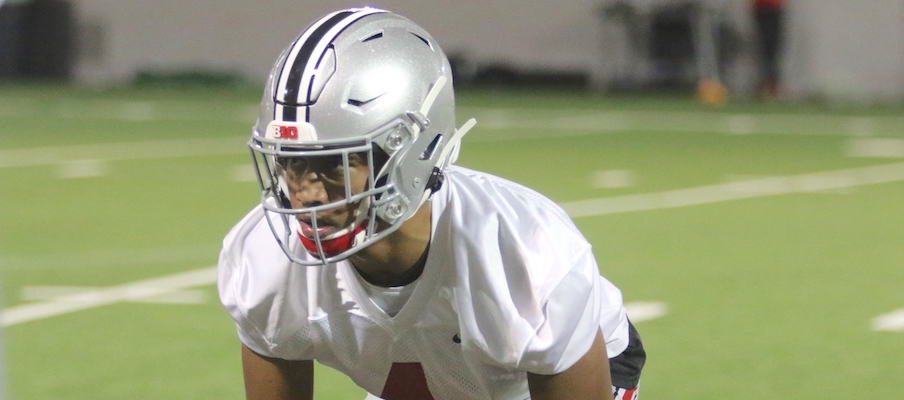 Watts has excellent length for a cornerback, at 6-foot-3 and 195 pounds, which gives him huge upside as an NFL prospect as his technical skill set develops. Cavazos, listed at 6-0 and 195 pounds, is an elite athlete who posted eye-popping numbers – including a 4.40-second 40-yard dash and a 44-inch vertical jump at a regional for The Opening – on the recruiting camp circuit.
Their chance to star in Ohio State's secondary probably won't come immediately as true freshmen, as Shaun Wade – likely the Buckeyes' next first-round cornerback in 2021 – returns to lead the cornerback depth chart while Sevyn Banks, Cameron Brown, Tyreke Johnson and Marcus Williamson are also all expected to see playing time. There aren't any other scholarship players on the depth chart behind those five, however, leaving the door open for Cavazos, Watts and fellow freshman Cameron Martinez – if he sticks at cornerback – to push for substantial roles as early as year two.
Cavazos' and Watts' opportunity to make an impression and fast-track their development as early enrollees this spring was cut short due to COVID-19, but Coombs believes the time they had on campus from January to March will still give them a leg up whenever the Buckeyes are able to reconvene for preseason work.
"The good news is, those are mature kids. And they want to be great. And so they are working really hard. And I'm excited about that," Coombs said. "They got a good enough taste of Coach (Mickey) Marotti and Coach (Kenny) Parker and the guys in the strength staff to know what that looks like, and then they also were on the field with some really good players and got a good sense of what that's going to be like. So it's still an advantage that they were here."
For their first year at Ohio State, the primary goal for Watts and Cavazos is to learn the ropes of being Buckeyes, improve upon their craft and find a way to contribute, whether that comes on defense or special teams. All of the previous seven first-round cornerbacks since 2014 had to wait their turn for a year or two before they played big roles, too, so they know they have to trust the process.
"It makes me feel real confident in my decision," Watts said of Ohio State's track record of developing cornerbacks. "I won't get hurt if I don't play the first year. I just want to come out and work my hardest and help the team win any way I can, whether that's special teams or playing on the first team, second team, third team, scout team. I'll do whatever I can."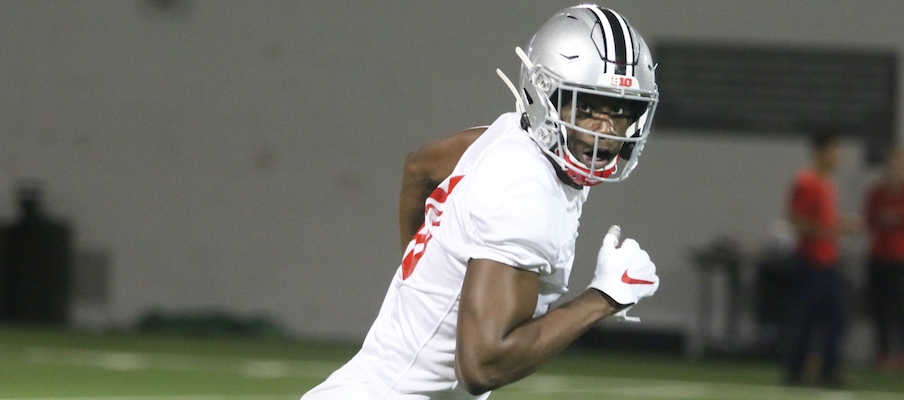 By the end of their Ohio State careers, though, Cavazos and Watts envision themselves continuing on the long line of Buckeye cornerbacks who become stars in Coombs' secondary before getting the call from the NFL.
They both want to live up to the BIA standard that has been set by Ohio State's cornerbacks before them, and Cavazos – whose first name is pronounced like the word legend – knows he has an extra prophecy to bring to reality, as well.
"My name is Lejond, you can't be nothing but what you have to live up to," Cavazos said. "My name is set, now I just have to do the rest."