Welcome to "That Happened" where we dig deep into the who, why, and how of outliers in Ohio State athletics history.
After a playoff-less 2015 season, the Buckeyes reloaded in 2016. Despite losing talent in a number of key positions, Ohio State was looking to return to the Big Ten Championship Game and the College Football Playoff. One such position was out wide, where the Bucks lost Michael Thomas, Jalin Marshall, and Braxton Miller. 
A year removed from a redshirt season, Noah Brown entered his redshirt sophomore year as a bit of an anomaly with the potential to fill the gap on the outside. With J.T. Barrett under center, the 6-foot-2 receiver possessed a big frame and solid hands but his injury history and lack of production were concerning for Ohio State's presumptive No. 2 receiver. 
Even after a touchdown in his second game of the season, nobody could have seen his performance in Norman coming; he still had just five receptions, 71 yards, and one touchdown in his entire career. He would match or exceed all of those numbers in a single night in Norman, Oklahoma. 
---
After jumping out to an early two-touchdown lead, Joe Mixon responded by returning the ensuing kickoff for an Oklahoma score. After a nice drive, J.T. Barrett tossed Noah Brown his first score of the day on a goalline fade. 
A couple of possessions later, Oklahoma quarterback Baker Mayfield threw an ill-advised interception while being chased by Nick Bosa. The next play, Brown had his second touchdown of the day on a 37-yard strike from Barrett. 
After the home team cut the lead to 28-17, Ohio State drove back down the field. With just eight seconds left in the half, Noah Brown snagged his third score of the quarter on the back of a Sooner.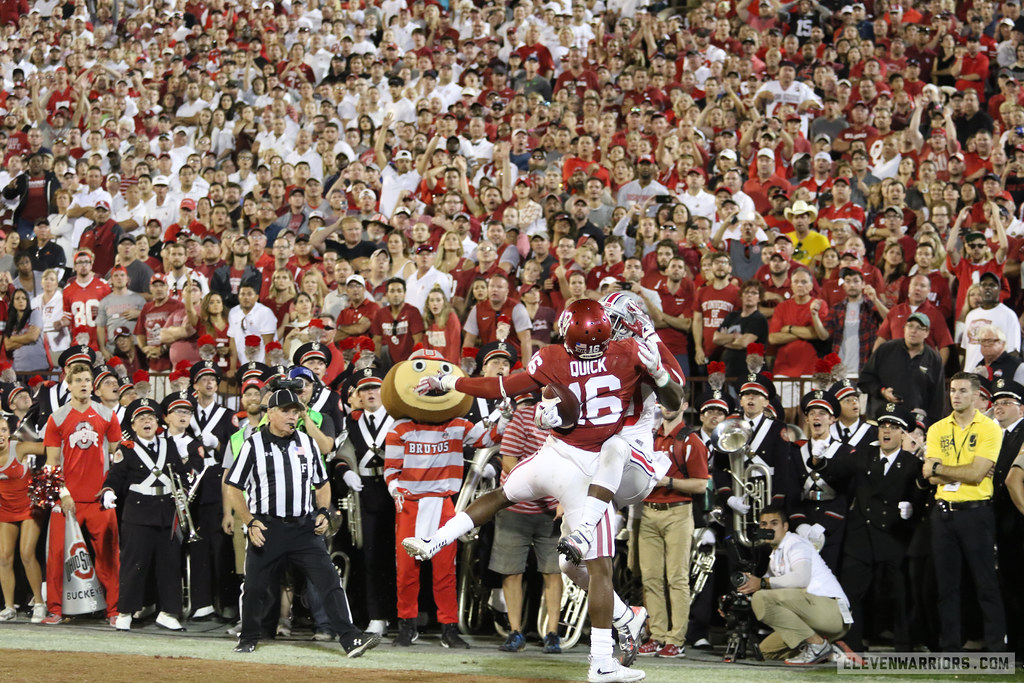 With a three-score lead coming out of the break, the Buckeyes received the ball to start the half. In less than five minutes, Noah Brown had his fourth touchdown of the day with some precise route running in the end zone. 
The former four-star recruit ended his career day with 72 yards, five receptions, and four touchdowns. His one non-touchdown reception was a two-yard catch late in the third quarter on a broken play. 
Brown's four touchdowns tied the school record for the most receiving scores in a single game in program history, a mark that has stood since 1952. He shares the record with Robert Grimes, David Boston, and Dane Sanzenbacher. 
The performance, however, would not be a sign of things to come. Brown recorded just three catches for 31 yards in the Buckeyes' next two games. Even as the Buckeyes' second-leading receiver in most major categories, Brown's play for the rest of the season was disappointing. 
He scored just two more touchdowns in the 12 games of the season, ending the year with 32 receptions for 402 yards and seven touchdowns. Brown's night in Norman accounted for nearly 16% of his catches for the season, just under 18% of his yards, and over 57% of his touchdowns. 
While Noah Brown could not parlay his performance into sustained success in Columbus, his out-of-nowhere night remains one of the most impressive breakout games in recent memory.