In his six years years as Ohio State's defensive line coach, Larry Johnson has accomplished just about everything a position coach could.
Since Urban Meyer brought him across the Big Ten East from Penn State to Columbus in 2014, he has overseen a unit featuring six first-team All-Americans, eight first-round NFL draft picks and, most recently, a Heisman Trophy finalist. He's experienced four Big Ten championships, three College Football Playoff appearances and a national championship.
It's hard to boil down exactly what's the single most impressive aspect of what he has done while coaching the Buckeyes, but his endless assembly line of top-level defensive linemen entering the program and developing to their fullest potential might be the answer. Studs get replaced by studs and five-stars get replaced by five-stars. Not once has Johnson's defensive line taken a step backward.
Day, though it's still early, might have flipped the switch to turn on an assembly line of his own at some point in the past year.
Except instead of having an ever-replenishing position group, he's overseeing an entire offense that shows approximately zero signs of showing down for the foreseeable future. Landing five-star running back TreVeyon Henderson a couple days ago was just the latest coup.
Like Johnson, who took over a strong defensive line unit for current Tennessee Titans head coach Mike Vrabel, Day inherited an offense from Meyer already teeming with talent. In a similar manner to what Johnson did, Day immediately thrived with those on the roster at the time then proceeded to recruit at the highest level. 
In Day's first year as a head coach, the Buckeyes put together one of the nation's most effective offenses, ranking third in points per game (46.9) and fourth in yards per game (529.9). From the transfer portal he landed Justin Fields, who tossed for 3,273 yards, 41 touchdowns and three interceptions to become a Heisman finalist in his first season as a starting quarterback. J.K. Dobbins rushed for the program's single-season record of 2,003 yards while averaging 6.7 yards per carry. The offensive line was a Joe Moore Award finalist.
With Fields back, Ohio State again has a chance to be the country's best offense in 2020. Chris Olave and Garrett Wilson head a youthful, yet talented wide receiver corps, and Luke Farrell and Jeremey Ruckert give Day options at tight ends. The offensive line might be unparalleled. Oklahoma transfer Trey Sermon filled a major hole at running back.
Looking even further ahead, because of what has happened during Day's tenure on the recruiting trail, the offensive success won't end this fall.
Sure, anybody can make the caveat that recruiting stars aren't everything. Development matters. Not everybody's rated correctly out of high school. Those opinions, though, are usually voiced by fans of teams that aren't landing top-of-the-line recruits. Schools bringing in the most talent on an annual basis tend to stay atop college football, and it's hard to find anyone else thriving quite as much in that area as the Buckeyes.
In the 2020 cycle alone, they brought in the No. 1 offensive tackle, No. 1 wide receiver, No. 2 center, No. 2 pro-style quarterback, No. 5 wide receiver, No. 10 wide receiver, No. 13 pro-style quarterback, No. 14 tight end, No. 16 wide receiver and a quartet of three-star offensive linemen. Already in the 2021 cycle they hold commitments from the No. 1 offensive guard, No. 2 running back, No. 3 pro-style quarterback, No. 6 running back, No. 8 wide receiver, No. 12 wide receiver, No. 15 offensive tackle and No. 16 tight end.
Between the two classes, including 2021 which isn't even finished, Day has added someone ranked either first or second at every offensive position except tight end. With such across-the-board recruiting successes, Ohio State has set itself up about as well as it possibly could at every offensive position.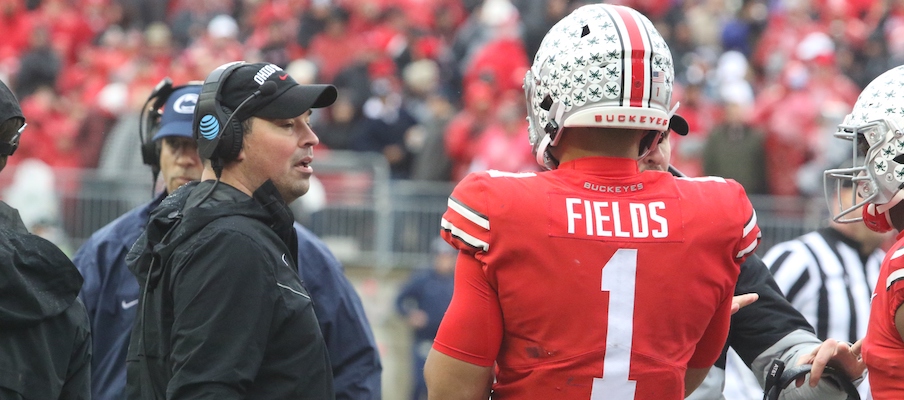 Fields, unless something completely unexpected happens won't be around in 2021. In his place at quarterback? Either second-years CJ Stroud or Jack Miller or freshman Kyle McCord. That'll be an enviable decision between a trio of highly recruited signal-callers, two of which were hand-picked by Day (Stroud and McCord) and one whom Meyer initially landed (Miller). Between the three of them, Ohio State could be set at quarterback through at least 2023.
Due to misses in the past couple cycles, running back threatened to be the area Ohio State struggled to replenish. But by getting Sermon as a one-year stopgap and picking up commitments from Henderson and Evan Pryor in succession this month, Tony Alford rebounded in style. He'll rely heavily on Sermon this fall before the two top-100 overall prospects join a suddenly healthy position group in 2021.
At wide receiver, the Buckeyes have an embarrassment of riches with more potential studs on the way soon. Already with Olave, Wilson, Jaelen Gill, Jaylen Harris and Jameson Williams on the roster, they added four top-100 overall prospects – Julian Fleming, Jaxon Smith-Njigba, Gee Scott and Mookie Cooper – this spring, and they're poised to bring in at least two more top-100 wideouts in the 2021 class. If Brian Hartline keeps this up, his conveyor belt might soon rival Johnson's.
Luke Farrell and Jeremy Ruckert lead a tight end unit that doesn't quite have the flash of other position groups yet remains strong. Converted defensive end Cade Stover, incoming freshman Joe Royer and 2021 signee Sam Hart make up the future at tight end.
On the offensive line, the Buckeyes are built to thrive in 2020 and beyond. Beside veterans Thayer Munford, Wyatt Davis and Josh Myers, they'll likely have two former five-star prospects – Nicholas Petit-Frere and Harry Miller – as five-year starters this fall. Paris Johnson, Dawand Jones, Matthew Jones, Luke Wypler, Ryan Jacoby and Donovan Jackson are among the underclassmen that give the offensive line an enviable long-term outlook.
Good luck finding a hole on Ohio State's offense in 2020, and good luck locating a weakness doing forward. 
Nothing's ever a certainty in college football. Injuries, transfers, mis-evaluations, coaching mishaps and other weird things happen. That's only natural. But Day has his offense set up as possibly the country's best this fall, and the way he's recruiting it's nearly impossible for anybody to reasonably predict it takes a notable step back anytime soon.