Ohio State is looking for its fourth in a row.
Heading into the 2019 season, some folks decided to get cute by labeling Jim Harbaugh's Wolverines as the preseason Big Ten favorite. Shea Patterson was back for his senior year, there was a new offensive coordinator in Ann Arbor, and Urban Meyer's tenure had come to an end.
When all was said and done, things went according to plan for Ryan Day and the Buckeyes as Ohio State went through the Big Ten unscathed en route to its third-straight conference championship. In all 10 games against conference opponents, the Buckeyes came away victorious by double-digit points.
Now, with spring practices set to begin, the rest of the conference has its sights set on dethroning Day and the Buckeyes. March is on the horizon and we're a long way from kickoff, but there appear to be four Big Ten programs who could challenge for league supremacy in 2020. 
Penn State • 2019 Record: 11-2 • Final AP Ranking: No. 9
The Nittany Lions' 2019 losses came on the road against the Buckeyes and Golden Gophers. Micah Parsons emerged as one of the country's top defenders and a talented stable of young running backs was on display. Penn State's biggest wins came against Michigan, on the road at Iowa, and versus Memphis in the Cotton Bowl. 
The Case For: Sean Clifford wasn't spectacular after taking over for Trace McSorley, but year No. 2 as a starter is when quarterbacks have been known to make a pretty big leap. Clifford shouldn't need to put up prolific numbers when he can hand the ball off to Journey Brown, Noah Cain, and Devyn Ford. The Nittany Lions get the Buckeyes, Hawkeyes, and Spartans in Happy Valley.
The Case Against: Pat Freiermuth is one of the country's top tight ends, but losing a big-play guy like K.J. Hamler is going to sting. The Nits have some difficult road games against Virginia Tech and Michigan, and a Nov. 7 trip to Lincoln could be a bit of a sneaky challenge. The biggest reason to doubt them? James Franklin just hasn't shown that he can be among the elite.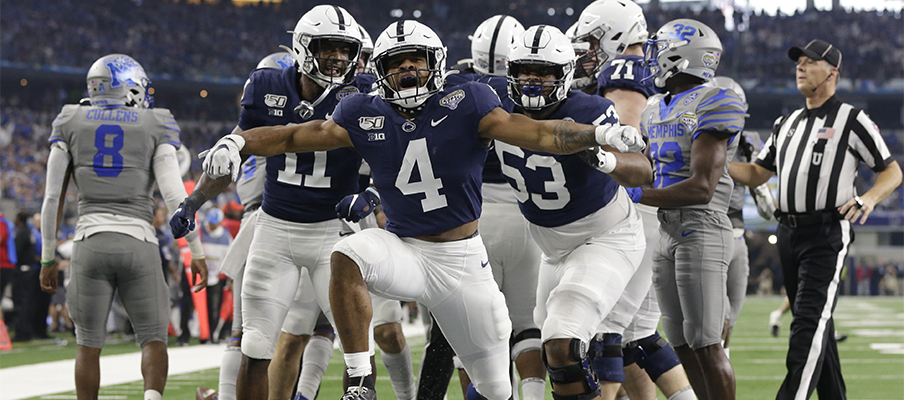 Michigan • 2019 Record: 9-4 • Final AP Ranking: No. 18
Jim Harbaugh did his thing in 2019 while losing three games against Big Ten opponents. Wisconsin, Penn State, and Ohio State all got the best of the Wolverines before they fell to Alabama in the Citrus Bowl. There's going to be plenty of new faces on offense, but the defense should again be in good hands under Don Brown; even if he's shown no signs of slowing down the Buckeyes. 
The Case For: Perhaps change is going to be a good thing under center? Shea Patterson just never seemed to elevate his game and it's now time for some new blood in Ann Arbor. Whether it be Dylan McCaffrey or Joe Milton, the upcoming change has to be at least a little bit exciting for Wolverine fans.
Daxton Hill is now in his second year, and the former five-star has a chance to help elevate the Michigan secondary. He flashed a few times in 2019 but should be a full-time starter for the rest of his career. Michigan also gets Wisconsin and Penn State in the Big House in 2020 as it looks to get a little bit of revenge. 
The Case Against: First of all, the East Division is expected to again run through Ohio State, and Jim Harbaugh has shown zero ability to even compete with the Buckeyes. This year's contest is back in Columbus, so that makes a tall task all the more of a challenge.
The new quarterback is bound to struggle at times, but the losses in the trenches may be the most problematic. Jon Runyan Jr., Ben Bredeson, Cesar Ruiz, and Michael Onwenu are all gone as Michigan will be replacing four starters who combined to start 138 career games.
Minnesota • 2019 Record: 11-2 • Final AP Ranking: No. 10
P.J. Fleck won 12 total games in his first two seasons in the Twin Cities. His third went much better as the Golden Gophers won 11 and capped things off with a win over Auburn in the Outback Bowl. Minnesota nearly found itself in Indy, but a late-season loss to Wisconsin prevented that from happening. Now, Fleck has the chance to show that 2019 wasn't a one-time thing for the Gophs. 
The Case For: Minnesota returns nine starters on offense, including quarterback Tanner Morgan and Big Ten Wide Receiver of the Year Rashod Bateman. Every single offensive line starter is back – along with the team's top four tight ends – as Morgan should get plenty of protection in 2020. New offensive coordinator Mike Sanford Jr. will have a lot to work with in his first year guiding the offense.
The Case Against: Fleck's defense is a different story and will have a new look this time around. Minnesota returns just four starters and loses linebacker Carter Coughlin and All-American safety Antoine Winfield Jr. The Gophs ranked No. 10 in total defense last season, but that's going to be tough to repeat considering the losses. Last year's loss to Wisconsin was at home. This time around the Gophers have to venture to Madison.
Wisconsin • 2019 Record: 10-4 • Final AP Ranking: No. 11
Paul Chryst fell four times last season as the Badgers lost to Illinois, Oregon, and twice to the Buckeyes. Wisconsin cruised through its first six games before falling on the road at Champaign. The Sept. 21 win over Michigan was probably the highlight of the season as the Wolverines had absolutely no answer for Jonathan Taylor and his 203 yards and two scores.
The Case For: In his first season as a starter, quarterback Jack Coan surprised plenty of folks with his solid play. Though it was still a run-heavy offense, the 2019 Badgers were far different than what we had seen under Alex Hornibrook. Coan completed just about 70 percent of his passes for over 2,700 yards with 18 touchdowns and five interceptions. Cole Van Lanen is back at left tackle and should be a top draft pick in 2021.
The Case Against: Replacing Jonathan Taylor is an impossible task, and the Badger backfield isn't going to have the firepower we've been used to seeing. That's magnified even more with the loss of three starters along the offensive line. Defensively, Chryst loses linebackers Zack Baun and Chris Orr. Last year the duo combined for over 150 tackles and an absurd 24 sacks. 
The schedule isn't exactly favorable either. The Badgers will travel to the Big House, face Notre Dame at Lambeau Field, and battle the Hawkeyes at Kinnick. As if that weren't enough, Wisconsin also will welcome Appalachian State to Camp Randall on Sept. 19. The Mountaineers went 13-1 last year and finished the season ranked No. 19.