Joe Burrow isn't the only former Buckeye competing for a national championship to cap off the college football season.
Wayne Davis, who also transferred from Ohio State in May 2018, played for the Football Championship Subdivision national title on Saturday at noon when James Madison took on North Dakota State in this year's championship game for the second-highest level of college football. The Dukes fell to the Bison, 28-20, but overall, it was still an excellent season for Davis.
Buried on the secondary depth chart for his two seasons with the Buckeyes, Davis has been one of James Madison's top defensive players in each of his two seasons with the Dukes, starting at the spur position (their version of a linebacker/safety hybrid).
As Davis took the field for the final time this season on Saturday and Burrow and his LSU Tigers prepare to play Clemson in the College Football Playoff national championship game on Monday night (8 p.m., ESPN), it's time to take a look around college football at how all the former Ohio State players who opted to transfer to other schools performed this season.
In total, 20 former Ohio State scholarship players played this season for other colleges: 13 at the Football Bowl Subdivision level, five at the Football Championship Subdivision level, one in Division II and one in community college. 
The following list only includes players who spent at least a portion of a season on Ohio State's roster and on scholarship; former walk-ons who transferred to play elsewhere, or commitments who were never actually on the team, are not included. It also does not include former Ohio State safeties Isaiah Pryor and Brendon White, who opted to transfer during this past season (Pryor to Notre Dame and White to Rutgers) but have not yet actually played for their new schools.
Joe Burrow, QB, LSU
If you've paid any attention at all to college football this year, you already know that things have worked out as well as anyone could have imagined for Joe Burrow at LSU. After making the tough decision to leave Ohio State following the spring of 2018, facing the possibility of never starting a game for the Buckeyes after Dwayne Haskins pulled ahead of him on Ohio State's quarterback depth chart, Burrow has become college football's biggest superstar in his second and final season in Baton Rouge.
Burrow has put up eye-popping numbers this season, completing 77.6 percent of his passes for 5,208 yards and 55 touchdowns. He won the Heisman Trophy as college football's most outstanding player and is expected to be the No. 1 overall pick in the 2020 NFL draft. He's led LSU to wins in all 14 of its games this season, and now, he'll look to do what his former school wasn't able to do – beat Clemson – and complete a 15-0 season with a national championship.
Wayne Davis, LB/S, James Madison
A four-star recruit who never earned any significant playing time at Ohio State, Davis opted to drop down to the FCS level and return to his home state of Virginia to play for James Madison, and that decision has proved to be a good one. While he might not have ever played much if he stayed with the Buckeyes, he immediately became a starter at JMU and has been productive in each of his first two seasons there, all while he still carries another year of eligibility.
Davis finished the 2019 season with 62 total tackles, 8.5 tackles for loss, nine passes defensed, two interceptions and a forced fumble this year, including six total tackles and a pass breakup in Saturday's FCS title game. He also had 45 total tackles with 4.5 tackles for loss, eight passes defensed and two interceptions in 2018.
Saturday's game certainly didn't end up the way he and his teammates were hoping it would, but being there was exactly where he envisioned he'd be when he made the decision to become a Duke.
"This is why I chose JMU," Davis recently told Greg Madia of the Daily News-Record, "because they play for national championships, when I looked into transferring in. So the opportunity is here, we just got to go finish."
Keandre Jones, LB, Maryland
Jones transferred to Maryland for his final season of college football and became one of the stars of the Terrapins' defense after three seasons as a backup linebacker at Ohio State. In Maryland's 3-4 defense, Jones emerged as the Terrapins' best pass-rusher, leading the team with 15 tackles for loss, seven sacks and three forced fumbles while recording 74 total tackles.
He had the opportunity to play one final game at Ohio Stadium in November and recorded eight total tackles with a strip sack. The game otherwise didn't go well for the Terrapins, who lost 73-14, but Jones had a memorable reunion with his former Ohio State teammates at midfield after the game.
Keandre Jones just got mobbed by his former Ohio State teammates. Then, Jones stopped them to say, Hey, one thing. Im proud of you boys. Go win the natty. pic.twitter.com/WyisefcfqZ

— Colin Hass-Hill (@chasshill) November 9, 2019
Rodjay Burns, LB, Louisville
Recruited to play cornerback by Ohio State, Burns spent just one season with the Buckeyes – which he redshirted – before transferring to his hometown school. After sitting out the 2017 season, Burns started at cornerback for the Cardinals in 2018. He made an even bigger impact for Louisville in 2019, though, after moving to the "Card" linebacker position, a hybrid position in the Cardinals' 3-4 defense.
Burns recorded 83 total tackles in 2019, including a team-high 11 tackles for loss, as well as a forced fumble, an interception and a 30-yard fumble return for a touchdown. Even after bulking up to play linebacker, Burns also continued to serve as the Cardinals' lead punt returner, gaining 93 yards on 11 returns after 13 punt returns for 197 yards and a touchdown in 2018. He still has one remaining season of eligibility.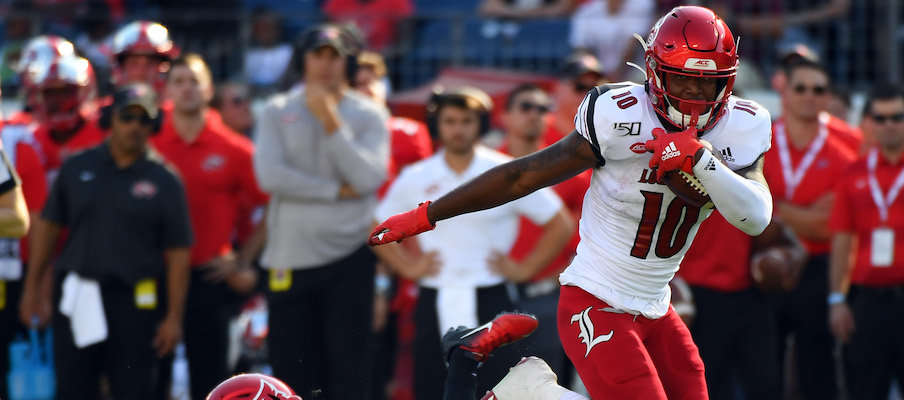 Trevon Grimes, WR, Florida
A top-50 prospect in the recruiting class of 2017, Grimes was expected to be a future star of Ohio State's receiving corps when he arrived in Columbus, but he played in just two games before leaving the team to return to his home state. 
In each of his two seasons thus far in Gainesville, Grimes has been Florida's third-most productive wide receiver, catching 33 passes for 491 yards and three touchdowns. He'll have a chance to finish his Gators career with a big season in 2020, though, as their other four of their five most productive receivers from this past season were all seniors.
Jack Wohlabaugh, C, Duke
Wohlabaugh never appeared in a game in his two seasons at Ohio State, but he's been a starting center in each of his two seasons at Duke. As a redshirt junior in 2019, Wohlabaugh started each of the Blue Devils' first nine games before undergoing season-ending ankle surgery.
Even with the injury, Wohlabaugh was selected as an All-ACC honorable mention, and Pro Football Focus graded him as Duke's best offensive lineman for the 2019 season. He earned ACC Offensive Lineman of the Week honors after leading Duke's offensive line in a 45-10 win over Virginia Tech in the Blue Devils' first conference game of the season. He still has another year of eligibility.
Josh Norwood, S, West Virginia
A reserve cornerback during his two seasons at Ohio State, Norwood started at cornerback in his first season at West Virginia in 2018, recording 64 total tackles, 11 pass breakups, four tackles for loss and two forced fumbles.
For his senior season, Norwood moved to safety and started West Virginia's first 10 games before breaking his collarbone – ending his season and career early – on the landing of an acrobatic interception. 
.@WVUfootball's Josh Norwood puts his body on the line with an acrobatic interception pic.twitter.com/1ZKDoB4Hfx

— ESPN Player (@espnplayer) November 18, 2019
He was also ejected for targeting in two separate games in 2019, but when he was on the field, he was one of the Mountaineers' top defenders, recording 64 total tackles for the second year in a row with six pass breakups and 2.5 tackles for loss.
Darius Slade, DE, South Florida
The only member of Ohio State's recruiting class of 2014 who was still playing college football in 2019, Slade transferred for the second time in his collegiate career – to South Florida from Arizona State – after receiving a waiver for a sixth year of eligibility.
In his lone season at USF, Slade rotated with fellow senior defensive ends Greg Reaves and Kirk Livingstone and recorded 32 total tackles, 4.5 tackles for loss, two sacks and one forced fumble.
Antonio Williams, RB, North Carolina
Sitting third behind J.K. Dobbins and Mike Weber on Ohio State's running back depth chart following the spring of 2018, Williams opted to transfer to his home-state school for a chance to earn more playing time. He was the Tar Heels' starting running back for most of the 2018 season, in which he had a team-high 91 carries for 504 yards and five touchdowns as well as 16 catches for 131 yards.
As a senior this year, however, Williams dropped back to third on North Carolina's running back depth chart behind Michael Carter and Javonte Williams. The Buckeye transfer had just 48 carries for 322 yards and three touchdowns and two catches for four yards in 2019.
Kevin Feder, RT, Kansas
After starting all 12 games at right tackle in his first season at Kansas in 2018, he split time with fellow senior Clyde McCauley and started only three games for the Jayhawks in 2019.
The 6-foot-9, 300-pound offensive lineman, who never saw game action in his three years at Ohio State, is still hoping to get a shot from an NFL team, as he participated in the College Gridiron Showcase – an all-star event for lower-ranked prospects to put their skills on display for pro scouts. 
Tate Martell, QB, Miami
Martell transferred from Ohio State to Miami last January with visions of becoming the Hurricanes' starting quarterback, but he ended up finishing third behind Jarren Williams and N'Kosi Perry in their preseason quarterback competition. He saw occasional playing time at wide receiver early in the season, then took a leave of absence from the Hurricanes before finally getting his chance to play quarterback – albeit only for one series – against Louisiana Tech in the Independence Bowl, completing one pass for seven yards and rushing for five yards.
Neither Williams nor Perry played particularly well for a struggling Hurricanes team in 2019, so Martell will get another shot to compete for the starting job as a redshirt junior in 2020, but his first year in Coral Gables certainly wasn't what he envisioned when he chose to leave the Buckeyes.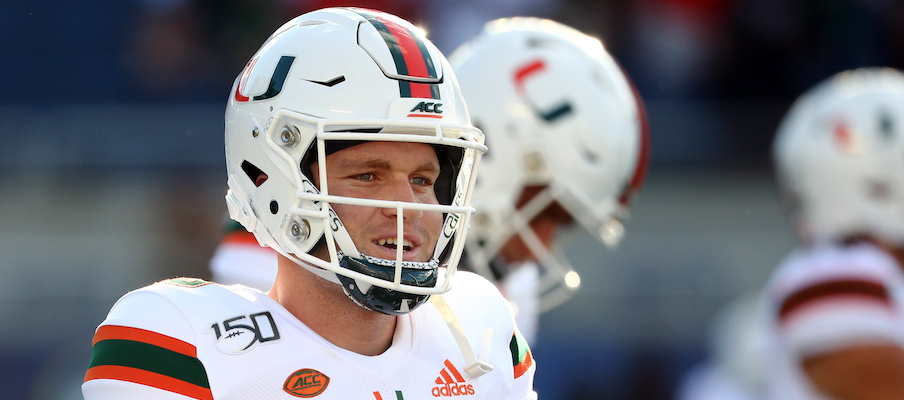 L'Christian "Blue" Smith, WR, Cincinnati
Smith transferred from Ohio State after just one season and received immediate eligibility at Cincinnati – in part because Ryan Day and the Buckeyes supported Smith's waiver request – but he still didn't play much in his first season as a Bearcat, catching just two passes for 19 yards.
The good news for Smith, who was a four-star recruit out of high school: He still has three remaining seasons of eligibility.
Malik Barrow, DT, UCF/Rutgers
Medically disqualified by Ohio State prior to the 2018 season due to knee injuries, Barrow returned to the field as a graduate transfer at UCF this past fall – but his time with the Knights didn't last long.
Buried on the Knights' defensive line depth chart, Barrow played in just three games in 2019 – recording two tackles with one tackle for loss and two quarterback hurries – before he decided to enter the transfer portal again. With one remaining season of collegiate eligibility, Barrow is now set to finish his college career at Rutgers, where he's reunited with his former defensive coordinator at Ohio State, Greg Schiano.
Matthew Baldwin, QB, TCU
Baldwin, like Martell, opted to leave Ohio State last offseason after Justin Fields was brought in to be the Buckeyes' new starter, and while his initial request for immediate eligibility at TCU was denied, that ruling was eventually overturned following an appeal.
Even so, Baldwin didn't see any playing time for the Horned Frogs in 2019. That was partially because he underwent offseason knee surgery, but he'll now have to battle to climb the depth chart after Max Duggan established himself as TCU's starting quarterback as a true freshman this past season. Baldwin still has three remaining seasons of collegiate eligibility.
Matt Burrell, LG/C, Sam Houston State
In his second and final season playing for Sam Houston State at the FCS level, Burrell started the Bearkats' first seven games of the year at center, then slid out to left guard for the final five games of his collegiate career. 
A.J. Alexander, TE, Gardner-Webb
After transferring from Ohio State to Slippery Rock to play one season at the Division II level, Alexander transferred one more time to play his final collegiate season with Gardner-Webb at the FCS level. He played in 10 games with eight starts and caught 16 passes for 155 yards and one touchdown.
Kierre Hawkins, TE, Youngstown State
Hawkins, who never saw game action in his two years at Ohio State, played his second season at the FCS level with Youngstown State in 2019. After tearing his ACL and playing in just two games in 2018, Hawkins played in all 12 games for the Penguins this past season but caught only three passes for 46 yards.
Grant Schmidt, G, South Dakota State
A member of Ohio State's 2015 recruiting class, Schmidt spent just one season with the Buckeyes and has had a winding road ever since. He initially transferred to Cincinnati, but spent just one season there as well before transferring back to his home state. 
He was forced to sit out the 2017 season due to transfer rules, then missed the 2018 season due to shoulder surgery, as documented by Matt Zimmer of the Argus Leader. In his final season at South Dakota State, Schmidt finally saw playing time for the first time in his collegiate career, but that playing time came in only three games off the bench.
Eric Glover-Williams, CB, Slippery Rock
Dismissed by Ohio State before the 2017 season, Glover-Williams got a fresh start at the Division II level in 2018 and was one of the top players of Slippery Rock's defense for the past two years, earning second-team All-PSAC West honors in both of his seasons with The Rock. As a senior, Glover-Williams appeared in 11 total games and recorded 29 total tackles, 13 passes defensed and three interceptions, while he also contributed as a kickoff and punt returner.
Glover-Williams was suspended for Slippery Rock's first playoff game after a USA TODAY report revealed that Glover-Williams' dismissal from Ohio State was related to a sexual assault accusation, which he had not disclosed to Slippery Rock, but he returned to play the final two games of his collegiate career and recorded two interceptions in his team's season-ending Division II semifinal loss to Minnesota State.
Brian Snead, RB, Iowa Western
Dismissed by Ohio State after playing in just two games in 2018, Snead transferred to the junior college ranks and spent this past season at Iowa Western Community College, where he ran for 364 yards and eight touchdowns on 92 carries in eight games, while he also had a 74-yard kickoff return.
Snead is expected to pursue a return to the Football Bowl Subdivision level, and has received some interest from Arkansas, Kansas State and UCF, but he hasn't announced a new destination as of yet.