GLENDALE, Arizona – It all came to an end on Saturday night.
Ohio State played well enough in the Fiesta Bowl to win, Ryan Day thought, but it didn't happen. Clemson topped the Buckeyes, 29-23, and will head to the national championship to face Joe Burrow-led LSU on Jan. 13.
In the loss, J.K. Dobbins had 18 carries for 174 yards and a touchdown, including rushes for 68 and 64 yards. His game was a bit more complicated than that, though. The junior running back also had a pair of drops that could have led to touchdowns and fought through an ankle injury that momentarily sent him back to the locker room after going to the ground following the first play of the second half.
"How does it feel?" Dobbins said. "It hurts."

"It was taped wrong, so I had to go get it re-taped, and then I came back out," Dobbins said.

"J.K. is a Buckeye legend for everything he's done for this program and the heart and soul that he poured into it," Josh Myers said. "That was one of the more gutsy performances I've ever seen from a guy. And then obviously Justin as well. Just fell short. But both of their performances were great."

"He just showed us his toughness and the love that he has for everyone on the team," Wyatt Davis said. "He could've easily just went back in the locker room and kind of just taken himself, but he's selfless. That's why we love him."
Dobbins is widely considered as a likely early entrant into the 2020 NFL draft, but like Chase Young, Jeff Okudah and Shaun Wade, he hasn't yet made an announcement one way or another.
So, what did he say when asked about his plans for next season after the Fiesta Bowl loss?
"We'll see," Dobbins said.
Missed opportunities could haunt Ohio State when looking back at what happened on Saturday. Jordan Fuller, though, didn't dwell on them.
"I guess so," Fuller said. "But at the end of the day, we fought hard. There was no plays where a guy could have given more effort. That's just how the results are. We could live with those. My brothers fought all night."
In the first half, Ohio State kicked field goals of 21, 22 and 33 yards. For an offense that converted touchdowns on 78.7 percent of its red-zone opportunities, the fifth-best rate in the country, getting three points on those drives weren't enough.
Those drives stalled on the 4-yard line, 5-yard line and 16-yard line.
"That whole game was such a whirlwind, I don't even really know what happened in the first quarter, first half, when we weren't putting it in the end zone," Myers said. "I honest to God don't. I said it earlier: when you play a quality opponent like that in a game like this, you can't do that or you lose. The margin for error is so small."

"We got down in the red zone a bunch," Davis said. "We just couldn't convert at times."

"We knew the field goals weren't enough," Dobbins said.

"One of the plans to win that we live by is to score in the red zone," Austin Mack said. "We can't win championships with field goals."
Two calls from referees factored significantly into the outcome, too.
The first, a targeting penalty on Wade, knocked Ohio State's starting slot cornerback out of the game. It allowed Clemson to continue a drive that seemed to have ended with Wade's sack, leading to the Tigers scoring their first of two touchdowns in a row in the second half.
"Can't really comment too much on officiating," Mack said. "It's human errors. Whatever's called, you've got to ride with it. It sucks. It definitely, I think, hurt us momentum-wise, gave them a lot of momentum. It's frustrating."

"It shifted the momentum, but at the end of the day, we had a chance to win regardless of that," Fuller said.
With Wade out, Amir Riep stepped in at nickelback for the majority of the game.
"There was no effect on the game plan," Fuller said. "I just think they got momentum and kind of ran with it for a little bit. Then we were able to take it back. They finished strong."
The other call that caused consternation on the Ohio State sideline came when Okudah appeared to cause a fumble, Jordan Fuller recovered the ball and scored. After a review, the officials reversed the call and ruled that Justyn Ross had never maintained possession, deeming the pass incomplete.
"During the play, I just saw the receiver catch the ball and I saw the ball on the ground," Fuller said. "There was no whistle, so I picked it up and tried to do something with it."

"I'm not paid to be a ref, but it looked like he caught it to me," Fuller said. "I'm not paid to do that. I'm not even paid to play football."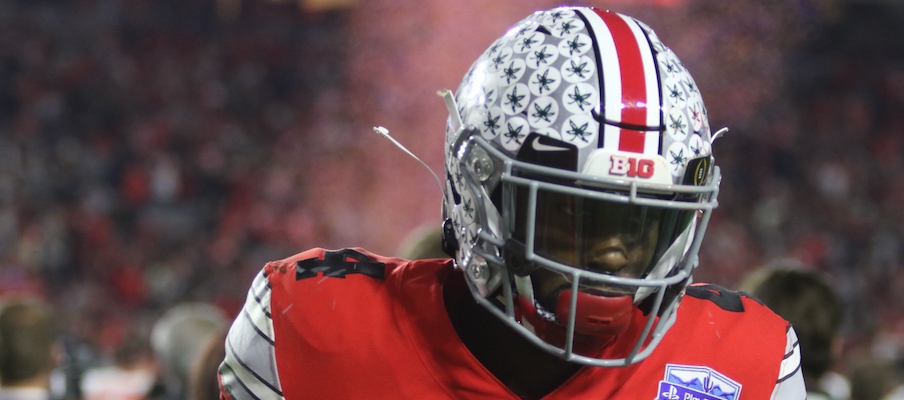 Even athletic director Gene Smith weighed in, saying he was "pissed" at the decisions.
"It was very frustrating," Davis said. "You hate to see it, but you've got to accept it and just move on."

"One thing we always preach is just to worry about what we can control and not worry about what we can't," Myers said. "And that's one of those things where all we can do is play the game and let everybody else worry about that stuff."

"There was a lot of calls that were not good," Dobbins said. "But that's not my call. We should've played good enough to not depend on calls like that."

"I'm so proud of the way our team responded like that," Ryan Day said. "It didn't get us down. We kept fighting. We kept swinging all the way to the end. I couldn't be prouder of the way we responded because that was hard to swallow."
Swings in momentum defined much of Saturday's game, including the two-touchdown run at the end of the first half to put Clemson within two points of the Buckeyes.
At halftime, Ohio State had to figure out a way to regroup, and the Tigers wanted to ride their momentum into the second half. 
"Even though the momentum appeared as if it was shifting, we were still in the lead and we were just talking about finishing in the second half," Davis said.

"It is just the DNA. It is our program. It's not just this season. That's just how we're built," Swinney said. "One of the things I told them at the half, I thought we took their best punch. I don't think we could have played worse, but we took their best punch, and it was 16-14. My message to them at the halftime was we have to find a way to get the lead in the third quarter, because when we take a lead in the fourth quarter, we finish."
Clemson now has a 4-0 all-time record against Ohio State.
"Congratulations to Ohio State on an unbelievable season," Swinney said. "Their quarterback, that defense, their running back – is special. It was a back-and-forth game. A tough one for either team to lose, but in the end, these guys found a way to get it done."
Saturday's game effectively came to an end on an interception thrown by Justin Fields, his second of the game. Chris Olave took full blame for what he termed a "mistake." 
Helpless, Dobbins watched game-ending play from the 15-yard line.
"I can't really explain in words," Dobbins said. "But I'm proud of my guys. Whatever happened, it happened. We play a good game. We didn't win, but I'm proud of my brothers."